Best late-night vintage stores in Tokyo
Shop for secondhand style after dark at these fine outlets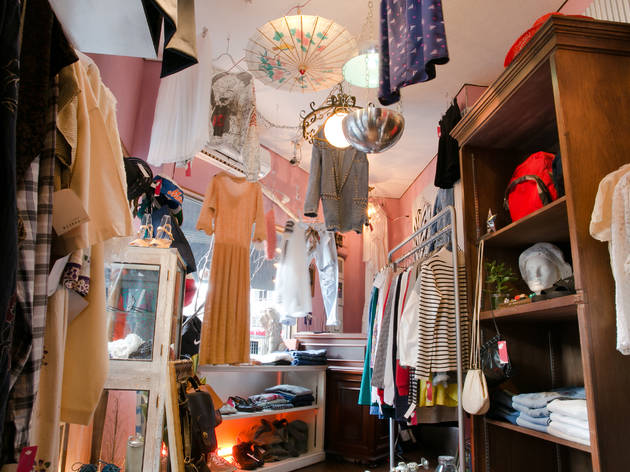 Tokyoites are notorious for working late, so you'll never have a hard time finding a restaurant or grocery store operating until the wee hours (or around the clock, for that matter). Shopping for new styles, on the other hand, isn't as straightforward for night owls: clerks at your average vintage store will clock out at 9pm at the latest, leaving you woefully underdressed for that surprise Friday club night. Helping you avoid such misfortunes, we've put together a list of visit-worthy secondhand stores that stay open until the last train or later. Concentrated in the Shibuya-Meguro-Sangenjaya triangle, these top shops are well supported by stylists and other industry types.
Top late-night vintage shops
One of Yutenji's many fine vintage shops, this one deals in both women's and men's fashion from the '20s all the way to the '90s, with the eclectic selection always including quite a few rarities. On call until 1am on weekdays and 10pm on weekends, the casual staff are happy to help with requests and enquiries.
Read more
Found around a five-minute walk from Yutenji Station, Mesen-Tip carries secondhand clothing for both women and men, including a smallish but interesting vintage selection. The style is more classic and calm than wild and whimsical, making the shop a favourite among Meguro's more restrained fashionistas. Stays open until midnight.
Read more
Focusing on fun and colourful '80s and '90s clothing, this Yutenji retailer deals in both men's and women's gear, and attracts a quirky clientele from both the surrounding area and further afield. Opening hours have been known to change by the day, so make sure to check the shop's Twitter feed before heading over.
Read more
Sitting pretty next to a park a brisk walk from Gakugei-Daigaku Station, NeiRo is popular among students and families with small kids on the hunt for cheap but stylish secondhand wear. If you're lucky, you might find brands like Opening Ceremony and Marni at bottom-of-the-barrel prices, in addition to the shop's original line of clothing. Fitting and customisation service is available as well.
Read more
The stylish inhabitants of Nakameguro flock to this smallish but formidable shop dealing mainly in imported men's clothing, plus a number of new articles, photo books, magazines, accessories and fun knickknacks. The selection can vary rather dramatically based on the latest trends, making this one fun to visit again and again.
Read more
Located on the Hiroo side of the Shibuya River in between Shibuya and Ebisu stations, Memo is an 'intentionally quirky' recycle store hawking secondhand furniture and clothing. Antique pieces line the entrance, while the interior is decorated with '50s lampshades, toolboxes, suitcases, tables and the like. The wearables range from T-shirts and hats to sunglasses – perfect for putting the finishing touches on your vintage style.
Read more
A small but spiffy dealership carrying items from the '50s all the way to the noughties, Rose focuses on secondhand womenswear for shoppers of all ages while also selling new import clothing. Find it on the Mishuku crossing in between Ikejiri-Ohashi and Sangenjaya stations.
Read more
Specialising in basic but stylish secondhand wear from the '80s and '90s, Aobadai's Tam is where to pick up brand sweaters at as low as ¥6,000. You'll also want to check out their original button-down shirts and inspiring import selection, which faithfully reflects current trends. Make your purchase after 9pm and get 10 percent off.
Read more
For European and American vintage wear in Sangenjaya, you can't go wrong at Bank, which also stocks hand-dyed aizome fabric and new, original clothing, plus a seemingly random selection of old books. Compared to most actual banks these days, this one feels like a safe investment destination.
Read more
Doing brisk business in the southern part of trendy Shimokitazawa, the stylishly decorated Film serves both women and men, with imports from the US, Italy and Canada making up much of the selection. The relaxed atmosphere encourages long stays, perhaps including some browsing of the magazine and photo book selection.
Read more