Randoseru: the new It bag
Since Zooey Deschanel was snapped sporting the traditional Japanese school backpack, it's rocketed from classroom to high street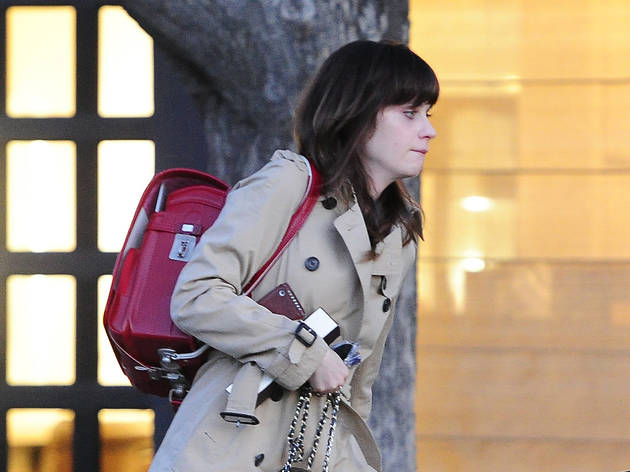 By Vivian Morelli
The latest trend to adorn the backs of celebrities wasn't born on the runway, but rather in the halls of Japanese elementary schools. That's right: the ubiquitous randoseru is now a coveted fashion item for the post-elementary school crowd. Usually found strapped to the backs of children, who use it to carry heavy textbooks, the practical item is now apparently a must-have for style mavens. But just how did this quintessential Japanese accessory make its way from schools to fashion blogs?
The utilitarian knapsack has actually been around since the mid-19th century, when soldiers started using imported rucksacks, called 'ransel' in Dutch. Several decades and a katakana update later, the bag was adopted by students in both cities and rural areas of Japan to carry their school supplies. Although not mandated by the education system or public schools, students were encouraged to use randoseru and somehow the tradition endured to the present day.
Ranging from ¥30,000 to over ¥120,000, the hard-sided backpacks come with a steep price tag, but for good reason: not only are they extremely sturdy, but they are meant to be used throughout all six years of elementary school. Grandparents are usually the lucky candidates who get to shell out the money for this indispensable item, which is built to last for the first leg of a child's educational path. Indeed, the rigid bags are strong enough to carry about three kilograms worth of books, papers and sundries (how many times have you spotted a tiny Japanese kid teetering about trying to balance the weight?). The lower scale of the price range gets you a tough, water resistant/artificial leather version, while a few more stacks of bills get you a premium handcrafted leather piece worthy of the Imperial family.
Randoseru are typically found at department stores, chain retail megastores and specialty boutiques, especially ahead of the new school year every spring. Girls traditionally carried red versions, while boys carried black. Although those classic hues are still used, randoseru now come in all shades of the rainbow, and girls tend to pick pink or baby blue, while boys opt for navy or brown. A few decades ago, choosing a colour other than red or black would have been considered unseemly, but times are changing and kids are selecting unique designs and accessorising with patterned covers and adorning charms.
Long before actress and musician Zooey Deschanel was spotted sporting a bright red randoseru in New York, teen Lolitas were rocking the bags around the streets of Harajuku, complementing their tiered, frilly ensembles. Naturally, trends spotted in Japan easily make their way across the ocean, and the randoseru has now become a fixture of the Pinterest and Instagram worlds. Tourists have caught on too, and although celebs and models sporting the bag tend to stick to the traditional red or black varieties, kids (or their parents?) go nuts over brighter shades, contrasting stitching, embroidered names, sparkling appliques, scalloped edges, rhinestones, characters and two-toned models. Commercial brands such as Nike and Puma now make their own sporty versions, and Barbie even has her own – you guessed it – hot pink collection (available on eBay for around ¥100,000 each).
While usually bulky on the frames of pint-sized schoolkids, the knapsacks look decidedly dwarfed when worn by fully-grown trendsetters, we have to say. But what's good enough for Zooey…