The best eyewear shops in Tokyo
Look no further – we've got the best places in town for all your eyewear needs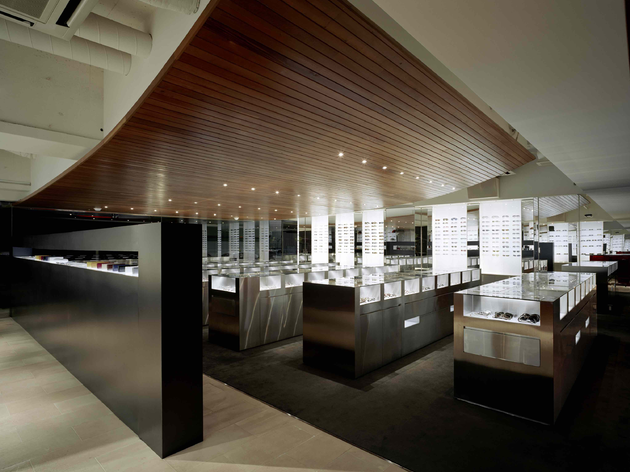 Most shoppers look for glasses due to practical purposes, while others prefer to use a trendy pair of frames as a fashionable accessory to jazz up their look. Tokyo has more than its fair share of shops and sometimes it's almost impossible to keep track, but we've squinted really hard and dug up our favourite eyewear spots in the city. Read on for where you can find an amazing pair of specs to suit your style and, of course, help you see properly.
The top eyewear stores
Read as 'Four Nines', this domestic eyewear brand is through and through Japanese, executing stylish frames designed for the 'characteristics of the Asian face'. The brand stresses the importance of comfort and proper sizing when it comes to wearing a pair of glasses, aiming to relieve discomfort and other unnecessary symptoms...
Read more
Sabae City in Fukui prefecture dominates the eyeglass frame market in Japan with its whopping 96-percent market share, and even hosts a museum dedicated solely to the craft. Hailing from this mecca of eyewear, award-winning manufacturer Aoyama Optical...
Read more
Found just a few steps from Nishi-Ogikubo Station's north exit, Rozy functions both as a spectacle shop and a workshop where you can create your very own, unique pair of specs. Glasses-making classes are held on a regular basis, helping you to pick out materials, attach the pieces to each other and adjust the lenses...
Read more
Boasting over 100 years of history, this optician initially invented a special pair of 'museum glasses' for viewing works of art. Since then, they've been turning out spectacles tailored for many different cases like glasses for seniors, frames for sports activities and much more...
Read more
Jins' Harajuku flagship has been back selling glasses to the masses since reopening with a handsome makeover in 2012. Pick up stylish facial furniture at affordable prices in cool new surrounds – Jins stalwart architect Makoto Tanijiri was in charge of the new design...
Read more
This particular optical frame manufacturer has been around since 1905, turning out one-of-a-kind Japanese-made frames in Fukui prefecture. Their flagship location in Kita-Aoyama offers an array of unique frames and sunglasses you won't find elsewhere. Their craftsmanship truly shows, as each pair of glasses takes about 200 manual steps to complete...
Read more
This New York City institution opened their first outpost in Tokyo in 2015 and haven't looked back since. The quirky shop is home to three collections of Moscot's signature styles including Moscot Originals, Moscot Spirit and Moscot Sun. With over 100 years of eyewear expertise, you're bound to find a pair that suits your face just right.
Read more
Once the official mirror suppliers for the Tokugawa shogunate, Murata Gankyoho has been specialising in spectacles since 1872 and continues to help the Imperial Household see more clearly. Their very first shop opened back in 1872 and they've continued to create immaculate...
Read more
With a focus on great eyewear as well as architecture, the Mykita shop space is just as impressive as the products sold within. The blinding white interior is highlighted by the perforated steel wall where each frame is showcased individually. They also have in-house optometrists who carry out certified eye tests so you can be sure you're getting the proper prescription.
Read more
Offering a wide range of both popular international labels and Japanese brands, Paris Miki is your one-stop shop for all your eyewear needs. The Shibuya location could easily be mistaken for a '70s diner, as its bright red interior is decked out with flashy retro furniture and nostalgic accents amidst the stock of glasses...
Read more
Not your typical eyewear shop, Solakzade's Harajuku boutique is home to a distinctive range of unused vintage and antique frames sourced from Japan and around the globe. The shop carries over 10,000 unique styles from each era of the 1800 to 1900s. Solakzade opened in July 2012 and is run by a pair of brothers from Osaka – Tatsuya Okamoto and Rio Okamoto – who can also customise, repair and restore antique frames, or even create bespoke spectacles. The shop also offers eye exams and prescription lenses as well as a handy machine which helps adjust your lenses to your perfect vision. If your lenses are not ready during your stay in Tokyo, the shop will deliver them right to your doorstep. You'll be seeing 20/20 in no time.
Read more
You might get dizzy browsing through this shop filled with budget-friendly frames and sunnies as far as the eye can see. The shop is almost impossible to miss as the entrance is adorned with hundreds of glasses clearly marking what they sell inside...
Read more
Need more fashion inspiration?
We round up the five Tokyo flagship stores you must visit right now
Read more