The best shops in Harajuku and Omotesando
From crazy kawaii to vintage digs, Harajuku and Omotesando can keep any shopper happily occupied for hours on end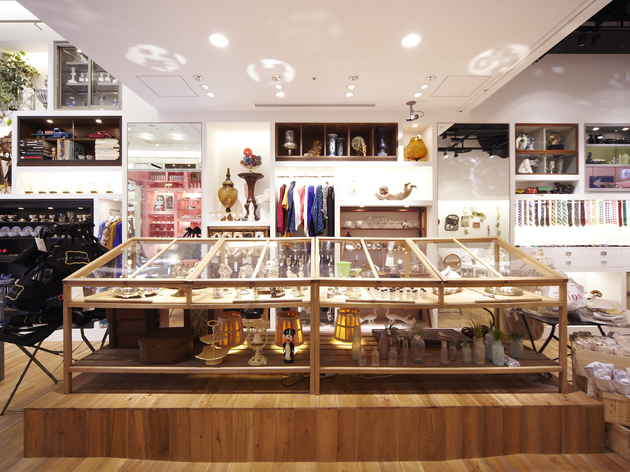 Harajuku and Omotesando are littered with shops – there's something you can buy on just about every corner and in every building you pass. These are some of our favourite stores in the area.
The best Harajuku-Omotesando area shops
More shops in Harajuku and Omotesando
Even in the middle of Harajuku, Sebastian Masuda's lurid pink boutique stands out. This shrine to the 'shockingly cute' offers an array of accessories and clothing in some truly eye-popping colours. 6% Dokidoki has come a long way since Masuda first opened the shop in 1995: gone are the imported US and Mexican items that used to be its main speciality, replaced by ultra-cute originals. A frequent Kyary Pamyu Pamyu collaborator, Masuda likes to work in shades of vivid yellow, pink and purple, with recurring motifs like hearts, stars, ribbons, unicorns and ice creams. Decorative touches like the illuminated make-up mirrors and carousel horse sitting in the window add to the effect: this is about as kawaii as Tokyo shops get.
Trusted among musos for its good taste, Big Love is an independent record store that collects vinyl and cassette tapes of indie bands from the US, the UK and Europe. Soak in the atmosphere at the bar space where you can enjoy Shiga Kogen beer, one of the best Japanese craft beers.
Epitomising Tokyo's youth fashion culture, Candy is a popular haunt for young fashionistas and offers a wide range of labels from high-end international brands (J.W. Anderson and Valentino) to cutting-edge Japanese brands (99%IS- and Christian Dada). Take inspiration from their styling portfolio or just browse through the store for some much needed retail therapy. 
One of the most iconic stores in the Omotesando/Harajuku area, this highly conceptual space shows off pieces by the late fashion designer and artist Christopher Nemeth. An important figure in the 80s London fashion scene, Nemeth's influence on fashion was made known by his carefully crafted garments interlaced with intricate cutting and sewing techniques. His clothes are also currently available at Dover Street Market London/Ginza, Trading Museum Comme des Garçons Paris/Tokyo, and Comme des Garçons Chelsea.
Whether you're looking for household products or cheap souvenirs, you're sure to find what you need at this three-floor ¥100 shop, a prominent landmark on Harajuku's Takeshita-dori shopping street. Daiso makes life easier for international shoppers by offering floor guides in English as well as Japanese, while some of the staff can also speak English. 
No matter how well you dress, you'll have trouble competing with the immaculately attired staff at Faline Tokyo. One of Harajuku's edgiest boutiques, the shop sells original items alongside select garments from Japan and overseas, complemented by art by French graffiti artist Fafi.
Currently one of Harajuku's hottest destinations for young female shoppers, Nadia Flores en el Corazon hawks import and vintage clothing in vivid colours and eye-catching shapes. The shop aims for a flea market feel, stocking not just clothes but also shoes, leggings, bags, cute accessories and even a range of cosmetics.
The younger sister of Shibuya boutique Toro (it opened in 2006), Harajuku's Otoe does a nice line in quality vintage clothing at affordable prices, while also stocking remade items and accessories created by young designers. Boasting the same commitment to on-trend pieces as its sibling, it stocks good quality vintage menswear and womenswear, as well as select items from indie brands. Choice pieces include brightly coloured '80s-style jackets, classic mini dresses and jewellery. If you're in need of a little extra help, you can spot the staff by their striking uniforms, which would look better placed in a doctor's office.
One of the primary purveyors of Gothic and Punk Lolita fashions, Putumayo even opened a shop in Shanghai recently – though its main branch in Laforet Harajuku is still the place to head. The elaborate, frilly dresses and punk-grrrl jackets are complemented by shoes, bags and accessories, meaning that you can give yourself a head-to-toe 'Loli' makeover (if that's your thing).
Check out another 'hood
From towering music shops and well-loved bookstores to high fashion boutiques and things you can only find in Japan, there's a lot to be discovered within the streets of Shinjuku. Shop your way through the neighbourhood with our picks of its best shops; whether you're in need of a brand new outfit or some memorable souvenirs to take home with you, you'll be sure to find it here.