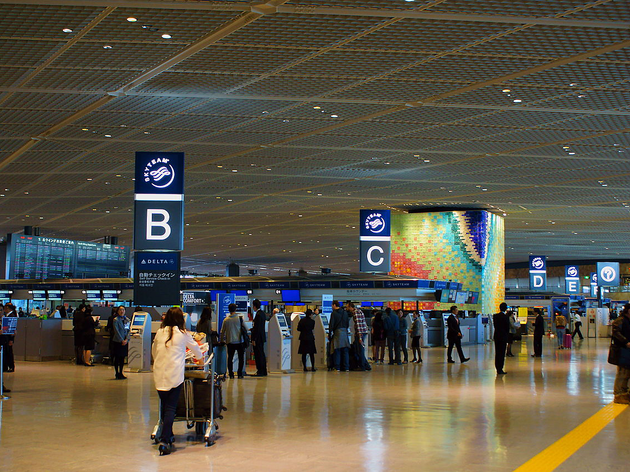 10 things to do at Narita Airport
What to do when you have a few hours to spare at Tokyo's less convenient airport
Perhaps you've missed your flight, showed up three hours too early, or have a transfer not quite long enough to visit Narita city before boarding your next flight. In any case, OK, you've got some time to kill at Narita Airport. Considering the size of the complex and its three passenger terminals, it shouldn't come as a surprise that there's a fair share of entertainment to be had here. Read on for our top picks of how to have fun at Tokyo's (OK, Chiba's) main international airport.
Note that some of these are after passport control and require a plane ticket to access.
The Narita top ten
1. Use Narico, the world's first voice-powered airport guide app...
Looking for something to eat, shop or do? Ask NariCo (short for Narita Concierge), the Narita Airport version of Apple's Siri or Google's Personal Assistant. Download the app, tell your phone 'I want to eat sushi/take a nap/buy beer' and Narico will kindly offer you all kinds of advice. The app is available in English on both Android and iOS. If you're just looking for flight updates or are lost inside the terminal, try the NRT_Airport Navi app, while the NariTra app will try to translate anything spoken to it into a different language – perfect if you run into lingo issues when buying something.
Find more information on the apps here
2. Peek inside Japanese theatre culture...
Although Narita Airport offers all kinds of cultural tasters on a daily basis – from trying on yukata or traditional armour to ikebana exhibitions and dance performances – the exact schedule tends to differ per day. One reliable cultural offering is the Kabuki Gate, a kabuki-themed gallery and shop that relays the joys of this traditional artform to novices. Costumes and wigs that are actually used during performances are on display, while you can channel your inner kabuki actor by getting make-up 'painted' on your face in the traditional kumadori fashion – all thanks to Kabuki Face Photo Booth, a photo app that transforms you into a theatrical superstar of yesteryear. Of course, the shop inside is where to sort out all your souvenir needs.
Kabuki Experience Gallery & Shop, Terminal 1, Central Bldg 3F, daily 7.30am-8.30pm
3. Indulge in Japanese cuisine...
The airport's three terminals have a combined 88 restaurants, cafés and bars, and luckily for visitors looking to get in on the local culinary side of things, most of these are washoku-oriented. One of the easiest places to take it all in is at Narita Dining Terrace, a new area opened on the fourth floor of Terminal 1 in late 2016. Here you'll find six Japanese restaurants which specialise in anything from soba and sushi to teishoku (set meals) and dashi-chazuke. All of them are open between 8am and 8pm, meaning that you'll be able to step in for a bite for most regular flight times. If you're flying to or from Terminal 3, standing sushi bar Tatsu Sushi is a good bet. Lean on the counter and see the sushi being shaped in front of you.
If you have other dietary requirements, note that there are also halal and vegetarian options available at the airport.
4. Buy Narita-style souvenirs...
From fluffy pilot-Pikachus and cabin attendant Pikachus (¥1,728) at the Pokémon Store inside Terminal 2 to toed socks embroidered with planes at Tabio on the Ground (Terminal 1, 4F), there are plenty of aviation- and Narita-related goodies for you to pick up as a somewhat less traditional reminder of Japan.
5. Pick up some sweet Japanese snacks...
Forgot to buy edible souvenirs for your folks back home, or maybe you're heading on a business trip without anything to bribe your client with? Narita Airport has you covered: the tax-free shops sell sweets from all across the country, including Hokkaido's Shiroi Koibito cookies, Kyoto's yatsuhashi (cinnamon-filled triangular mochi pouches) and, of course, Tokyo Bananas. You really have no excuse to show up empty-handed.
6. Be surprised by what you get...
If you have leftover ¥100 coins, this is the perfect place to spend them. 'Gacha' are essentially bigger versions of the bubblegum ball machines of old and are filled with different types of useless-but-I-want-them toys in capsules. Insert the amount required (generally ¥100-¥500), turn a few times and out will pop a capsule with your item. No returns or exchanges – you get what you get here. Turn away in the basement of Terminal 2, where you'll find a good 170 machines to spend all your cash, with instructions in multiple languages.
All your aviation-nerdy needs will be satisfied at the Terminal 1 and 2 observation decks, from where you can ogle at planes to your heart's delight. At Terminal 1 you'll have a perfect view of the huge metallic birds taking off and landing, while Terminal 2 boasts vistas of the parked and taxiing planes. For a closer look, both decks have telescopes which you can tilt towards the aircraft of your liking.
Open 6.30am-9pm (Apr-Sep), 7am-9pm (Oct-Mar)
8. Sushi-fy your nails...
Jazz up your nails before your flight with some seriously cool art: the nail artists at Nailquick can transform your fingertips into morsels of sushi. Although they might not quite taste finger-licking good, they certainly are nice to look at. Nailquick has branches in both Terminal 1 and 2.
Terminal 1 Central Bldg 4F or Terminal 2 Main Bldg 3F
9. Admire a whole load of toilets...
Japanese toilets really are in a class of their own. The Toto-branded washlets are often one of the things that first-time visitors notice right away, and are a never-ending source of both amazement and amusement, with a staggering amount of options tailored for your privy needs. At Narita Airport, they've given these national icons due deference with an entire gallery. Explore the different classics in all their dazzling variety and, yes, try some of them for yourself.
Gallery Toto. Inside Terminal 2 Sky Lounge
10. Kick back and relax...
Sometimes you just need to recuperate from all that travelling. The Narita Sky Lounge Wa inside Terminal 2, opened in 2015, is free to use for anyone – a rarity for lounges – and comes complete with comfy seats, power outlets and even reclining sofas. Grab some food at the nearby café or have a (paid) massage at Raffine, and settle into the sofas afterwards for some R&R. If you really need a proper sleep or feel the need to freshen up, you can always opt for a short stay at 9H, Narita Airport's own capsule hotel which rents out capsules by the hour and also offers shower use for ¥1,000/h.
Image credits: Narita Pikachu: ©2017 Pokémon. ©1995-2017 Nintendo/Creatures Inc. /GAME FREAK inc. TM, ®, and character names are trademarks of Nintendo. Toto Washlet: Robert Basic/Creative Commons.
Not sure how to get into town?
All the airport navigation tips you need when flying to or from Tokyo
Bookable tickets
Trains and highways are the main ways to access Tokyo's airports, Narita and Haneda. If you're a first timer to Japan, the expansive train system will certainly be overwhelming, especially after you get off a long flight. Avoid the trains altogether with these options that pick you up from the airport and drop you off in front of your hotel.
Best selling Time Out Offers