Get this: a compact, walkable area around Tokyo's Sumida River is the site of both the city's oldest temple, Sensoji, and its newest technological marvel, the 634-metre Tokyo Skytree. And as if that weren't enough, it's actually a pretty nice place to lay your eyes on some art. Once you're finished with the famous neighbourhood's requisite tourist stops, give this walk a try and discover the Sumida's arty side.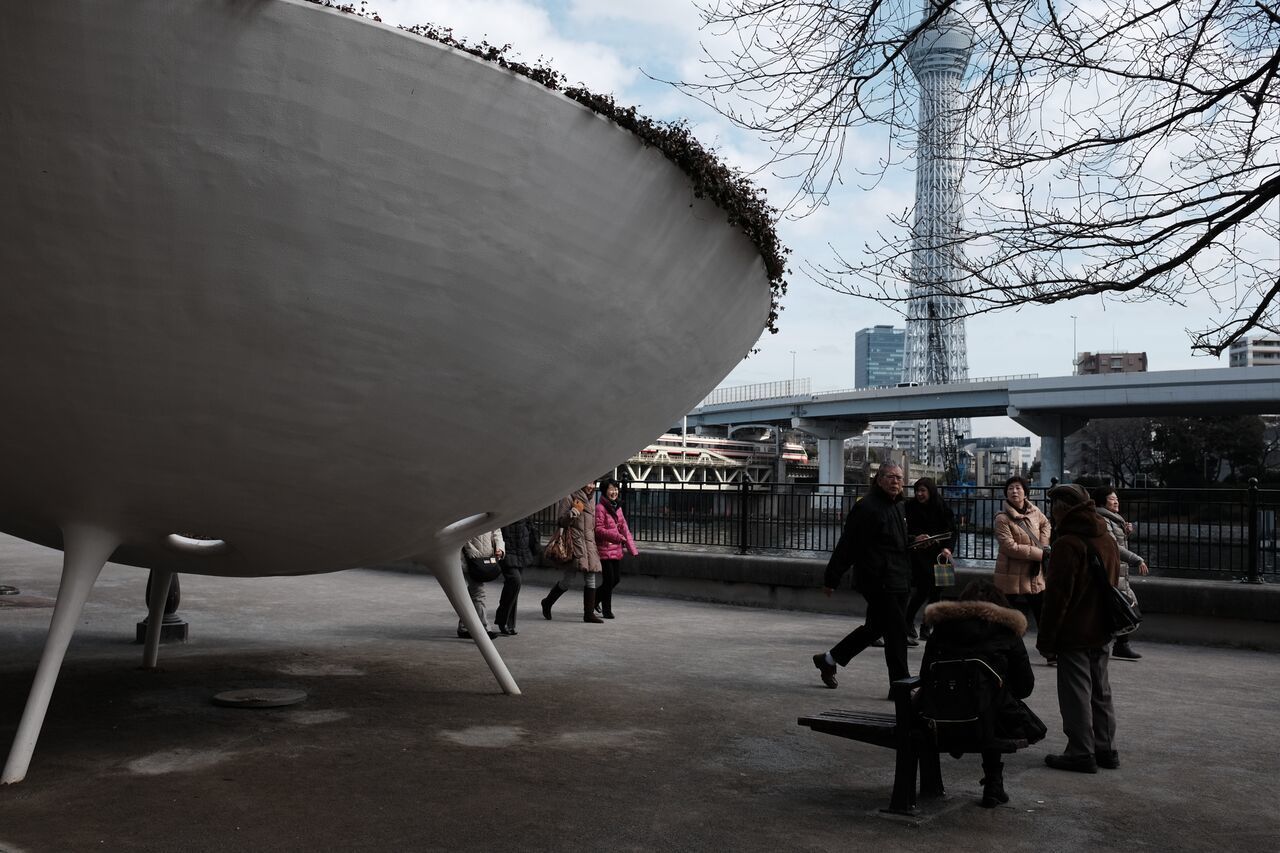 The main art attraction along the Sumida is the Geidai Taito Sumida Art Project, or GTS, a series of outdoor installations created between 2010 to 2012 by students at the Tokyo University of the Arts to coincide with the completion of the Skytree. On the Asakusa side of the river, make your first stop Sumida Park (1 Mukojima, Sumida-ku). Heading to the park from Asakusa Station, the first GTS projects you'll encounter are the bowl-shaped Green Planet as well as a pair of GTS 'art benches'. Art you can sit on – what an accommodating city.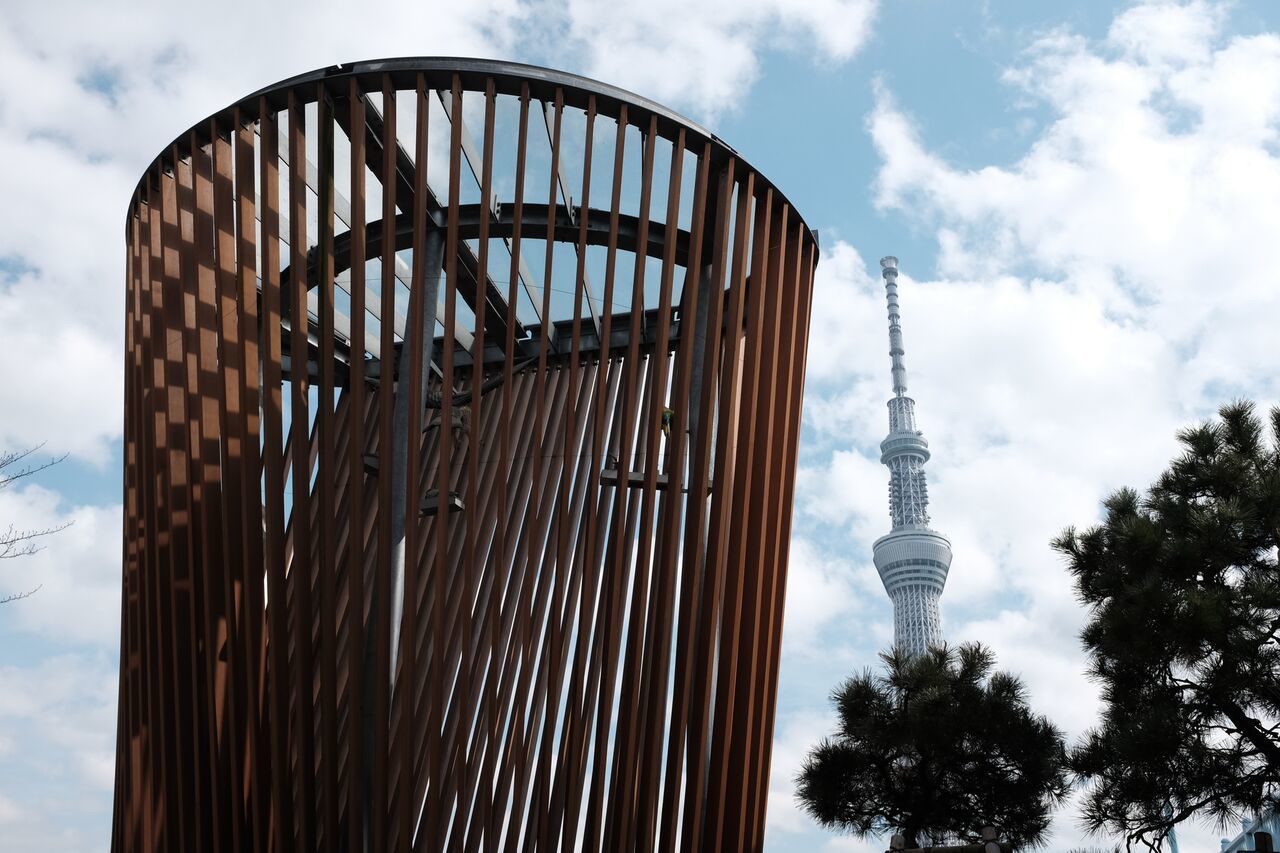 Don't leave Sumida Park quite yet. Head north and you'll run into two more GTS pieces, Sky Nest, a bird's nest made of large wooden planks and Look, a series of giant arrows pointing towards the Skytree (you know, just in case you missed it).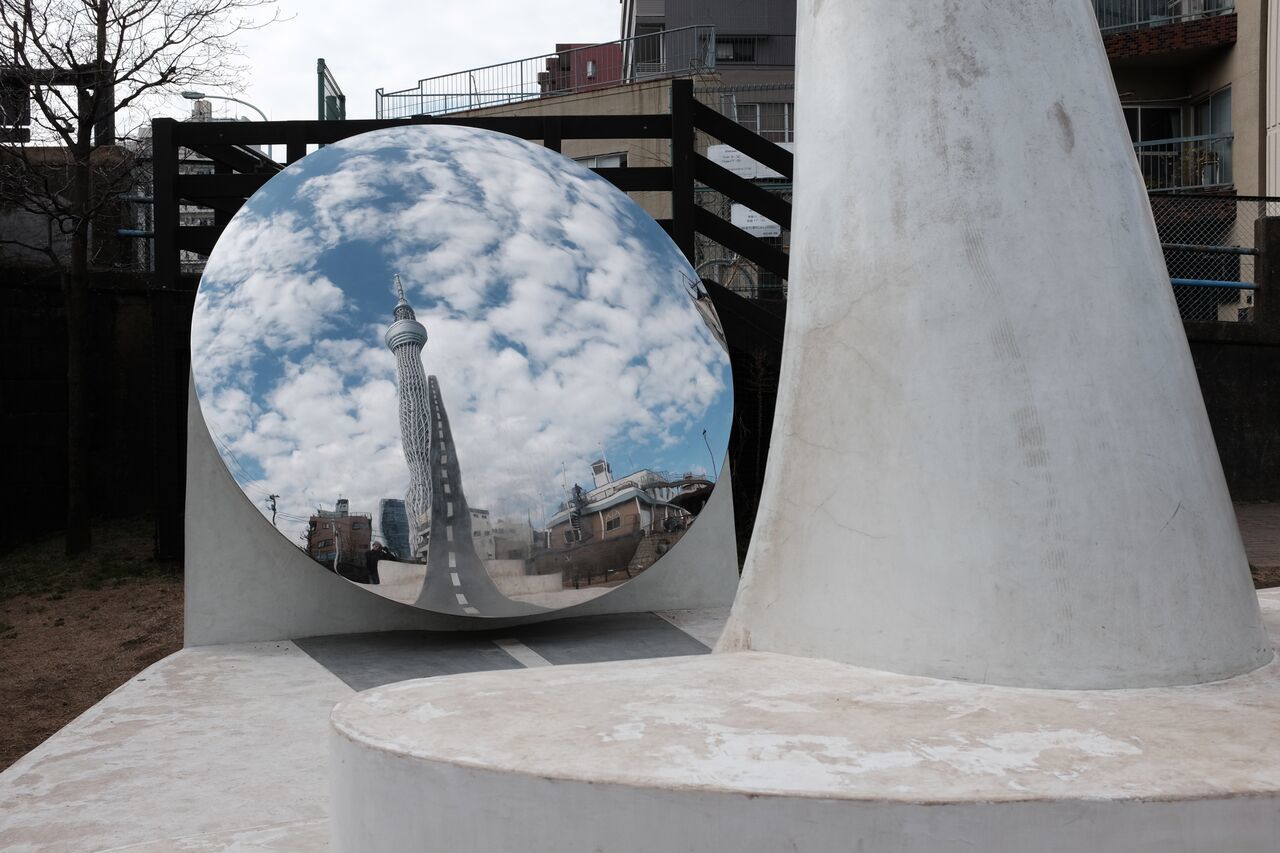 After you've Look-ed at these pieces long enough, cross the river via Kototoibashi and head towards the Skytree. Near Tokyo Skytree Station you'll encounter another couple of GTS pieces, Oboroke and Reflectscape. The latter is a giant mirror reflecting the tower; it lies across from a mini-amusement park built in the shape of a pirate ship – a bit of post-modern art in its own right.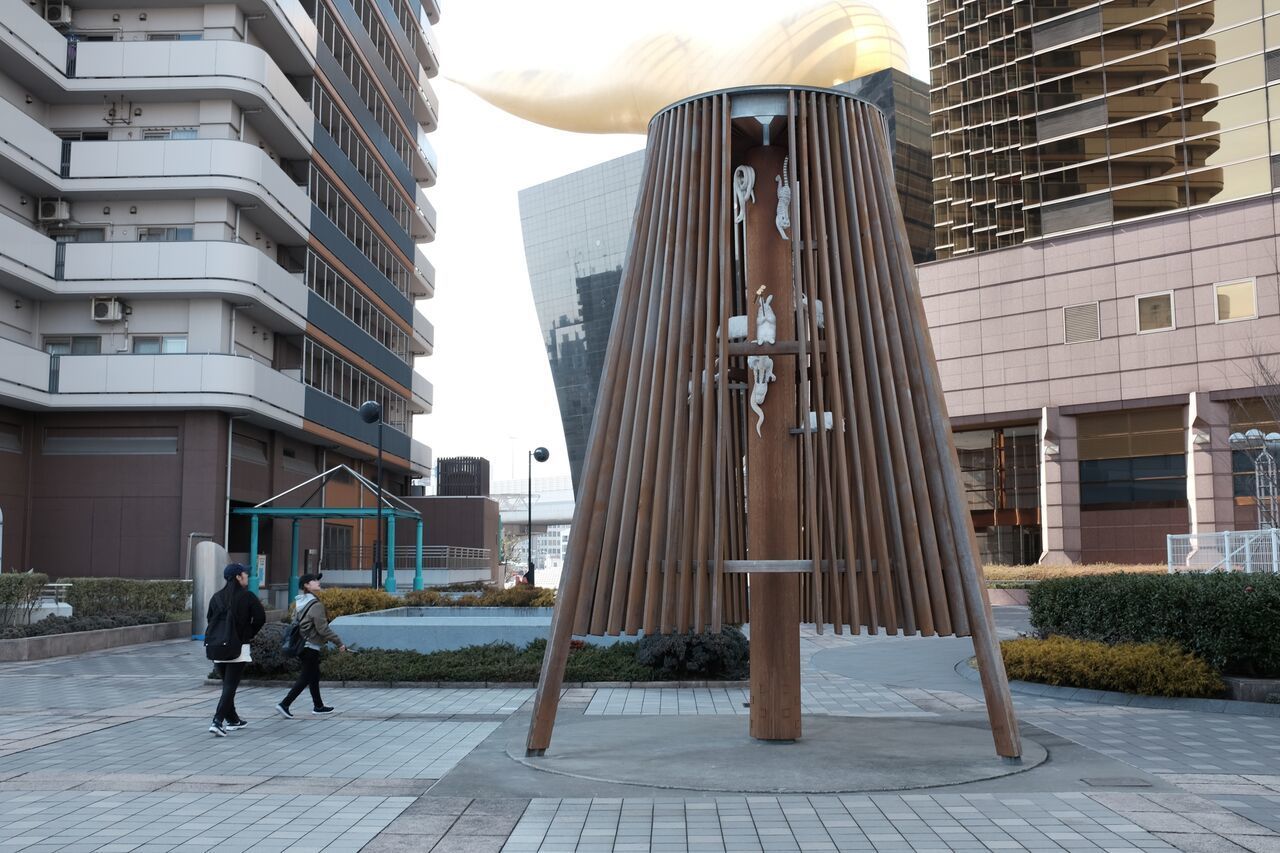 Before you cross back over to the Asakusa side of the river via Azumabashi, enter the Asahi Beer Headquarters plaza (it's easy to find – look for the building topped with a golden 'turd'). Here you'll find another GTS piece, Sculpture Tree, as well as Gallery A Bientot (1-23-30 Azumabashi, Sumida), which has been hosting paintings, photographs and whatever else can be stuck on its walls since 2008.
You may be tempted to grab a beer at Asahi HQ, but if you want to have a drink while staying in the art spirit, cross back to Asakusa, take a left on Edo-dori and you'll be within spitting distance of Gallery EF (2-19-18 Kaminarimon, Taito). Housed in a former warehouse that dates back to 1868, EF is a café and bar that hosts exhibitions plus dance and rakugo performances. They also appear to have an unhealthy obsession with cats.
We're not finished yet. Tucked into a side street not far from the massive Honzan Higashi Hongan-ji Temple lies contemporary art gallery Asakusa (1-6-16 Nishi-Asakusa, Taito). Sandwiched into a residential block, open only three days a week, and with a virtually unGoogleable name, Asakusa almost feels like it doesn't want to be found, but that's part of the fun.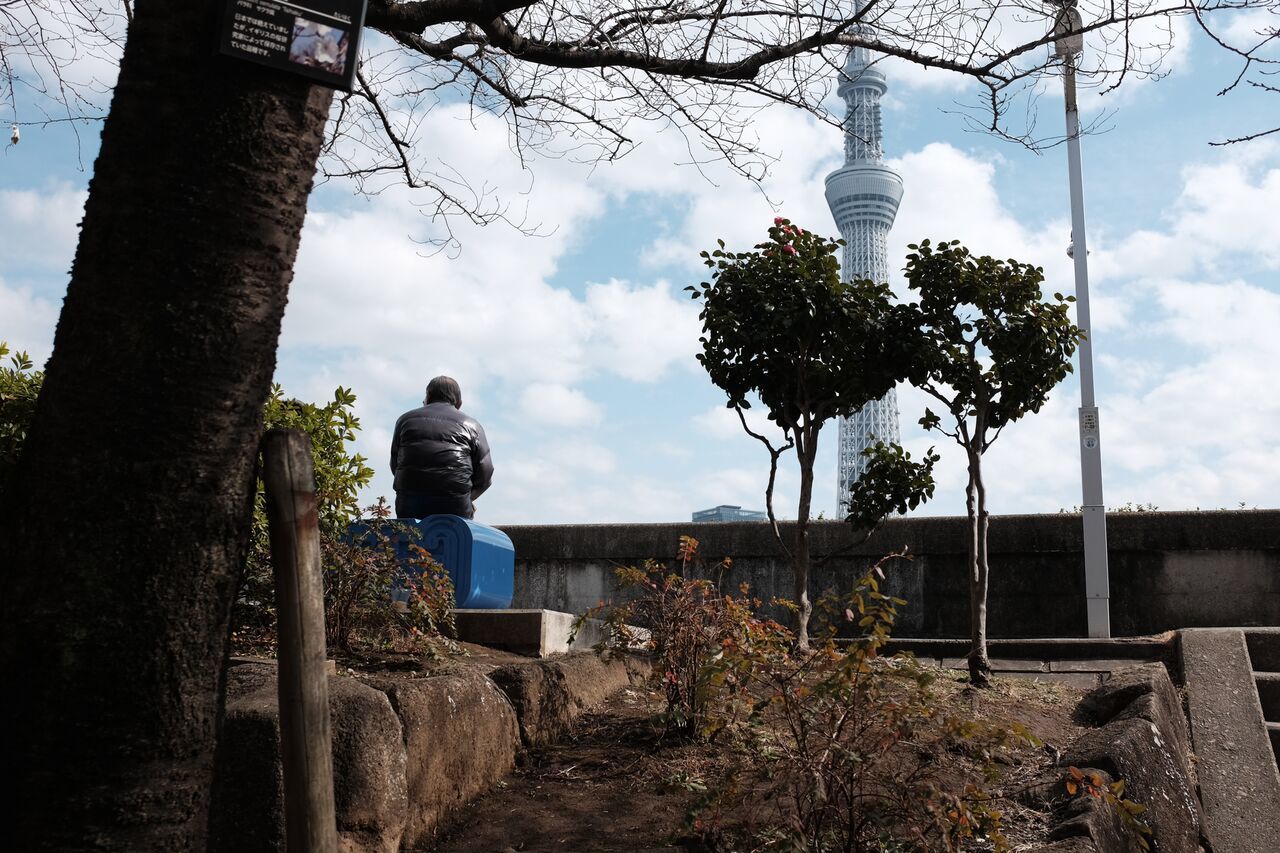 We clock this walk in at about 3.5km, with breaks to marvel at the pieces, give the art benches a sit, and go down the pirate ship slide (you know you want to). We figure it takes about two hours, but if you're attempting to pack as much art into as little time as possible, consider renting a bicycle. You can get one from one of these bike sharing locations within Sumida from around ¥1,000 for 12 hours.