Heads up! We're working hard to be accurate – but these are unusual times, so please always check before heading out.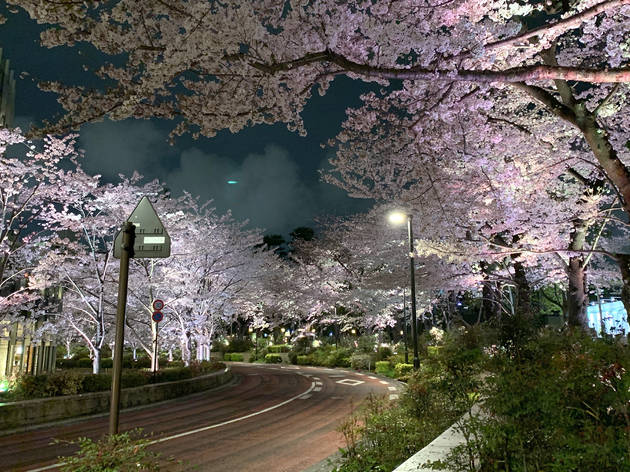 1/4
Photo: Lim Chee Wah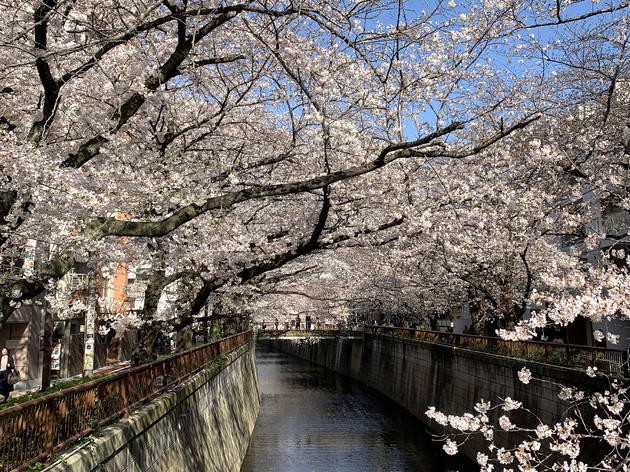 2/4
Photo: Lim Chee Wah
Cherry blossoms at Meguro River, Mar 24 2021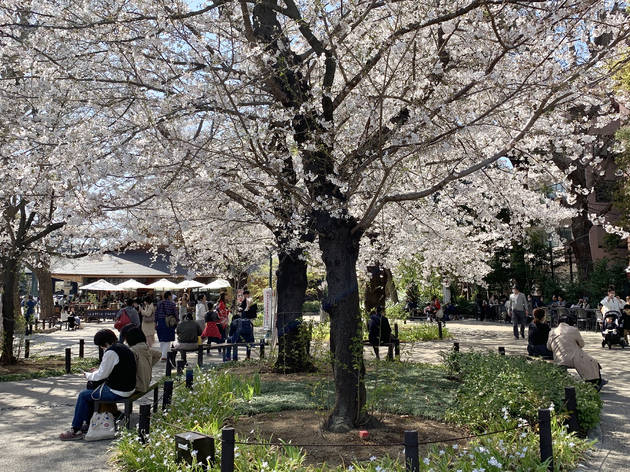 3/4
Photo: Lim Chee Wah
Cherry blossoms at Yasukuni Shrine, Mar 24 2021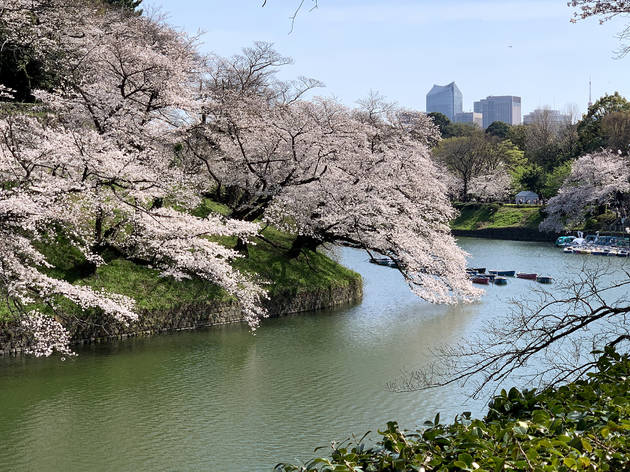 4/4
Photo: Lim Chee Wah
Cherry blossoms at Chidorigafuchi Moat, Mar 24 2021
Cherry blossoms 2021 report: are the sakura at full bloom yet?
We're keeping an eye on the sakura situation in Tokyo, so you can enjoy the blooms from home
Read before you go: Here are the official notices from park authorities regarding cherry blossom activities at the respective venues.
***
In light of the Covid-19 pandemic, this year's cherry blossom season feels a little different. Festivals have been cancelled and many parks have discouraged hanami picnics to stop people from gathering. To keep you up to date on all the blossoms, we've done the legwork to show you photos from different sakura destinations in Tokyo, so you can follow the blooming cycle from home.
The sakura in Tokyo started blooming a full 12 days earlier than usual this year. While the official forecast predicted trees would reach mankai (full bloom) on March 22, we've noticed in some areas that the flowers are only just budding.
With some planning, it's still possible to see the sakura and get some fresh air while social distancing. Consider walking instead of taking the train, opt out of hanami parties and avoid crowded areas. Luckily, cherry blossoms can be found throughout Tokyo – save the more famous locations for next year.
RECOMMENDED: Watch these soothing videos of cherry blossoms from various parts of Japan (don't miss the drone one)
March 20-26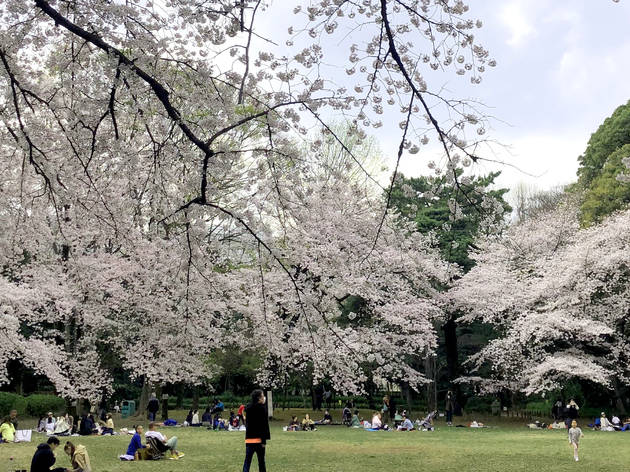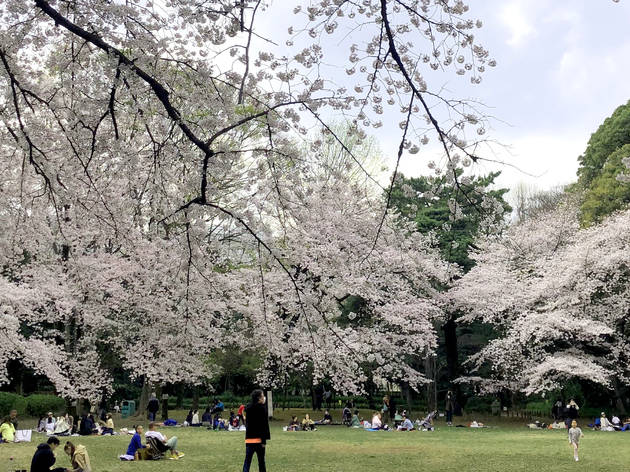 Photo: Kaila Imada
As seen on Friday March 26
Komaba Park in Meguro is currently in peak bloom with flower petals already starting to fall due to the windy day. The park closes early at 4.30pm, so go in the morning or late afternoon after the lunch crowd.
As seen on Thursday March 25
The sakura are looking brilliant around Roppongi Midtown and are finally in full bloom. In the evening, the trees along the sakura promenade are lit up and Tokyo Midtown is hosting a Midtown Blossom Lounge, serving food by The Ritz-Carlton Tokyo and gin cocktails until April 18.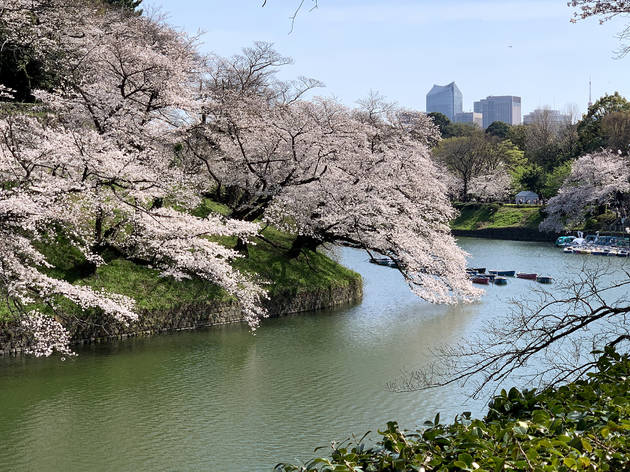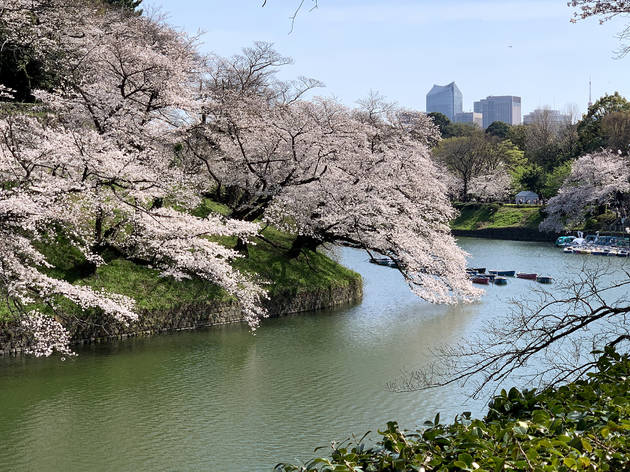 Photo: Lim Chee Wah
As seen on Wednesday March 24
The sakura trees along this Imperial Palace moat are looking gorgeous now. We predict peak bloom is just a day or two away. Do note that the annual sakura festival here has been cancelled, and the boat rental service will operate at limited capacity during the day; the nighttime boating session is cancelled altogether.
Prefer to stay in instead? You can also check out the cherry blossoms here via the official YouTube livestream.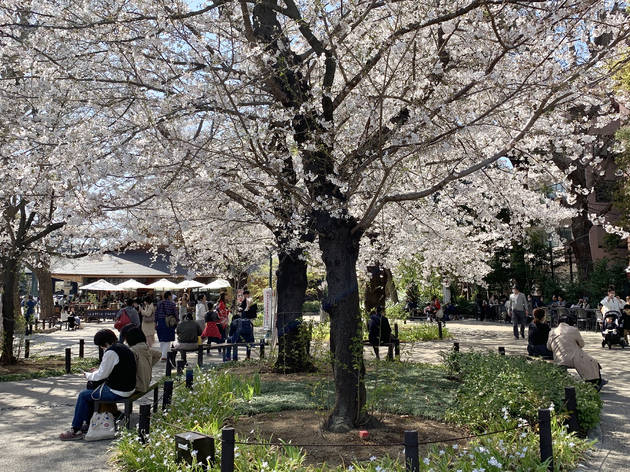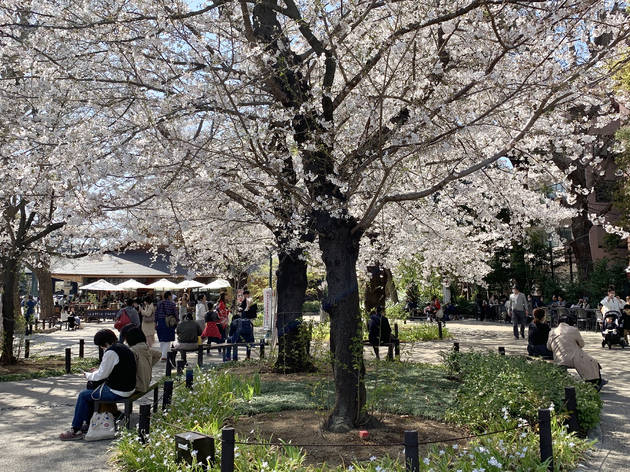 Photo: Lim Chee Wah
As seen on Wednesday March 24
Almost there. Most of the cherry trees in the expansive temple grounds are looking lush. They'll be reaching peak bloom very soon – probably in a day or two. Do note that the seating areas under the sakura trees in the temple's outer compound are closed from 4pm to 8.30am.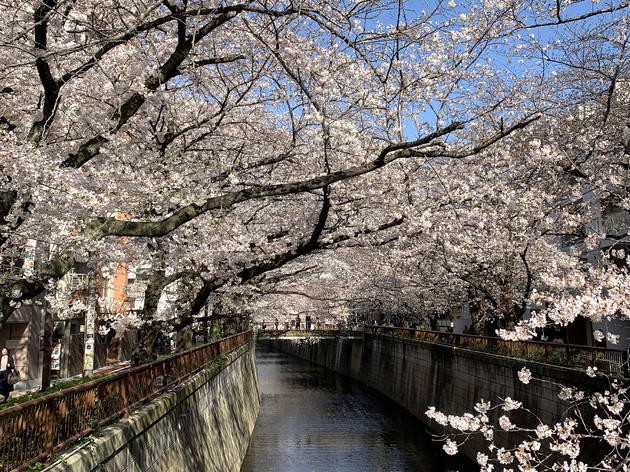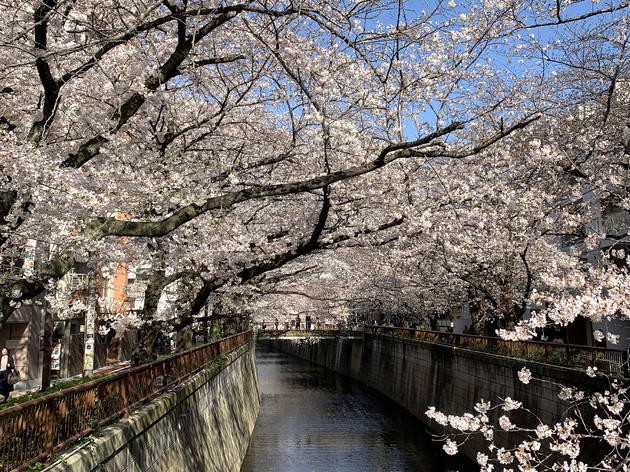 Photo: Lim Chee Wah
As seen on Wednesday March 24
The cherry blossom trees along the Meguro River are nearly at full bloom and should reach their peak in the next day or two. To avoid the crowds, head on over early in the morning because the streets lining the river are packed by lunch hour. Although this year's sakura festival was cancelled, you'll still find a few food vendors set up along the river selling snacks and drinks.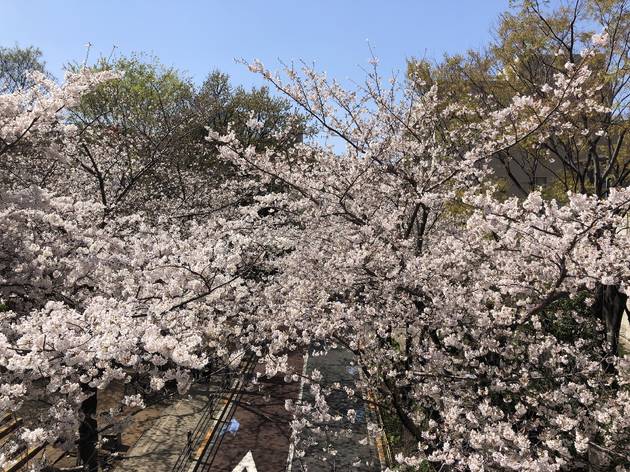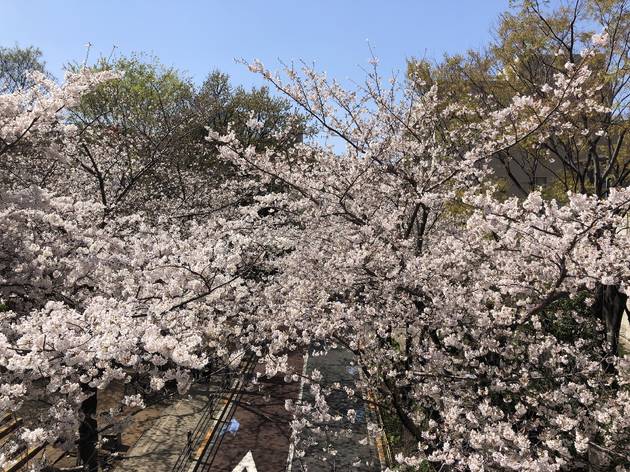 Photo: Kaila Imada
As seen on Wednesday March 24
Roppongi's sakura-lined Keyakizaka-dori is almost at full bloom and the flowers should hit their peak over the next couple of days. The trees are already a magnificent sight and are best enjoyed from the pedestrian overpass that runs from the Roppongi Hills shopping centre.
Photo: Mao Kawakami
As seen on Wednesday March 24
The cherry blossom trees lining the Kanda River are flourishing and should be in full bloom by the weekend. The streets around the river remain quiet with few pedestrians, especially during the weekdays. The best spot to start your walk is near Edogawabashi Station, from where you can follow the river west towards Waseda Station.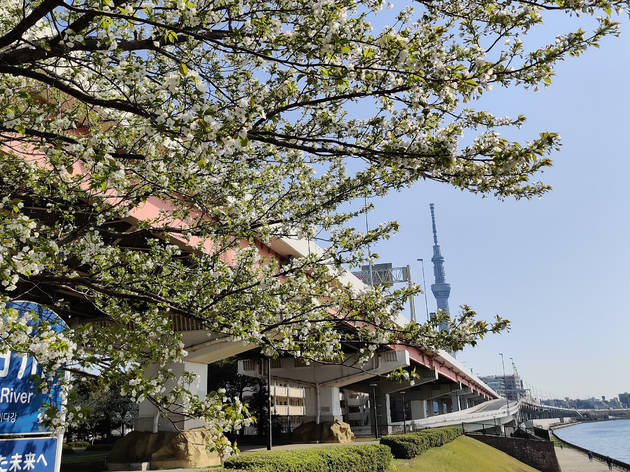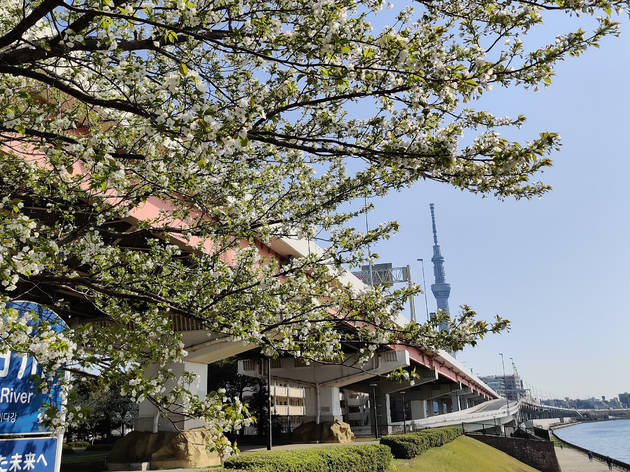 Photo: Kit Kriewaldt
As seen on Wednesday March 23
The sakura trees along the river are starting to bud, but many trees are still completely bare. That said, you can find some beauties if you know where to look.
There's a handful of white cherry blossom trees that are at their peak outside the Riverside Sumida Tower complex in Higashi-Mukojima, right on the river. The area is also pretty quiet, so it's worth a trip if you're looking to escape the crowds.
As seen on Saturday March 20
The sakura here have yet to reach midpoint; we estimate that they're only about 30 percent in bloom. Hanami, or cherry blossom viewing picnics and parties, are banned this year, so any seating areas including grass lawns have been cordoned off. However, you can still stroll through the park to see the blossoms. Please be cautious: keep moving, stick to the dedicated lanes, wear your mask and practice social distancing at all times.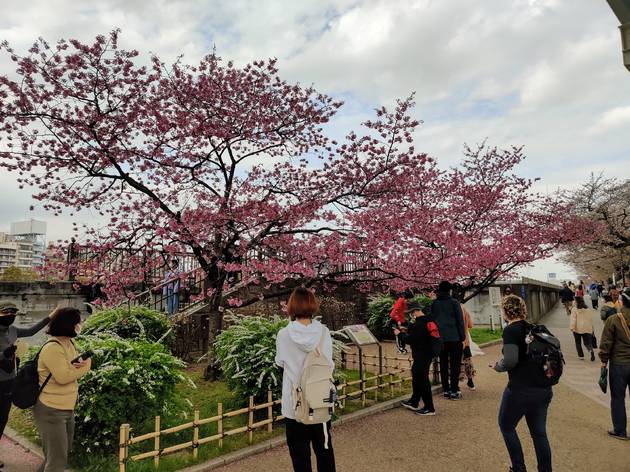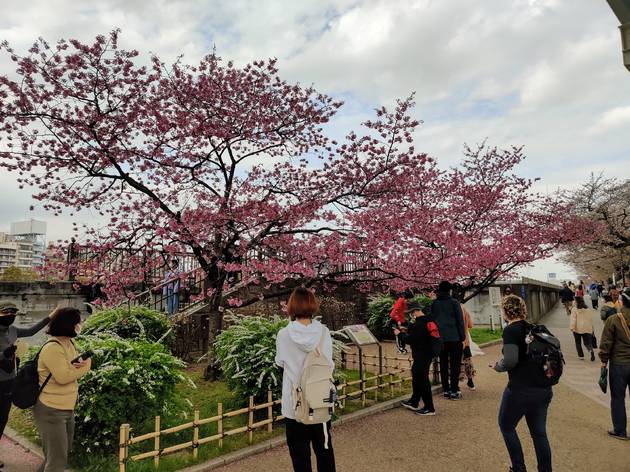 Photo: Kit Kriewaldt
As seen on Saturday March 20
We estimate the cherry blossoms in Sumida Park and the Ushijima Shrine will need another week or two to really get going. So far, one lone tree has put its blossoms out, but the others aren't following suit just yet. Despite that, the park's Ushijima Shrine is proving extra popular this year for its sacred ox statue (2021 is the Year of the Ox), so expect more crowds once the blooms begin in earnest.
For a more impressive sight, the two Princess Miyabi sakura trees between Sumida Park and the Sumida River are full of bright pink blossoms right now. With Asakusa in the background, the trees are a popular photo spot, especially for weddings, so make sure to wear a mask and keep a safe distance from others.
More flower power
Check out these parks, gardens and venues for the most brilliant cherry blossoms in Tokyo, including Meguro and Shinjuku
This cherry blossom season, go beyond Tokyo for these incredible sakura destinations across Japan, from Fukuoka to Sapporo
Here are the tastiest, most photogenic sakura desserts and drinks in Tokyo right now