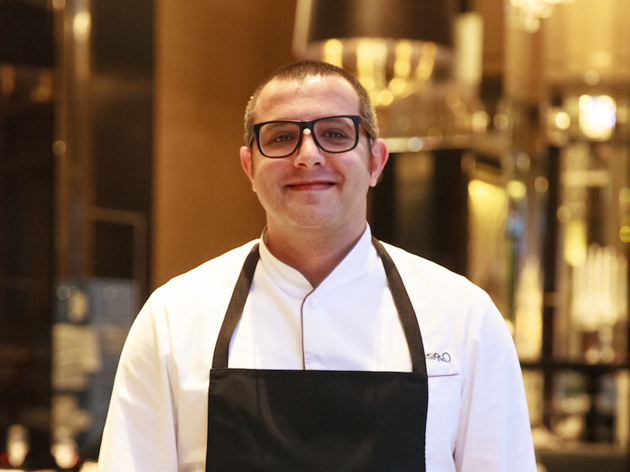 I, Tokyo: Andrea Ferrero
Peek into the lives of international Tokyoites with our I, Tokyo series
Originally published in Time Out Tokyo magazine issue 5 (January 2015)
The executive chef at the Shangri-La Hotel shares some impressions of his early life in the capital.
How did you feel when you were offered a job in Tokyo?
Perplexed – because I never thought about leaving Italy again. I always looked at Tokyo as a great city, but it wasn't at the top of my list of places to go. Yet, for a chef, Tokyo is one of the top three cities in the world, a place everyone wants to visit at least once, so I also felt excited.
What was your first impression of the city?
I felt both the energy and the tranquility right away – even though people are busy, there's always a kind of serenity in the air.
After three months here, do you already feel like a Tokyoite?
I feel like I'm learning more about the city every day, just by observing the people. I think understanding the culture is key, because it's so different from everywhere else in the world – even from the rest of Asia.
How has working in Tokyo been so far?
It's been beautiful. Of course, there are many challenges, but I love what I do. I actually never thought about leaving Italy again, but just couldn't turn down this chance – getting to know the food culture, the ingredients, everything.
Is there anything about Japanese ingredients that's surprised you?
I recently discovered sansho [Japanese pepper], which is absolutely great. I also love the endemic vegetables, but still need to do more research – I want to discover vegetables that nobody uses; that people have forgotten about.
What are you aiming for at Piacere, the signature restaurant at Shangri-La Hotel, Tokyo?
To have fun. We are revamping everything, in order to create a place where you feel comfortable, where you can come feeling like yourself. I want to get away from the concept of 'fine dining' a little bit, from everything that's associated with that term, and focus on the food. I always say that the restaurant isn't a Rolls-Royce, it's a Jeep – for me, the Jeep represents true luxury, because it allows you to go wherever you want. To me, that freedom of choice is luxury.
Name one restaurant you'd like to go to in Tokyo.
Narisawa [in Aoyama] – I want to see what they're doing. I also like the backstreet places, the little places you discover on your own, that give you an authentic experience.
You ride your bike to work – what do you think about cycling in Tokyo?
Well, I feel like the city's not really ready to have cyclists in the streets yet, so I'm a little scared sometimes, but l still love it. Biking next to the Imperial Palace after a long day of work feels so refreshing!
Any survival tips for visitors to Tokyo?
It's not difficult to survive here! You have everything you need – okay, maybe get a dictionary, and learn a few words of Japanese before you come. It's very safe, a beautiful city and the people are fantastic. If you want survival tips for Italy though, come to me!