Mountain walk: Mt Takao
Go for a hike up Mount Takao for some time out from Tokyo's concrete jungle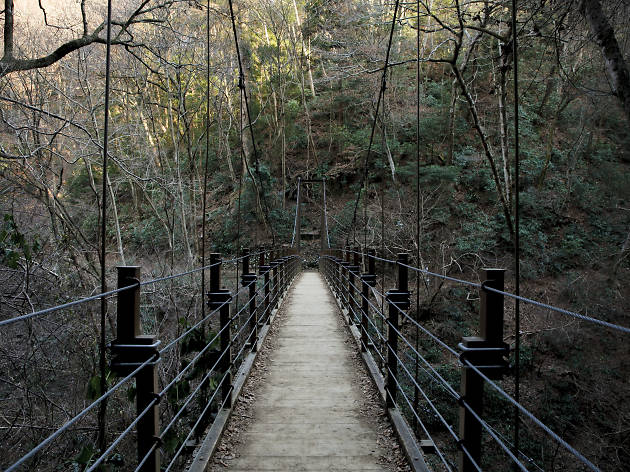 Mt Takao towers over the western reaches of Tokyo and, along with Mt Fuji, has been awarded three stars in the Michelin Green Guide Japan, cementing it as a popular tourist destination. Not too far from the city centre, the mountain makes for a relatively easy way to enjoy abundant natural scenery and mountain climbing. The convenience of being able to go any time (even as a last-minute daytrip) makes it very appealing.
The best way to get there is by train: from Shinjuku Station, it takes just 50 minutes on the Keio line. Alight at Takaosanguchi Station (not Takao Station, which is the stop before) and you'll be facing the front of the mountain. Don't be tempted by the cable car or chair lifts at the foot of the mountain – taking either of these will cut short your walk and it's really not a difficult climb.
There are many different trails to choose from, but for a three-hour round-trip, walk up trail no. 1 and look for the observation deck halfway up the mountain. You'll find restaurants and teahouses here, and if you're here during summer there'll be beer gardens too – in fact, many people go up and down by cable car just to enjoy a few drinks on the mountain.
If you continue climbing, you'll reach Monkey Park and the Wild Plant Garden. It's ¥420 to enter, but it's worth it to see the community of monkeys who live here as well as the approximately 300 kinds of wild plants growing in the garden.
Right before the summit, look for Yakuo-in, a Buddhist temple founded in 744. If you make prior reservations, you can enjoy traditional Buddhist vegetarian food here. The summit of Mt Takao is just another 20 minutes' walk. When you arrive, crack open a beer while taking in the superb view.
Returning to the foot of the mountain, you'll notice a large number of soba restaurants dotted around. The area is famous for its tororo soba, which is made with buckwheat noodles, grated yam and egg – a dish that is sure to satisfy a post-hike appetite. Don't worry if you can't decide which restaurant to choose – they're pretty much all well-established so the soba and sake on offer is bound to be good quality.
Naturally, taking a hot-spring dip is the best way to relax after a few hours of exercise. Gokurakuyu (www.gokurakuyu.ne.jp) is a newly opened natural hot spring bath where you can soothe tired muscles in the carbonated or outdoor baths. Note that it gets very crowded on weekend evenings, so plan ahead if you're coming solely for the hot spring – although if you don't tackle the Mt Takao walk too, you'll be missing out.