Public cats of Tokyo: Masuya Café, Kikukawa
Renge and Rana draw in unsuspecting lunchers out east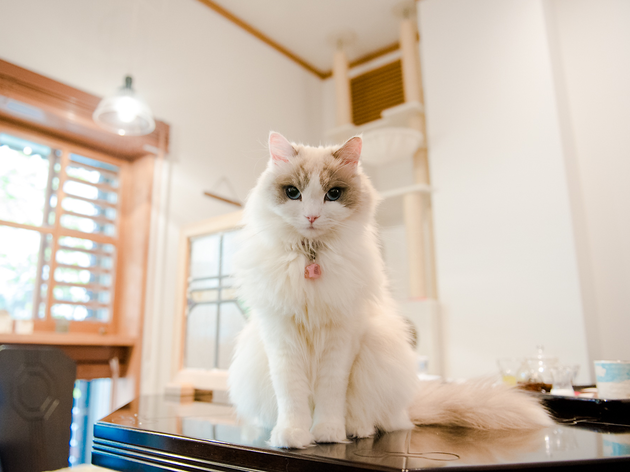 Our hunt for Tokyo's 'Public cats' has reached its third leg, with the target found way out east this time: located between Morishita and Kikukawa stations in Sumida ward, the cutesy Masuya café is home to two of the city's most business-minded kitties.
Formerly the owner's living room, Masuya opened around two and a half years ago after a light renovation and fits up to eight human customers around the vintage tables – it's not the most spacious of places, but has a homely feel and scores extra points with the 'no shoes' policy. Leave your kicks at the door, step in and you'll notice the first sign of felines: a hand-drawn note with a furry face and the text 'If you want to meet me, please ask. I'm probably sleeping in the other room, but thanks for coming.' Typical cat behaviour...
Masuya's deceptively docile duo consists of Renge, named after the Chinese milk vetch flower's Japanese name, and Rana, whose name is also fauna-inspired. Christened by the owner's flower-obsessed daughter, they rule the roost at Masuya with minimal effort – and that's being kind to these fluffy fellows who've perfected the art of seduction.
Take Renge, the unduly friendly Ragdoll with twinkling turquoise eyes that suck you right in. With looks like an expensive stuffed toy, it's hard not to fall for her charms over a cup of aromatic coffee.
Renge's partner in crime, the five-year-old Rana, is a shy but admittedly handsome fellow who first arrived at Masuya just before the triple disasters of 3.11. He's been on a diet over the past few months, and is now perhaps even lazier than before shedding a couple of kilos, often staying in bed right until opening time.
Although the pair's personalities occupy opposite sides of the spectrum, they're very tight and always ready to come up with new plans to squeeze even more money out of the café's customers. They even start occasional show fights, with Renge giving Rana a little punch in the face for dramatic effect.
Their efforts have borne fruit over the past two years, with Masuya now boasting a healthy number of regulars – some of whom stop by daily just to say hi to the mischievous cats. If you're planning to confront them, make sure to visit at lunchtime, when the ¥900 midday meals come out and Rana and Renge are usually still up and about.
Photos by Kisa Toyoshima
Renge (male) and Rana (female)

Daily work schedule:

Mon-Fri 11.30am-3.30pm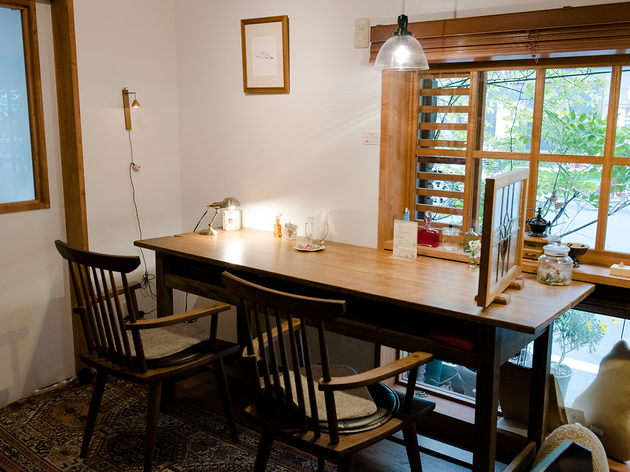 Masuya

Located between Morishita and Kikukawa stations out east in Sumida, this café is cosy enough to almost make you feel like you're having tea at a friend's apartment. It's run by a woman and two of her friendly cats, who serve up reasonably priced lunch sets between...