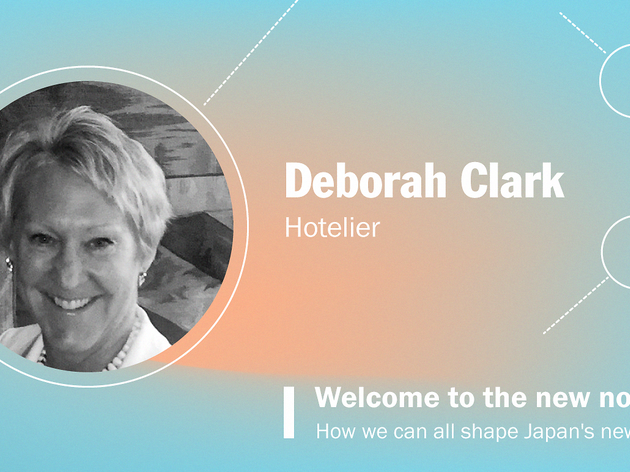 The New Normal interview series: Where does hospitality go from here?
British hotelier Deborah Clark on the effect of Covid-19 on hospitality and the path forward for entrepreneurs in the industry. By Rob Orchard
The ongoing Covid-19 coronavirus pandemic is changing our world in unprecedented ways. In this series of conversations with movers and shakers from both Japan and elsewhere, we're taking a look at how the pandemic is already transforming city life and what changes are still on the horizon. Hoping to find out what's to come for society, daily life and the environment, and eager to hear how urban space will accommodate and leverage the 'new normal', we've lined up interviews with experts from a wide range of fields. In this instalment we hear from British hotelier Deborah Clark, who specialises in converting historic buildings into stylish, modern spaces.
This is part of the New Normal interview series. For the list of features, click here.
'We were shedding bookings from Southernhay House, our boutique hotel in Exeter [in Devon, one of the UK's most popular areas for international and British tourists], through the whole of March and by the time the government announced an official lockdown we had already decided to temporarily close, we didn't need the government to tell us to do that.
'Southernhay House is something of an outlier in the market because it's a small boutique hotel, based in the middle of a relatively quiet city. I think that's actually a plus once restrictions are eased because it seems like a very safe space. We've just got 12 rooms and we're obsessive about treating the guests as individuals and addressing individual concerns.
'Our guest demographic used to be about half overseas and half UK-based, but obviously that's going to change. We're going to have to shift to the UK side of it for a while and it won't be so much business travel because it's quite a high end hotel and I think it's difficult to get boutique hotels paid for on corporate budgets. We've got a core of very loyal business travellers who do regard Southernhay House as home, they come here once or twice a month, but the real hardcore group is university parents. Of course, being a university city, Exeter is in the same position as all the university cities all over the country – we are so reliant on that business and it's going to decline so we're going to have to fight for it, if it's there at all.'
Putting an empty hotel to good use
'We're in quite a lucky position in that we have no debt after selling our previous hotel, so we're not exposed in that respect and we actually budgeted ahead for a build project on the hotel.
'That build project has been going ahead while the hotel has been closed, it's quite a magnificent extension. It's actually quite fortunate we're able to do it in this break in time because trying to sustain that at the same time as the hotel being open would have been very difficult and taken much longer.
'We've also been planning our protocols for re-opening. Hand sanitizer on tap – check. One person in the kitchen – check. No buffets – check. Room service outside the door – check. QR codes instead of menus so you can just scan them, little videos about the room instead of someone personally showing you around – all those kinds of things.
'I am an optimist, essentially, otherwise I would not be in hotels, and my gut feeling is that people are perfectly capable of making their own risk assessments. In the hotel industry we constantly do risk assessments in every single area, there are risks being thrown at us all the time. Covid-19 might be a serious one but we've got checks in place for every area of the hotel so this is just stepping up that level of vigilance.
'That's where having a small hotel helps too, we can read the guests, if they are nervous we can show them the systems are in place. But what I would really like best of all is for them not to feel nervous, to come in feeling confident in the knowledge that we've got it all under control so that they can actually let someone else cook for them and make their bed and just relax.
'As part of this new building project, we've also increased our number of breakout areas. I've got no intention of marking out the floor into social distancing squares, personally I find that whole thing antithetical to the entire business of being human and certainly antithetical to the whole hospitality business. Putting up screens between tables and things like that is not going to enhance anyone's experience. But I think people will be sensible and we can help them with the lightest touch possible just so that people feel really secure.'
The industry at a crossroads
'The hospitality business could go one of two ways. We're very much sticking to our guns and not slashing prices. Meanwhile the larger chains will really have to aggressively cut theirs. And you as a customer are going to have to make your own risk assessments as to what level of product you will pay for.
'The buzz in the UK hospitality industry is that there's going to be a massive boom once the lockdown lifts because no one's going to travel very far. They'll be looking to go within an hour or two of their home for a short period of time – and that would suit us very well.
'The other trend we foresee is that people will be choosing very wisely how they spend their money. I've never been a fan of online travel agencies, discount codes and all those promotion schemes, and I hope people will start to see where real value is. They will know that when they're spending their money, they're spending on the product we're delivering, not on multiple commissions to various other third parties.
'I really hope that after lockdown, consumers will notice the things that really make a difference. Whether it's hygiene or design details or the personality of the person who's serving you a drink, those kinds of things will matter because you'll be much more conscious of where you're spending your money and why you're spending it.'
'The really important thing I've realised through this lockdown period is that I owe it to my staff to make this work. They are incredibly important people to the business, and they've been with us for a very long time. They're all frustrated at not being able to work and part of the frustration is that the hospitality business has been put to the back of the line in terms of government attention. In many European countries, meanwhile, they're focused on opening restaurants and bars and cafés early on as they recognise the need for humanity and the need for human contact.
'Everyone will have their own strategies for starting up again, but one thing that's quite clear to me is that people are quite rightly ignoring the mess coming out of the government and forging their own path, looking at scrutiny of their own businesses and how they're going to deal with it with intelligence and optimism.'
Deborah Clark
Deborah Clark
Deborah Clark is a former aviation finance lawyer who bought Burgh Island Hotel in 2001 with her husband, Tony, building the business into a major success, and selling in 2018 to a London-based consortium. In 2010, she bought Southernhay House in central Exeter and developed it from scratch into a chic boutique hotel with local historical influences and overtones. She is also owner and designer of Number Nine Exe, a converted Georgian townhouse comprising open plan, contemporary and highly specified office spaces.