48 hours in Osaka
Western Japan's largest city offers something entirely different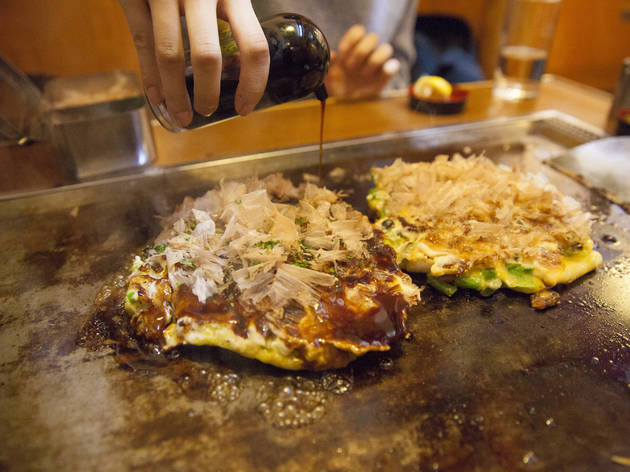 By Jun Igarashi
Stepping foot in Osaka feels almost as though you've landed in a different country, with its original character found in all corners. Visit any one of the many fashionable stores that litter the centre of the city and you'll notice a bolder, friendlier attitude from sales assistants. Pop into any one of the almost absurd number of restaurants that jostle for space and you'll quickly realise this city has an incredible appetite, with the biggest bonus being that Osaka is a champion of cheap (and delicious) eats – enough to rival even Tokyo's best cheap eats. Whether you choose to hitchhike there, travel via train or on one of the budget airlines connecting Tokyo to Osaka, it's easily accessible and makes for a wonderful casual getaway.
Day 1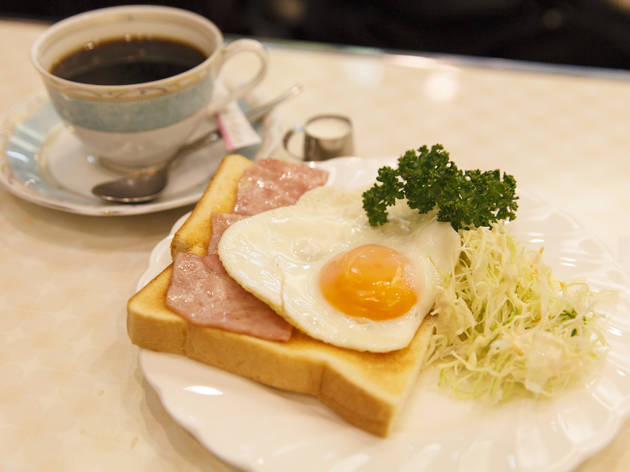 9am: Eat breakfast at a jun-kissa
Jun-kissa means 'a pure and simple (junsui) café'. These kinds of eateries display retro plastic food samples at the front of the store and offer light meals, dessert and coffee. Osaka's city centre is dotted with jun-kissa, with Kissa American in the Dotonbori area being one of the best. The storefront food display, the chandeliers in the stairwell, the vintage sofas and decor: all of these convey the history of a shop that opened just after World War II and walked with Japan during its period of rapid development.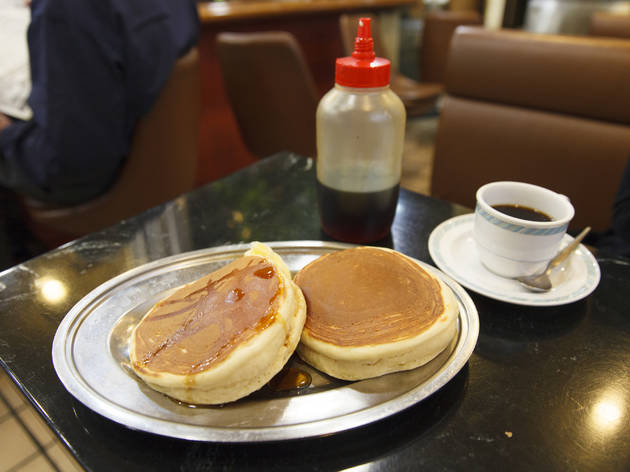 Jun-kissa that open early in the morning are called moningu ('morning') by regulars, and their breakfast menus and coffee mark the start of these customers' days. Another popular dish is the hot cakes – thick traditional pancakes cooked on an iron grill. For these, try Daiya in Fukushima – their three centimetre-thick pancakes (¥550) are best eaten in big mouthfuls, smothered in lots of butter and maple syrup.
11am: Explore the Tennoji area
After our morning coffee break, we set off for a walk through Abeno and Tennoji. The Abeno Harukas complex is a new landmark here and, at 300m, is the tallest commercial high-rise in Japan. For a panoramic view of the city, head to Harukas 300, an observatory located on the 60th floor (admission ¥1,500). Or, even better, splurge on a stay at the Osaka Marriott Miyako Hotel, located on the upper floors. A ten-minute walk from here takes you to Tennoji Zoo where you can see 200 animal species. The zoo is approaching its 100th anniversary, so it's not in the newest condition, but this does lend a distinct retro atmosphere to the place. Walk another ten minutes from the zoo and you'll come to Shitennoji, Japan's first authentic Buddhist temple said to have been built by Prince Shotoku in 593 and featuring one of Japan's oldest architectural styles and a number of important cultural artifacts.
1pm: Have lunch at Jan-Jan Yokocho
Visit Jan-Jan Yokocho (3 Ebisu-Higashi, Naniwa) and you'll see just why Osaka is known as the city where you eat-till-you-drop. Stretching from observation tower Tsutenkaku, a popular sightseeing spot, to Dobutsuen-mae Station, this alley is crowded with restaurants serving everyday fare such as kushikatsu (deep-fried skewers), Korean BBQ, sushi and udon (thick noodles). Kushikatsu is about ¥100 a skewer and comes with all-you-can-eat cabbage. Be warned: double-dipping in the sauce placed on the table is frowned upon.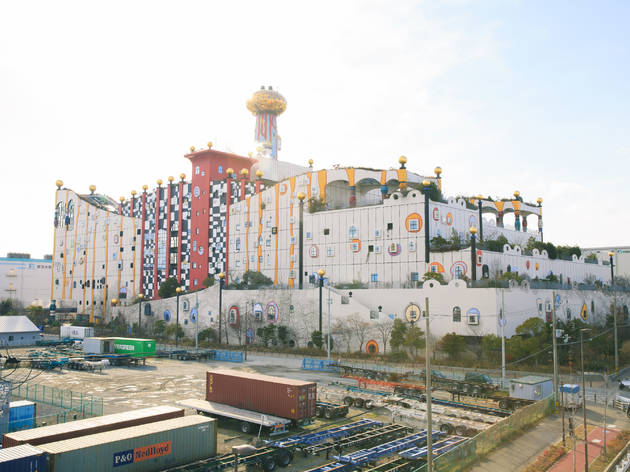 3pm: Stop by the arty incineration plant
Way more interesting than the recently opened 'Harry Potter' attraction at Universal Studios Japan (USJ), the Maishima Incineration Plant was designed in the late '90s by Friedensreich Hundertwasser, based on his philosophy that 'straight lines and identical things do not exist in nature'. It's a phenomenal structure featuring vegetation sprouting from the windows to attract birds. Reservations are required a week in advance and you need to be accompanied by someone who understands Japanese.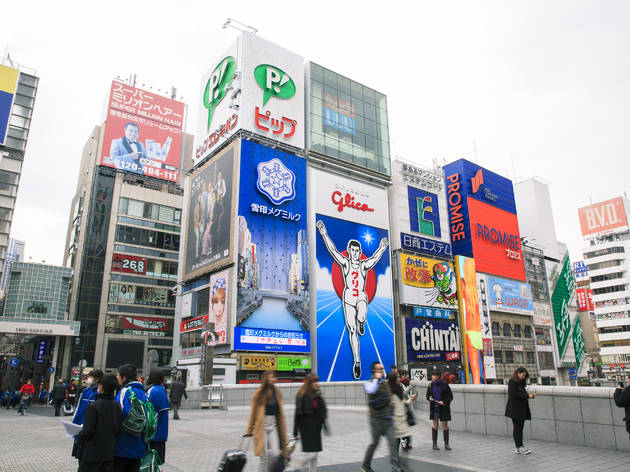 7pm: Tuck into sukiyaki or shabu-shabu for dinner
Hariju Dotonbori
is a legendary Osaka restaurant with a 100-year history that's evident in the decor and atmospheric setting. Here, you can savour the melt-in-the-mouth texture of Japanese beef in sukiyaki or shabu-shabu dishes. All dinners are fixed courses with prices varying from ¥7,000 to ¥17,000 depending on the choice of beef (available in five grades).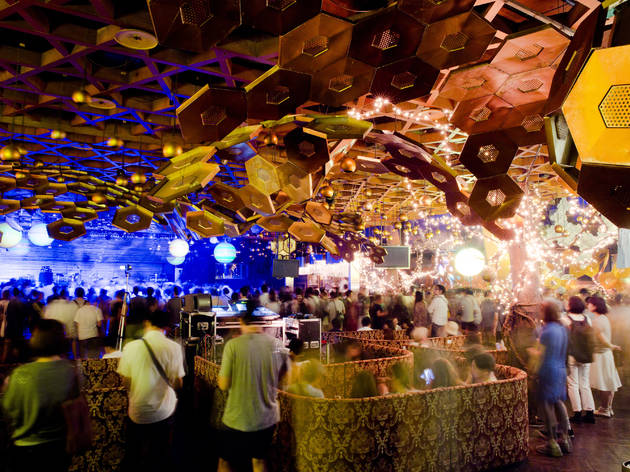 9pm: Spend a night on the town
Standard Bookstore
in Shinsaibashi is just the right place for some postprandial book browsing. Afterwards, explore the backstreets of the Namba district, located on the east side of Namba Station and filled with shops and bars that have recently enjoyed a growth spurt. Check out the six-storey
Misono
, built in 1956 and featuring inexpensive lodging upstairs, a large banquet hall that seats 500, and one whole floor packed with snacks and bars, not unlike Shinjuku's
Golden Gai
.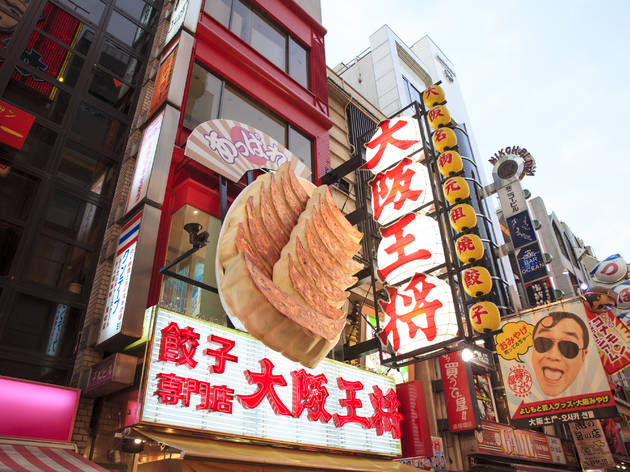 1am: End the night with a snack
Dotonbori's takoyaki (octopus balls) will satisfy your midnight cravings. The stalls here are open until the wee hours, with the most popular being Atchichi Honpo (7-19 Soemon-cho, Chuo, 06 7860 6888, open until 2am weekdays, until 5am Fri and Sat). Also stop by Osaka Osho (1-6-13 Dotonbori, Chuo, 06 6213 0400) where a serving of freshly fried gyoza dumplings goes for around ¥200, or dig into a steaming bowl of ramen noodles for around ¥600 at the 24-hour Kinryu Ramen (1-7-26 Dotonbori, Chuo, 06 6211 6202).
Travel details
Rock Star Hotel
You get to sleep with a giant image of David Bowie (or other rock stars) watching over you. All rooms are equipped with high quality sound systems and the suite, featuring a motif of The Beatles, even has a DJ booth. The hotel also has a stylish lounge and rooftop bar. rockstar-hotel.jp
Hostel 64 Osaka
This modern, stylish backpackers opened in 2010. Dormitory prices start at ¥3,500 per night, and while this is a shared room, they provide dividers for each guest's space. Japanese-style rooms with tatami flooring start at ¥8,100 per night for two guests, while the Western-style room starts at ¥8,200 per night for two. Rent a bicycle from them for easy sightseeing. www.hostel64.com
By train
The fastest and most comfortable way to reach Osaka is on the Nozomi bullet train, boarded either at Tokyo Station or Shinagawa Station. It takes roughly 2.5 hours to reach Shin Osaka Station. Reserved seats ¥14,250, unreserved seats ¥13,620. www.jreast.co.jp/e/charge
By bus
Most coach companies operate a service between Tokyo and Osaka, leaving from bus terminals situated next to Tokyo Station and Shinjuku Station. The journey time differs depending on the route taken, but it usually works out at around nine hours. Many buses run overnight, but some depart during the day too. Ticket price varies, but the cheapest ones are from ¥2,000 upwards. 'Ultra luxurious highway buses' have also recently been introduced and Willer Express offer 'executive' seats with only two seats per row, equipped with a TV screen. www.bus-channel.com
By plane
Low-cost airlines such as Peach and Jetstar fly between Narita Airport and Kansai Airport. The flight takes roughly 1.5 hours and ticket prices are around ¥5,000 during off-peak times – although remember you'll need to add the cost (and time) of travelling to out-of-town airports.