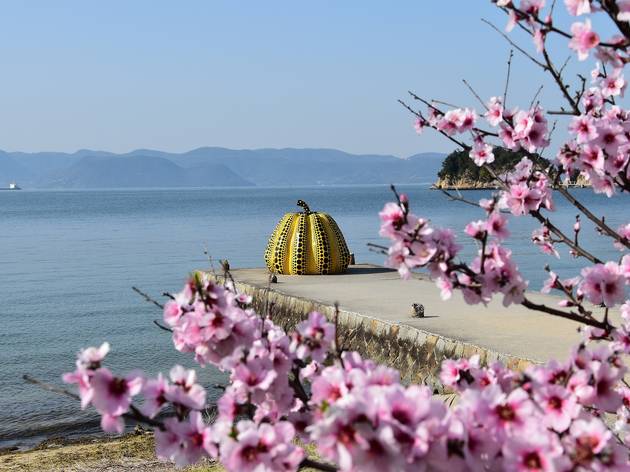 1/5
Photo: T Thomas/Pixabay
Naoshima Island pumpkin by Yayoi Kusama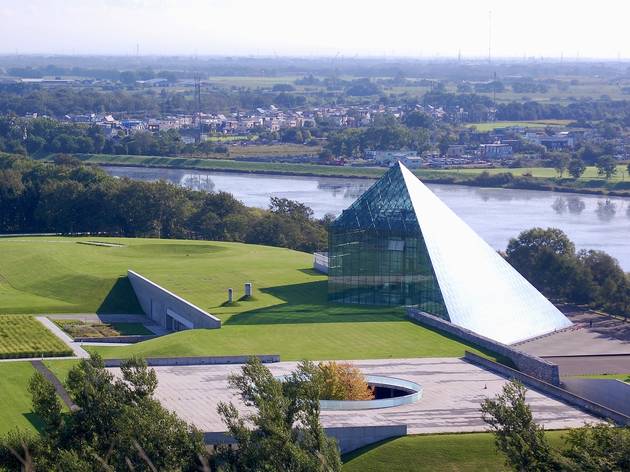 2/5
Photo: Samo/Pixta
Moerenuma Park, Sapporo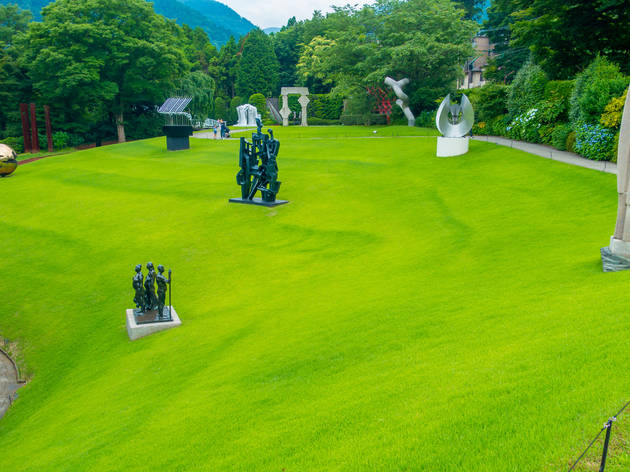 3/5
Photo: Pablo Hidalgo/Dreamstime
Hakone Open-Air Museum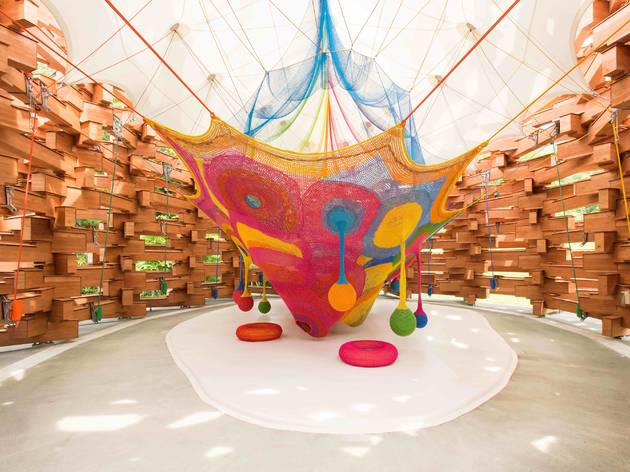 4/5
Photo: Hakone Open-Air Museum
Hakone Open-Air Museum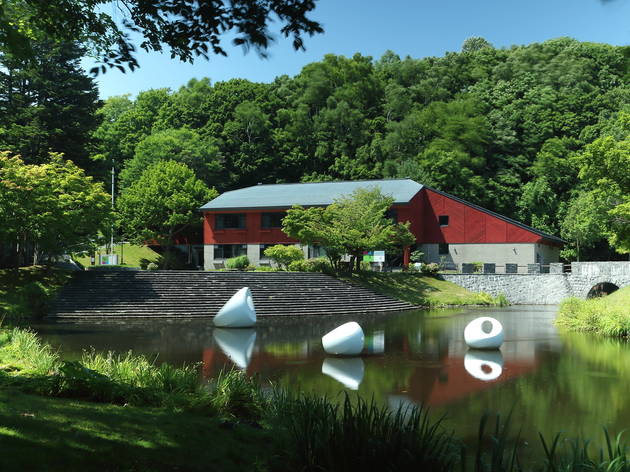 5/5
Photo: Onyu/Pixta
Sapporo Art Park
Best outdoor art museums and parks in Japan
Forget stuffy galleries – there's outdoor art all over Japan, from Hokkaido's Moerenuma Park to the Naoshima art island
Outdoor museums have a treasure-hunt appeal: you navigate through gardens and forests to find something that pops out behind a rock, emerges from a pond, or perfectly decorates the landscape. These sprawling alfresco galleries are ideal for getting back to nature while also marvelling at the work of great creative minds. Plus, they're perfect for families with kids who need room to play. Most open-air museums are open year-round, so you can enjoy the sculptures surrounded by autumn leaves and cherry blossoms, or even topped with snow.
Here are some of Japan's best outdoor art galleries and museums. Allow a couple of hours – or half-day for the larger museums – so you can take a slower pace and enjoy the natural surroundings. And remember to wear shoes fit for walking.
RECOMMENDED: The most beautiful autumn leaves destinations in Japan
Art out in the open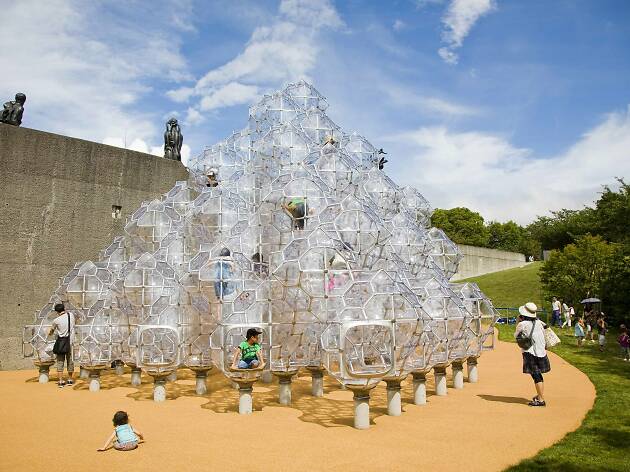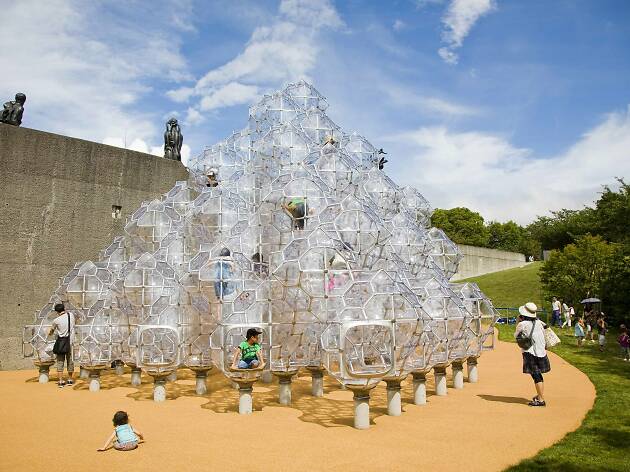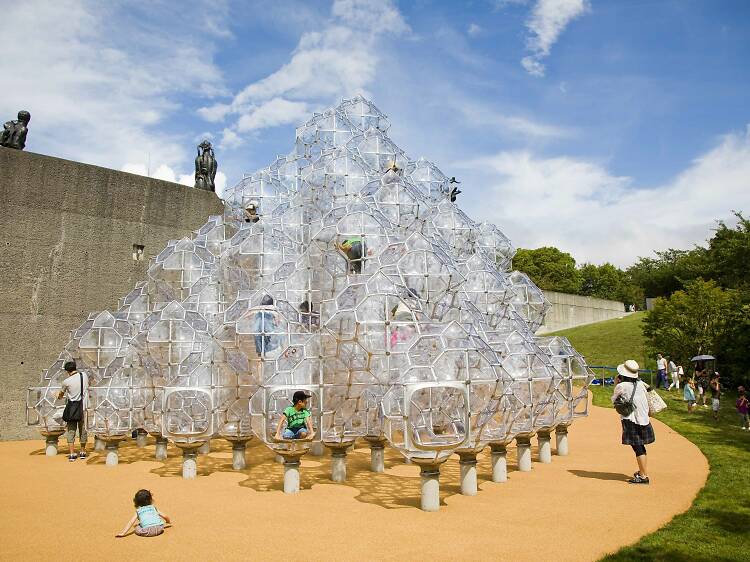 Photo: Kisa Toyoshima
Hakone Open-Air Museum (Kanagawa)
Japan's first open-air museum, the Hakone Open-Air Museum opened in 1969 in the serene countryside setting of Kanagawa prefecture, about an hour south of Tokyo by train. You'll find roughly 120 works by artists spanning the 19th century to the 21st dotted around the expansive green area, some quietly blending into the terrain, others standing out starkly.
Don't miss 'La Pleureuse' by Francois-Xavier and Claude Lalanne, an enormous stone sculpture of a human head covered in vines, lying in a pool of blue water. 'Woods of Net' is an impressive timber lattice big enough to walk inside, created by a team of Japanese artists, all without using any metal.
You'll also find sculptures by famous names like Auguste Rodin, Pablo Picasso and Taro Okamoto throughout the park. After all that walking, be sure to soak your tired feet at the museum's natural hot spring foot bath. And while you're there, why not check out the town of Hakone, too?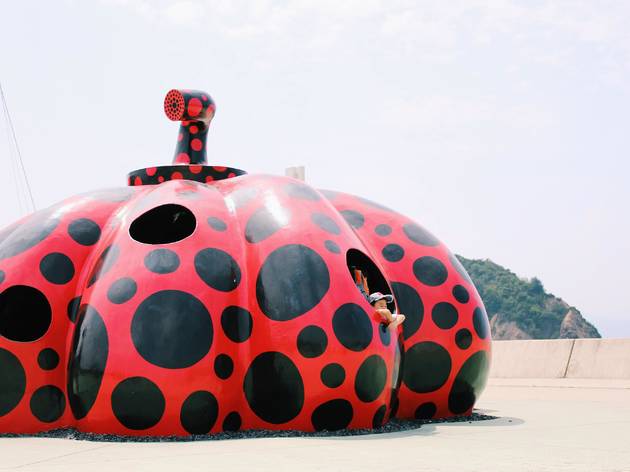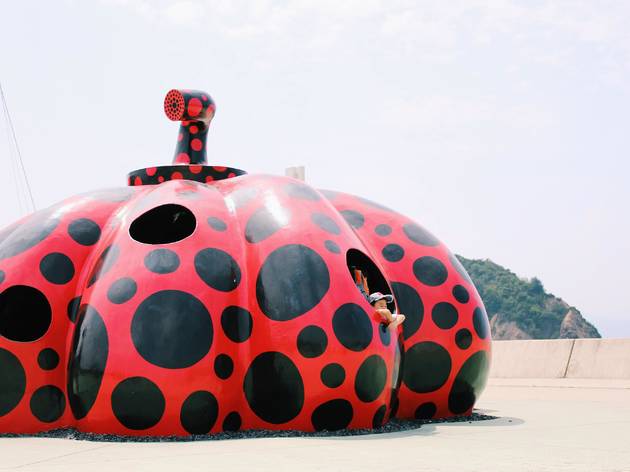 Photo: Rena/Unsplash
Benesse Site Naoshima (Kagawa)
Naoshima, the best known of Japan's art islands, is home to the Benesse Artsite and its eight different collections of open-air art. The Chichu Art Museum is a group of subterranean buildings designed by Tadao Ando. The buildings themselves are works of art, built so as not to disturb the beauty of their surroundings while capturing plenty of natural light. Inside, however, you'll find art by traditional and contemporary greats like Claude Monet and James Turrel.
On the other side of the island near Miyanoura Port, I Love Yu (yu being the symbol for bathhouses in Japan) is a public bathhouse that's had a psychedelic facelift, complete with mosaics and neon fittings. Take a soak and rejuvenate in an unorthodox kind of interactive art. With so much to do, make sure you don't miss seeing Yayoi Kusama's famous polka-dot pumpkin sculptures in the wild.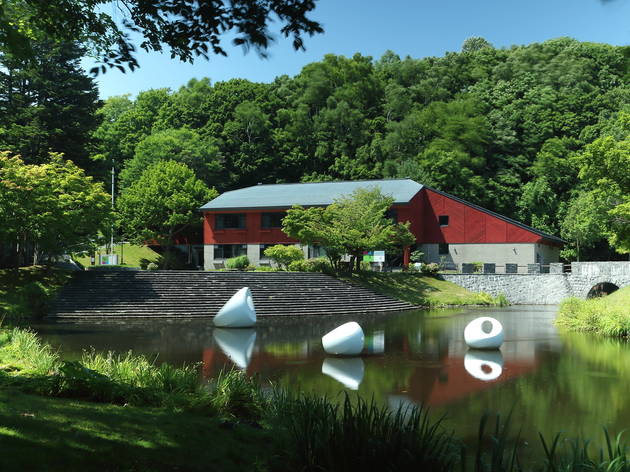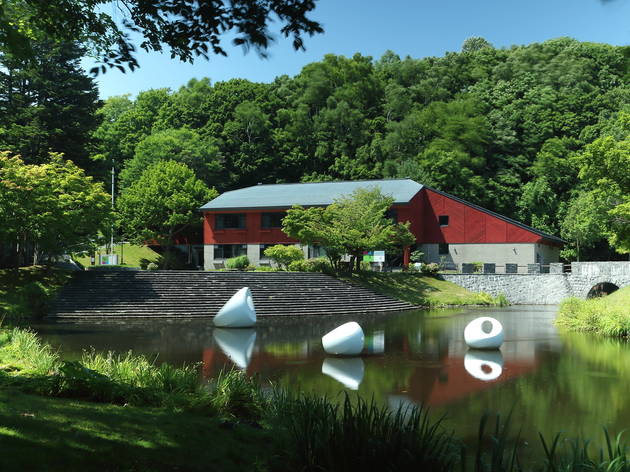 Photo: Onyu/Pixta
Sapporo Art Park Sculpture Garden (Hokkaido)
A 20-minute train ride from Sapporo Station, Sapporo Art Park Sculpture Garden encompasses 74 works by 64 different artists spread throughout a picturesque 40-hectare forest. First opened in 1986, with extensive renovations completed in 1999, the park features both local and international artists, who have contributed works that fit naturally and playfully into the landscape.
Japanese 'sculptor of wind', Shingu Susumu, created a piece comprising five sails that catch the wind and demonstrate the wildness of nature. 'Path to the Hidden Garden' by Israeli sculptor Dani Karavan comprises several works interacting together, including towering gates, a sundial, and a winding waterway that's 70m long. The Sculpture Garden is part of a bigger art complex, including craft studios, a museum, and hands-on workshops, so it's worth extending your visit to a whole day – especially if you have kids in tow.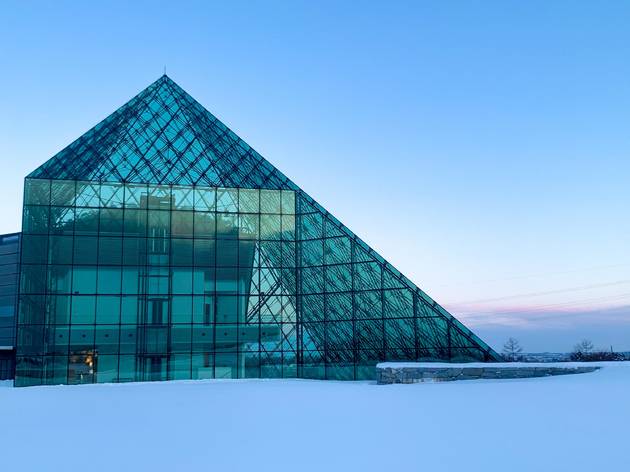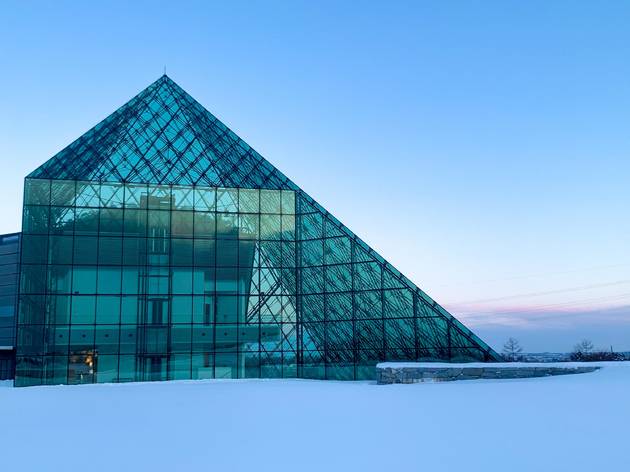 Photo: Bee De Ramos/Unsplash
Moerenuma Park (Hokkaido)
Moerenuma Park is a vast natural landscape filled with extraordinary geometric sculptures by Japanese-American artist and landscape designer Isamu Noguchi. Opened in 2005, the park is accessible year-round, boasting fiery foliage in autumn and cross-country skiing in winter.
You're allowed to approach the sculptures, which look like they sprouted out of the ground, and there's a surrealist playground for kids. Noguchi's goal was to treat the entire park as a single sculpture, with nature and his structures coming together to create one artwork.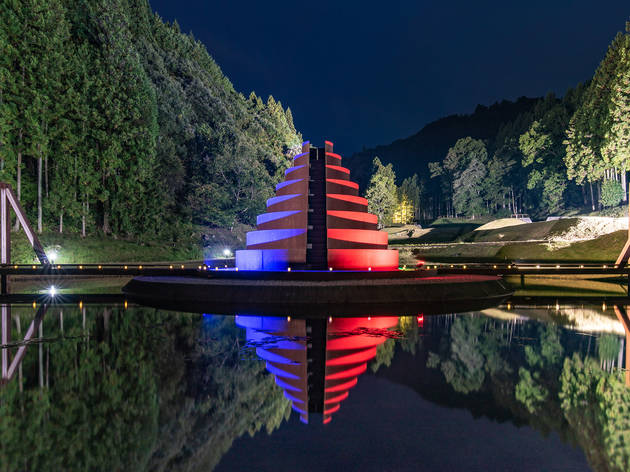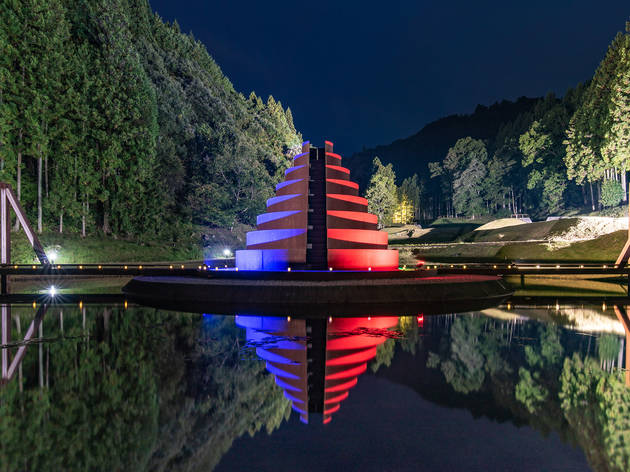 Photo: サントー / PIXTA
Begun in 1997 by local sculptor Inoue Fukichi, this captivating roughly 700 metre-long art forest was completed by renowned Israeli artist Dani Karavan in 2006. The giant, modern installations are designed to harmonise with the natural landscape – they look like a cross between futuristic sculptures and the excavated monuments of an ancient civilisation. 'Spiral Bamboo Forest' is a 17m-diameter staircase that winds into the ground, the staircase is surrounded by a bamboo forest and the steps lead down to a mysterious tunnel that takes you back above ground, while the 'Tower of the Sun' is an 8-metre tall steel sundial. There are places for bird-watching, open-air events, resting and even a spiral watercourse for children to splash around in. If time permits, the spacious grounds are the perfect place for picnicking.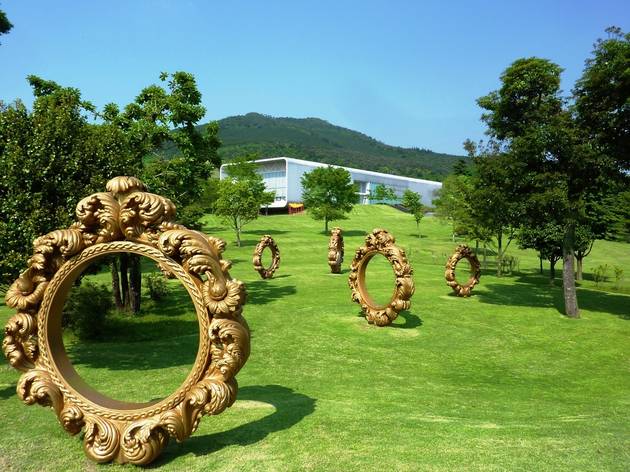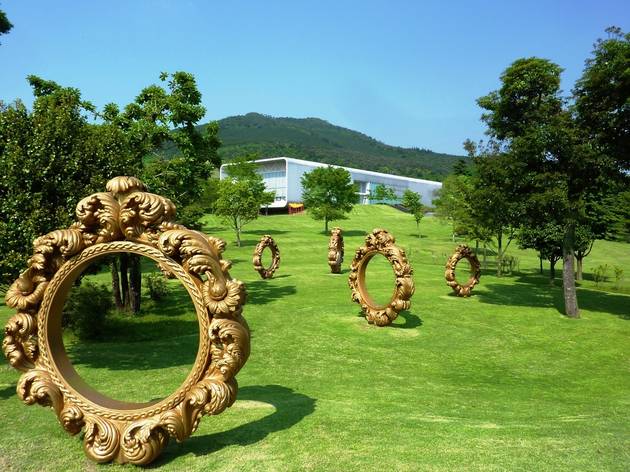 Photo: Kirishima Open-Air Museum
Kirishima Open-Air Museum (Kagoshima)
Set in the foothills of Mount Kirishima, Kirishima Open-Air Museum offers visitors a breathtaking 13 acres of contemporary art. The 23 artists exhibited here created their works especially for the site. The first artwork you'll be greeted by is Yayoi Kusama's magnificent 'Flowers of Shangri-La', a large sculpture of blooming flowers in her signature bright colours and polkadots.
Walk across rolling green fields and down winding forest paths to find sculptures by Antony Gormley, slender human figures that blend so naturally into the woodlands they could be missed. Many of the works are interactive and make great places for kids to play. 'Forest Observatory' by Finnish duo Marco Casagrande and Sami Rintala is a set of white walls that you walk between – the way the structure shapes the natural sounds around you is eerily compelling.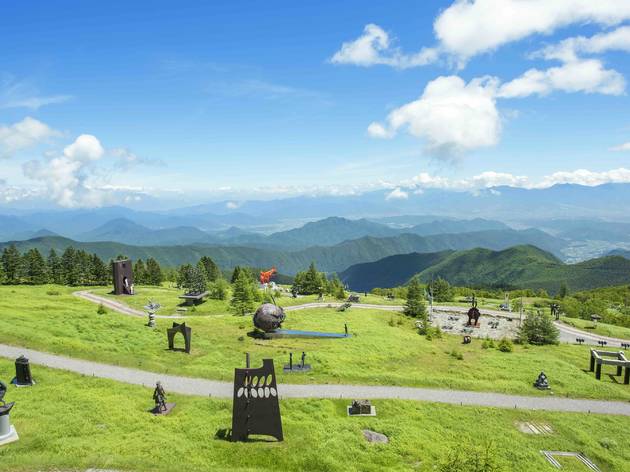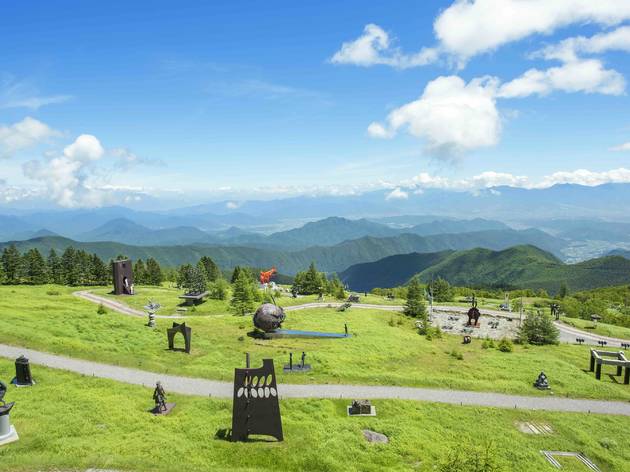 Photo: Utsukushigahara Open-Air Museum
Utsukushigahara Open-Air Museum (Nagano)
Whether you visit Utsukushigahara Open-Air Museum for the art or for the view, you'll be impressed. This sprawling museum is located on an open plateau 2,000m above sea level, with 360-degree views across the rolling hills and sweeping valleys of the Japanese Alps – from May to September, you'll be wandering amongst plains of wildflowers.
The museum, which opened in 1981, is about an hour's drive from Matsumoto, and is the sister site of the Hakone Open-air Museum. There are 350 sculptural works of varying styles by artists from Japan, France, Israel, Mexico and more. Many of the sculptures are enormous – Akinori Matsumoto's 'Music Played by The Wind' is an 8m high instrument, with aluminium frames that create sound as the wind blows them.
Japanese landscape gardens don't just showcase seasonal beauty; they also seek to recreate an idealised version of nature
Want to go camping without roughing it? These comfy tents and domes let you enjoy a luxurious time in nature
Japanese cuisine may have conquered the world, but you should experience it at its homeland in these food cities in Japan