Heads up! We're working hard to be accurate – but these are unusual times, so please always check before heading out.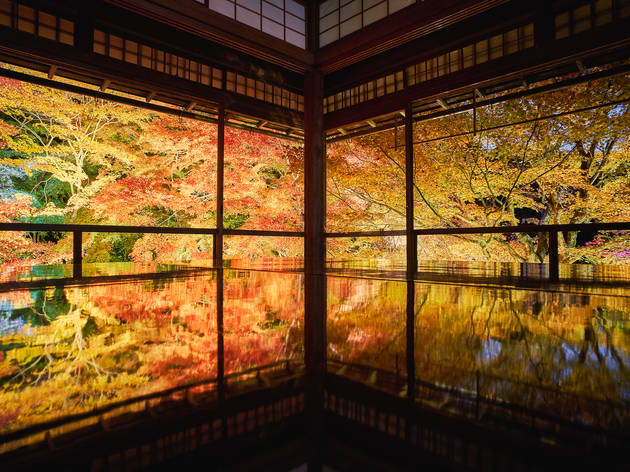 1/5
Photo: Hsu Yu Sheng/Dreamstime
2/5
Photo: Tawatchai Prakobkit/Dreamstime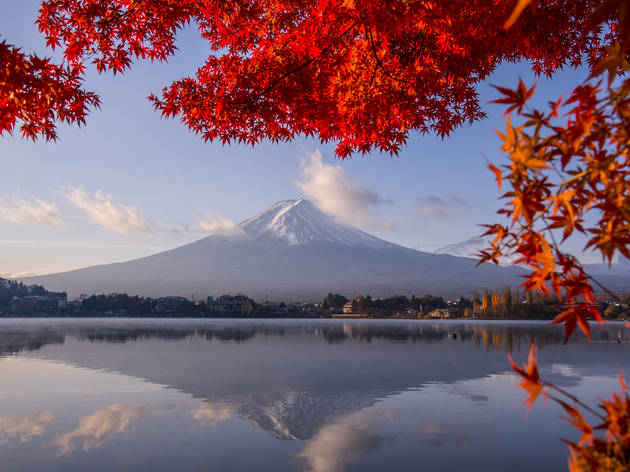 3/5
Photo: Wiradej Thongsuwan/Dreamstime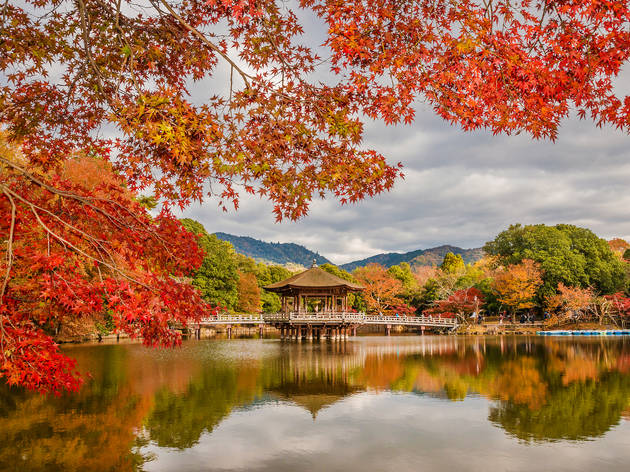 4/5
Photo: Crisfotolux/Dreamstime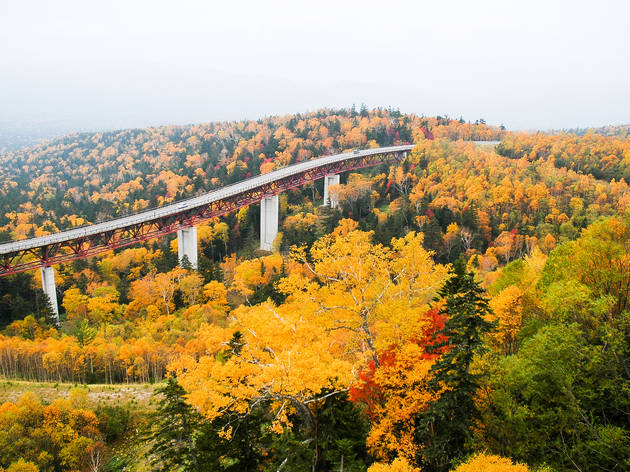 5/5
Photo: Tatsuo115/Dreamstime
The most beautiful autumn destinations in Japan
Leaf Tokyo for these lakes, temples and forests, where you'll find some of Japan's most spectacular autumn foliage
Aside from the ever-popular cherry blossom season, autumn in Japan is easily one of the best times to travel the country. The changing autumn colours, locally known as koyo, is highly anticipated, with annual forecasts predicting when the leaves will change from green to stunning shades of yellow, gold and red.
Thankfully, there is ample time to enjoy this seasonal spectacle as temperatures vary throughout the country. This means you'll be able to catch the leaves anytime from the end of September through to December. From the temples of Kyoto to the mountains in Hokkaido, keep these gorgeous destinations in your list if you want to see the best of Japanese autumn.
BE SAFE: Before you go, read our guide on how to go out safely, as well as the new domestic travel guidelines
Hello autumn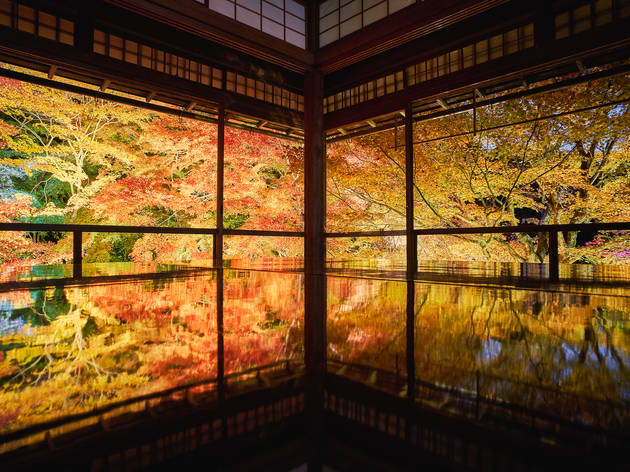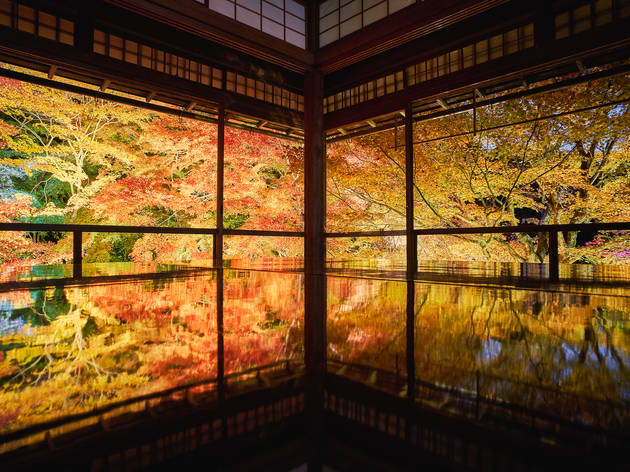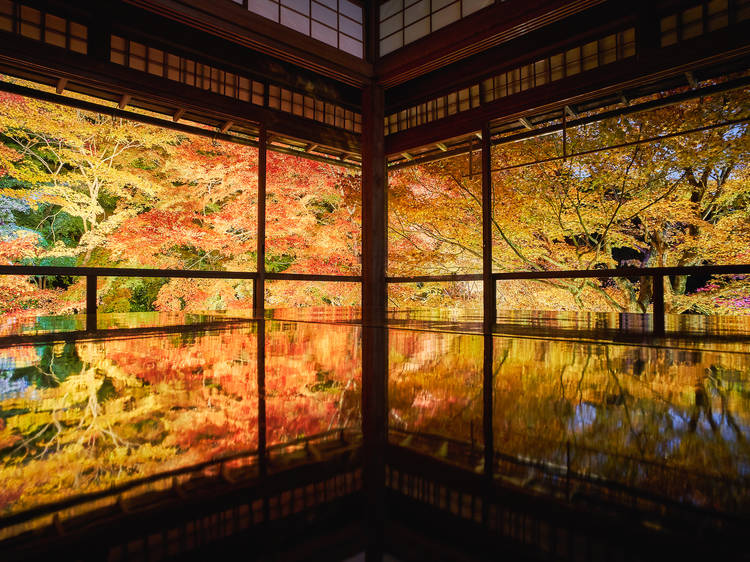 Photo: Hsu Yu Sheng/Dreamstime
The picturesque Ruriko-in Temple in Kyoto is the go-to Instagram spot for the city's autumn foliage. It only opens twice a year – once in autumn and then in spring. Located near Mt Hiei and surrounded by lush nature, the temple is best known for its brilliant red momiji (Japanese maple) come autumn – and the best spot to photograph them is from the second floor of the temple's Shoin building. The room features a black laquered table that's so well polished that it mirrors the foliage outside the window, creating a stunning visual effect. The peak time to visit the momiji is from mid- to late-November.
Photo: Tawatchai Prakobkit/Dreamstime
Although Arashiyama is most popular for its bamboo forest, this Kyoto countryside also offers beautiful autumn leaves. Everywhere you turn, the forested mountains are covered in shades of auburn, yellow and red. The scenery is particularly stunning around the area's many temples including Tenryuji and Jojakkoji. Don't forget to stop by Katsuragawa River, where the fishing boats meander through the fiery coloured mountains. To catch peak season, make your way to Arashiyama from mid-November through December.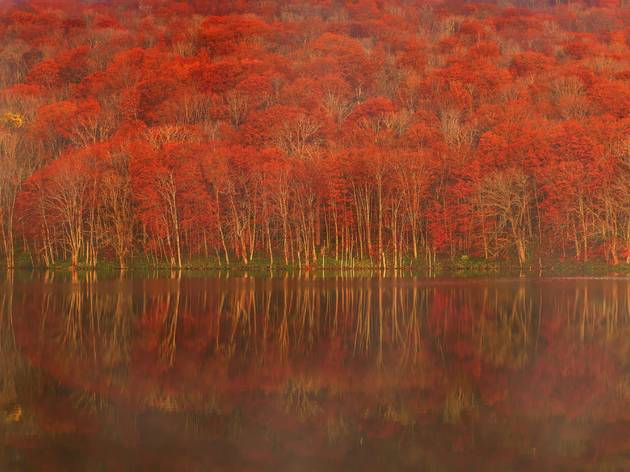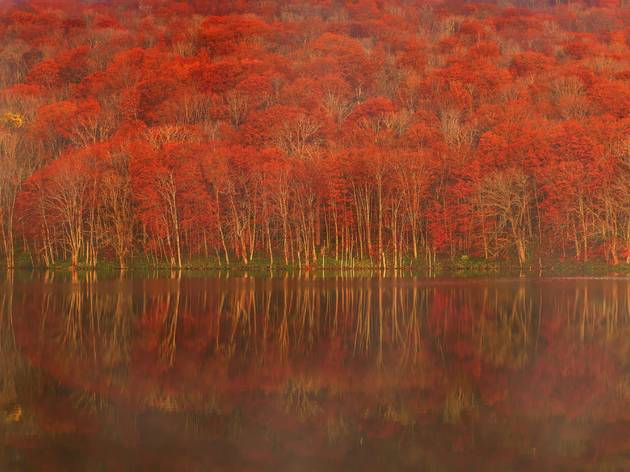 Photo: Ken Cheung/Unsplash
The largest caldera lake on Japan's Honshu island is a sight to behold come autumn. Since the weather tends to be cooler up north in Aomori, the trees here tend to change their colours slightly earlier than their southern counterparts, with peak season usually around mid- to late-October. The shores are populated by beech trees, which turn bright yellow, and momiji maple trees, which are known for their vermillion shades. The thing that makes this scenic spot truly spectacular is the reflection of Mt Towada and its seasonal foliage on the lake's still surface.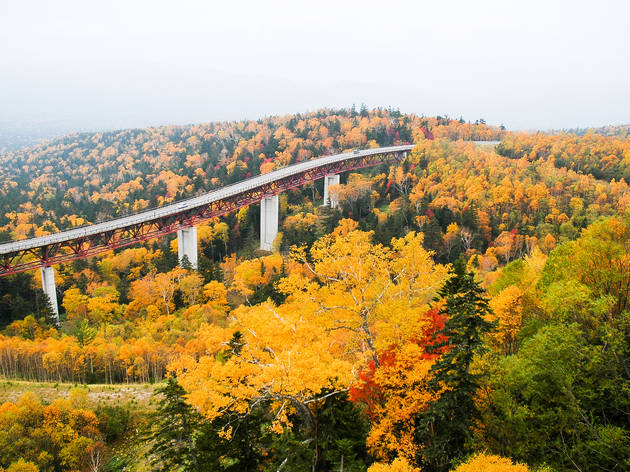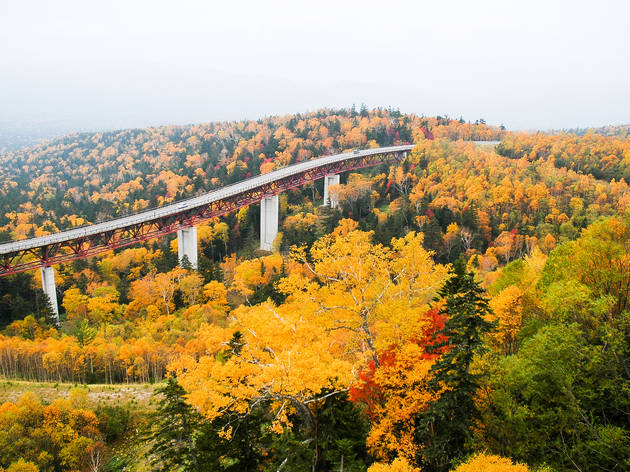 Photo: Tatsuo115/Dreamstime
The Mikuni Pass in Kamishihoro, which runs along National Route 273, sits at a staggering 1,139m above sea level. From this height, you'll be afforded with some of the best views of autumn in Hokkaido from late-September to mid-October. The scenic drive cuts through Daisetsuzan National Park, where you'll also find an abundance of trees which change colours as the weather cools. The best time to visit is between September and October, and there are free parking lots and lookout points along the way for you to take in the views.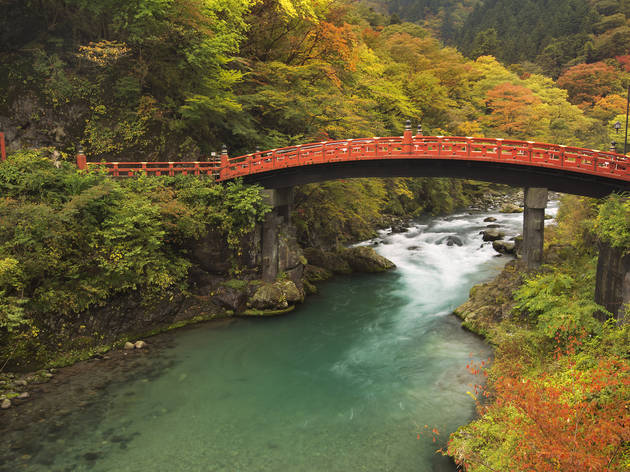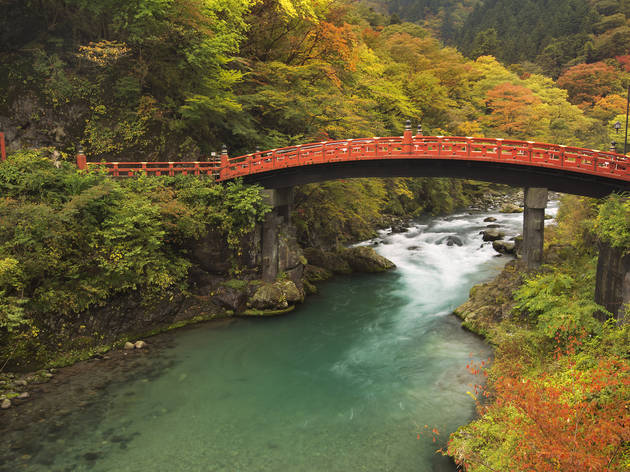 Photo: Sara Winter/Dreamstime
Just north of Tokyo, Nikko feels like a mini Kyoto with its Unesco World Heritage-listed temples and picturesque nature, especially in autumn. There are many spots to take in the scenery but the Shinkyo Bridge and Ryuzu Falls offer some of the best photo ops.
Shinkyo Bridge sits near the entrance to Nikko's main shrines and temples. Its vibrant red colour matches perfectly with the seasonal vermillion foliage. Ryuzu Falls, otherwise also known as Dragon's Head Waterfall, is part of Yukawa River and flows into Lake Chuzenji. In autumn, the leaves here turn shades of gold, orange and red, giving the waterfall a dragon-like appearance. The peak season for autumn leaves in Nikko usually runs from early October to early November.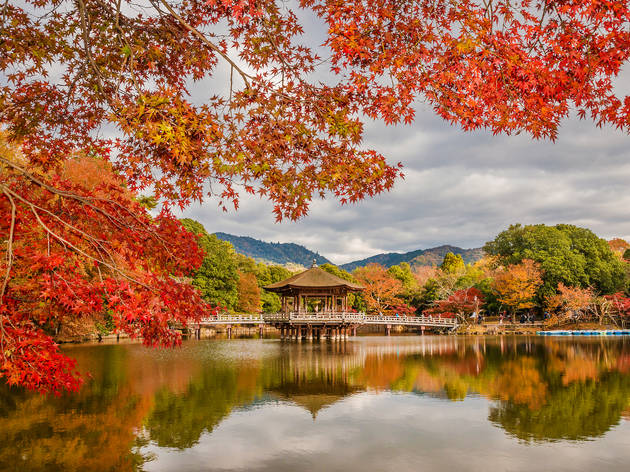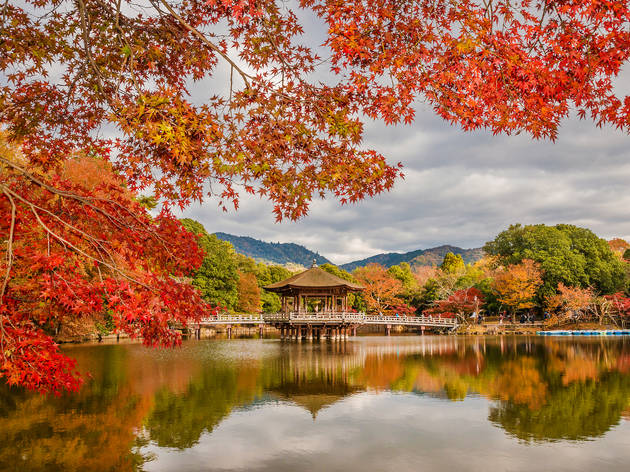 Photo: Crisfotolux/Dreamstime
Nara Park is so extensive that you could spend an entire day trekking the grounds taking in all the autumn foliage. A particularly notable spot is the immediate area surrounding Todaiji Temple, which is populated by red momiji maple trees, brilliant yellow ginkgo and of course, the famous bowing deer. In the middle of Nara Park you'll come across Ukimido, a beautiful wooden pavilion that looks as if it's floating on the pond. This special site is especially scenic in autumn as the colourful foliage reflects on the pond's surface, creating an arresting optical illusion. Peak season in Nara roughly stretches from mid-November through December.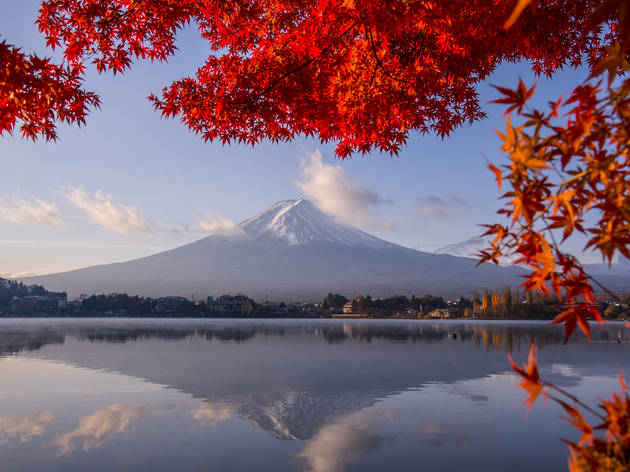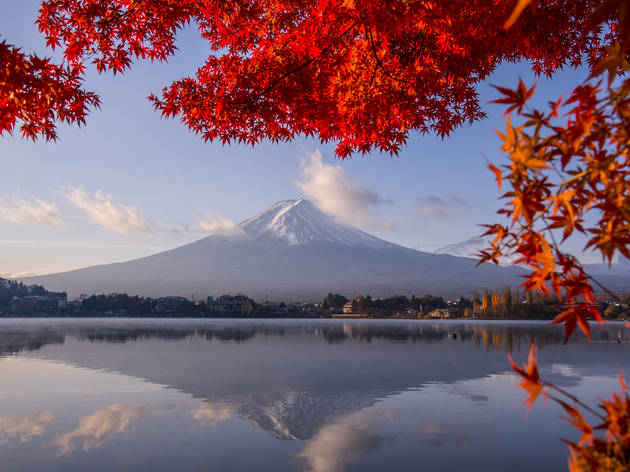 Photo: Wiradej Thongsuwan/Dreamstime
Lake Kawaguchiko, Yamanashi
Nothing screams 'Japan' more than a photo of Mt Fuji surrounded by beautiful autumn leaves. While any of the Fuji five lakes is a good spot to catch the seasonal foliage, Lake Kawaguchiko is especially stunning. The lake offers two vantage points: the Momiji Corridor along the Nashigawa River and the iconic Momiji Tunnel which gives you a shot of Mt Fuji framed by red maple leaves. The trees here don't usually start to blush until mid to late November and should last until early December.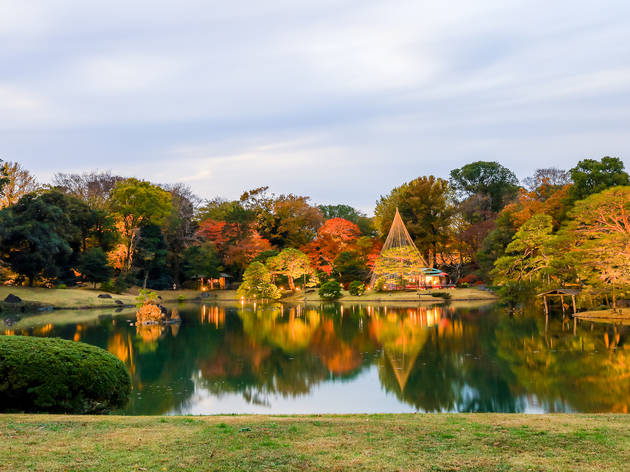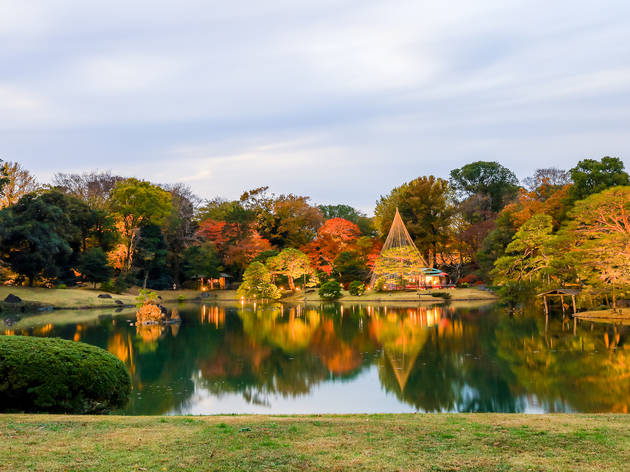 Photo: Nathapon Triratanachat/Dreamstime
If you prefer to stay in Tokyo, there are still a good number of parks and nature attractions to enjoy the autumn leaves. One of the best spots in the city is Rikugien Garden. During peak autumn, the Japanese landscape garden usually hosts an evening illumination, a rare chance to see the foliage in a different light. Unfortunately, this year's event is cancelled due to coronavirus, but the garden is still open daily from 9am to 5pm. The best time to visit? Try late November to early December.
More autumn inspiration
From yellow ginkgo trees to red maple leaves – see the seasonal beauty at Tokyo's gardens and parks
For Tokyo, expect red maple leaves and yellow ginkgo to peak around mid-November
Get 35 percent discount at some of Japan's most beautiful hotels – now available on booking.com