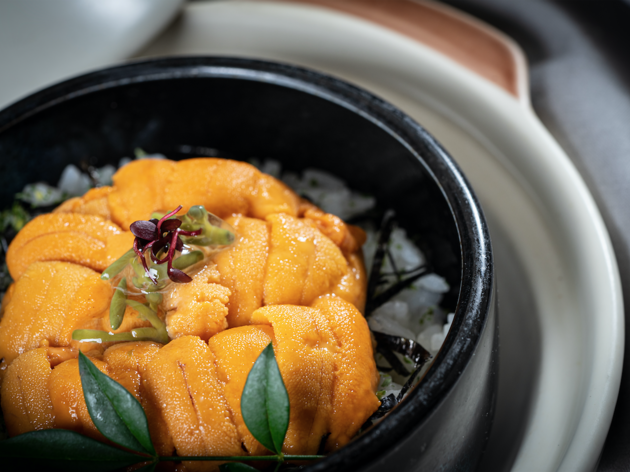 1/6
Photo: Ekkamol Eksarunchai/Dreamstime
Uni on rice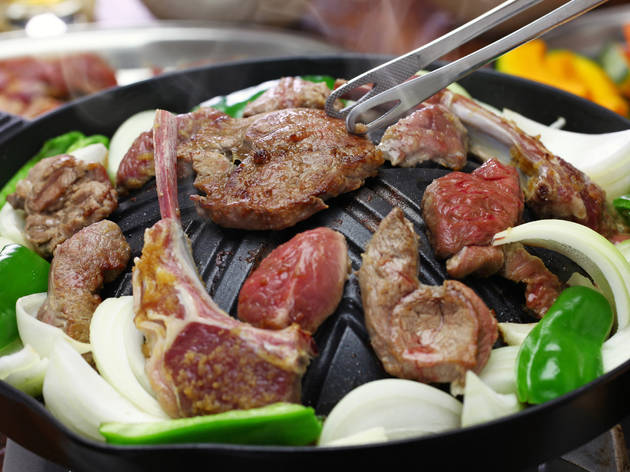 2/6
Photo: Ppy2010ha/Dreamstime
Genghis khan, Japanese-style lamb barbecue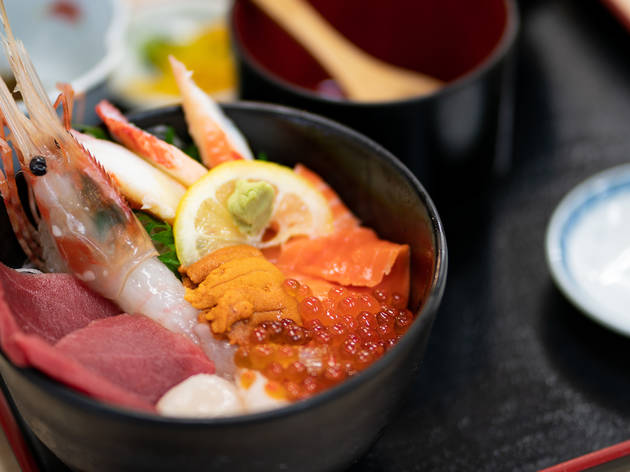 3/6
Photo: Sirawit Hengthabthim/Dreamstime
Kaisendon, fresh seafood on rice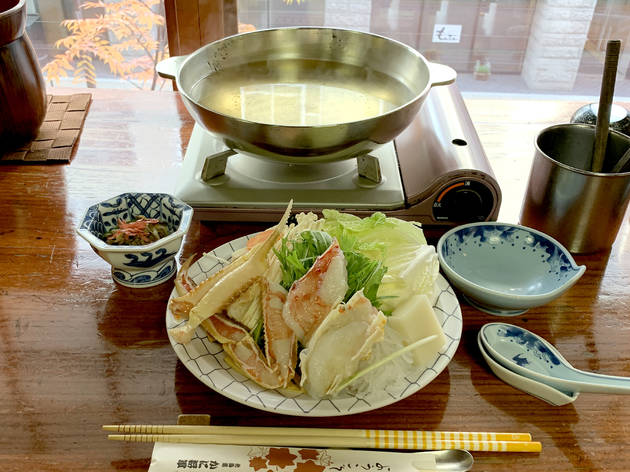 4/6
Photo: Lim Chee Wah
Hokkaido crab hot pot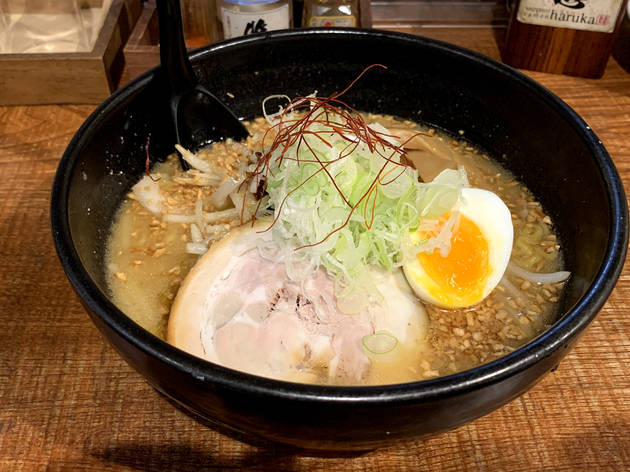 5/6
Photo: Lim Chee Wah
Sapporo miso ramen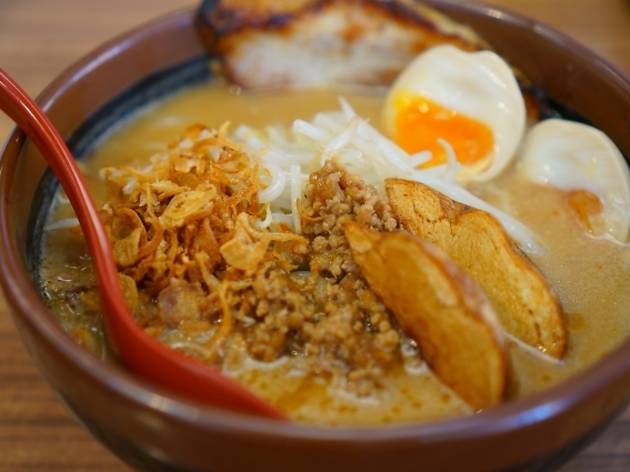 6/6
Photo: 出張撮影のメモリーズ 吉田 敬児/Photo AC
Sapporo miso ramen
10 things you must eat in Sapporo
Hokkaido's capital city has seafood and dairy to spare, but these classic dishes show there's more for the foodie traveller
In the far north of the Japanese archipelago, a 90-minute flight from the neon lights of Tokyo, lies the spacious, lush island of Hokkaido. The prefecture's capital, Sapporo, has one of the country's best food scenes thanks to the abundance of high-quality ingredients.
Sapporo has access to excellent seafood, and the area's fresh air, pristine mountain water and crisp climate cultivate produce both flavourful and fresh. It helps that the city is beautiful, but the trip up north is worth it for the food alone.
From miso ramen and milk to soup curry and corn, when you next find yourself in Sapporo, these are the ten dishes you have to try.
RECOMMENDED: These are the best foodie destinations in Japan
Sapporo specialities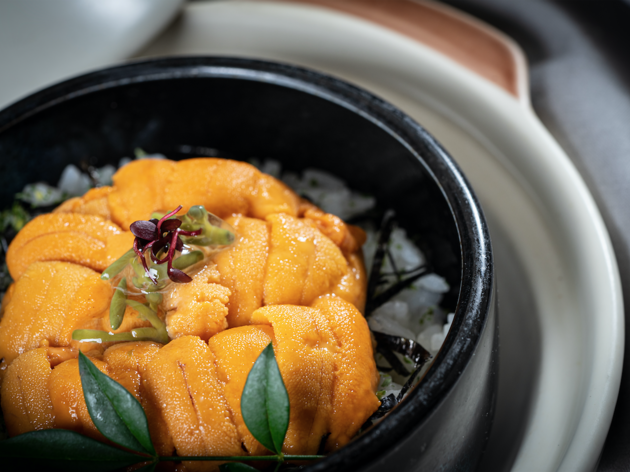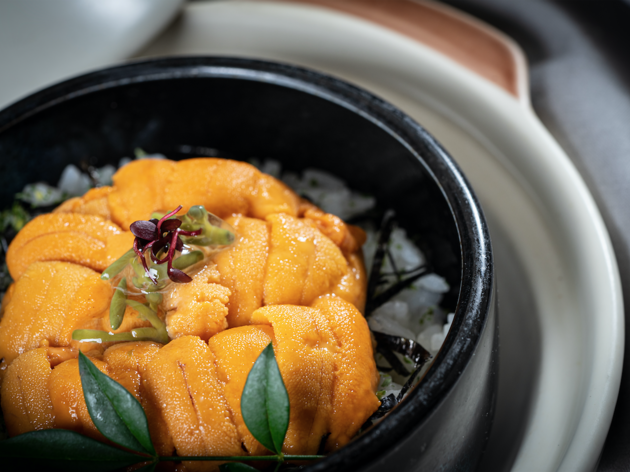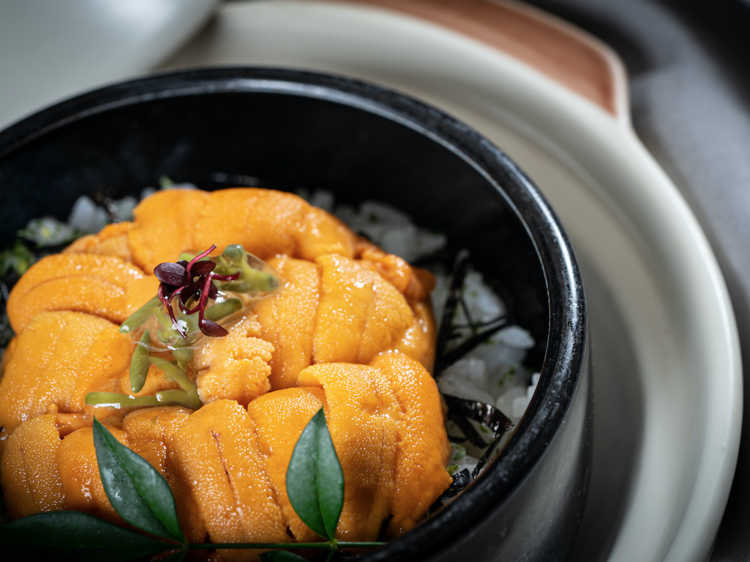 Photo: Ekkamol Eksarunchai/Dreamstime
Uni (sea urchin roe) has rocketed to fame in recent years on global menus, wooing diners with its buttery texture and gentle taste of the sea. There are two different uni varieties found in oceans around Sapporo: murasaki and bafun. They're both best enjoyed from late summer to mid-April, when the flavour is mild and the texture custardy.
To appreciate uni this fresh, look for it at sushi restaurants, where it's often served on top of donburi rice bowls. Supermarkets and seafood retailers will also have some to purchase, if you feel like tucking into a tray of the orange morsels at home. Uni from Hokkaido is the most revered in Japan – and, indeed, the world – which makes it a must-eat when in Sapporo.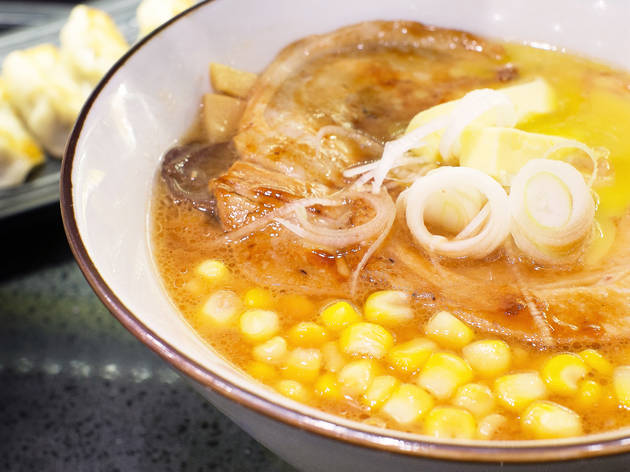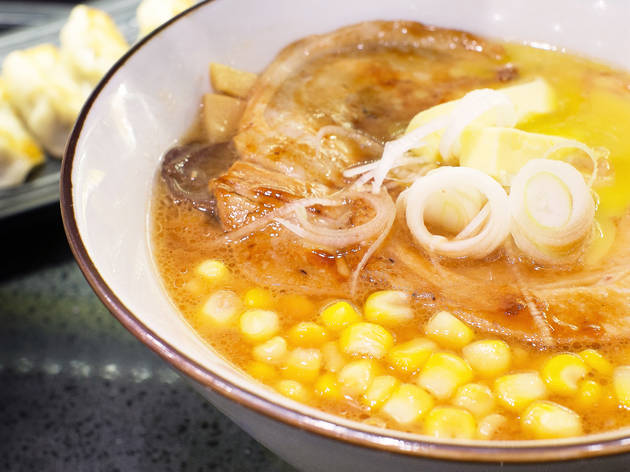 Photo: Baworn Srisatjalertwaja/Dreamstime
The antidote for Sapporo's long, chilly winters comes in the form of a steaming bowl of noodles: miso ramen. The base is a rich chicken, fish or pork broth, which is flavoured with miso paste; the noodles are thicker and curlier than usual, with a springy texture. Toppings include minced pork, slices of chashu pork and soft boiled eggs and vegetables like stir-fried bean sprouts, cabbage and bamboo shoots.
Miso ramen is thought to have emerged post-World War II, when financial hardships meant cheap, filling food was needed. Miso paste, made from fermented soy beans, is rich in vitamins and the ramen is topped with more fresh vegetables than there are in a typical bowl of ramen.
To try some yourself, head to Sapporo's ramen street, Yokochi, where you'll be spoiled for choice with a serve costing you less than ¥1,000.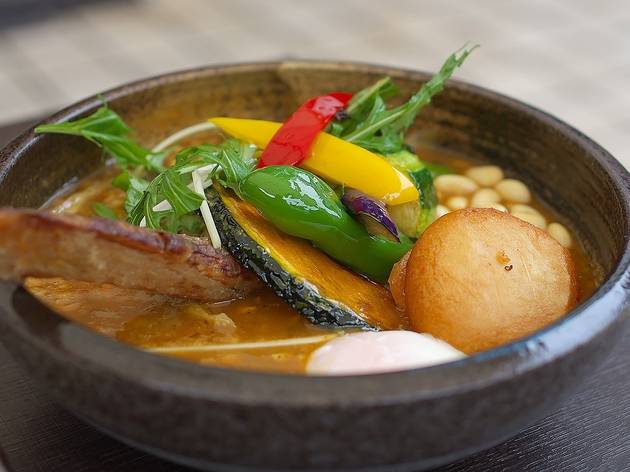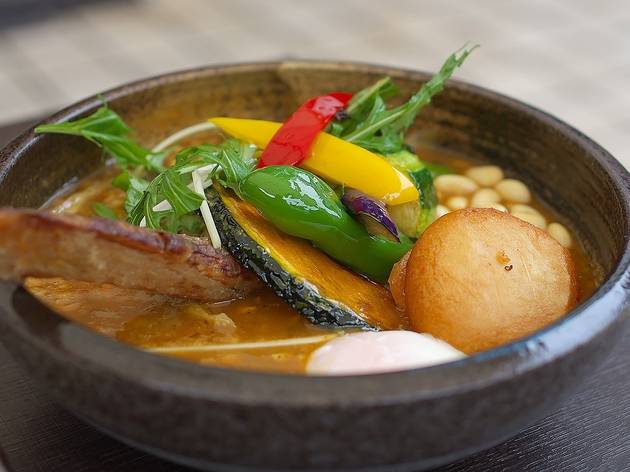 Photo: Babizoh/Pixabay
No trip to Sapporo is complete without at least one bowl of soup curry, and with an estimated 200-plus soup curry restaurants in the city, you won't have to look too far. Soup curry starts with a flavourful curry base, which is thinner than regular Japanese curry, and infused with an array of spices. The curry is served with succulent chicken thigh and leg, along with a colourful assortment of chunky vegetables like lotus root, eggplant, pumpkin, mushrooms and baby corn.
The curious concoction is credited to a local Sri Lankan restaurant in the 1970s, but it was further developed by another Sapporo restaurant, Magic Spice, with a combination of Chinese medicinal chicken soup and ayurvedic spices. The soup has now spread throughout Japan, but is still heavily associated with Sapporo.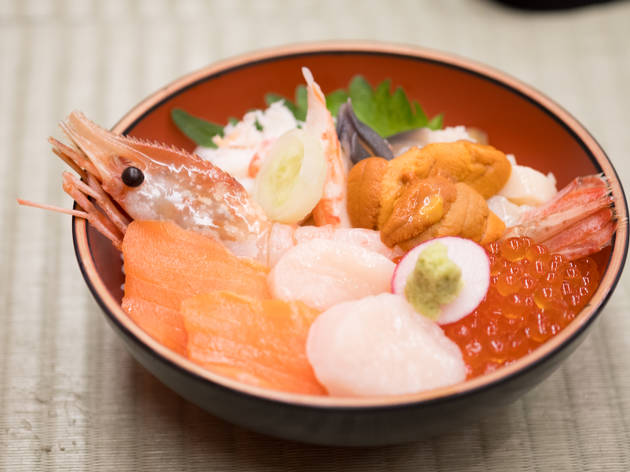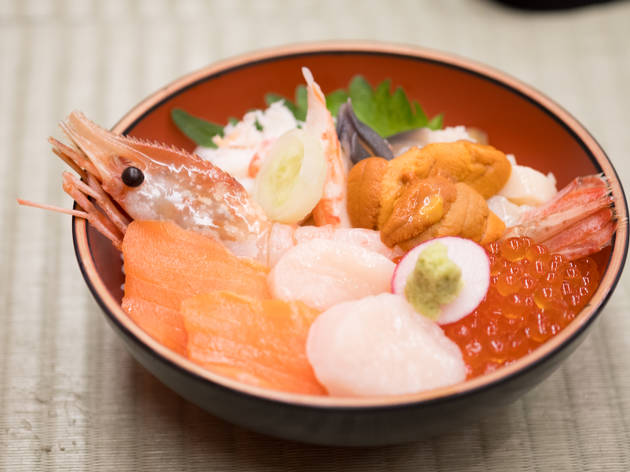 Photo: Dontree/Dreamstime
Want to sample Sapporo's bountiful seafood all at once? Try kaisendon, a bowl of sushi rice topped with slices of raw seafood. Although kaisendon is found throughout Japan, bowls found in Sapporo are exemplary, with seafood that glistens with freshness and has a delicate flavour from the cold, clean surrounding oceans. Many restaurants in Sapporo use local Hokkaido rice, so you'll get a double dose of regional specialities.
Kaisendon comes in all sorts of varieties, and some even include up to 20 different types of seafood. Make the most of being in Sapporo, and go for a bowl with local specialities like ikura (salmon roe), crab meat, salmon, botan ebi (prawn), uni (sea urchin roe), scallops and squid.
Head to the Sapporo Central Wholesale Market to sample super-fresh bowls; otherwise, you'll find kaisendon at many of the sushi restaurants around the city.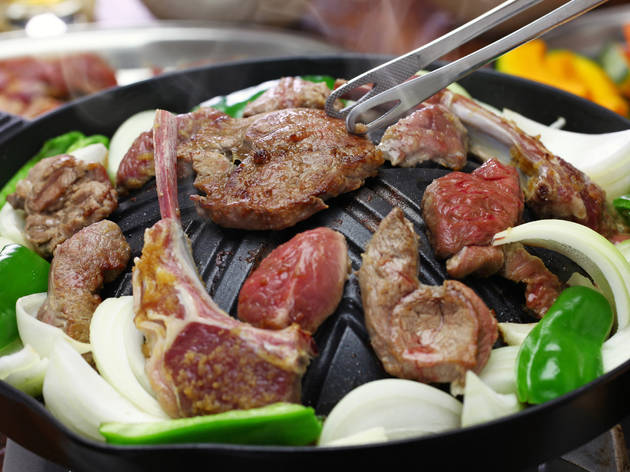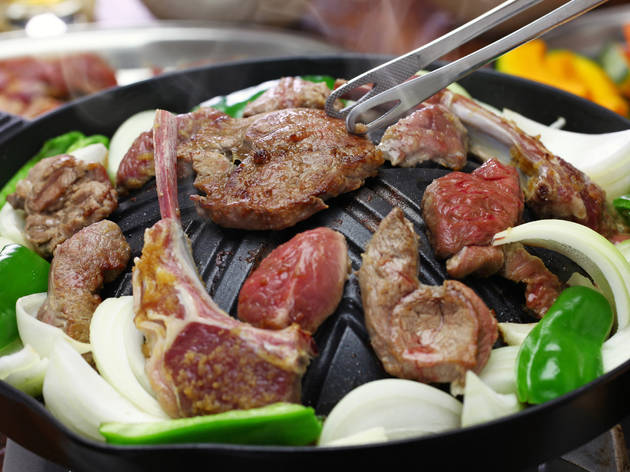 Photo: Ppy2010ha/Dreamstime
For this Sapporo-style barbecue, tender strips of succulent lamb or mutton are cooked over a dome-shaped grill, with thick aromatic plumes of smoke climbing from the table and filling the air. After sheep were first brought to Hokkaido in the early 1900s, eating lamb and mutton gradually became popular. This barbecue style is known to locals as Genghis Khan, after the 12th-century Mongolian leader, because of the old belief that lamb was the meat of choice among Mongolian soldiers.
To barbecue, the meat may be marinated first, or grilled and then served with a dipping sauce; vegetables like bean spouts, cabbage, pumpkin and onions also share the grill. At Genghis Khan restaurants, the barbecuing is often done tableside, adding extra novelty. You'll find this as a staple at Sapporo festivals, beer gardens, and on picnics and camping trips in the area.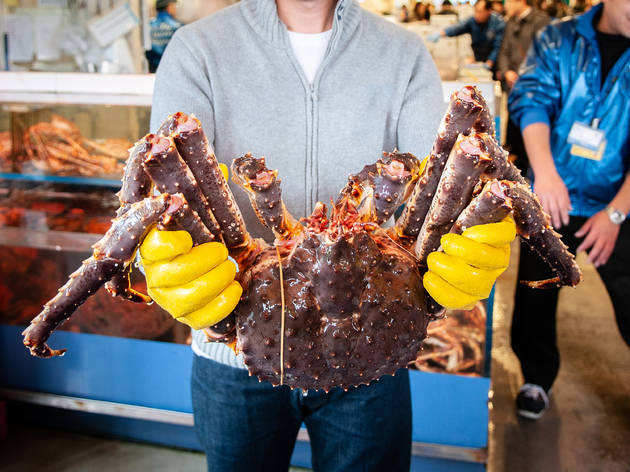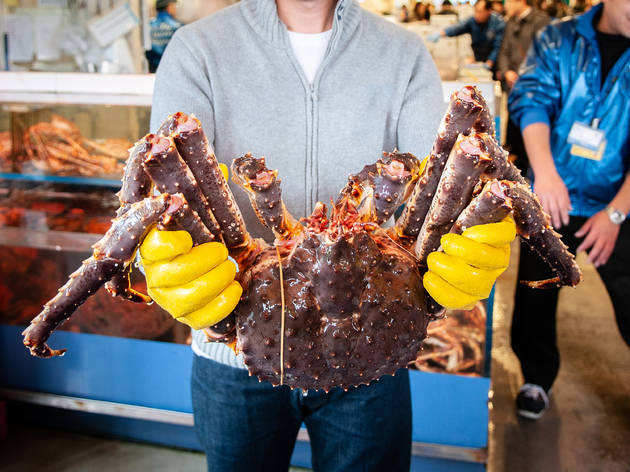 Photo: Nuvisage/Dreamstime
Crab lovers rejoice: the luxurious crustacean is in season in Sapporo year-round, thanks to the abundance of crab varieties. There's the red king crab, prized for its richly flavoured meat; horsehair crab, a smaller crab loved for its kani miso (no, not that kind of miso – this is crab guts); snow crab, with sweet, juicy meat; hanasaki crab, with tender flesh and tasty roe; and the lightly-flavoured blue king crab.
You'll find crab on the menu at sushi restaurants, izakaya and specialty crab restaurants throughout the city, with some offering all-you-can-eat crab deals. Try crab donburi, tempura, shabu shabu and croquettes, and many other creative serves. Head to any of Sapporo's lively markets to browse, try and buy different crustaceans: Nijo Market, Sapporo City Wholesale Market, Sapporo Morning Market, and the aptly named Sapporo Crab Market.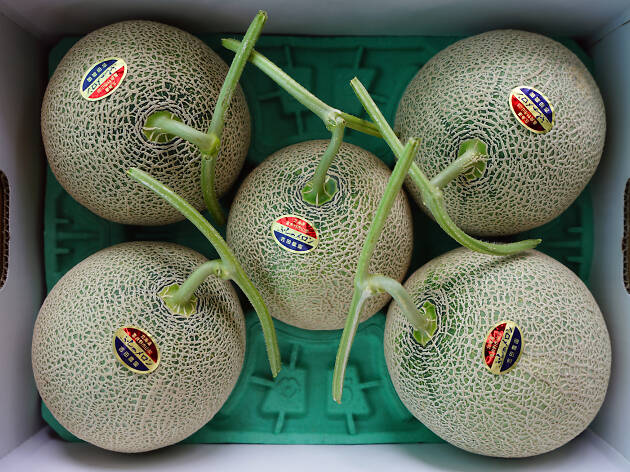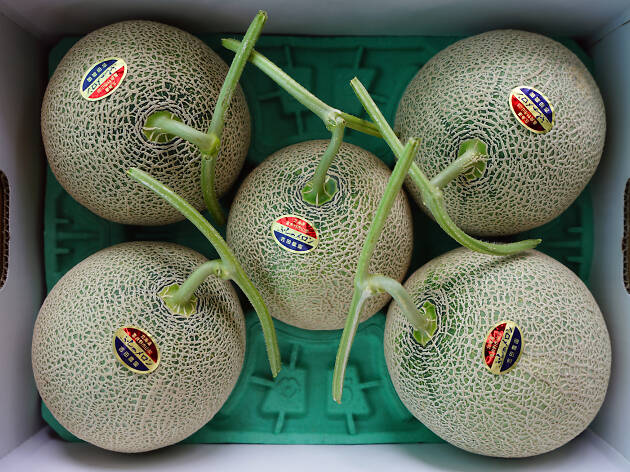 Photo: Eq Roy/Dreamstime
A short drive from Sapporo is the resort city of Yubari, most famous for its eponymous melon. The fruit is popular for its perfectly round shape and sweet, fragrant, juicy orange flesh. The Yubari melon has become to Japanese fruit what Yamazaki single malts are to whisky: prized, exquisite and expensive.
In 2019, a pair of Yubari melons went for a record $45,000. While regular Yubari melons generally don't cost quite this much (more around the ¥4,000 mark and upwards), they're still easier for your wallet to digest when bought in pre-cut slices from stands or cafés.
A yubari melon soft serve – a half melon topped with a pile of vanilla ice cream – is a local favourite that also gives you the chance to sample the excellent dairy products of the region. To take home, you can pick up Yubari melon-flavoured sweets like KitKat and Pocky sticks.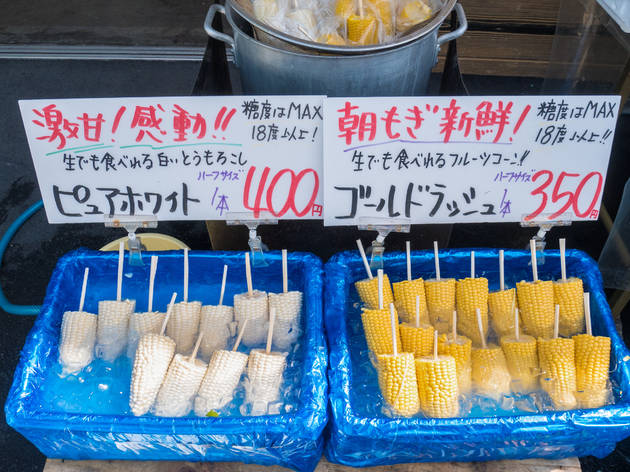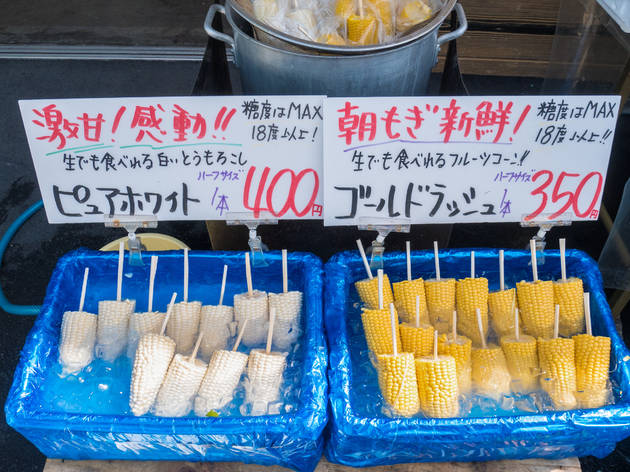 Photo: Rangsiroj Akrachaka/Dreamstime
It wasn't just tempura that the Portuguese introduced to Japan in the 1500s – corn came along for the ride, too. Although it was brought in via a trading port in southern Japan, corn made its way up to Hokkaido, where the vast arable land allowed it the necessary space to be farmed.
When corn comes into season from May to September, you'll find stalls lined up along Sapporo's Odori Park, where hot grilled cobs are served slathered with soy sauce and butter. In restaurants and shops around town, you'll find corn prepared in a myriad of ways, like golden corn tempura and silky corn potage. Sapporo really does go corn crazy, with souvenir shops even selling snacks like corn chocolate.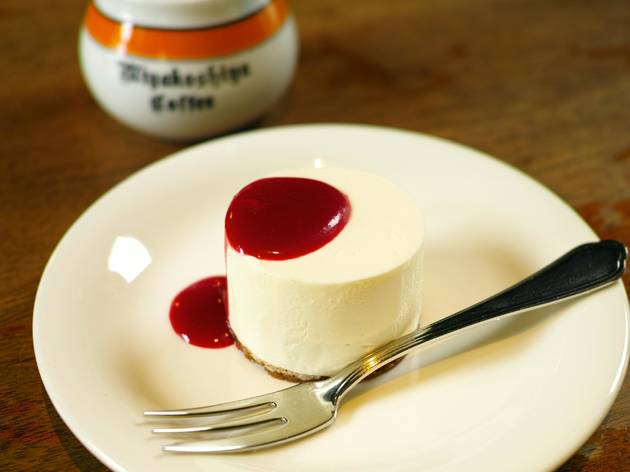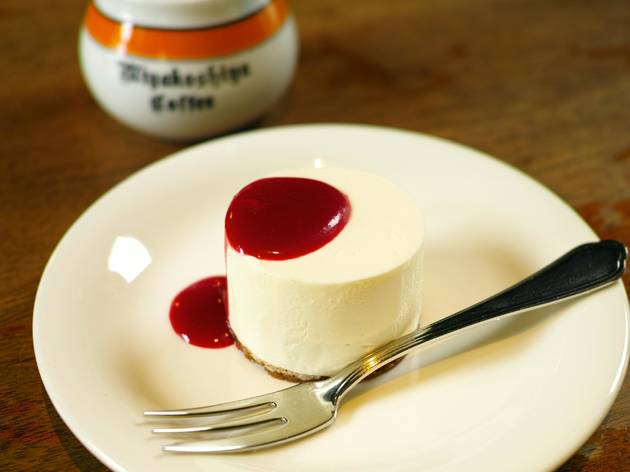 Photo: Magic Mary/Unsplash
While Japan isn't somewhere that comes to mind when you think of dairy, the rolling countryside surrounding Sapporo is home to a large number of grazing cows, which produce high-quality milk, and account for around half the country's dairy products.
In Sapporo, you'll find butter, cheese and yoghurt alongside desserts like pudding and cheesecake, all of which are made with fresh milk. Ice cream and soft serve are especially popular in the area, regardless of the time of year; you can try local flavours like lavender and even toasty-tasting corn ice cream. Popular Hokkaido souvenirs include biscuits filled with rich buttercream, caramels and decadent cheesecakes.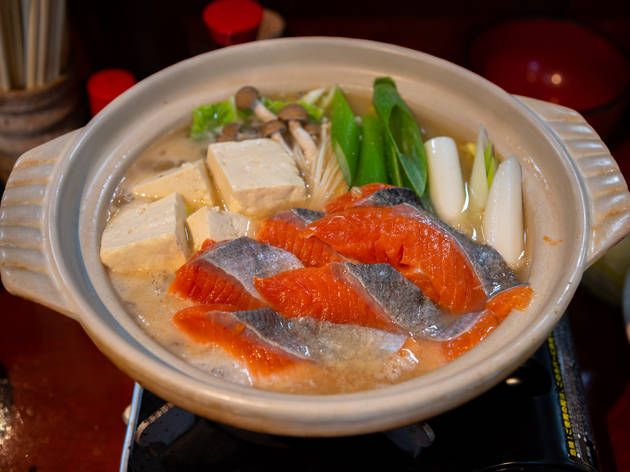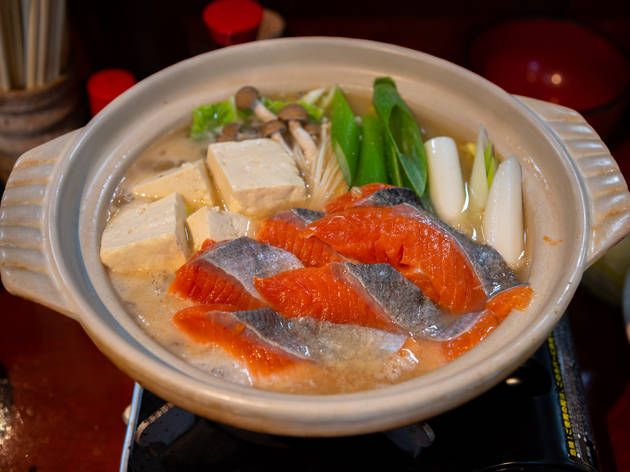 Photo: Kaedeenari/Dreamstime
In Sapporo, the regional variety of nabe (Japanese hotpot) is Ishikari nabe, made with local salmon. The Hokkaido salmon industry is one of the world's biggest, and restaurants here serve special subspecies like cherry salmon and spotted white char. The dish's name tells you how local it is: Sapporo is the capital of the Ishikari subprefecture, and the nearby city of Ishikari faces the Sea of Japan, which is known for its bountiful salmon stocks.
Ishikari nabe brims with fresh local ingredients – as well as salmon, there's cabbage, potatoes, leeks, mushrooms and tofu – all cooked together in a broth of dashi and miso. Sometimes, milk and butter might be added for extra creaminess. Around Sapporo, you'll find many restaurants with Ishikari nabe on the menu. The dish is particularly popular in autumn, when salmon is thought to be most flavourful and when everyone need warming in the cold weather.
More essential eats
The birthplace of takoyaki and kitsune udon is also home to okonomiyaki, box sushi, fugu, squid crepes and more
As one of the world's greatest food cities, the choices in Tokyo can be overwhelming. So start these 10 iconic Tokyo-born dishes
These are some of the best restaurants in Tokyo to get a taste of home, from chilli crab and tom yum to tacos and paella