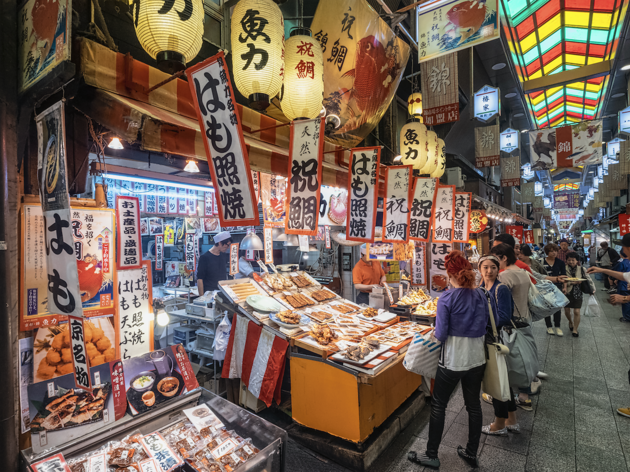 1/6
Photo: Marco Brivio/Dreamstime
Kyoto's Nishiki Market has an abundance of street food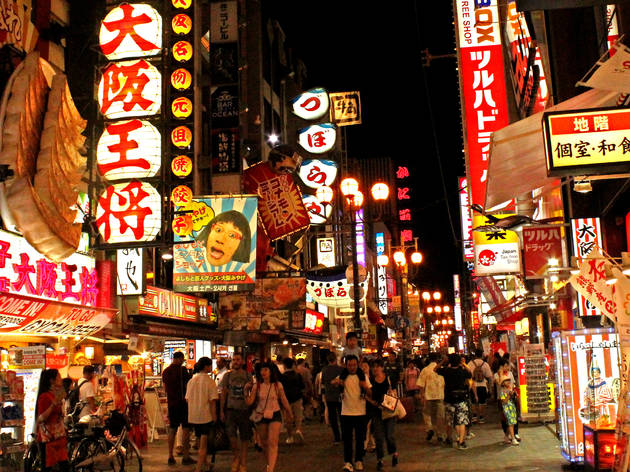 2/6
Photo: Herbert Duke/Dreamstim
Osaka is famous for its vibrant, all-day street food scene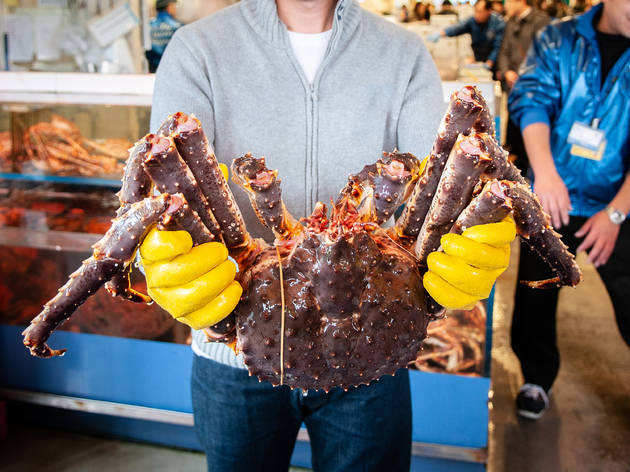 3/6
Photo: Nuvisage/Dreamstime
Savour king crab in Sapporo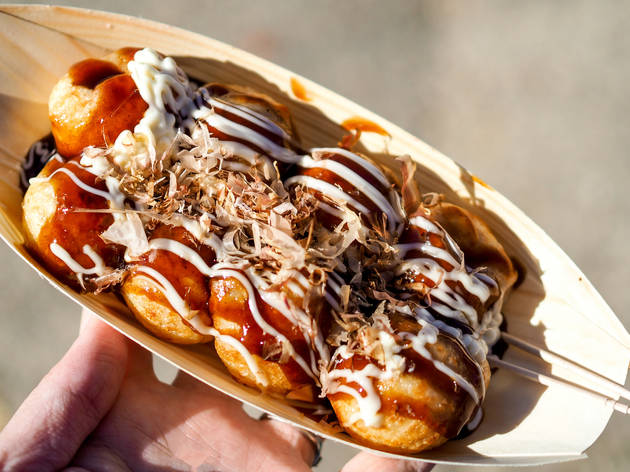 4/6
Photo: kal1022/Shutterstock
Takoyaki, an iconic street snack in Osaka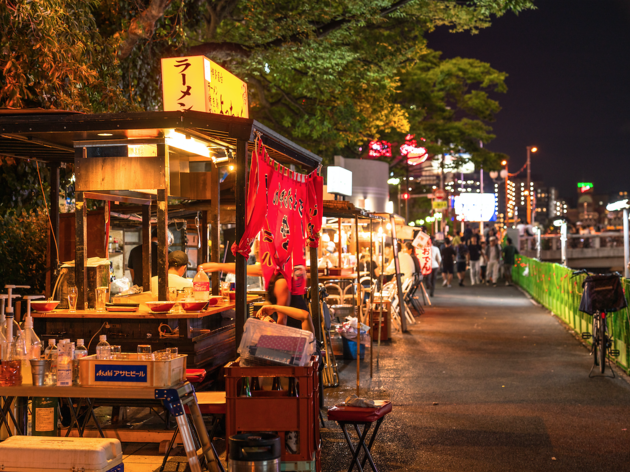 5/6
Photo: まちゃー/Pixta
Yatai food stalls in Fukuoka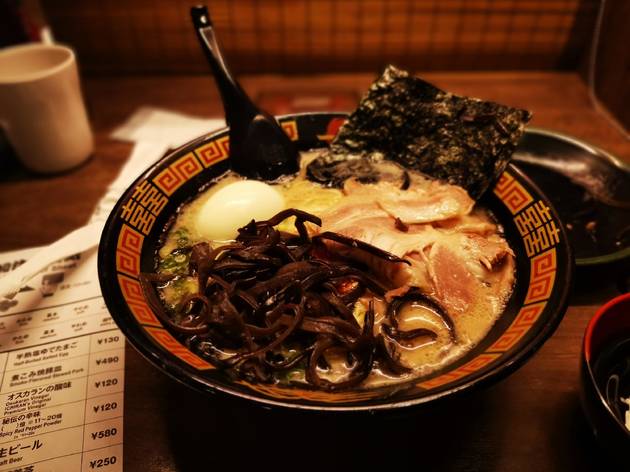 6/6
Photo: Michael Wu/Unsplash
Ichiran, famous for its tonkotsu ramen, was born in Fukuoka
Best foodie destinations in Japan
Japanese cuisine may have conquered the world, but you should experience it at its homeland in these food cities in Japan
If we could, we'd list just about every prefecture and city in Japan as a must-visit for food-lovers. From snowy Hokkaido to tropical Okinawa, there is enormous diversity in the ingredients and dishes found across a relatively small island nation. But in the interest of your travel itinerary and your wallet, here are ten of our top picks, each selected for their original and reliably excellent local cuisine.
It's not all fine dining restaurants, mind you. These foodie hotspots have a good meal waiting for you on every street corner, catering to a wide range of budgets and appetites. From local markets, mom-and-pop izakaya and hole-in-the-wall noodle joints to department store basements and even Buddhist temples, there's just too many things to eat, too little time. Nevertheless, here's a shortlist to get you started.
RECOMMENDED: These are the best documentaries about Japanese food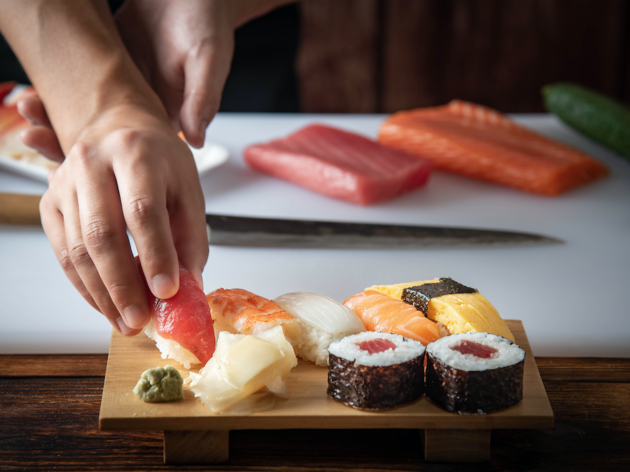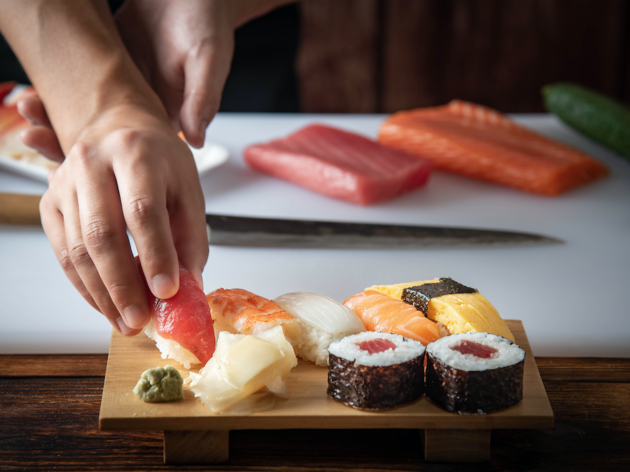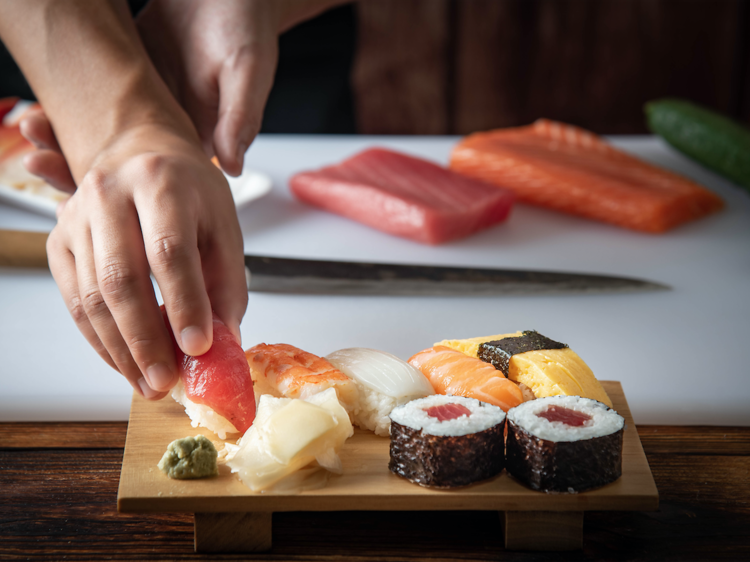 Photo: Atsushi Hirao/Shutterstock
Tokyo's dining scene is not only densely packed, with more restaurants per capita than either Paris or New York, it's also of an exceptional standard. A great place to start with Tokyo cuisine is the 'Four kings of Edo' – tempura, soba, sushi and eel – the four dishes that were popular when Tokyo flourished as the nation's new capital from the late 1800s, and remain coveted today.
When it comes to sushi, pay special attention to the nigiri-style version of the dish that originated in Tokyo, officially called Edomae sushi. Mastery of this style means perfecting nuances such as the compactness of the pressed rice, or the way the fish is cut to catch seasonings and boost umami. At the Tsukiji outer market and nearby Ginza, the Edomae sushi legacy lives on, with many excellent venues offering everything from luxurious omakase sushi course-meals to quick and easy standing bar-style sushi.
The high calibre of the Tokyo dining scene is often credited to the street vendors of the Edo period (1603-1868), with the stiff competition driving up quality – a level that has seen the city become more decorated with Michelin stars than any other in the world. These accolades aren't limited to traditional Japanese cuisine – local chefs have a knack for adopting and perfecting foreign dishes while also often infusing them with a Japanese twist – nor are they limited to those with deep pockets, as many Michelin-starred restaurants also offer cheap lunch set menus.
If Tokyo is the only destination on your agenda, you can still take a culinary journey around the country at restaurants in the city specialising in the cuisine of other prefectures. Tokyo really is the one-stop solution for everything Japanese.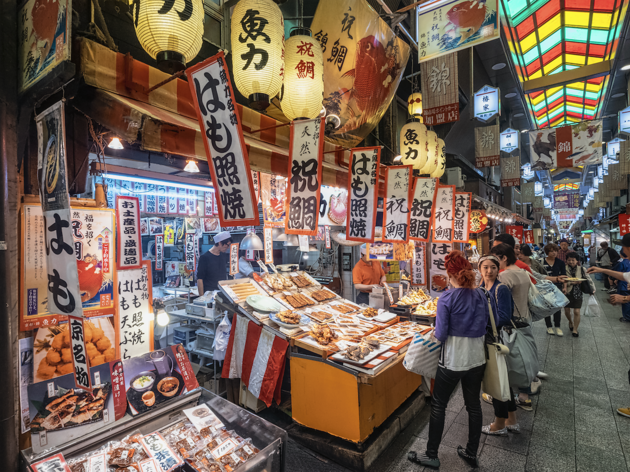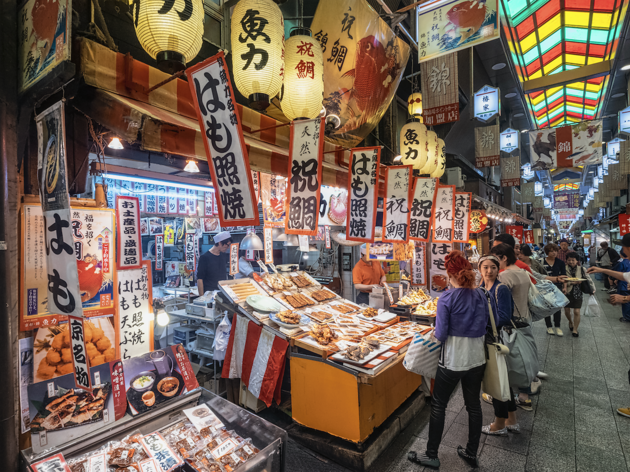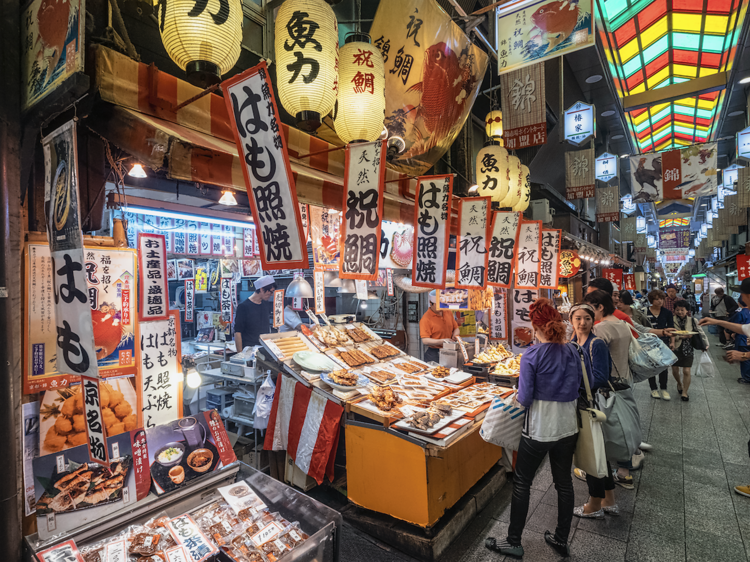 Photo: Marco Brivio/Dreamstime
As Japan's former capital for a millennia, Kyoto developed refined dishes to cater to the local aristocracy. The hallmark of this is the elegant kaiseki cuisine, a formal tradition in which an elaborate multi-course menu is crafted around the concept of seasonality, both in terms of taste and presentation.
Tofu, often vilified for being flavourless or rubbery outside of Japan, is elevated into an art form in Kyoto. Try yudofu, silken tofu served in a light dashi broth, and yuba (tofu skin), which is milky and delicate and typically served with a mound of freshly grated wasabi. Tofu was brought to the city by Buddhist monks, and is now itself something of a religion.
The practice of tea ceremony developed in Kyoto, which means a visit to a tea house is essential. You don't need to do the full ceremony, but do pop in for a freshly whisked matcha and wagashi (traditional tea-time sweets). And if you're a matcha lover, you'll be pleased to know that Kyoto's centuries-old obsession for the green tea powder extends beyond teahouses, flavouring everything from soba noodles to tiramisu.
To kick off your Kyoto food education, the bustling Nishiki Market is a great place to start. Here, you can discover the best produce of the season, pick up some artisanal cookware, and enjoy street food from more than a hundred vendors.
Eating out in Osaka is epitomised by the local concept of 'kuidaore', meaning to go broke from gluttony. But this is not because the food is expensive – in fact, casual street food plays a more prominent role in Osaka than elsewhere in Japan. It's fun to watch the makers of popular street food takoyaki, savoury treats made with a flour-based batter and filled with octopus and pickled ginger, swizzle the balls in cast-iron molds at rapid speed.
For a classic Osaka night out, head to an okonomiyaki restaurant. Meaning 'cooked as you like it', okonomiyaki is a savoury cabbage and dashi-infused batter pancake that is cooked DIY-style on hotplates fitted into the tables. The dish might feature additional pops of umami like bacon, squid and prawns, and the pancakes are doused in mayonnaise, barbecue sauce, pickled ginger and spring onions – or, as its name implies, however you like it.
Fugu (blowfish) is a regional speciality for adventurous diners. The unsightly fish contains tetrodotoxin poison in its organs, which is 1,200 times more lethal than cyanide – hence it must be removed by strictly licenced chefs. You can try fugu as sashimi, karaage (deep-fried), in a hotpot, and even grilled. At some venues, you might be able to try hire-zake, sake that's infused with a torched blowfish fin.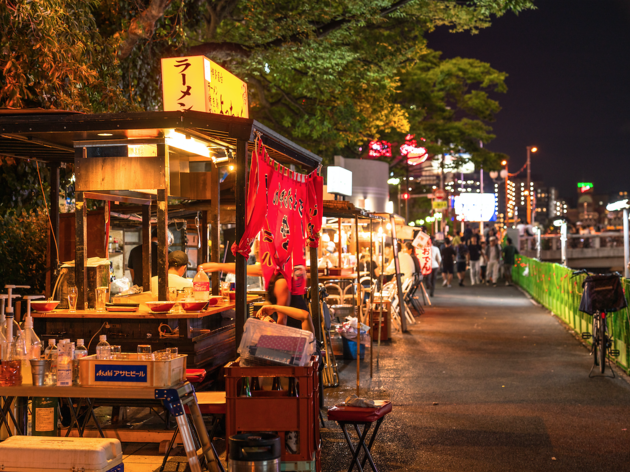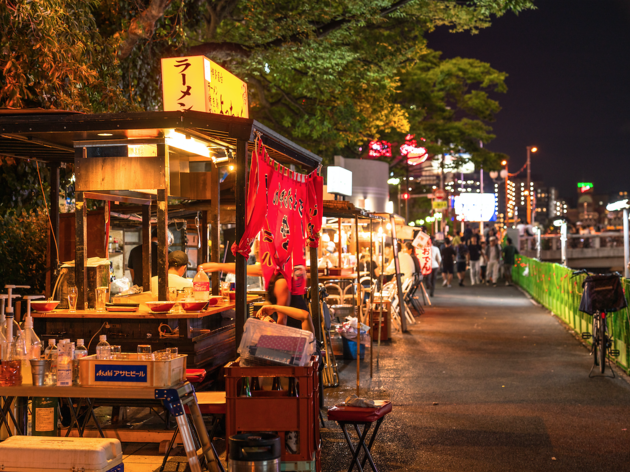 Photo: まちゃー/Pixta
Fukuoka's vibrant food scene is an amalgamation of many things: a local palate that prefers strong and punchy flavours, excellent seafood, a relaxed lifestyle and a legacy of foreign influences, particularly from China and Korea. It's here that you'll find the birthplace of one of the four main styles of ramen – Hakata ramen. Made with a pork bone tonkotsu broth, it's rich and milky, the favourite of many a ramen connoisseur.
Facing three different oceans, Fukuoka offers unsurprisingly excellent seafood; mentaiko – cured salmon roe – is particularly famous. Bright orange-red in colour and briny-fishy in flavour, mentaiko is added to everything from Japanese omelettes to pasta.
For a true flavour of Fukuoka, head to the neighbourhoods of Nakasu, Tenjin and Nagahama to dine out at yatai, or street food stalls. From dusk each day, these quaint little streetside vendors come alive with their bright lighting and lively spirit. Here you can feast on ramen and mentaiko, as well as other local favourites like mizutaki chicken stew, gyoza, yakitori and motsu (offal) stew.
Surrounded by pristine nature and spacious farmland, Sapporo boasts some of the freshest top-shelf ingredients in Japan. In particular, it's the place for uni (sea urchin) and crab, which thrive in the clean ocean waters. These are found on menus throughout the city, but our hot tip is to head to Sapporo Central Wholesale Market and try fresh-off-the-boat uni, crab and other famous seafood of the region like scallops, squid and salmon.
Sapporo's long, cold winter naturally calls for hearty and warming dishes, such as miso ramen and soup curry. Miso ramen, which hails from the city, is made on a rich base of chicken, fish or pork broth flavoured with miso paste. You can find miso ramen throughout Sapporo, but we recommend heading to the city centre ramen street, Ganso Ramen Yokocho.
Soup curry, another Sapporo original, is thinner in consistency and more complex in spices than other Japanese curries, and is served with a nourishing combination of meat and colourful vegetables.
The lush pastures around Sapporo have given rise to a thriving dairy industry. So look out for local butter, cheese, yoghurt and ice cream, all prized for their rich and creamy milk. If you're feeling decadent, you can taste Japan's most expensive fruit in Sapporo, the immensely fragrant and sweet Yubari melon.
As if Okinawa's postcard-perfect beaches and tropical climate aren't enough of a drawcard, this group of islands south of the country also sports a cuisine distinct from the Japanese mainland. Unique ingredients combined with a vibrant local culture come together in an array of dishes that are best washed down with the local spirit awamori – a clear liquor distilled from long-grain Indica rice.
Umibudo, 'seaweed caviar' or 'sea grapes', are tiny, bright green spheres of a local algae that clutch to long tendrils like bunches of grapes. Releasing a titillating salty pop in your mouth, they're used as garnishes as well as being served topped with ponzu citrus dressing as a snack with drinks.
Bitter melon, known locally as goya, is a staple of Okinawan cuisine. Looking like a chubby, bumpy cucumber, it makes its best-known appearance in goya champo, where the bitter melon is added to scrambled eggs along with ham and bonito flakes. But beyond goya champuru, you'll find the curious – and divisively bitter – ingredient on everything from pizza to tempura.
Meanwhile, sweet potatoes in Okinawa come in a colour to fit with the bright landscape: iridescent purple. As they're naturally sweet, the enchanting tuber is typically used in desserts like tart or cheesecake.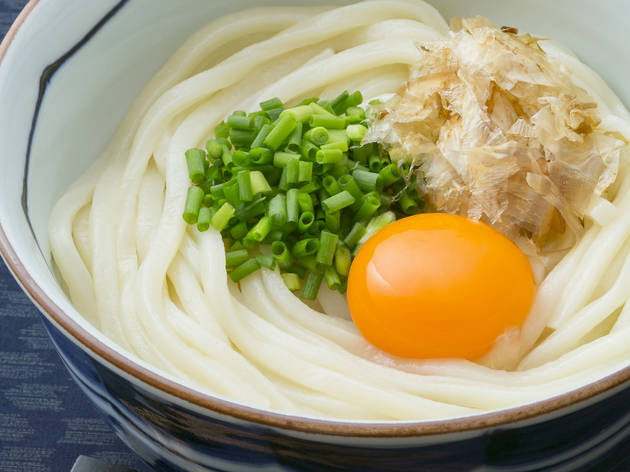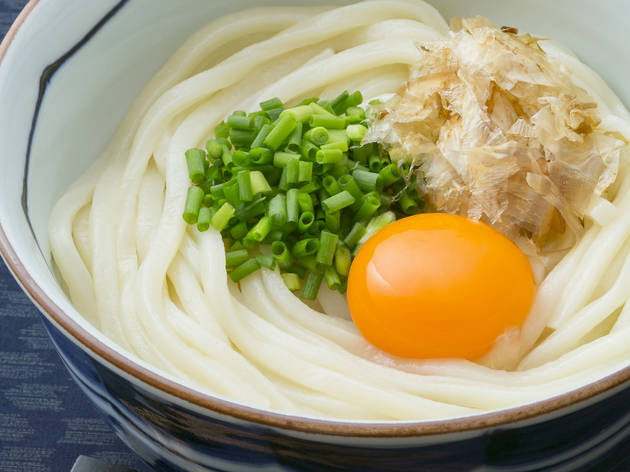 Photo: Shinari/Shutterstock
Takamatsu is both the capital of Kagawa prefecture and the udon capital of Japan, thanks to the region's access to high-quality raw ingredients: wheat flour, salt and water. The local variety, called Sanuki udon, are famed for their springy, firm texture and a tasty dose of salt. There are many ways to eat udon, but one of the most popular is bukkake-udon, a chilled dish of noodles in dashi and soy stock, topped with nori, wasabi, pickled ginger, tempura flakes and a soft-boiled egg.
Takamatsu opens out to the picturesque Seto Inland Sea, meaning the port city boasts an array of premium seafood, in particular Spanish mackerel, yellowtail, sea bream and octopus. The nearby islands also have a history of growing olives, and the little green fruit finds their way into an array of local dishes, from olive somen noodles to Sanuki-gyu (wagyu raised on olives), olive yumebuta (pigs raised on olives) and even olive-raised yellowtail fish.
For something sweet, look out for wasanbon, pretty little candies in pastel colours that are made from local sugarcane and shaped into seasonal forms using wooden molds (cherry blossoms in spring, goldfish in summer, etc). The tradition of making wasanbon dates back several hundred years to the Edo period (1603-1868).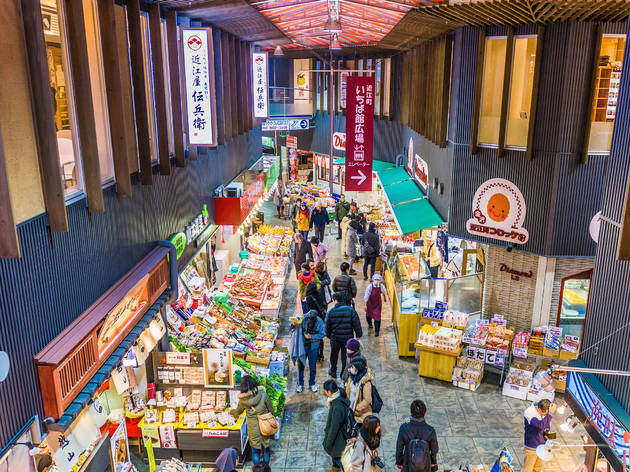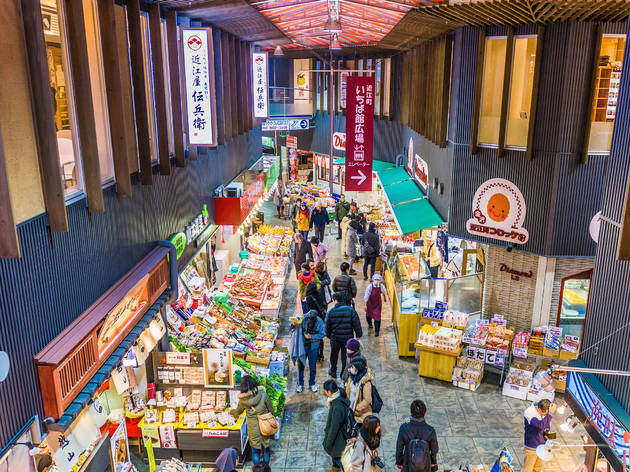 Photo: Sean Pavone/Dreamstime
Located on the western coast of Honshu, Japan's main island, Kanazawa in Ishikawa prefecture is blessed with premium seafood from the sparkling Sea of Japan, with many varieties signature to the area, such as nodoguro (black-throat seaperch), gasu-ebi prawns and snow crab. Try seafood prepared all sorts of ways – grilled on a skewer, cooked into a croquette or raw on a bowl of sushi rice – at the popular indoor Omicho Market, or head to one of the many sushi restaurants around the city.
Kanazawa was formerly known as Kaga, a feudal domain during the Edo period famous for its samurai culture and distinctive Kaga cuisine. History lives on in the traditional dishes from the era, such as like jibuni (poultry stew), hasu-mushi (lotus root dumplings in a thick broth) and kabura-zushi (pickled turnip and yellowtail fish marinated in koji).
As you walk the streets of Kanazawa, particularly through the atmospheric historical teahouse district, Higashi Chayagai, you'll find many homewares and craftwork embellished with gold leaf detail. But it's not just handicrafts that get the gold treatment – you can indulge yourself with a gold-topped soft-serve to feel like royalty.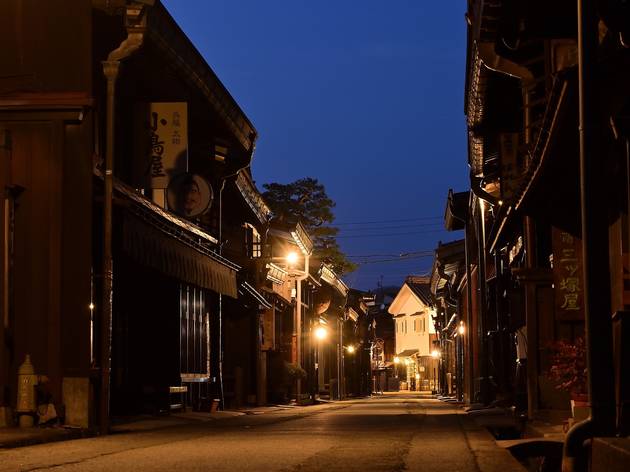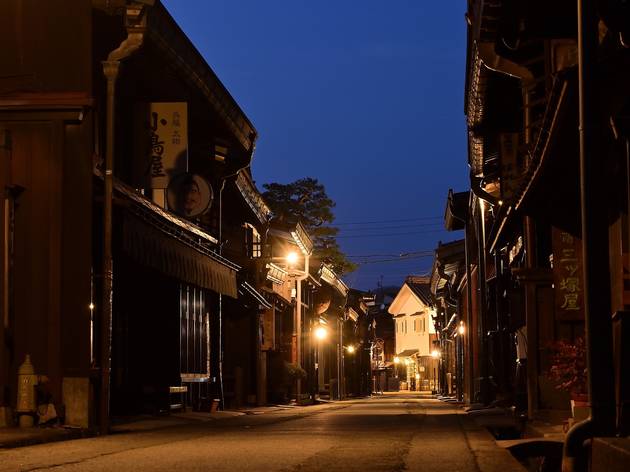 Photo: Shun1Koz/Pixabay
A must-visit for any wagyu enthusiast, mountain town Takayama is famed for its premium Hida beef. Hida is the name of the northern region of Gifu prefecture, and to be designated Hida beef the wagyu cattle must be raised in the prefecture for at least 14 months, plus meet requirements set by an official grading association. The meat is prized for its intense marbling, umami-rich flavour and melt-in-your-mouth buttery softness.
Hida beef is served in many ways – as sushi, in a croquette, skewered and cooked over charcoal – and many of these can be experienced at the Miyagawa Morning Market, and at very reasonable prices. Located by the Miyagawa river, the market is an idyllic place for a stroll from 8am-12pm daily, to browse other local specialties and souvenirs, and take in the crisp air of Japan's Alpine region.
Other classic Takayama dishes are influenced by its mountainous locale and climate, like Hoba miso and goheimochi. The former is a dish cooked on magnolia leaves. Novelty aside, the result is a rich and aromatic mix of ingredients such as leeks, shiitake mushrooms and Hide beef. The toasty goheimochi, on the other hand, are skewers of pounded rice cakes glazed with a blend of miso, soy sauce, walnuts and sesame, then grilled over charcoal. It's a wonderfully moreish snack.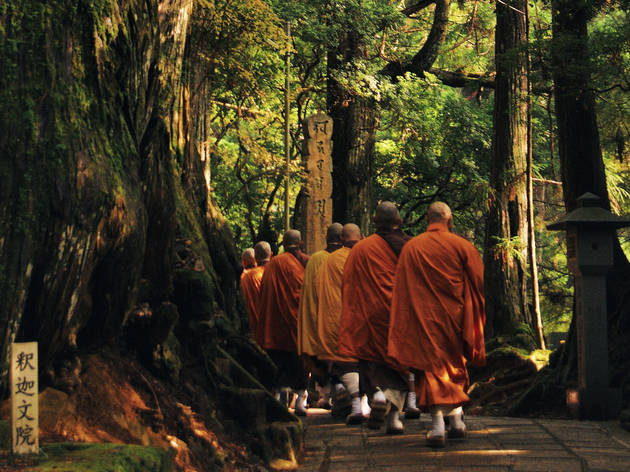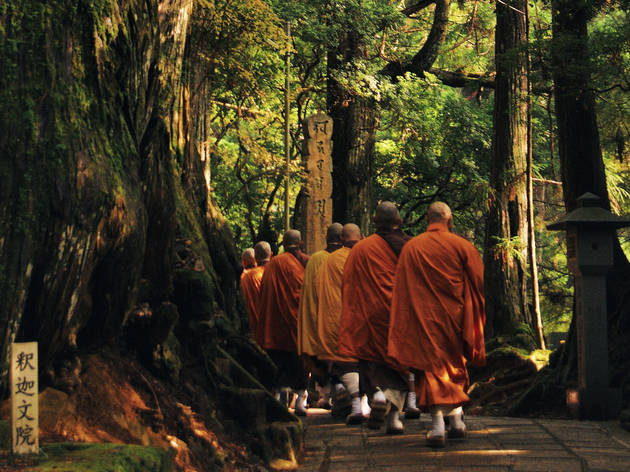 Photo: Hanna Eberhard/Unsplash
In a picturesque setting atop Mount Koya in Wakayama prefecture is a Buddhist temple complex dating back to 816 AD, also a UNESCO World Heritage site. Visitors are drawn to this sacred spot for its zen, meditative atmosphere and wholesome shojin ryori cuisine, the traditional food of Japanese Buddhist monks.
Some of the principles of shojin ryori include no animal products, seasonal ingredients and nutritional balance, with ingredients like lotus root, daikon, aubergine, pumpkin, cucumber, sweet potato, yuba (tofu skin), soy milk, natto (fermented soy beans), nuts and all kinds of seaweed. These ingredients and more are made into dishes like carrot and mushroom soy milk soup; vegetable tempura; goma dofu, a 'tofu' made from sesame seeds rather than soybeans; kenchin soup, a creamy miso-based broth with vegetables and crumbled tofu; green beans in sesame dressing; aubergine braised in miso; and seasonal vegetables seasoned in vinegar.
When visiting Mount Koya, or Koya-san as it's known as locally, shojin ryori meals are typically included if you stay overnight at a temple. Otherwise, many temples in the area serve meals to non-staying guests as well.
Discover more about Japanese cuisine
The culinary differences between Tokyo and Osaka go beyond okonomiyaki and monjayaki – here are some of the big ones
Test your knowledge of Japanese cuisine with this brain-bending list of trivia on everything from sushi to soba noodles
These Japanese seasonings and sauces will elevate your next meal: ponzu, shichimi, yuzu kosho, miso and more