Welcome to wine country
Discover the finest vineyards within easy reach of Tokyo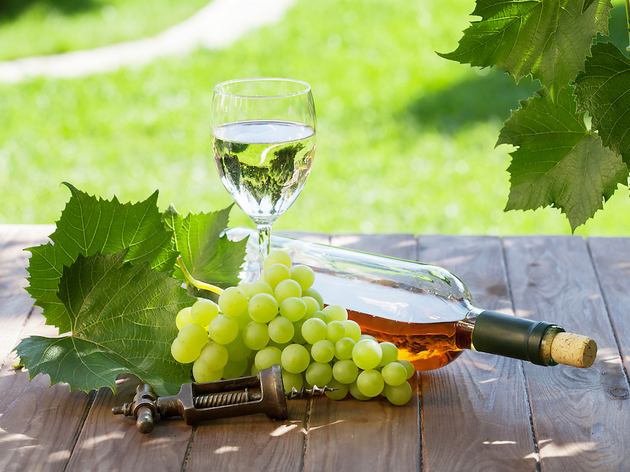 By Megan Waters
Although it's far from the first thing most visitors to Japan think about, the country is increasingly producing beautiful wines that are grabbing gongs at international wine competitions. It's the relative new kid on the block, with production starting in the Yamanashi area at the foot of Mount Fuji in the 1870s thanks to two young returning expats who studied wine in France. However, it didn't become popular in Japan until around 1964 with the arrival of the Summer Olympics and the introduction of a more Westernised diet.
Japanese winemakers traditionally use two native grape varieties: Koshu, a very light white grape with floral notes similar to Chardonnay, and Muscat Bailey A, a red fruit with a full-bodied nose and a delightful cherry sweetness. Wines are produced throughout the country at over 200 wineries, the major areas being Yamanashi and Hokkaido. Here are our picks of the best wineries near Tokyo.
NAKAIZU WINERY HILLS
Nestled deep in the hills of the Izu Peninsula in Shizuoka prefecture, this quaint winery is surprisingly owned and operated by entertainment giant Shidax Corporation – known for its chain of karaoke joints. With its faux chateau and tranquil setting overlooking lush vineyards, the area could be mistaken for California's Napa Valley or the Bordeaux region of France if it wasn't for Mount Fuji looming in the distance.
The chateau houses a wine-tasting room, a terrace cafeteria, a restaurant, shops, a barbecue area, as well as an onsen and a hotel. Nakaizu produces 12 wines, with its takes on Chardonnay, Merlot and Riesling the most popular. Join the tour to learn more about the wine-making process (reservation required), or explore the meticulously tended vineyards alone – not usually allowed at most wineries.
Nakaizu Winery Hills is about two hours from Tokyo. Take the Tokaido-Sanyo Shinkansen from Tokyo Station and transfer to the local Izu-Hakone line at Mishima Station. At Shuzenji Station, take the free shuttle bus to the winery. 1443-27 Shimoshiraiwa, Izu-shi, Shizuoka. 0558 83 2310. www.shidax.co.jp/winery (in Japanese only).
COCO FARM & WINERY (KOKOROMI GAKUEN)
Located north of Tokyo in the heart of Tochigi prefecture – best known for the ancient shrines and temples of Nikko – Coco Farm & Winery was founded in 1969 as a rehabilitation centre for junior high school students with cognitive disabilities. The students cleared the mountain by hand and cultivated about 600 young vines. On a visit to California, the students learned about wine-making and produced their first harvest from a tiny cottage located at the foot of the mountain.
The vineyard now employs over 150 disabled workers who get advice from wine-makers in Japan and around the world. Enjoy a tour of the grounds (reservation required) or, for a bargain ¥500, sample some of their 20 wines, made from the grape varieties of Muscat Bailey A, Riesling Lion, Norton and Petit Manseng.
Try their Koshu Fermented on Skins 2011 – a powerful spicy white wine that isn't white at all, but a deep copper colour. Don't miss the winery's annual Harvest Festival, held on the third Sunday of November. The ¥3,000 entrance fee gets you a selection of local wines to enjoy while listening to live music.
Coco Farm & Winery is located 90 minutes from Tokyo. Take the Tobu Isesaki line to Ashikaga Station from Tokyo's Asakusa or Kita-Senju stations. Transfer to taxi or bus direct to the winery. 611 Tajimacho, Ashikaga-shi, Tochigi. 0284 42 1194. www.cocowine.com/contents/english.
HONDA WINERY
Located at the foot of Mount Bandai in Fukushima prefecture, Honda Winery is one of Japan's smallest vineyards and is known for its unusual technique of fermenting and maturing their wine in 23-litre glass barrels instead of in a traditional tank. Owner Mr Honda started making wine after retiring from his position as a resident high school teacher, and his rich and vibrant merlot made from locally grown fruit has ensured his second career is a success.
As well as tours and tastings, the winery allows visitors to turn their own fruit into wine. You need to make a reservation in harvest season (which is early autumn) and then they will ferment your fruit and turn it into a unique wine for you. Visitors with a wedding, birthday or other special occasion coming up can design and create custom-made labels to attach to the winery's own wines.
Honda Winery is about 2 hours 30 minutes from central Tokyo. From Tokyo Station, take the Tokaido Shinkansen to Koriyama Station and transfer to the Ban-Etsusai line to Inawashiro Station. The winery is a five-minute walk. 3-7 Chiyoda, Inawashiro-machi, Fukushima. 0242 62 5500. www.hondawinery.co.jp.
'The area could be mistaken for California's Napa Valley, if it wasn't for Mt Fuji in the distance'
TOMI NO OKA WINERY
Owned and operated by brewing and distilling giant Suntory, Tomi no Oka is one of Japan's top wineries and regularly produces award winners. Situated in Yamanashi prefecture with spectacular views of Mount Fuji, the winery was established way back in 1909 and is a member of the Koshu of Japan wine organisation that aims to promote and improve the quality of the Koshu grape and garner recognition for this Japanese variety.
Tour the vineyards and wine cellar, and enjoy a glass or six of their delicious offerings, all made using 100 percent domestic grapes. Try the Tomi Noble Doll, celebrated for its sweet and full-flavoured taste, or the Tomi 1997, which won gold at the 2003 Les Citadelles du Vin international wine and spirits competition – a historic first for Japanese wine. The on-site restaurant is great too – enjoy the delicious Koshu Fuji Sakura pork and those glorious views.
Tomi no Oka is about 1 hour 45 minutes from central Tokyo. Take the JR Chuo line direct to Kofu Station. The winery is a 15-minute taxi ride from here, and a free shuttle bus service runs three times daily on Saturdays, Sundays and holidays. 2786 Ohnuta, Kai-shi, Yamanashi. 0551 28 7311. www.suntory.co.jp/factory/tominooka (in Japanese only).
Prefer drinking in Tokyo?
The best places for cocktails, craft beer, wine, sake and more