Rocks, rocks, rocks. Sure, they might not be what initially springs to mind when planning a trip away. But for a growing community of people around the UK, boulders are absolutely worth travelling for.
From the dramatic crags of the Peak District to the lakeside slopes of Snowdonia, keen climbers are clambering to new heights all over the country. Since the sport made its debut in the 2020 Tokyo Olympics – offering competitive lead climbing, speed climbing and bouldering – climbing has found renewed interest, with more and more indoor centres opening up around the UK. New climbing facilities in Wokingham and Great Yarmouth have been announced in the last week alone.
'Indoor climbing centres and bouldering gyms are a nice gate-way for people to get the physical skills they need to then climb outside,' says Mimi White, a student from Bristol, who started climbing four years ago. White is part of a generation of climbers who were forced to swap indoor climbs for the great outdoors, thanks to the nationwide lockdowns of the past two years. She's not looked back.
'As soon as you go outside, you get the enjoyment of the sport but in a really beautiful environment,' White says. 'When you're climbing outside, you're in pursuit of random pieces of rock, so it takes you to completely odd places in different corners of the UK. It's a form of tourism: as climbing grows, more and more people are visiting these obscure places.'
Popular bouldering destinations include Burbage in Derbyshire and Torridon in Scotland, while Land's End in Cornwall and Malham Cove in Yorkshire are also celebrated climbing spots. But it isn't always a rural affair. The Mabley Green Boulder – a chunk of granite in Homerton, London – made a name for itself by attracting a devoted climbing community in summer 2020, and people have been seeking it out ever since.
Climbing takes you to completely odd places in different corners of the UK
It's not just about seeing the outdoors from a completely different perspective. Climbing involves exercising your body and your mind – solving problems on the move while working parts of your body that are often underused, like your back and forearms. 'I was so shocked the day after my first session,' says White. 'My body was completely wiped out. [But] when you get into it, you see progress so quickly.'
Bouldering and rock climbing are often grouped into one, but they're actuallly very different. Climbing requires a rope and harness for safety and can sometimes reach more than 30 feet above the ground. No ropes are used in bouldering because climbs are at much lower heights, and pads can be used to soften falls. To get started as a boulderer, all you need is some chalk, a pair of climbing shoes (that can usually be rented) and a bit of practice.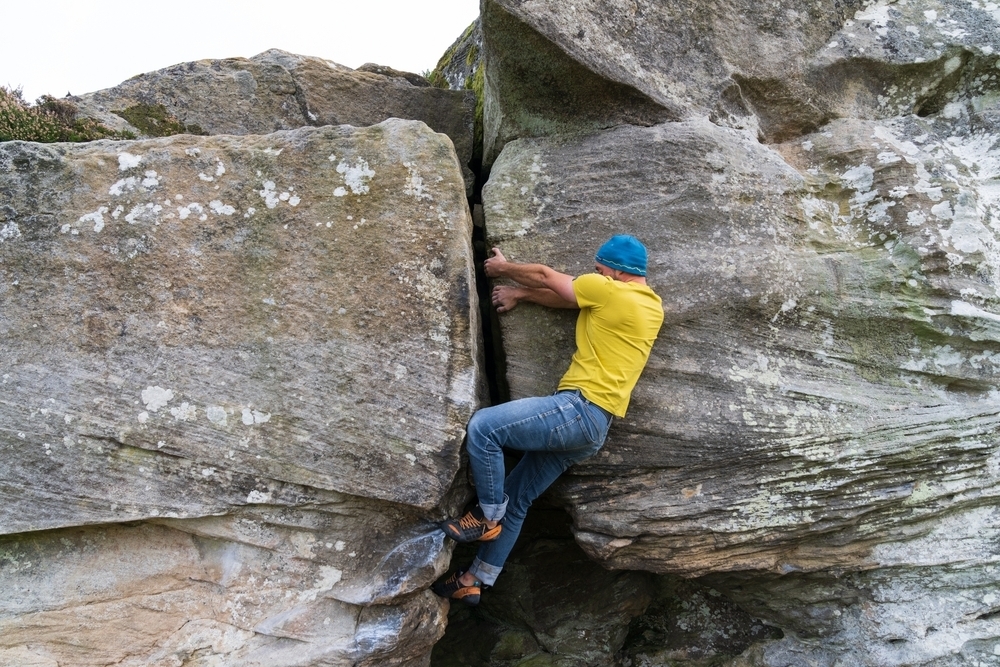 With that in mind, it's important to remember that any sort of climbing comes with risks – especially when it's not taking place within the safety of a gym. Climbing routes should be well researched beforehand, and it's advised to practise indoors and go with a more experienced climber to (quite literally) show you the ropes.
'We would recommend going on a course or hiring an instructor to introduce the basics,' says a spokesperson from Mountain Training, the awarding body for climbing qualifications. 'Many climbing walls offer "indoor-to-outdoor" courses for climbers looking to make their first moves on rock so it's also worth asking your local wall.'
According to Mountain Training, 605 Brits have already registered for rock climbing qualifications this year (from January 1 to July 26), compared with a total of 802 in the full 12 months of 2021 – proving that climbers are keen to take their skills to the next level. And with so many people catching the bouldering bug, we'd wager climbing tourism could reach even higher peaks in years to come.
ICYMI: why is everyone on TikTok going wild for bikepacking?
Plus: this spectacular technicolour artwork has just popped up on Hadrian's Wall.