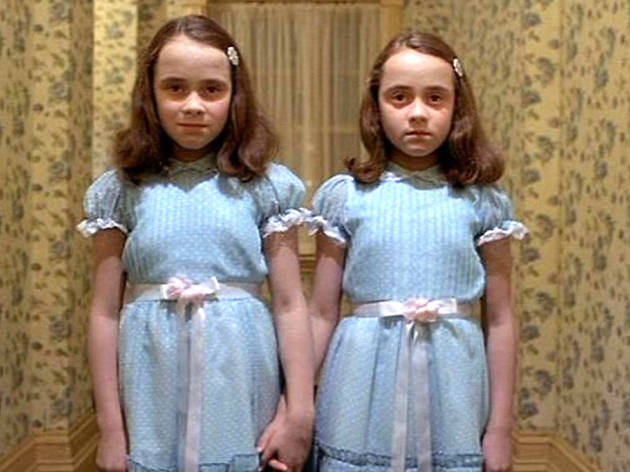 The spookiest haunted hotels in America that you can actually stay in
You probably won't be doing much sleeping while staying at the spookiest haunted hotels in America, but go ahead and try
After taking a stab at the best ghost tours in America, why not carry the spooky theme into the dark of night by staying at the best haunted hotels in America? Whether on a cheap family vacation or on a solo trip around the country, there are plenty of phantoms lurking at hotels across the nation. So consider yourself warned: You will likely not be doing much sleeping after hearing the tales that occurred at these hotels. Boo!
Spookiest haunted hotels in America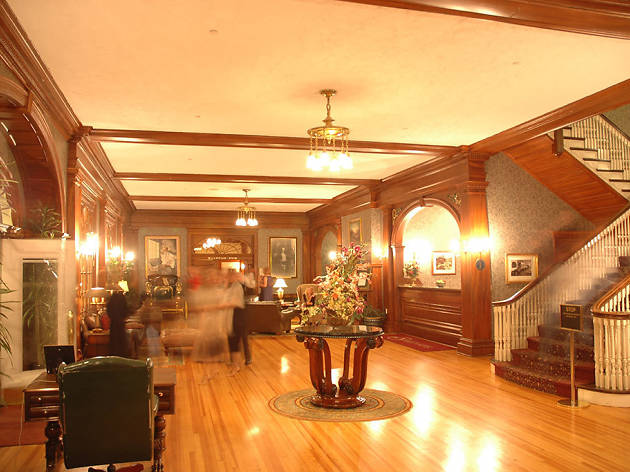 Photograph: Courtesy CC/Flickr/John Reese
1. Stanley Hotel, Estes Park, CO
Sure, this century-old elegant hotel, located just outside Rocky Mountain National Park, offers gorgeous panoramic views, but the setting also inspired Stephen King to write one of the scariest stories of the last one hundred years: The Shining. While there is no evidence of anyone having the same violent psychotic break in the hotel as Jack Torrence (Jack Nicholson in the 1980 film adaption), paranormal experts have discovered some otherworldly activity on the premise. Discover it yourself during the "Night Spirit Tours," which takes visitors on a 90-minute guided walk past "darkened spaces" where ghosts have been detected before.
Built in the early half of the 1800s, the Orleans Ballroom and Theater, where the Bourbon Orleans Hotel sits now, was a lively place before it was converted to a convent for nuns that also served as an orphanage and medical ward during a particularly deadly yellow fever epidemic. Today, several ghosts, including a confederate soldier, a lonely ghost dancer, nuns and children are said to roam the halls of the upscale hotel. Better take it easy on the signature Voodoo Mojo cocktails in the Bourbon O bar if you don't want to see double trouble.
Dating back to the 1893 Chicago World's Fair, this iconic landmark in the South Loop has seen its fair share of historic visitors, including two presidents, international celebrities and notorious gangsters. Unfortunately, some guests liked the accommodations so much that they never checked out. The ghosts of Al Capone, a hobo named "Peg-Leg Johnny" and a young boy who was allegedly thrown from the 12th story by his mother, have all been known to haunt the hotel. However, the Congress Plaza is most famous for "Room 411," a room that accounts for dozens of creepy stories and calls down to security and the front desk. If it sounds familiar, it's because the room inspired Stephen King's eponymous horror story.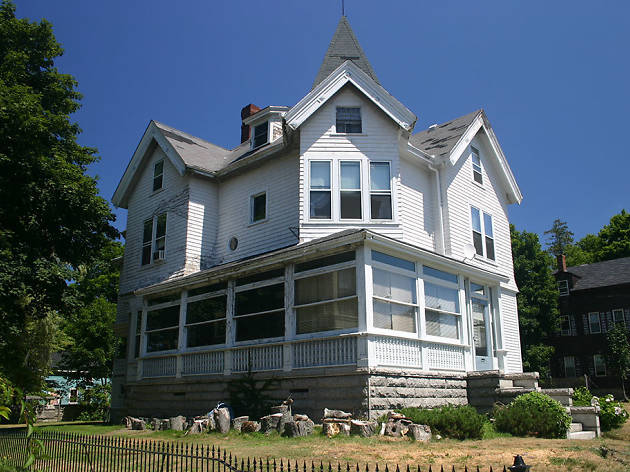 Photograph: Courtesy CC/Flickr/Stewart Robotham
4. Lizzie Borden Bed and Breakfast, Fall River, MA
If you remember the schoolyard chant about Lizzie Borden giving her mother 40 whacks (and her father 41), you know all about the gruesome axe murders that happened in this house over a hundred years ago. While we will never know whether Borden was actually to blame for her father and stepmother's death in 1892, many people are absolutely positive that their spirits still haunt the place. The three-story house is now a historic bed and breakfast that also offers daily 50-minute tours of the house and museum for those too scared to spend the night.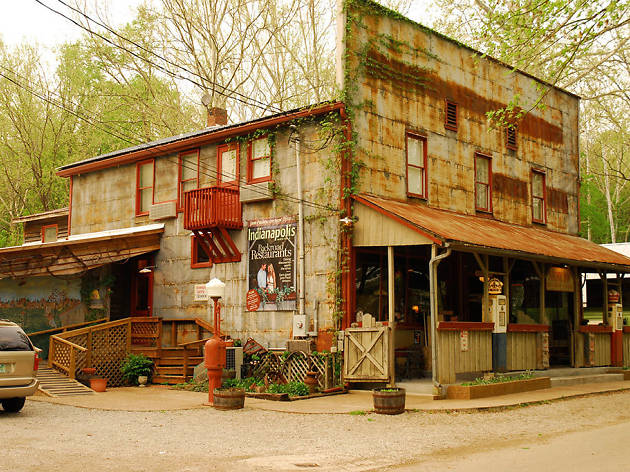 Photograph: Courtesy CC/Flickr/KimManleyOrt
5. Story Inn, Nashville, IN
Surrounded by wilderness on three sides, this historic, rustic inn brands itself as "one inconvenient location since 1851"—and it seems it's been inconvenient for some souls to leave. The once thriving settlement of Story, Indiana was mostly abandoned during the Great Depression and the surrounding area acquired by the state for public parkland. Today the "Blue Lady," one of Indiana's most notorious ghosts, haunts the secluded hotel. Believed to be the wife of the town's founder, Dr. George Story, the apparition has spooked hundreds of guests who have all recorded their encounters in the inn's guest log. She is said to have blue eyes and smell of cherry tobacco. She even occasionally leaves blue items for the guests to find.
Photograph: Courtesy Yelp/Historic Hotel Bethlehem
6. Historic Hotel Bethlehem, Bethlehem, PA
For 250 years, visitors have found friendly hospitality on these grounds—in 1741, Bethlehem's famous "first house" was built on the site where the hotel now stands. The friendly character extends to the guests as well, even those of the ghostly variety. Today, three spirits are rumored residents, including an 18th century cabinet maker, a singer who was born in the Eagle Hotel (the hotel that was on site prior to Hotel Bethlehem) in the 19th century who went on to marry a British lord, and a former landlord of the Eagle Hotel who caused quite a stir around town with her habit of not wearing stockings or shoes. For your best chance at meeting one of these Caspers, book the "room with a boo" on the ninth floor, Room 932, where many guests have previously experienced paranormal activity.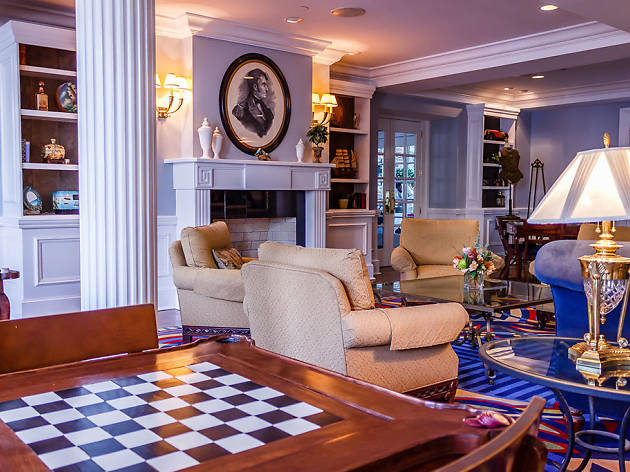 Photograph: Courtesy CC/Flickr/Holmes Palacios Jr.
7. The Marshall House, Savannah
Georgia's oldest city has gorgeous architecture, cobblestone streets, large oak trees and even some rumored residents that date back to Colonial days. While the Marshall House wasn't built yet when the city saw the Revolutionary War, the 19th century hotel was turned into a hospital during the Civil War and again during two Yellow Fever outbreaks. A few guests have reported seeing phantoms winding down the narrow halls, but you're more likely to experience an eerie phenomena like the sound of children laughing when no young guests are nearby or faucets randomly turning on. During the month of October, the hotel embraces its reputation by offering special Halloween packages with discounts to local ghost tours.
Visitors at this cushy, luxury hotel in the heart of the nation's capital should beware the smell of almonds. Before the 138-room Italian Renaissance style hotel opened in 1928, the site formerly belonged to the grand homes of John Hay and Henry Adams in the late 19th century. Clover Adams, Henry's wife, was a photographer who allegedly committed suicide in the house by ingesting Potassium cyanide, a liquid used in darkrooms that smells like almonds. Today, her ghost is rumored to cause minor trouble in the hotel—shutting and opening doors, turning on radios and sobbing in the walls—carrying a lingering smell of the chemical as she haunts.
This beautiful Pacific Heights Victorian-style bed and breakfast is full of 19th century details, including antique furniture, fire places in rooms, a salon for afternoon tea and sherry and at least one rumored resident. Prior to becoming a hotel, the venue was used as a girls' etiquette school. After the school was closed, it became a gentlemen's club—but the former headmistress, Miss Mary Lake, was not happy about the sale. Today, her spirit still likes to pull late hours around the halls and in her former office, Room 410.
The Alamo isn't the only haunted historic spot in San Antonio. Designed in 1924 as an advanced medical arts facility, the historic building once held a hospital, surgical floors and a crematorium. Since the Texas landmark became a hotel in 1984, guests have reported strange phenomena like lights flickering on and off, phones ringing mysteriously, and a woman dressed in all white who disappears and appears in a flicker. Spooky!
Show more