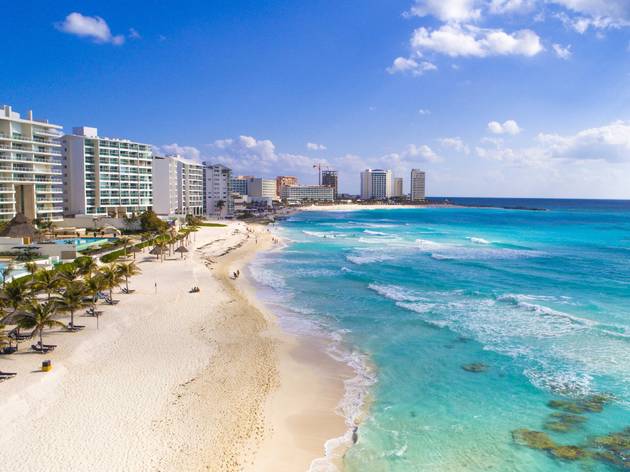 Cancun and Riviera Maya are reopening for tourists by early June
Los Cabos will also reopen, albeit in phases, starting July.
Posted: Tuesday May 19 2020, 9:50am
UPDATE: According to Mexico News Daily, tourism minister Marison Vanegas Pérez announced that hotels in Cancun, Playa del Carmen and Isla Mujeres will not open by June 1. According to the news outlet, Vanegas suggested that the hotels will "be able top open in a preparatory fashion by means of a health certification issued by the Quintana Roo government, which will be voluntary and not obligatory. The main objective is for businesses to be prepared to return to activities on a still unspecified date in June."
Uber popular travel destinations Riviera Maya and Cancun are planning to reopen for international travel by the beginning of June, according to Riviera Maya News.
The paper reports that the Quintana Roo Tourism Promotion Council—which encompasses Cancun, Cozumel, Playa del Carmen, Tulum and more—announced their reopening in conjunction with a new campaign "aimed at reviving local tourism."
United States-based airline companies are already gearing up to resume travel to the Mexican destinations—here is a list of them all. Have you booked a flight yet?
According to the Mexican news outlet, local tourist experts expect the first round of travelers to visit in connection to weddings and conventions, although the above-mentioned campaign will target all types of vacationers.
The news comes at the heels of another announcement: just a few days ago, Los Cabos—found on the other side of Mexico—made public its plans to tackle a phased reopening of its borders, with the goal of officially welcoming international tourists by the beginning of July.
Talks of travel have already been bubbling up in Europe and beyond, as Spain announced plans to reopen by late June, Italy by June 3 and Iceland will being allowing visitors in starting next month, as long as they test negative for COVID-19 upon entry.
As excited as we are to report on openings and the slow-but-steady return to a semblance of normalcy, we urge everyone to be careful and stay safe. We'll see each other on the road soon enough.
Most popular on Time Out
- Brace yourselves for the return of the drive-in movie theater
- US-based airlines will resume operating international flights as early as next month
- You can send a free pint of ice cream to anyone you want to right now
- Online party games to play remotely with friends
- You can play Cards Against Humanity online for free
Share the story