What is Fat Bear Week, you ask? It is a virtual event organized by Explore.org and the National Parks Service during the first week of October every year and its aim is to, quite literally, find the fattest bear of them all.
During the summer, bears that reside inside Alaska's Katmai National Park and Preserve—one of the most natural and least developed national parks in the country—feed on 4,500-calorie sockeye salmons and, as a result, beef up to survive the upcoming Alaskan hibernation. Some of them even reach 1,000 pounds in weight.
Throughout the week, folks are encouraged to vote for their favorite bear in a March Madness-like bracket competition. Voting opens today through October 6, between NOON and 10pm EST. Take a look at the bracket below and feel free to cast your vote right here.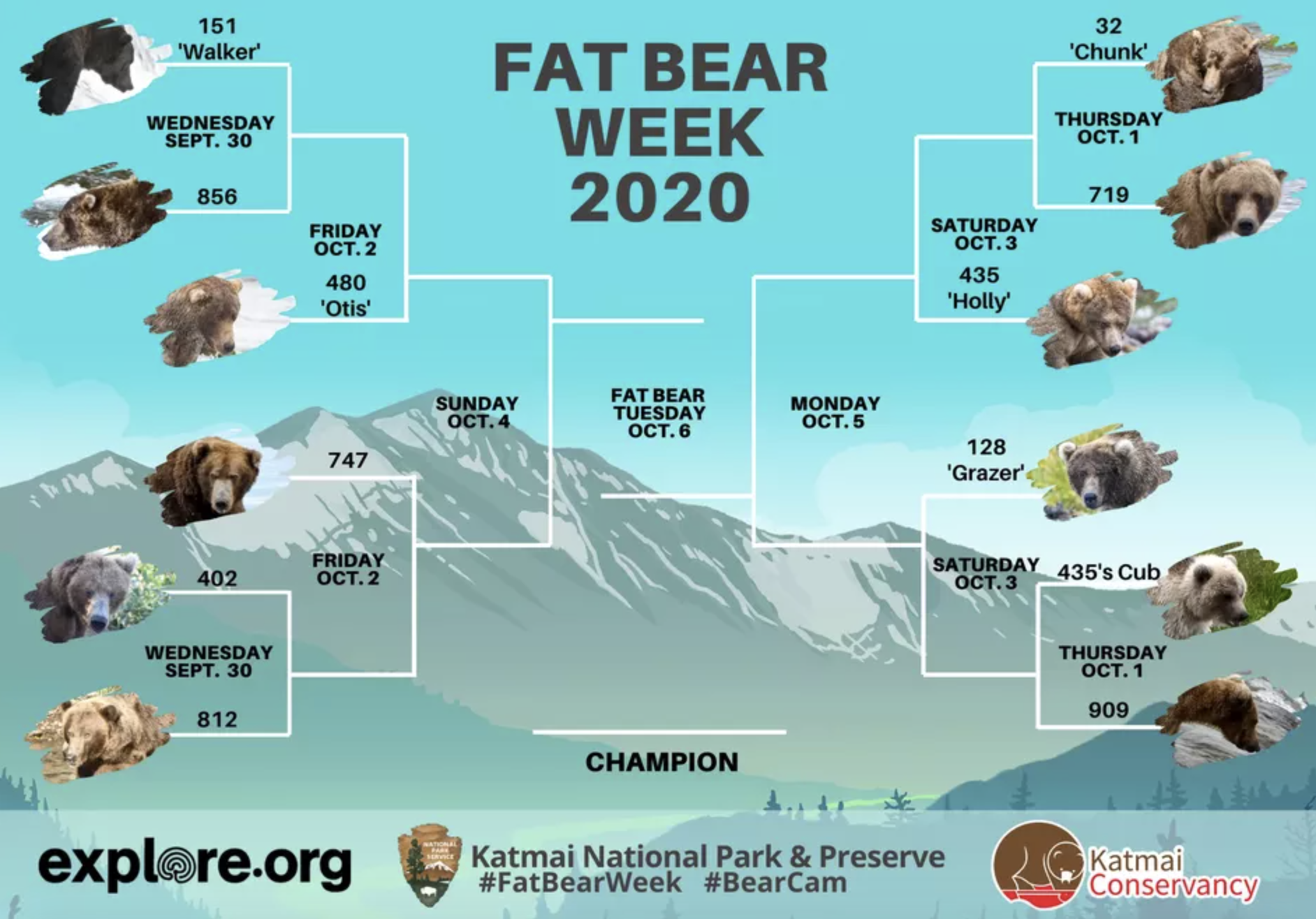 "During hibernation, bears will not eat or drink and they will lose one-third of their body weight. Their winter survival depends on accumulating ample fat reserves before entering the den," reads Explore.org. ""Katmai's brown bears are at their fattest in late summer and early fall after a summer spent trying to satisfy their profound hunger… Fat bears exemplify the richness of Katmai National Park and Bristol Bay, Alaska, a wild region that is home to more brown bears than people and the largest, healthiest runs of sockeye salmon left on the planet."
In case you haven't tuned into the live streaming from the park throughout the summer, let us tell you a bit about the bears in the running: We've got Holly (number 435), who won the tournament last year and is a clear favorite in 2020 as well. Otis (number 480), another top pick this year, is a bit older and is missing teeth but he's considered a very good fish-catcher. But bear number 747 is who we're told you should watch out for: he's already enormous and usually grows to over 1,000 pounds by the end of the summer each year.
Dare we say, let's forget about sports this month and just focus on these beautiful large bears instead?
Most popular on Time Out
- Look up: The Northern Lights will be visible over the U.S. on Monday and Tuesday night
- 11 hilarious tweets from people reacting to Burger King's new $2 value meal
- Amtrak is offering buy-one-get-one free tickets through September 30
- This map highlights the weirdest things people put on their resumes in every state
- The greatest bike trails in the U.S. with fall foliage