If you thought the Las Vegas Formula 1 Grand Prix would draw a big crowd... think again. It's gonna be huge. And the reason behind that is that the F1 governing body has confirmed that the race will be held on Saturday, during the evening, on November 18, 2023, taking full advantage of the iconic city lights at night.
The last time the Formula 1 carnival paid a visit to the Silver State was in 1982, when the track was contained entirely within the grounds of Caesars Palace, but this new 3.8-mile-long street circuit looks a thousand times better. It features three main straights, 14 corners and one chicane section, with top speeds expected to reach over 212mph over the course of 50 laps. The cars will only go down one side of the strip, but the upshot is that it provides nearly 50ft of width for overtaking.
The longest straight is 1.24-miles quite literally down the center of the strip, past landmarks like the Bellagio, Caesars Palace and the Venetian. That's almost twice as long as the back straight at Yas Marina circuit in Abu Dhabi, where the cars are at full throttle for 14 seconds. As they reach turn 11, by the Cosmopolitan, the drivers will pull around 5.2 Gs as they decelerate from a top speed of over 205mph to negotiate the left-then-right chicane.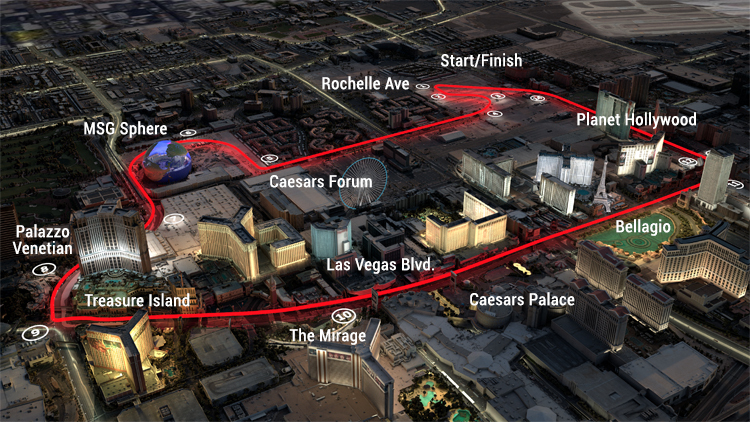 You can almost certainly expect tickets for the High Roller to sell out — as instead of the very average vista that might normally only attract avid aviation enthusiasts with its unobstructed view of the runways of Harry Reid International Airport — for this hair-raising, high-octane road race, it might offer one of the best seats in the city. And nothing will quite prepare you for the noise, it's going to be approximately a thousand times louder than you can possibly imagine. And yes, a lot louder than NASCAR. The acoustics will almost certainly be amplified as the deafening roar of turbocharged V6 engines echoes through the streets and bounces off the surrounding buildings.
Street circuits are steadily growing in popularity in the sport and where once upon a time it was just Monaco, the 2022 racing calendar alone now boasts five: Singapore, Melbourne, Azerbaijan, Miami and Monaco, of course.
Vegas will join existing F1 races, Austin and Miami, to be the third F1 race in the US, which has seen a boom in popularity for the series in the last couple years. And if you've never been to a F1 race, holy smokes, you're in for an experience. The sheer scale of the event has to be seen to be believed.
Time Out was also informed by the FIA Formula 1 Commission that more news regarding this mind-blowing spectacle is coming in just a few days. So stay tuned!