Eager to leave the country? We get it. And luckily, voyaging overseas doesn't have to be too expensive, maybe even cheaper than domestic travel, if you plan accordingly.
A new study by CheapAir.com analyzed over 917 million airfares across every continent to help Americans book international flights at the times with the cheapest fares.
The 2023 International Airfare Study can help you make the most of a travel budget by planning how far in advance you should book international flights to save the most money, the most and least expensive months to travel internationally, how seasonality can affect international flight costs, and the cheapest days of the week to travel internationally.
For example, if you're traveling to Asia, you'll want to book about 144 days in advance to save the most money, though procrastinators can save the most by booking European travel just 44 days in advance (that's about 6 weeks). The full study also declares the most expensive times to visit a destination, so you can steer clear of Mexico in December, or plan a bucket list trip to Australia when pricing isn't at its peak.
And once you're ready to book, you'll want the helpful index of the best days to travel, typically Tuesdays and Wednesdays, for the cheapest flights. Book your PTO accordingly.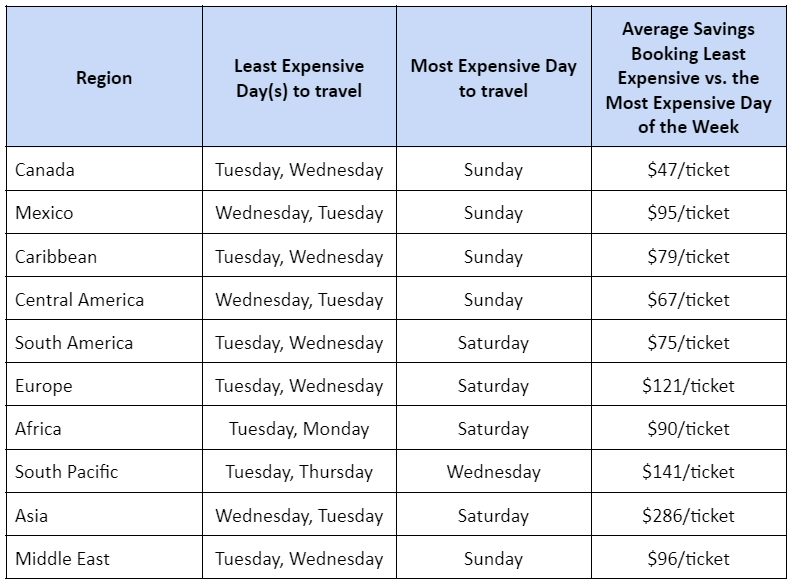 To help you fund your international travel, CheapAir.com also shared some new ways to book on their site, including paying with Bitcoin or using a book now, pay later feature with Affirm to pay for the trip in monthly installments, ranging from 3-12 months. Bon voyage!