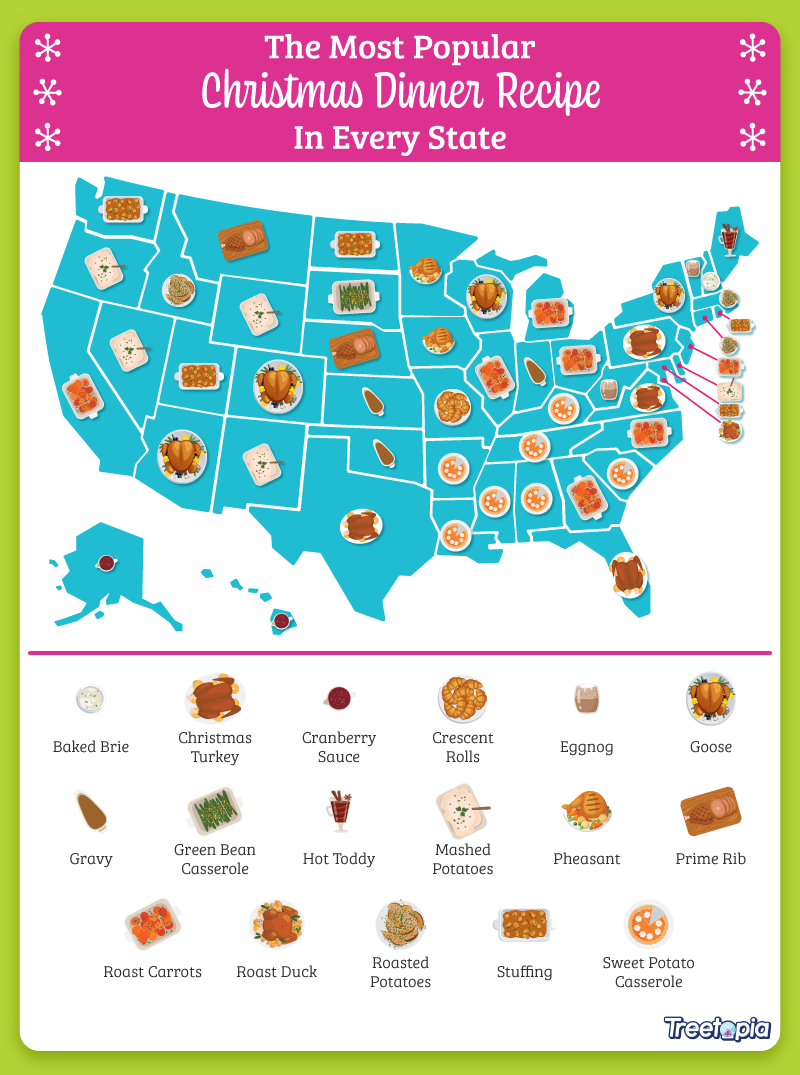 Looking to spruce up your Christmas meal this year? How about indulging in some delicacies that are popular in states that aren't your own, perhaps?
RECOMMENDED: You can submit your favorite family recipe to be included in this awesome new exhibit
A new map by Christmas tree site Treetopia actually highlights just that: the most sought-after Christmas dinner recipe in each state. A mere look at the results will surely function as a creative jump point when it comes to working on your holiday menu.
To populate the map, the website took a look at 2019 Google Trends, specifically collecting data "on the popularity of over 35 recipes for traditional Christmas dishes, desserts and drinks."
Overall, sweet potato casserole and roast carrots topped the list as the most popular dishes across the country, each one earning the number one spot in seven different states.
Although certain entries—green bean casserole, Christmas turkey, eggnog and roasted potatoes—didn't surprise us, a slew of others are pretty unexpected. People in New Hampshire, for example, are partial to baked brie while those in New York and Wisconsin indulge in goose and folks in Missouri look forward to devouring crescent rolls.
You can take a visual peek of the map right above and, below, find a state-by-state breakdown. Have you settled on your go-to recipe for this year yet?
Alabama: Sweet potato casserole
Alaska: Cranberry sauce
Arizona: Goose
Arkansas: Sweet potato casserole
California: Roast carrots
Colorado: Goose
Connecticut: Roasted potatoes
Delaware: Mashed potatoes
D.C.: Roast duck
Florida: Christmas turkey
Georgia: Roast carrots
Hawaii: Cranberry sauce
Idaho: Roasted potatoes
Illinois: Roast carrots
Indiana: Gravy
Iowa: Pheasant
Kansas: Gravy
Kentucky: Sweet potato casserole
Louisiana: Sweet potato casserole
Maine: Hot toddy
Maryland: Stuffing
Massachusetts: Roasted potatoes
Michigan: Roast carrots
Minnesota: Pheasant
Mississippi: Sweet potato casserole
Missouri: Crescent rolls
Montana: Prime rib
Nebraska: Prime rib
Nevada: Mashed potatoes
New Hampshire: Baked brie
New Jersey: Roast carrots
New Mexico: Mashed potatoes
New York: Goose
North Carolina: Roast carrots
North Dakota: Stuffing
Ohio: Roast carrots
Oklahoma: Gravy
Oregon: Mashed potatoes
Pennsylvania: Christmas turkey
Rhode Island: Stuffing
South Carolina: Sweet potato casserole
South Dakota: Green bean casserole
Tennessee: Sweet potato casserole
Texas: Christmas turkey
Utah: Stuffing
Vermont: Eggnog
Virginia: Christmas turkey
Washington: Stuffing
West Virginia: Eggnog
Wisconsin: Goose
Wyoming: Mashed potatoes
Most popular on Time Out
- This map highlights the most popular Christmas treat in each state
- American Airlines will send you an at-home COVID-19 test before your domestic flight
- The most exciting online board games to play with friends
- McDonald's announces 11 days of free food deals this month
- This company will pay you $25,000 to tell your family you won't be home for the holidays this year