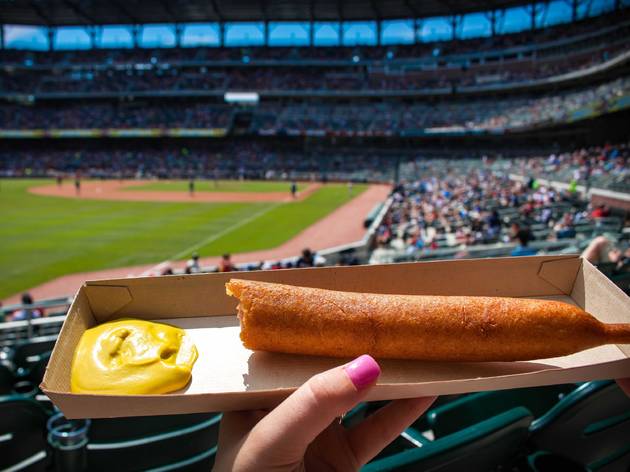 You can now order your favorite baseball concessions for curbside pickup
Who is craving some hot dogs?
Posted: Wednesday May 20 2020, 3:30pm
To the chagrin of foodies of all stripes, Major League Baseball (MLB) is planning on returning from its hiatus some time this summer without spectators in the stadiums—a move that will effectively distance fans from the traditional ballpark fare that's as beloved as the game itself.
But don't despair just yet. Local little league teams have come to the rescue by offering curbside concessions outside their very own ballparks.
The "trend" has spread across the country, with teams in Iowa, South Carolina, Virginia, Indiana and more vowing to serve burgers, corn dogs, brats and hot dogs to all those craving them.
The Cedar Rapids Kernels in Iowa, for example, have been selling carry-out ballpark food baskets on Friday nights that include either a bratwurst or a Philly cheesesteak, chips or peanuts, potato salad and a cookie.
The Clinton LumberKings, also based in Iowa, are offering a "Garbage Pail" that features French fries, onion rings, mini corn dogs, mini tacos, cheeseballs, chicken strips, fried pickles and corn nuggets on Thursdays—talk about fried food heaven.
Out in Texas, the Round Rock Express have been hard at work on family meal kits that include enough ingredients for five full meals in addition to some grocery products that range in theme and use each week (think paper towels and milk alongside candy and pretzels, for example). The Charleston River Dogs, in South Carolina, have also jumped on the meal kit bandwagon, offering a nice variety of them: from low-country brunch essential packages to pantry essentials, fresh produce boxes and more.
Of course, geography limits our access to each one of these delectable treats, but that doesn't make us any less excited about the creativity boasted by our favorite little league teams. We'll be back inside the ballpark soon enough, after all.
Most popular on Time Out
- Brace yourselves for the return of the drive-in movie theater
- US-based airlines will resume operating international flights as early as next month
- You can send a free pint of ice cream to anyone you want to right now
- Online party games to play remotely with friends
- You can play Cards Against Humanity online for free
Share the story