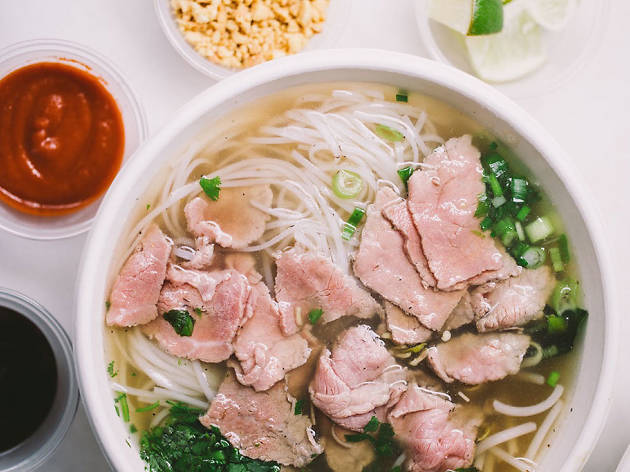 Foodie bucket list: The best cheap eats in every state
From finger-lickin' BBQ in Alabama to overstuffed burritos in Wyoming, these cheap eats will rock your foodie palate
While it feels like life in America gets pricier every day—especially if you live in an upwardly mobile city like New York or San Francisco—there are, surprisingly, still plenty of deals to score when it comes to local cuisine. If you avoid white-tablecloth restaurants, you can chow down on inexpensive, delicious fare across a variety of genres, from the best BBQ restaurants in America to the best pizza in America to the best burgers in America. So stash your credit card; all you'll need is cash (and not much of it). These are the best cheap eats in every state.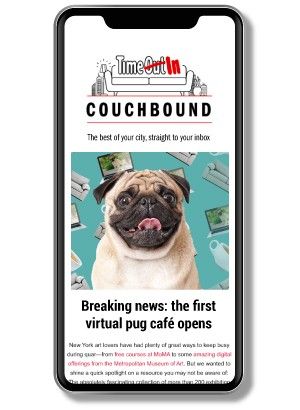 An email you'll actually love
Sign up to our Couchbound newsletter and bring the city to your sofa
Subscribe now
Best cheap eats in the U.S.
1
Photograph: Moe's Original Bar B Que
Alabama: Pulled pork meal at Moe's Original Bar B Que in Birmingham
BBQ is a way of life in the state of Alabama, where cuts of pork are barbecued over hickory, oak and pecan wood until smoky, tender and infused with spice. Pulled pork typically defines the genre but acquires a unique spin from a local condiment: white sauce, a tangy whip of mayo, cider vinegar and lemon juice that adds acidity and richness to the soft meat. At Moe's, an Alabama institution since 1988, this meat-sauce combo is perfection on a bun. The meal comes with a choice of two tantalizing sides, including tangy baked beans and creamy mac-n-cheese. $9.50
2
Photograph: Courtesy Yelp/Brandi H.
Alaska: Reindeer Polish sausage at Tiki Pete's Alaskan Dogs in Anchorage
Long a traditional food in the state of Alaska, reindeer meat is prized by the local community, which enjoys it in the form of steaks, burgers and, especially, sausages. At Tiki Pete's, a beloved hot dog cart in downtown Anchorage, the house specialty is a juicy, snappy reindeer sausage heaped with a creamy, cheesy portion of mac 'n' cheese. $7.50
Photograph: Courtesy Yelp/Brandi H.
3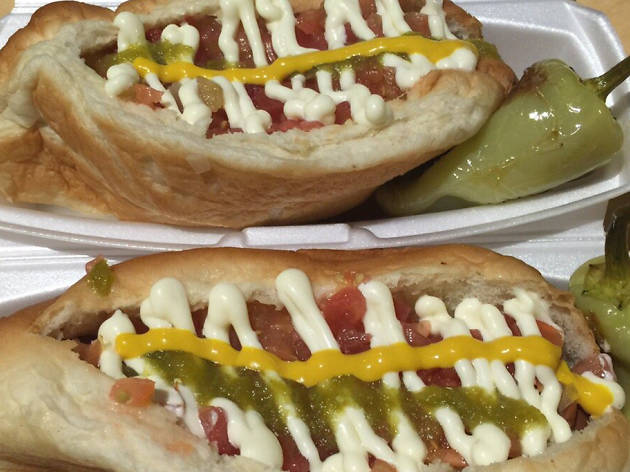 Photograph: Courtesy Yelp/Jeanielle H.
Arizona: Sonoran hot dog at BK Carne Asada & Hot Dogs in Tucson
Tucson's famous Sonoran hot dogs—beloved local snacks sold across town by about 200 street vendors and several popular sit-down joints—take their name from the region just south of the border from Arizona. Stuffed into a split-top roll, the perro caliente is wrapped in bacon, griddled until crispy and piled high with creamy pinto beans, chopped tomatoes, grilled and raw onions, mayo, mustard and picante jalapeño salsa. BK Carne Asada's much-loved version is a juicy, crispy, porky marvel. Don't neglect the roasted chile guero on the side: It's a hot and smoky bite that perfectly complements the overloaded dog. $2.99
Photograph: Courtesy Yelp/Jeanielle H.
4
Photograph: Gus's World Famous Fried Chicken
Arkansas: Fried pickles at Gus's World Famous Fried Chicken in Little Rock
Like many much-loved (and much-copied) dishes, the origin story of the fried pickle is apocryphal, but many versions trace the salty snack's birth to the small town of Atkins. In 1963 at his Duchess Drive In, Bernell "Fatman" Austin supposedly first thought to dip a pickle spear into batter and deep-fry it. Whatever the truth of the matter is, fried pickles have remained a revered accompaniment to a cold beer all across the state; we like the crisp, greaseless versions fried up by Gus's in Little Rock (don't skip their chicken, either). $5.95
With three locations just in Los Angeles, taco spot Guisados is a city institution. Handmade tortillas are made to order and filled with house signature guisados or stews—hence the name—long-simmered to tender goodness. Snag a table on the outdoor patio or sit inside to watch the kitchen in action as you dig into the mouthwatering tacos—we like the moist tinga de pollo, rich and juicy mole poblano and flavorful cochinita pibil topped with spicy red onions—washed down with refreshingly tart jamaica aqua fresca or creamy, spiced horchata. $2.95
6
Photograph: Areyto Puertorrican
Colorado: Skirt steak jibarito at Areyto Puertorrican food truck in Denver
This downtown food truck is a Denver favorite, serving rigorously authentic Puerto Rican eats including mofongo (mashed plantains topped with stew), golden gouda cheese fritters and flaky empanadilla turnovers. Our favorite dish is the indulgent jibarito, two mashed plantain shells that are fried until crispy, then crafted into an inside sandwich: loaded with slices of juicy skirt steak, cheese, lettuce, onions, tomatoes and a garlicky aioli, it's truly addictive and, at $10, a definite steal. $10
7
Photograph: Andrew Le
Connecticut: Falafel sandwich at Mamoun's in New Haven
The oldest falafel restaurant in New York City, established in Greenwich Village in 1971, Mamoun's quickly expanded into an empire, opening an additional NYC location as well as three outposts in New Jersey and this spot in New Haven. Its bursting-at-the-seams falafel sandwich is a favorite among the area's perennially broke college students: a warm white or whole wheat pita stuffed with crisp, greaseless chickpea patties plus lettuce, tomatoes, parsley, onions and a creamy tahini sauce. It's delicious, filling and costs just three bucks. $3.85
8
Photograph: Courtesy Yelp/Brenda C.
Delaware: Gyro at Opa! Opa! in Wilmington
This bright Greek diner doles out fresh food fast, offering Mediterranean specialties such as loaded Greek salads and massive pita sandwiches. Of the latter, our favorite is the classic gyro, slices of spit-roasted beef and lamb piled into a fluffy pita along with onions, tomatoes and plenty of creamy tzatziki. As if that weren't enough food, the sandwich is served alongside a massive pile of crisp, salty fries. $7.50
Photograph: Courtesy Yelp/Brenda C.
Lovers of Cuban food flock to this Miami standby, serving classics such as ropa vieja, picadillo and mashed green plantains since 1971. Its sweeping dining room hung with twinkling chandeliers is the perfect place to chow down on one of the city's best Cubano sandwiches: sliced ham, roast pork and Swiss cheese pressed inside soft Cuban bread with mustard and tangy pickles. $6.50
Photograph: Courtesy Yelp/Shawn H.
This down-home spot has been nourishing hungry Atlantans since 1947, when Lucy Jackson, a self-taught cook whose fried chicken was always in demand among family and friends, opened up shop. Today, Jackson's recipe continues to satisfy, producing a sheer, barely-there bronzed crust enveloping juicy, well-seasoned meat. A chicken dinner gets you two pieces, plus two sides (the candied yams and braised collards are perennial favorites) plus two fluffy cornbread muffins—all for a whopping $14. $14
Photograph: Courtesy CC/Flickr/Darren_and_Brad
Show more