Foodie bucket list: The best cheap eats in every state
From finger-lickin' BBQ in Alabama to overstuffed burritos in Wyoming, these cheap eats will rock your foodie palate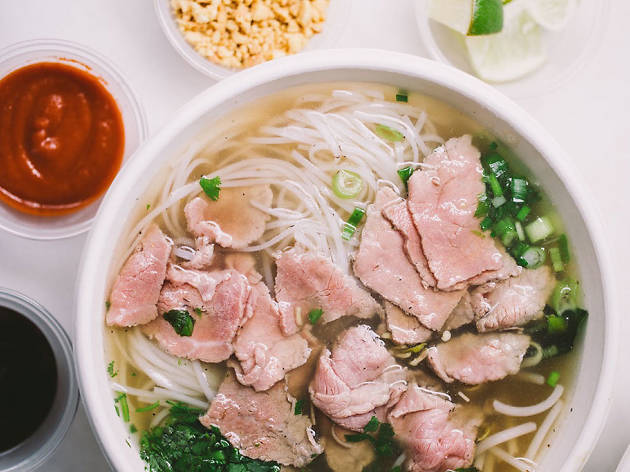 While it feels like life in America gets pricier every day—especially if you live in an upwardly mobile city like New York or San Francisco—there are, surprisingly, still plenty of deals to score when it comes to local cuisine. If you avoid white-tablecloth restaurants, you can chow down on inexpensive, delicious fare across a variety of genres, from the best BBQ restaurants in America to the best pizza in America to the best burgers in America. So stash your credit card; all you'll need is cash (and not much of it). These are the best cheap eats in every state.
Best cheap eats in the U.S.
11
Photograph: Ahi Assassins
Hawaii: Poke bowl at Ahi Assassins in Honolulu
The rampant popularity of poke—that ceviche-like, marinated fish dish native to the Hawaiian islands—hasn't slowed down yet. Though delicious, poke can be kind of pricy, but not at Ahi Assassins. This cheekily named Honolulu spot is a favorite destination for locals and tourists alike, who can't get enough of the bright, fresh poke made daily with locally caught fish. $7
12
Photograph: Courtesy Yelp/JoAn E.
Idaho: Cowboy Potato special at Capri Restaurant in Boise
A cross between twice-baked potatoes and hash browns, the original "Cowboy Potatoes" served at this old-fashioned Boise diner consist of mashed red potatoes folded with crumbled bacon, sour cream and green onions, then griddled to a crispy golden-brown. Go the extra mile with the special plate, which tops those magical potatoes with two eggs any style and slices of creamy avocado. $8.75
Photograph: Courtesy Yelp/JoAn E.
This über-efficient local chain, set up in Villa Park in 1963, is mostly found in the suburbs. But at the one city Portillo's, in tourist-heavy River North, out-of-towners flock in search of an authentic Chicago dog. The thick, nicely juicy dog comes on a poppyseed bun steamed to perfect softness and is topped with with a generous helping of thick-cut tomatoes, onions and a hefty pickle slice. $3.09
14
Photograph: Courtesy Yelp/Jenni T.
Indiana: Tamales at The Tamale Place in Indianapolis
Likely the only restaurant in the state of Indiana to make tamales the authentic Mexican way—with nixtamalized white corn pounded into soft masa corn dough—The Tamale Place crafts 21 varieties of the beloved corn husk-wrapped snack. Ranging from spicy chipotle chicken to pork folded inside a banana leaf, the tamales are delicious, filling and oh-so-affordable. $1.99-$4.25
Photograph: Courtesy Yelp/Jenni T.
15
Photograph: Courtesy Yelp/Jessie M.
Iowa: Library Nachos at University Library Cafe in Des Moines
With a menu anchored by more than 40 craft beers on tap, this casual pub's food selection is, unsurprisingly, dominated by suds-friendly fare like wings, onion rings and fried pickles. We think their loaded nachos are the best in Des Moines: fried flour tortillas piled high with pinto beans, shredded cheddar, Monterey cheese sauce, pico de gallo, banana peppers and sour cream, they're fantastic alongside a pint (or three). $7.99
16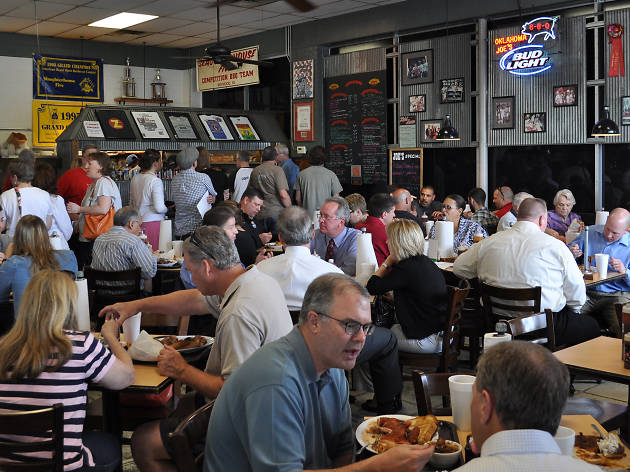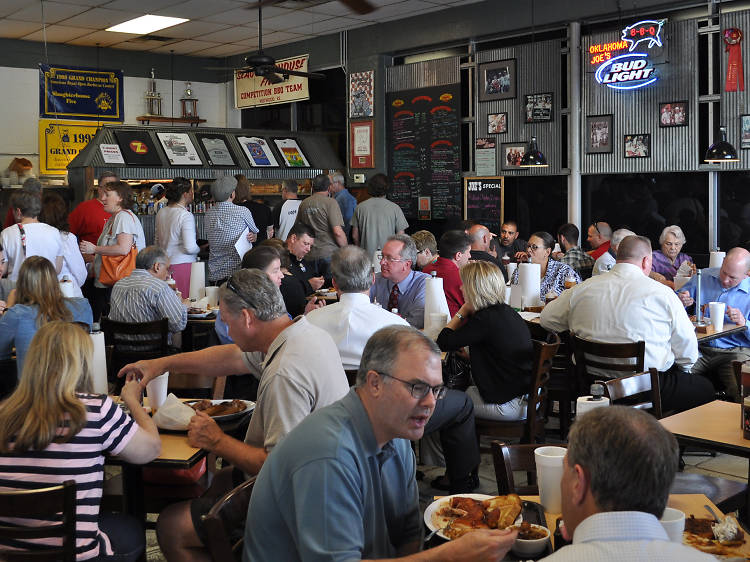 Photograph: Joe's Kansas City Bar-B-Que
Kansas: Beef brisket sandwich at Joe's Kansas Bar-B-Que in Kansas City
Consistently ranked among the nation's top BBQ joints, this smokehouse epitomizes the Kansas City style: slow-smoked meats slathered in a thick, sweet, tomato-and-molasses-based sauce. Kansas City—on both its Kansas and Missouri sides—is chockablock with excellent BBQ spots, but Joe's is a (two-) statewide favorite. Don't miss the iconic beef brisket sandwich, juicy meat piled onto a soft oversized bun.
17
Photograph: Courtesy Yelp/Christiaan T.
Kentucky: Tolly-Ho Burger at Tolly Ho in Lexington
This casual Lexington pub is beloved for its signature burger, available in a number of sizes from single quarter-pounder to a towering Mega-Ho stacked with three of the patties. The juicy, well-seasoned burger is anointed with proprietary Ho sauce, plus ketchup, mustard, lettuce and onions, all piled onto a squishy sesame seed bun. $3.49
Photograph: Courtesy Yelp/Christiaan T.
Though po' boy loyalty is fierce in NOLA, many residents and tourists agree that one of the very best is found at Parkway, a family-run spot that's been crafting excellent, seafood-piled po' boys since 1911. It's hard to decide between the fried oyster and fried shrimp iterations, but we usually go for the latter, the plump crustaceans outfitted in a crisp golden crust and piled into an airy loaf "fully dressed" with lettuce, tomato, pickles and mayo. $7.85
19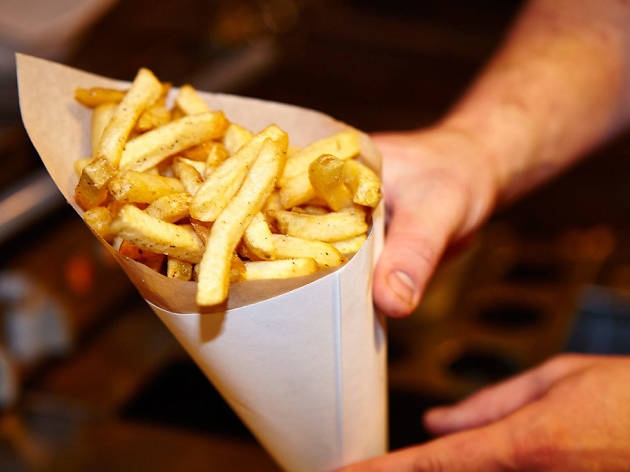 Photograph: Duckfat
Maine: Duck fat fries at Duckfat in Portland
Thin wedges of local Maine potatoes deep fat fried in pure, golden duck fat, this Portland sandwich shop's signature fries are renowned throughout the city and state. Predictably, lines snake out the door for an hour or more during lunch time, when diners dip them in accompanying sauces of curry mayo, truffle ketchup and garlic aioli. You'll want to spring for a large order. $7.75
20
Photograph: Courtesy Yelp/Ching C.
Maryland: Pupusas at Mi Comalito in Baltimore
This pan-Latin (Mexican-Salvadoran-Honduran, to be exact) joint opened in late 2013 and it's been delighting empty stomachs (and wallets) ever since. Located in Baltimore's Charles Village neighborhood, it serves fresh, made-from-scratch and cheap delights ranging from tacos to quesadillas to tostadas. It's all excellent, but we're partial to the Salvadoran pupusas, thick corn tortillas griddled until browned then split and filled with cheese and other fillings. We like Mi Comalito's version with beans. $2.50
Photograph: Courtesy Yelp/Ching C.
Show more