Funny Father's Day cards that every dad will appreciate
Gift dad a laugh on his big day when presenting him with these funny Father's Day cards. They are all a hoot.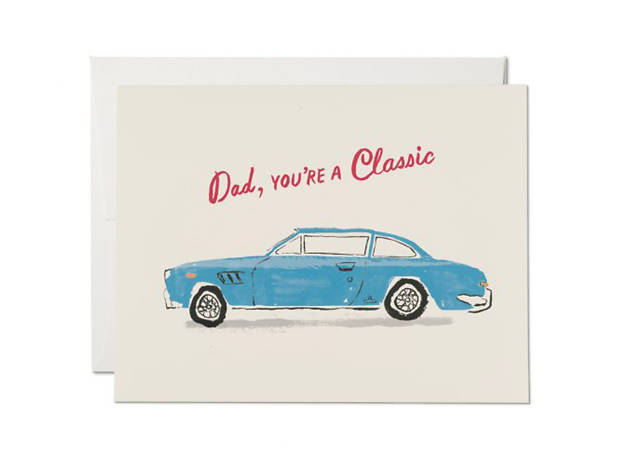 While not all dads fit the stereotype of a gruff father, we can generally agree that pops is a little less effusive than mom. So while you'll want to shower him with love on Father's Day, you'll want to do so in a way that will tug his heartstrings and get a laugh out of him. We recommend treating papa to some rib-sticking BBQ, a juicy burger or an ice-cold craft beer, and then wrapping up the occasion with one of these hilarious cards. These funny Father's Day cards are sure to be remembered and appreciated.
Funny Father's Day cards
1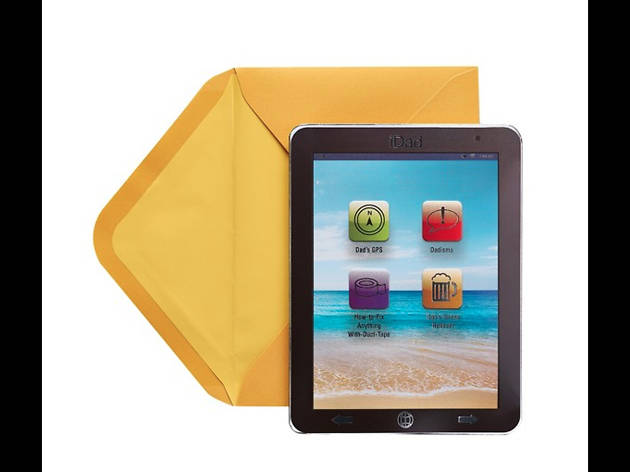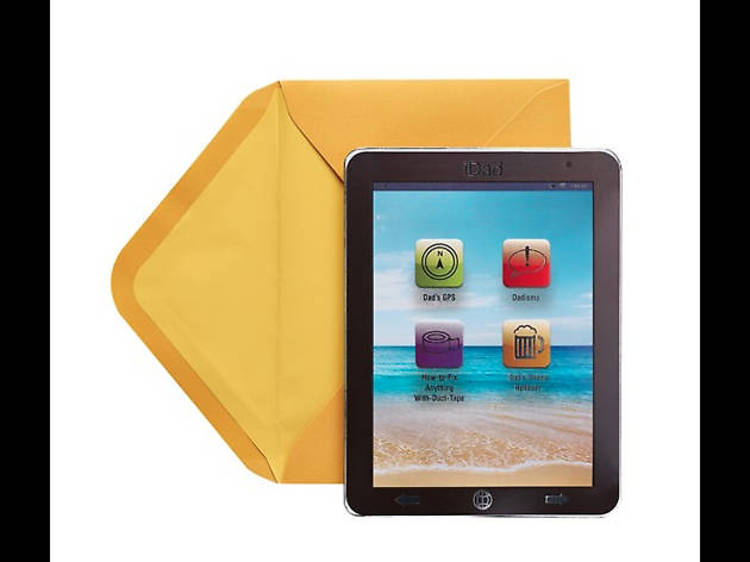 Photograph: Courtesy Target
iDad Father's Day Card with Foil
Whoa, technology these days. This out-there "iDad" card recreates dad's favorite gadget with four buttons—Dad's GPS, Dadisms, How-to-Fix-Anything-with-Duct-Tape and Dad's Stress Reliever—that actually play funny phrases when pressed. Best of all, there's no charger to misplace.
2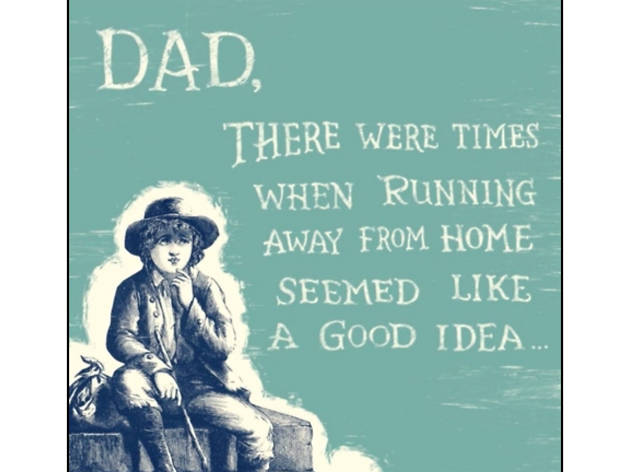 Photograph: Courtesy Hallmark
While sending an actual physical card is best, sometimes you almost-forget Father's Day... and then you send an e-card just in time. This cheeky card thanks dad for always sticking around, even when the going got tough.
3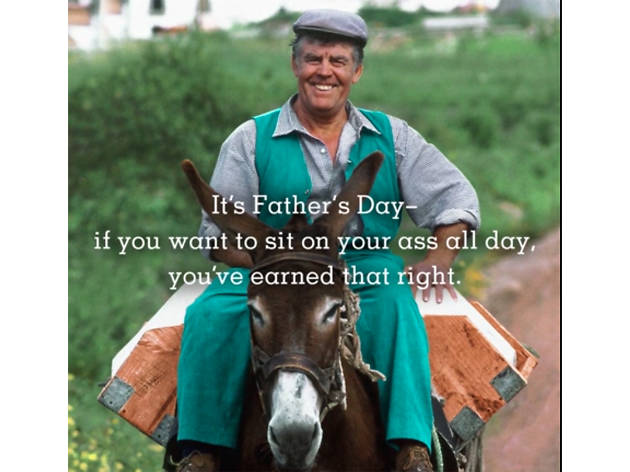 Photograph: Courtesy Hallmark
Another great e-card option for you procrastinators is this silly number giving dad license to take a load off.
4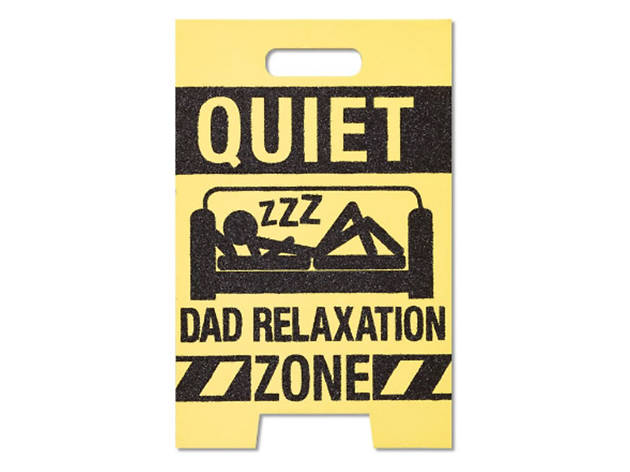 Photograph: Courtesy American Greetings
Relaxation Zone Father's Day Card
Made of stiff cardboard that can easily be propped up, this fun card in the shape of a construction sign will allow papa to claim some Z's on the couch—much like a do-not-disturb sign.
5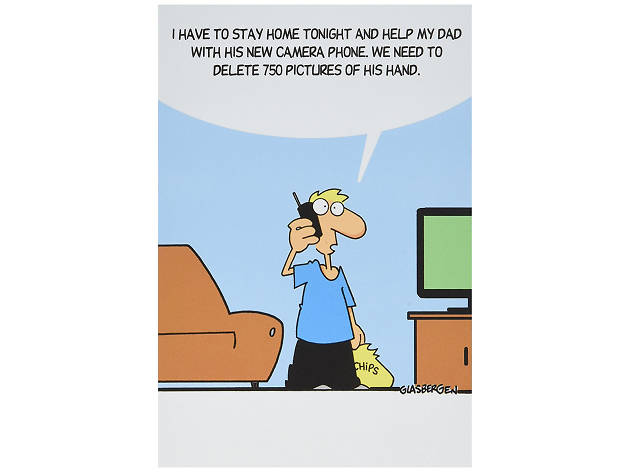 Photograph: Courtesy Amazon
Oh, dads and their lovable resistance to technology. This is the perfect card for the Luddite in your life.
6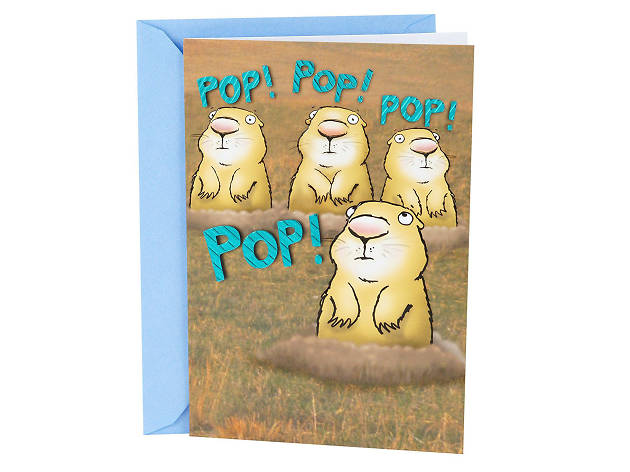 Photograph: Courtesy Amazon
Funny Father's Day Greeting Card
Let dad know that the force is strong with him with this timeless image of Darth.
7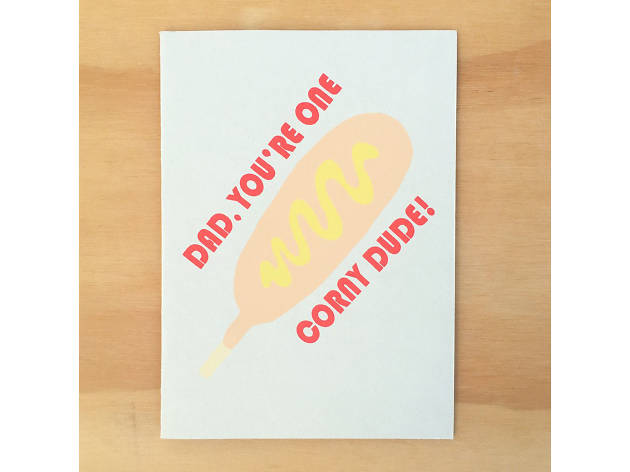 Photograph: Courtesy Gold Teeth
Show dad you appreciate all the dad jokes with this option from L.A.-based printmaker Jesse Levison.
8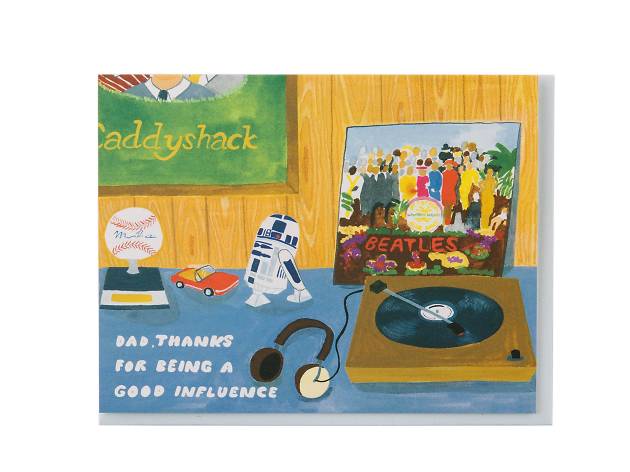 Photograph: Courtesy Small Adventures
Let's face it: we'd all be culture-less drones without dad screenings of Caddyshack and Star Wars, and forced Beatles listening sessions.
9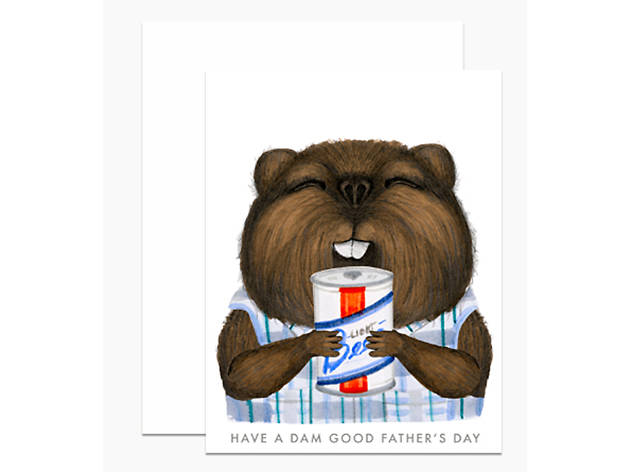 Photograph: Courtesy Dear Hancock
We think any dad would agree that wearing a comfy shirt and chugging a beer (and, um, being a beaver?) would constitute a damn good Father's Day.
10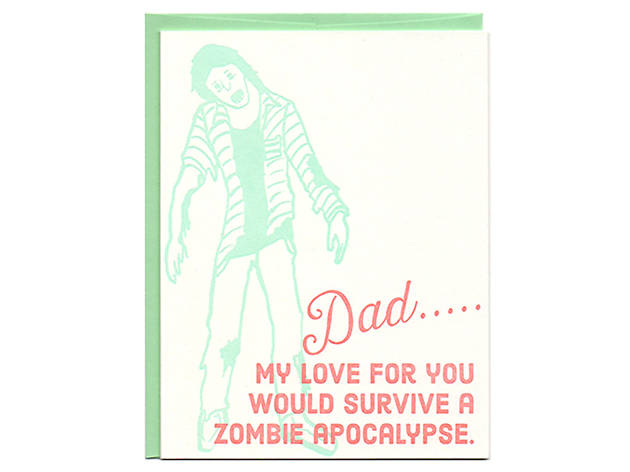 Photograph: Courtesy Greenwich Letterpress
The perfect sentiment for a dad with a dark sense of humor.
11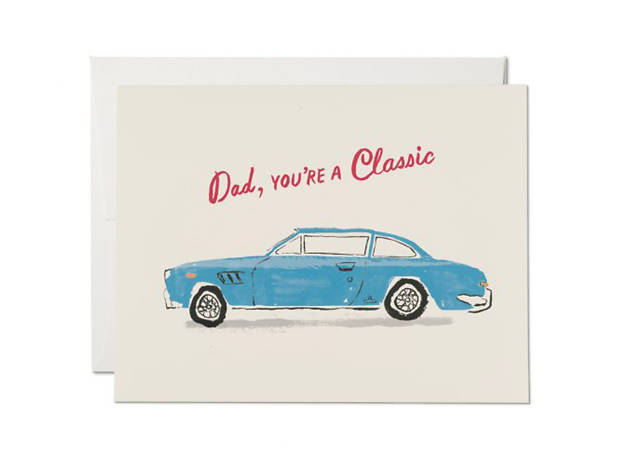 Photograph: Courtesy Red Cap Cards
The dad who never goes out of style is sure to appreciate this cute card.
12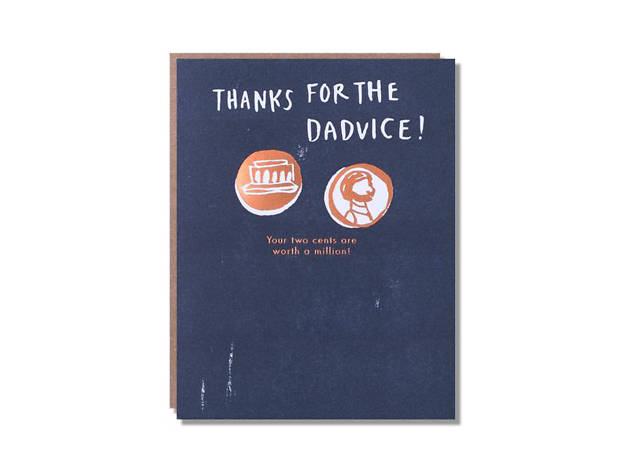 Photograph: Courtesy Egg Press
We've all been the lucky recipients of kernels of wisdom from pops. Thank him with this greeting card handmade at Portland, Oregon's Egg Press.
13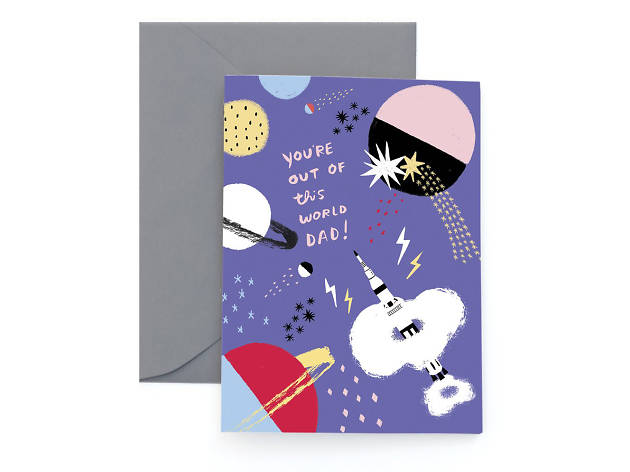 Photograph: Courtesy Carolyn Suzuki Goods
We love the quirky cards made by artist Carolyn Suzuki, and we bet dad will too—especially this specimen that shows just how over the moon for him you are.
14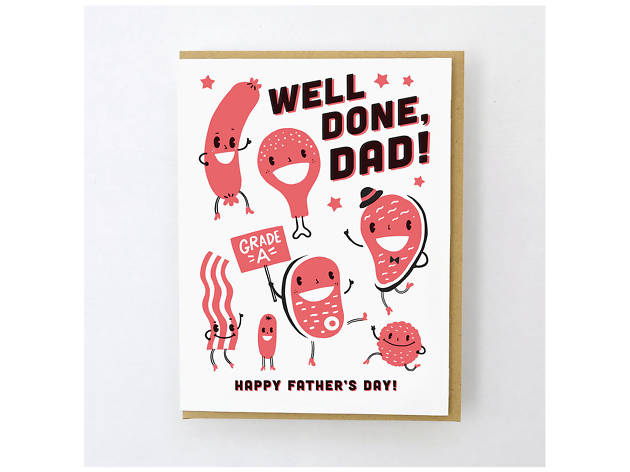 Photograph: Courtesy Hello! Lucky
Whether your dad is an actual BBQ ninja or whether—in all honesty—he tends to cook the bejesus out of any burger his spatula touches, he'll get a kick out of this rib- and weiner-laden card.
15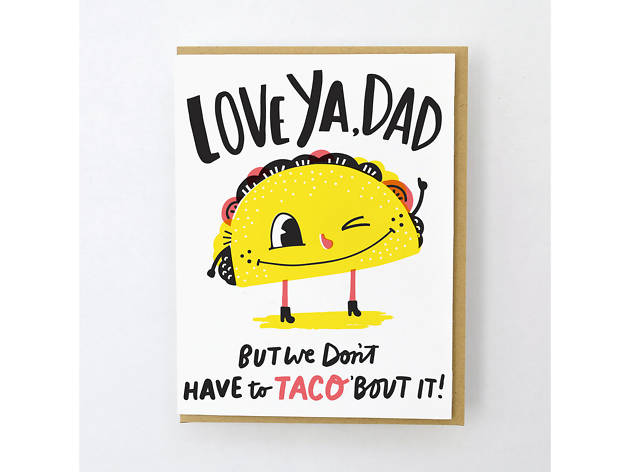 Photograph: Courtesy Hello! Lucky
It's not always easy to say the words. So let this adorable-slash-delicious taco do it for you.
16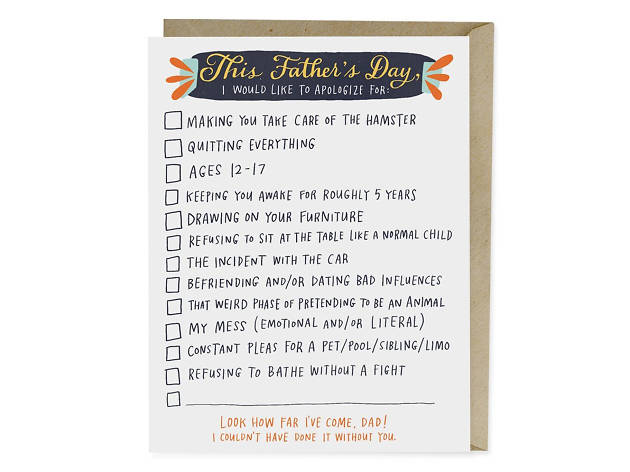 Photograph: Courtesy Emily McDowell
Checklist Father's Day Card
This card is too, too real. We're legit guilty of at least five of these annoying childhood "quirks."
17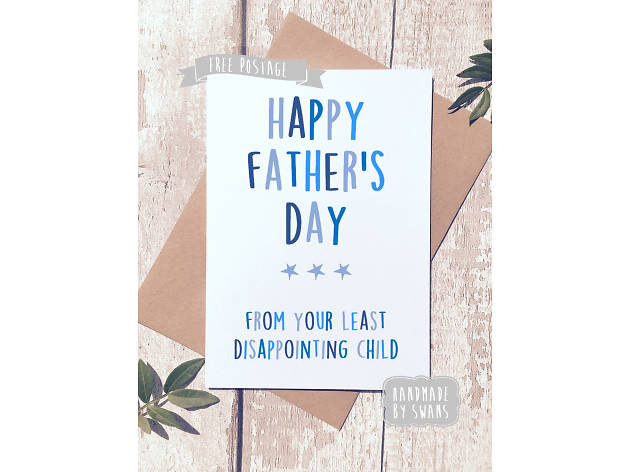 Photograph: Courtesy Etsy
What's better than a card that combines wishing dad a happy Father's Day with the sweet, sweet joy of simultaneously insulting a sibling (or two)?