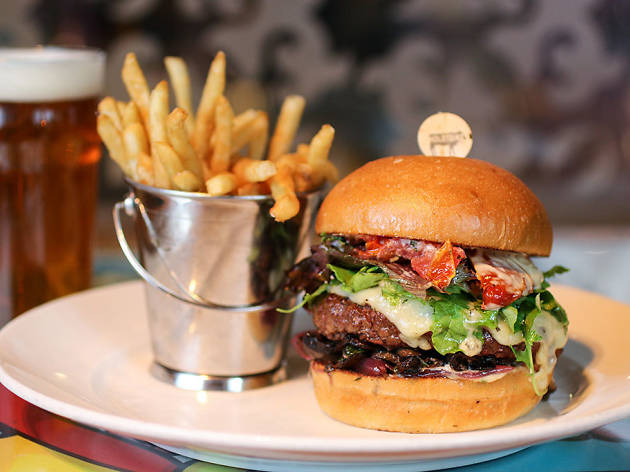 The best burgers in America—one per state!
From cheeseburgers to Angus patties, we eat through the best burgers in America and pick the top one in each state
If you're a diehard burger lover, chances are you've already crisscrossed the country digging your teeth into the best burgers in NYC, the best burgers in Los Angeles and the best burgers in Austin. But the beauty of this burger-lovin' nation is that there's an excellent patty just waiting for you in each and every state of the union. So get in your car or book a plane ticket and dig into the best burgers in America.
Best burgers in America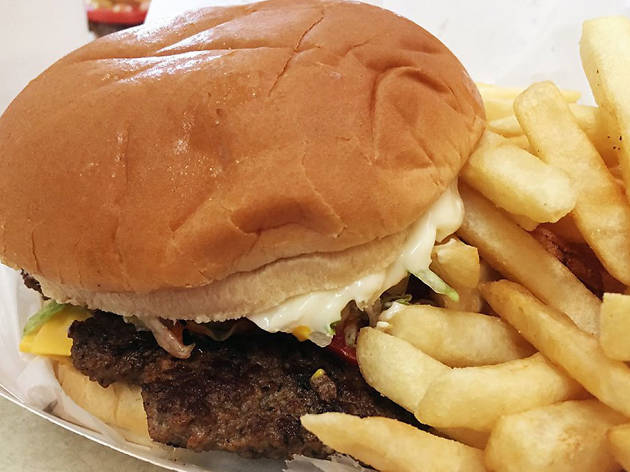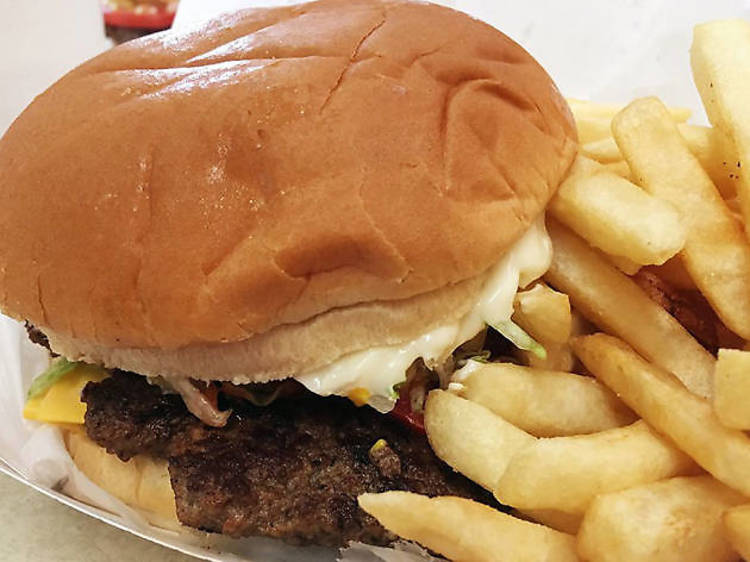 1. Alabama: Cheeseburger at Vicki's Lunch Van in Montgomery
This unassuming "van"—actually a bare-bones cafe—serves the best burgers in 'bama. Open only for weekday lunch, Vicki's welcomes locals taking a break from the office with hot patties griddled on a flat top until they're crust outside and juicy within. Available in 8, 6 or 4-ounce sizes and topped simply with mayo, ketchup, mustard, pickles, lettuce, tomato and onions, all burgers come with a melty cap of good ol' American cheese.
Photograph: Courtesy Yelp/Javier C.
2. Alaska: The Husky Dawson at Pucker Wilson's in Juneau
This dependable food truck serves a loaded burger that consistently ranks among Juneau's best: the Husky Dawson is husky indeed, featuring a griddled beef patty slathered with mayo-based secret sauce and topped with lettuce, tomato, melty cheese, a stack of crunchy beer-battered onion rings and—why not?—some crisp slices of bacon.
Photograph: Courtesy Yelp/Javier C.
Photograph: Courtesy Yelp/Mary R.
3. Arizona: Hangover burger at Rehab Burger Therapy in Scottsdale
Scottsdale residents and visitors going through burger withdrawal find relief in the loaded specimens served at this playful spot. Rehab offers a full 20 types of burgers, gussied up with creative toppings including mac 'n' cheese, jalapeño poppers and even sautéed ribeye steak. We like the aptly named Hangover, immensely craveable after a night of one too many brews: a 10-ounce beef patty layered with Colby jack, local Hatch green chiles and a fried egg. Try the restaurant's addictive sweet potato tots on the side.
Photograph: Courtesy Yelp/Mary R.
Photograph: Courtesy Yelp/Anna A.
4. Arkansas: Farmer's burger at Big Orange Burger in Little Rock
Burgers are the stars of the menu at this hoppin'-all-day spot. Elevated with thoughtful add-ons such as pickled green tomatoes and house-made pimento cheese, these whopping 'wiches are super satisfying alongside a pile of Big Orange's salty, thick-cut fries. We're partial to the Farmer's burger, smeared with creamy aioli, stacked with lettuce, tomato and red onion, and capped with local bacon, melty Havarti cheese and a farm egg.
Photograph: Courtesy Yelp/Anna A.
A longtime secret-menu classic, Animal's cheekily named Boner Burger folds bone marrow into the house-ground chuck-and-short-rib patty, hence the moniker, but we're pretty sure there's another reason they went with that name. Melty jack cheese, caramelized onions, poblano peppers and the restaurant's mustardy 420 sauce top the perfectly cooked burger, and it's all sandwiched between two toasty slices of marbled rye from Diamond Bakery. Schwing!
Photograph: Courtesy Yelp/Elaine N.
The world is divided between people who eat burgers in white-tablecloth restaurants... and fools who do not. Denver diners in the former category sing the praises of the Colorado lamb burger at this elegant Larimer Square spot from James Beard Award winner Jennifer Jasinski. Tender local lamb is topped with peppery arugula, spicy aioli and creamy house-made mozzarella, bringing Rocky Mountain swagger to Jasinski's thoughtfully sourced, Mediterranean-leaning menu.
Photograph: Courtesy Yelp/Elaine N.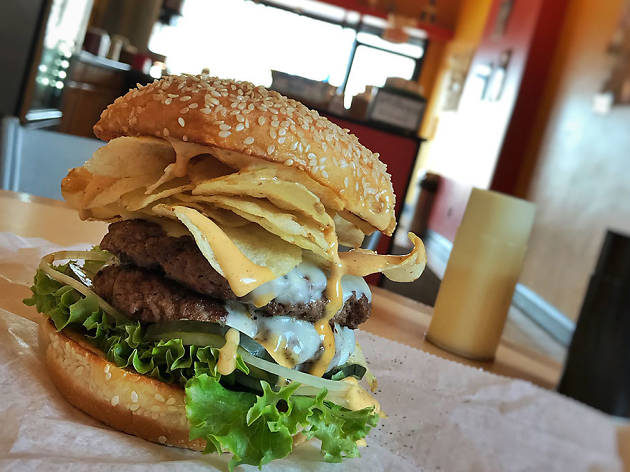 Photograph: Courtesy GoldBurgers
7. Connecticut: Gold Burger at GoldBurgers in Newington
A craft burger spot masquerading as a fast food joint, this unassuming spot shapes burgers out of high-quality, locally sourced meat and piles them with winning toppings such as creamy nacho cheese and puckery pickles. The eponymous burger is a home run: two juicy patties smothered in melty cheese and proprietary GoldBurger sauce, plus lettuce, onion and pickle.
Photograph: Courtesy Yelp/Hà O.
8. Delaware: NFB burger at Restaurant 55 in Dover
This casual tavern run by father-daughter team Dennis Forbes and Desiree DiAntonio is a Dover favorite for dependably well executed soups, salads and pastas. Most diners head straight for the burger section of the menu, loaded with creative options like the Willie Nelson (BBQ sauce, smoked gouda) and the black and bleu (Cajun spices, gorgonzola). We love the NFB—not for breakfast—burger: a chuck-pork sausage patty flavored with sage and topped with American cheese, bacon and a fried egg.
Photograph: Courtesy Yelp/Hà O.
Matthew Kuscher's neighborhood burger joint is popular with people and canines alike (yep, they've got a special dog menu, too). Its selection of grass-fed beef burgers runs the gamut from traditional to only-in-Miami, like the famous Cuban frita burger topped with matchstick potatoes. Our choice is Juan's Fidy-Fidy, a decadent patty shaped from 50 percent Florida beef and 50 percent Florida bacon, then topped with more bacon, mayo, sweet onion marmalade and melty Monterey jack.
In 2014, after nearly a decade of cooking only 24 cheeseburgers per night and serving them exclusively after 10pm, chef Linton Hopkins decided to give the people what they wanted. Namely, more cheeseburgers. The Kraft American—a double patty made with a 50-50 blend of brisket and grass-fed chuck—is now a regular menu item at his perpetually buzzy Buckhead gastropub, Holeman & Finch Public House. In 2015, Hopkins satisfied burger-hungry Atlantans yet again by launching a spinoff counter, H&F Burger, at hip food hall Ponce City Market.
Show more
See the best burgers in American cities
Best selling Time Out Offers