The 18 best burgers in America
From prime no-frills patties to exotic Juicy Lucys, our pick of the best burgers in America is appropriately diverse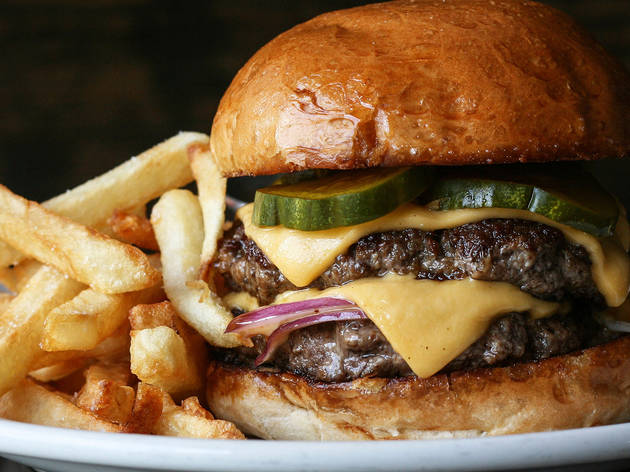 Made with ground beef, lamb, fish or (gasp) vegetable protein, then griddled or grilled, America's favorite sandwich packs incredible variety and cultural significance between a soft, buttery bun. Picking the best of the bunch, the best burgers in America, can be tough: There are more variations on the burger than there are regional interpretations of the best pizza or BBQ restaurants. Our picks of America's best burgers span thoughtfully sourced versions at celebrity-chef-helmed restaurants and humble patties of history at decades-old counters. Creative burgermeisters sell coin-sized sliders by the sack, plate globe-trotting burgers on elegant china, and, in the case of one particularly inventive Pacific Northwesterner, serve an all-beef patty between two grilled cheese sandwiches. Ain't that America? Follow Time Out USA on Facebook; sign up for the Time Out USA newsletter
Best burgers in America
1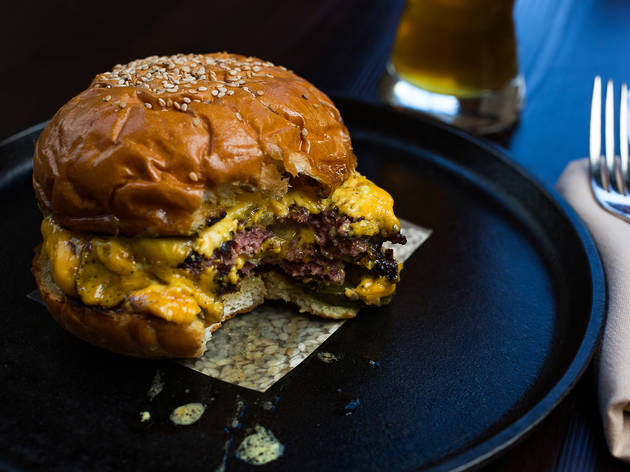 Husk cheeseburger at Husk; Charleston, SC
Ultra-seasonal menus at Husk, Sean Brock's award-winning ode to Southern cuisine, change frequently, but his elevated take on the classic cheeseburger is a fixture on the proudly seasonal menus. Brock blends hickory-smoked Benton's bacon with 100 percent sustainably raised beef chuck, and griddles each patty for a diner-style crust. Each burger consists of two patties sandwiching gooey American cheese (prized for both meltability and nostalgia factor), plus house-made condiments including Brock's bread-and-butter pickles, and a baked-on-site buttermilk bun.
2
This diner-style burger, which often requires hours-long waits to get your hands on, is a master class in textures and proportions. The "single" actually has two thin patties on a soft bun (the "double" is a three-patty behemoth), with gooey melted cheese, zippy pickles and creamy Dijonnaise balancing it out. You can add a quivering egg or thick-cut bacon on top, but it's totally unnecessary.
Photograph: Courtesy Creative Commons/Flickr/Sam Howzit
Read more
3
April Bloomfield is NYC's undisputed burger queen. The lamb burger at the Breslin, her restaurant in Ace Hotel New York, has converted countless beefeaters. But her chargrilled, Roquefort-topped pièce de résistance at the Spotted Pig is the stuff of legend. Nearly every table in the West Village gastropub is graced with at least one, and the buttery beef patty and sky-high stack of shoestring fries easily outshine the dining room's glittering celebrity clientele. Never one to rest on her laurels, Bloomfield announced a dedicated burger joint, Salvation Burger, set to open in the Pod 51 hotel in late 2015.
Read more
4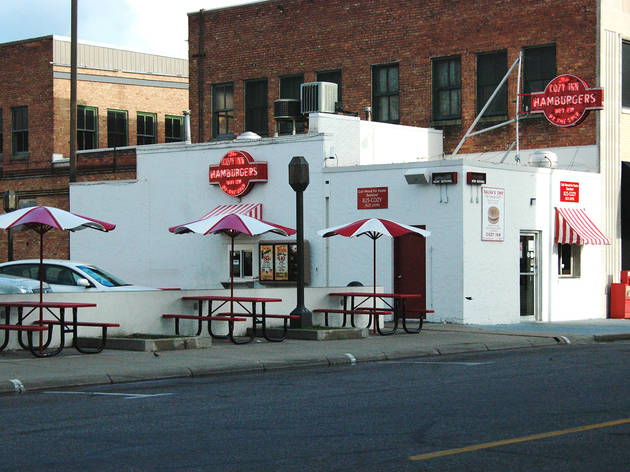 Cozy burger at the Cozy Inn; Salina, KS
A roadside institution perfumed with American history and fried onions, this diminutive 1922 diner is the independently minded consumer's answer to White Castle. Nickel-sized beef sliders are topped with pickles, the aforementioned onions, mustard and ketchup, and sold by the sack. A half-dozen with a bag of chips is a popular order for solo diners at the six counter stools, and costs less than $10. Don't try to sneak a burger or two on your way home and expect to get away with it, though—the bewitching scent of The Cozy Inn will permeate your clothes (and your soul?) immediately upon entry.

Photograph: Courtesy Creative Commons/Flickr/Anyjazz65
5
The economics of scarcity are in full, ambrosial display at Tony Maws's elegant, Gallic-accented restaurant. A limited quantity of the signature cheeseburger is prepared nightly and served to a lucky few at the handsome bar. The burger in question is an unapologetically cheffy affair: Maws grinds grass-fed local beef on-site, and then adds bone marrow for luxuriance and dehydrated miso for bright, salty umami. The sizeable patties are topped with house-made mace ketchup and Shelburne Farms cheddar, and served on buttered and griddled milk buns alongside vinegar pickles and celery root slaw.
Book now
Read more
6
Local loyalists can argue over the supposed sacrilege of the uptown mainstay's recent downtown expansion all they want, but one thing is indisputable: Whichever location you frequent, the burgers are first-rate. Since 1972, the UES tavern has issued its superbly juicy, half-pound marvels, served open-faced with rings of red onion and crinkle-cut pickle chips, on green-checkered tabletops. A curlicue tangle of bacon, cooked to a crisp in the broiler, is technically optional (for 45¢ more), but real burger lovers know it's mandatory.
Read more
7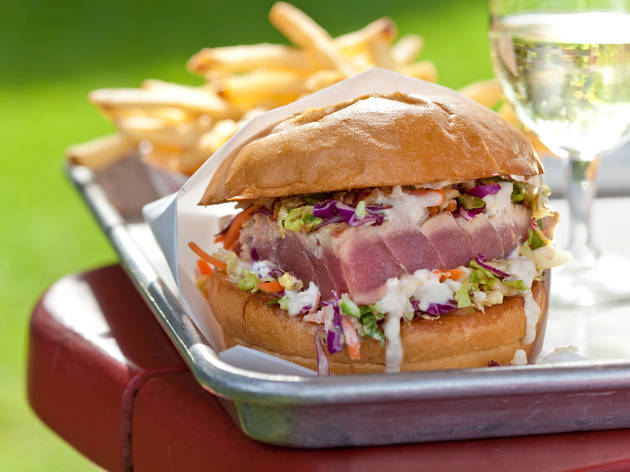 Ahi tuna burger at Gott's Roadside; St. Helena, CA
This Northern California favorite debuted in a midcentury diner space in 1999 (its first moniker, Taylor's Refresher, was changed due to a trademark dispute in 2010), and now has four locations in Napa, San Francisco and Silicon Valley. Purists head to the St. Helena original for open-air ambiance complemented by parsley-flecked garlic fries, Napa Cellars chardonnay, and a sushi-grade ahi tuna burger. The latter is topped with tart slaw and ginger wasabi mayonnaise, and provides an easy, breezy dining alternative in buttoned-up Napa Valley.
8
The Belcampo name may be expanding rapidly across LA, but there's no better way to eat its namesake burger than at the Grand Central Market stall, where you can sink your teeth into the finest meat in town. The beef—organic, sustainable and ground on-site by head butcher Jered Standing—is delightfully rich, and the cheddar and caramelized onions piled on top only add fuel to the discussion that this has to be one of the best burgers in the city.
Read more
9
In 2014, after nearly a decade of cooking only 24 cheeseburgers per night and serving them exclusively after 10pm, chef Linton Hopkins decided to give the people what they wanted. Namely, more cheeseburgers. The Kraft American–topped double patty, made with a 50-50 blend of brisket and grass-fed chuck, is now a regular menu item at this perpetually buzzy Buckhead gastropub. In 2015, Hopkins satisfied burger-hungry Atlantans yet again by launching a spinoff counter, H&F Burger, at hip food hall Ponce City Market.
Book now
Read more
10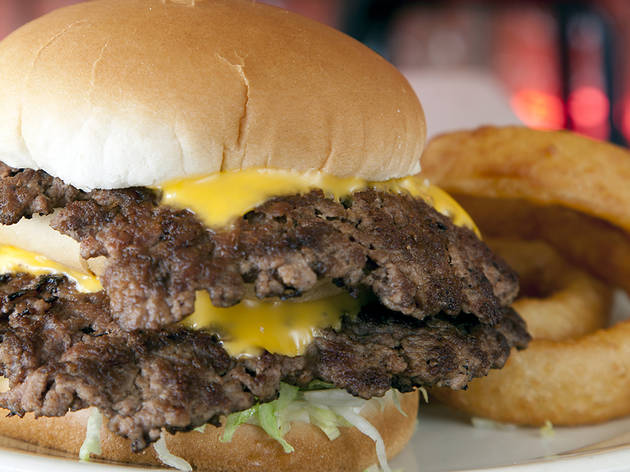 Double cheeseburger at Workingman's Friend; Indianapolis, IN
Part greasy spoon, part dive bar, and all-out democratic, this hole-in-the-wall was founded in a remote corner of Indy in 1923. The iconic double cheeseburger at Workingman's Friend (234 N Belmont Ave at Turner Ave; 317-636-2067) may no longer give you change from a five-spot, but it remains a favorite of construction crews, politicians and anyone with $5.75 in their pocket and hunger in their heart. The handmade, smashed and griddled beef patties inevitably draw comparisons to contemporary steak burger chains like Shake Shack, but one could argue that the latter's Double ShackBurger, which starts at $7.99, is considerably less friendly to the workingman.
Show more
See the best burgers in American cities