The 13 best beaches in the USA
Our sun-lover's guide to the best beaches in the USA for surfing, snorkeling, family vacations and partying by the sand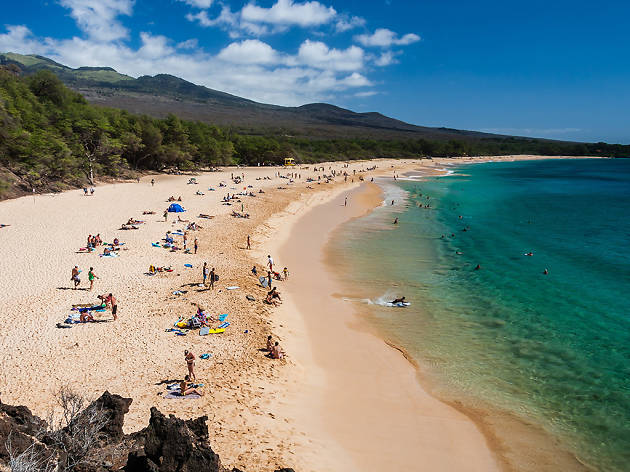 Sick of trudging around town in boots and a coat? Don't worry, shorts weather is just a few weeks away. To get you pumped for beach season—and to help you plan those all-important summer vacays—we've scoured the shorelines of America to find the best beaches in the USA. We used a variety of qualities to pick our top seaside playlands, from accessibility, crowd size and amenities to available activities and that scenic X-factor. And, some good news: you don't have to travel halfway across the world to sink your toes into some pristine white sand. We've got East Coast beaches, Chicago beaches, California beaches, heavenly slices of Hawaii and more. You followed our advice on the best ski resorts this winter and the best road trips in America in fall, now it's time to hat-up and hit the best beaches in the USA. Follow Time Out USA on Facebook; sign up for the Time Out USA newsletter
Best beaches in the USA
1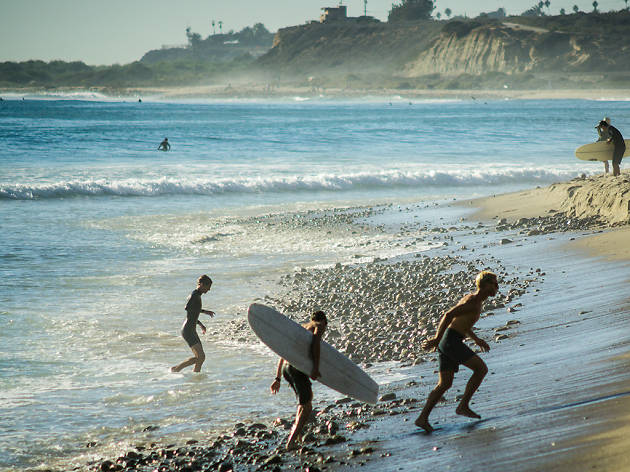 Photograph: Courtesy CC/Flickr/Roger Howard
San Onofre State Beach, San Clemente, CA
Infamous for the boob-shaped (and now decommissioned) nuclear power plant situated at its southern edge, San Onofre State Beach is one of California's best destinations for sand and surf. In fact, San Onofre is the place to go for beginning surfers looking for a judgment-free spot to learn. Located just three miles south of San Clemente, San Onofre draws crowds from both San Diego and Orange County, so weekend crowds can swell. But so can the waves, which wash slowly into shore along four different breaks. We recommend Surf Beach and Trails for entry-level surfers. 1 hour from San Diego
Good for: Surfing, boogie boarding and camping.
Photograph: Courtesy CC/Flickr/Roger Howard
2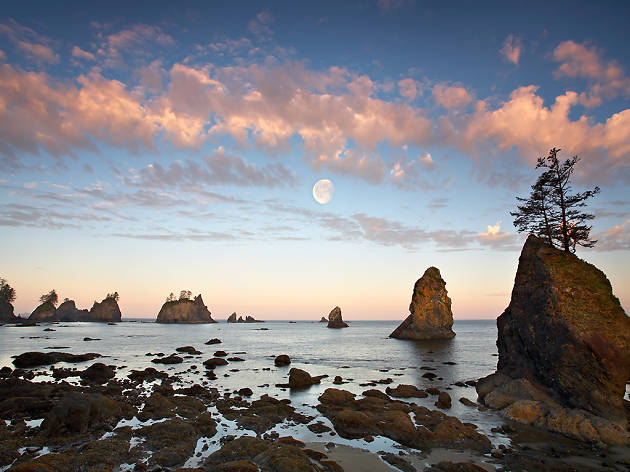 Photograph: Shutterstock
Shi Shi Beach, Olympic National Park, WA
Perhaps the most dramatic beach on the west coast, Shi Shi Beach features dozens of arches and rock pyres jutting abruptly out of the water. This is not a beach for sunbathers, as sharp rock outcropping and loose stones regularly interrupt the sand. Science geeks, however, should rejoice. The rocks create hundreds of tide pools, which house an ornate ecosystem of starfish, crabs, kelp and fish. Bring your shoes: reaching the beach requires a 3.3-mile hike through dense forest. But the payoff is worth the walk, and overnight camping is allowed. 5 hours from Seattle
Good for: Tide pools, hiking and camping.
3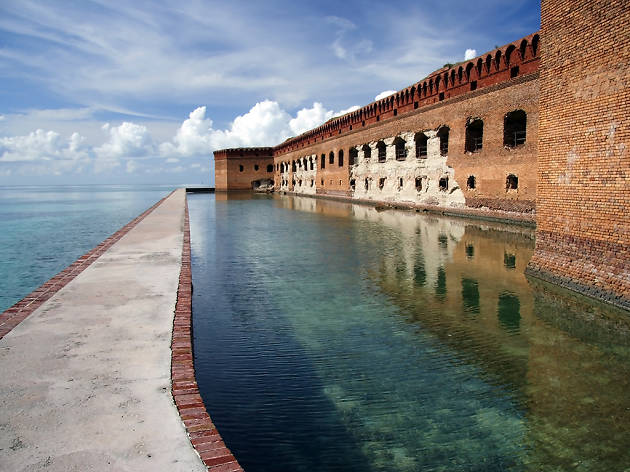 Photograph: Shutterstock
Dry Tortugas National Park and Ft. Jefferson, Key West, FL
America's most remote national park, Dry Tortugas sits 70 miles west of Key West, and is accessible only by private plane or boat. The park, however, is the world's No. 1 destination for adventurous beachgoers who love underwater fun. The park is comprised of seven different islands, and each one features a coral reef teeming with sea life. Eco travelers flock here to snorkel and scuba dive right from the beach. The park also includes Fort Jefferson, which was built in the 1840s to guard the Mississippi River from pirates. 70 miles from Key West
Good for: Escaping, snorkeling and scuba diving.
4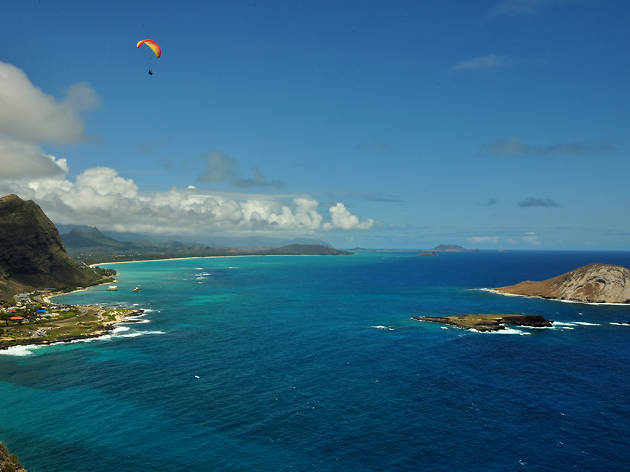 Photograph: Courtesy CC/Flickr/Geoff Livingstone
Far from the busy streets of Waikiki, Waimanalo Bay beach provides a secluded, end-of-the-Earth beach atmosphere within a short drive of Honolulu. The beach is located on the windward side of Diamond Head from Hawaii's biggest city, and features shallow, warm water and fine-grain sand. Its mellow surf and calm current make it ideal for swimming and wading. And forget about trash—it's one of the cleanest beaches in the entire island chain. But the real draw with Waimanolo Bay is its secluded, mellow vibe. Forget about crowds, you will have it all to yourself. 30 minutes from Honolulu
Good for: Swimming, wading and sunbathing.
Photograph: Courtesy CC/Flickr/Geoff Livingstone
5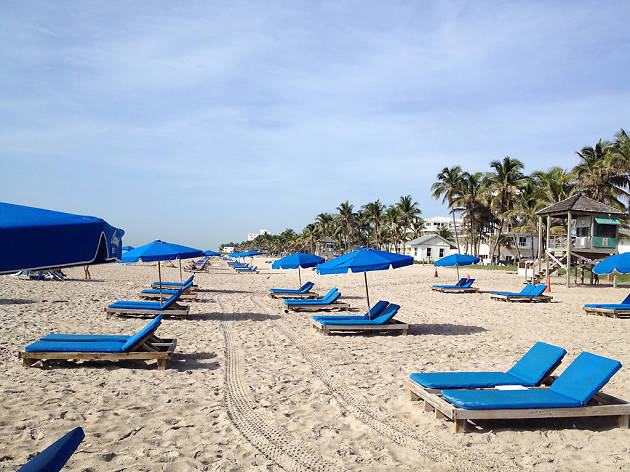 Photograph: Shutterstock
While South Beach and Fort Lauderdale get the attention, Delray Beach provides a similar Florida coastal experience without the enormous crowds or Jersey Shore-esque beachgoers. The two-mile stretch of sand is family-friendly, and ideal for building sandcastles, relaxing or swimming. At night, the adjacent Atlantic Avenue serves up world-class seafood, bars and art galleries along the Pineapple Grove Arts District. Want to really relax? Check out the Seagate Hotel and Spa on Atlantic Avenue, as well as the private Seagate Beach Club. 30 minutes from Ft. Lauderdale
Good for: Swimming, sandcastles and nightlife.
6
Atlantic Beach, Amagansett, NY
The Hamptons have built a reputation for attracting the stuffy, high-end crowd, and with good reason. Main Beach and Coopers Beach all charge a small fortune for parking, and yet the beaches consistently fill up every weekend in the summer. We recommend heading to Atlantic Beach in Amagansett, where the crowds are still big and high-end, but not as over-the-top as at the other two. There's ample parking along Atlantic Avenue, making Atlantic Beach the most convenient of the Hamptons beaches. And with ample concessions available (including lobster rolls), you won't go home with an empty stomach. 2.5 hours from New York City
Good for: Accessibility, food and libations.
Photograph: Courtesy CC/Flickr/Sue Elias
7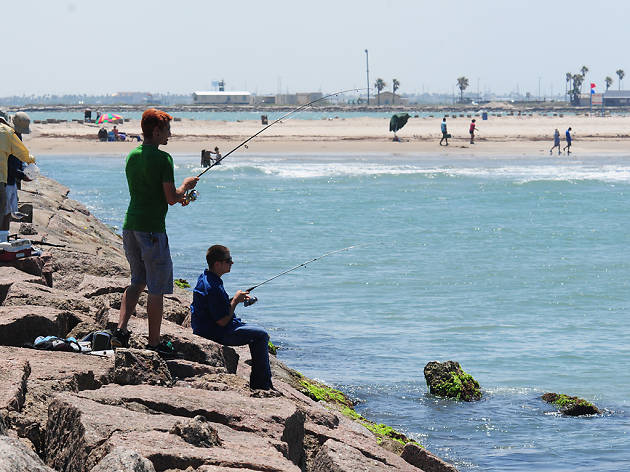 Photograph: Courtesy CC/Flickr/Vince Smith
Isla Blanca Beach, South Padre Island, TX
The party never stops on South Padre Island, which is why it's a favorite destination for spring breakers, bachelors and bachelorettes and other revelers. Bars like the Coral Reef Lounge, Coconuts and Boomerang Billy's keep the crowds sufficiently lubricated well into the night. The world-famous Schlitterbaun Water Park is home to dozens of waterslides, if you're feeling adventurous. If you're in need of a hangover cure, head to Isla Blanca Park, where the sand and saltwater will sooth your head. But be sure to wear your best bathing suit: the beach is definitely a scene. 3 hours from Corpus Christi
Good for: Partying, drinking and the social scene.
Photograph: Courtesy CC/Flickr/Vince Smith
8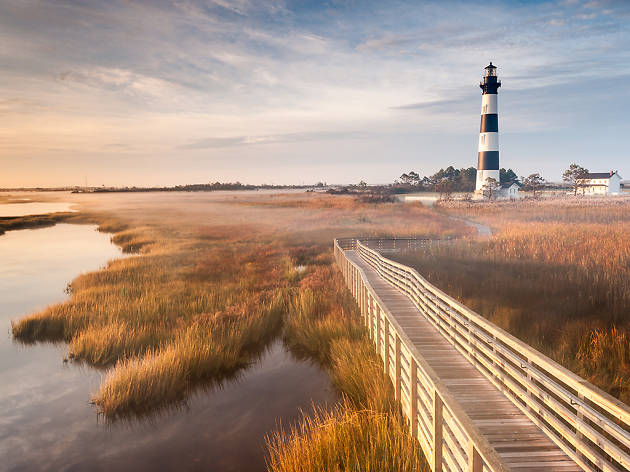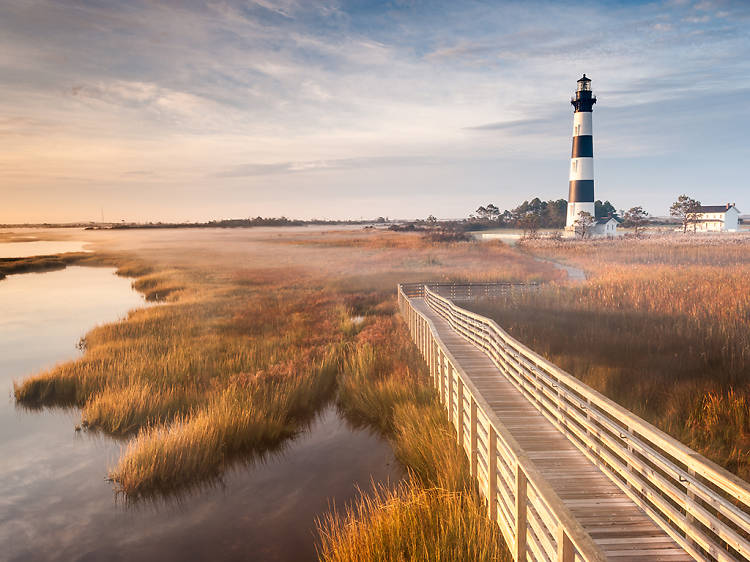 Photograph: Shutterstock
Cape Hatteras National Seashore, Outer Banks, NC
Vacationers from both sides of the Mason-Dixon line flock to North Carolina's Outer Banks to enjoy the year-round warm water and endless miles of sand. The jewel of the area is the Cape Hatteras National Seashore, which is the farthest point from the mainland. The seashore is the largest stretch of undeveloped land along the Outer Banks, and provides a great spot for surfing, fishing, walking or just soaking in the unobstructed views of the ocean. This is a place to chill, so don't expect too much nightlife. There are plenty of hotels in nearby Buxton and Salvo, but hearty visitors can camp. 2.5 hours from Norfolk, VA
Good for: Relaxing, swimming and surfing.
Beaches aren't just for coastal cities. Chicago is home to several amazing beaches, and North Avenue Beach is one of the most popular. On hot summer days, North Avenue Beach is the epicenter of Chicagoan society, as thousands flock here for the volleyball, swimming and kayaking. The beach is home to a 22,000-square foot beach house shaped like an ocean liner, which contains bars and restaurants, as well as equipment rental and lifeguards. It's also center stage for the annual Chicago Air Show, which always delights. Minutes from downtown Chicago
Good for: The scene, food and libations and accessibility.
10
Hulopo'e Bay Beach, Lanai, HI
Vacationers to Hawaii often overlook the small island of Lanai, which sits between Maui and Oahu. The island is home to several amazing beaches, but most are inaccessible, due to the island's lack of roads or infrastructure. Hulopo'e Bay beach is the most accessible, and is located a short walk from the ferry terminal. The crescent-shaped beach is a protected marine reserve, so it's great for snorkeling. And the lack of infrastructure that makes getting around so hard also keeps the crowds away. 1.5 hour ferry from Maui
Good for: Beating the crowds and escaping.
11
Coronado Beach, San Diego, CA
Another California classic, Coronado stretches 1.5 miles along Ocean Boulevard in San Diego. It's a popular destination for college kids, families and off-duty marines from the nearby Naval base. It also attracts guests from the luxurious Hotel Del Coronado, located a few steps from the sand. Swimmers, bodysurfers and surfers flock to the beach's southern end, where the waves arrive in regular sets. On the north end, dog owners let their pooches frolic in the surf at Dog Beach, which—bonus, dog owners!—does not require leashes. Minutes from downtown San Diego
Good for: Accessibility, swimming, food and libations.
12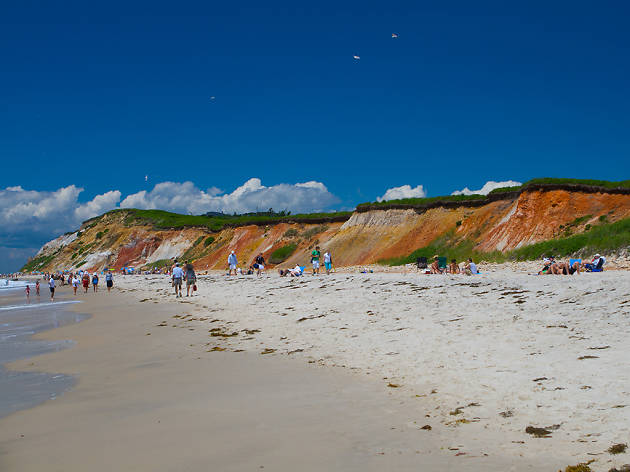 Photograph: Courtesy CC/Flickr/Jonathan Bell
Moshup Beach, Martha's Vineyard, MA
Martha's Vineyard fills up with vacationers in the summer, but most stay on the northern edge of the island. Down south, or "up island" as the locals call it, locals and island veterans head to Moshup Beach in the community of Aquinnah. Located below the sandy cliffs at Gay Head, the white sand beach is a sanctuary from the horde. There's a cleared path to the beach, which takes about 15 minutes to walk. 1.5 hours from Edgartown, MA
Good for: Beating the crowd, surfing and sunbathing.
Photograph: Courtesy CC/Flickr/Jonathan Bell
13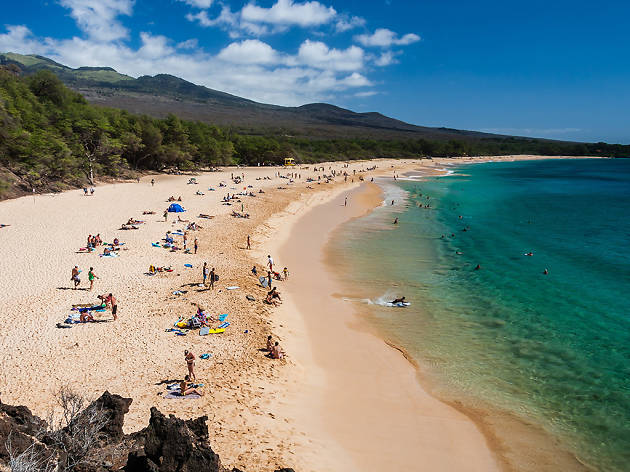 Photograph: Shutterstock
Located on Maui's southern edge, Makena Beach serves up a mile of orange and yellow sand, dramatic cliffs and blue-green water. There's little to no reef present, so the sandy bottom shines up through he water, and creates a great spot for swimming and wading. The beach break can get big, so bring your trunks and get ready to bodysurf. And located just a few minutes from Wailea, the beach is extremely accessible. Minutes from Wailea
Good for: Swimming, bodysurfing and accessibility.