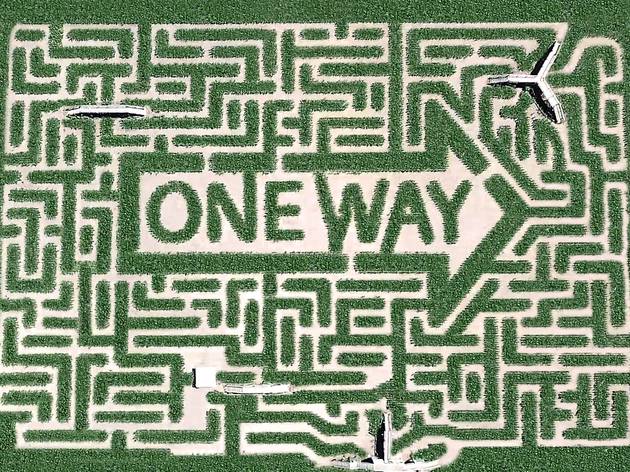 Wander through the coolest corn mazes in the USA
We scoped out the coolest corn mazes in the country so that you can kickstart fall on the right foot
Want to know the perfect way to welcome autumn? Winding paths, 10-foot-plus corn stalks and acres of farmland fit for a family outing. We're talking about the best corn mazes in the United States, of course. We've rounded up the coolest corn mazes across the country that have garnered time in the spotlight for their designs and spooky Halloween happenings. (Moonlight maze walks, anyone?) No matter where this Halloween season takes you—eerie ghost towns, haunted Airbnbs, fall foliage tours—we recommend a stop at these spots. And you might want to bring a compass! Not into corn? Get in a spooky state of mind with our Halloween hub, which will give you plenty of ideas about staying active (and safe) during the scariest time of the year.
Note: There have been changes to the 2020 season and some attractions might be operating differently. Always call ahead before making a visit, as some locations require advanced reservations.
Best corn mazes in the U.S.
Photograph: Courtesy Davis Mega Maze
1. Sterling, MA: Davis Mega Maze
Davis Mega Maze lives up to its title with eight acres of winding paths that cover nearly three miles. But the fall attraction is about more than just navigating your way out of the twists and turns. (Be forewarned—that could take nearly three hours.) Within the maze itself, there are fun photo ops and games like hammer bells and slingshots to keep wanderers entertained. If you have little ones who start to get antsy, Maze Masters stationed along the paths are able to assist.
Photograph: Courtesy Shutterstock
2. Ronks, PA: Cherry Crest Adventure Farm
Celebrating its 25th year, Crest Adventure Farm has dedicated its annual corn maze to the milestone. The scenic labyrinth is shaped like a tractor and sports a "25" in the middle when you take a gander from an aerial point of view. Grab a gameboard and try to solve the clues as you make your way through the five acres of corn stalks. If you're feeling really adventurous, try finding your way out of this bad boy in the dark! Stick around for other fun farm activities like animal appearances, a hay chute and tractor rides, to name just a few.
Photograph: Courtesy Happy Day Farm
3. Manalapan, NJ: Happy Day Farm
Happy Day Farm has garnered quite a bit of attention as a must-visit fall destination, and rightfully so. With a 10-acre Maize-O-Poly, the Jersey hotspot will keep all guests on their toes as they wander through each path. But this is just one of many ways to stay entertained: Pumpkin bowling, bee barn visits, tractor pulls and a fun slide are among a long list of other family-friendly activities.
Photograph: Courtesy Matthew Borowick
4. Queens, NY: The Amazing Maize Maze at Queens County Farm
No autumn would be complete without the Amazing Maize Maze at the Queens County Farm Museum! The American Maze Company builds a labyrinth every year that that stretches over several acres, with the length of the course often stretching to about two miles! Previous years' themes have included a violin, a riverboat, a train, a farmscape and the largest living sundial. This year, paths will be larger, timed tickets will be required and employees will monitor guests. You can even make your way through the maze by moonlight if you so choose.
Photograph: Courtesy Great Vermo
5. Danville, VT: Great Vermont Corn Maze
Coined the largest maze in New England, this 24 acre setup is quite the undertaking. A 40-minute scenic maze tour with directions is available for those who want to take a leisurely approach to the fall tradition. The spooky Dead North Farmland of Terror operates on the first two Friday and Saturdays in October, and needless to say, the Halloween experience is not for the faint of heart.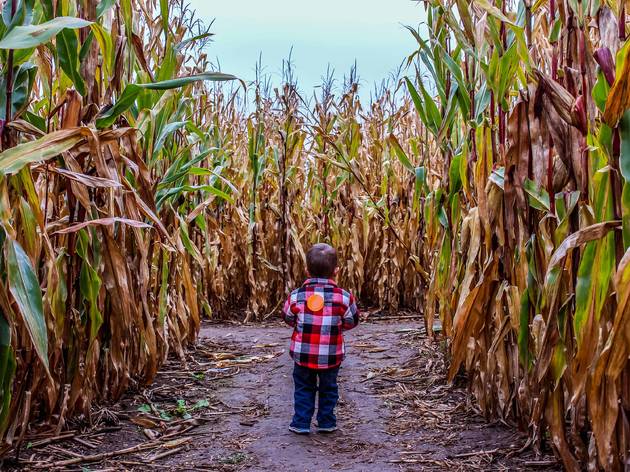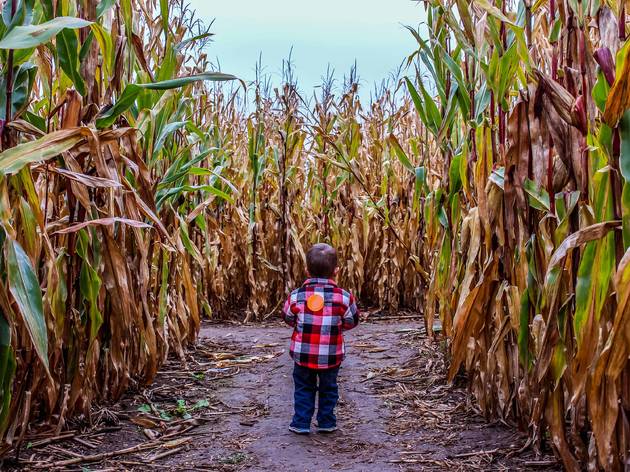 Photograph: Shutterstock
6. Moosup, CT: Ekon Hill Turkey Farm
Perfect for the younger set, Ekon Hill Turkey Farm created stations within its corn maze paths that teach visitors all about the animals raised on the grounds! It's the perfect way to enjoy an autumn activity and gain some farm knowledge while you're at it. Once you've made your way out, you'll want to celebrate your victory with fresh homemade ice cream.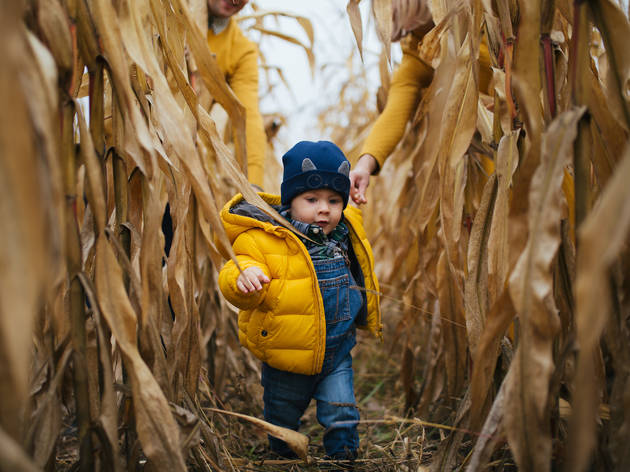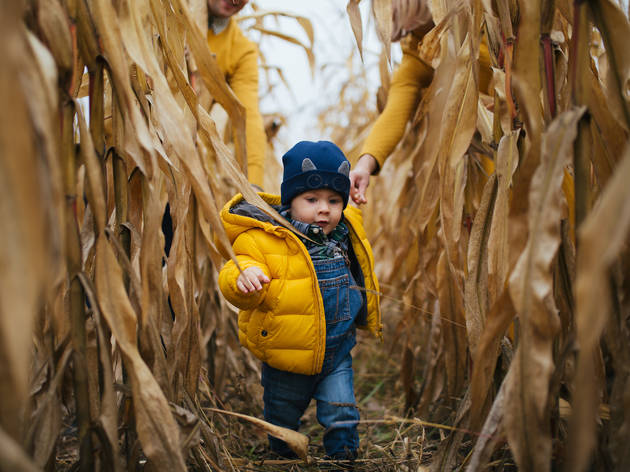 Photograph: Courtesy Shutterstoc
7. Danvers, MA: Connors Farm
Are you ready to find your way out of this music-themed seven-acre corn maze? Get in tune with your navigation skills and give it a whirl this season. Connors Farm has been operating since 1904, so we're confident that it has mastered annual fall fun.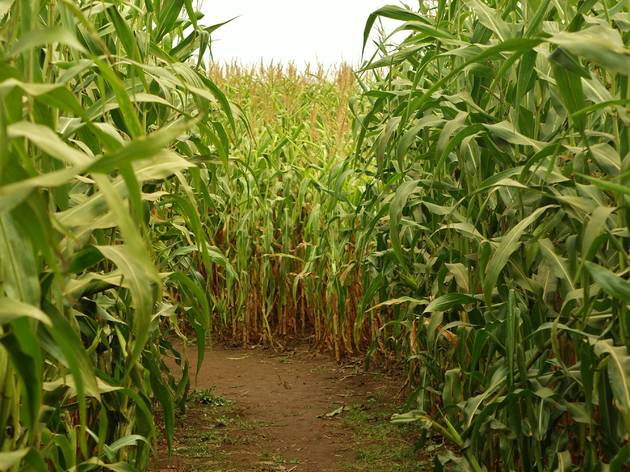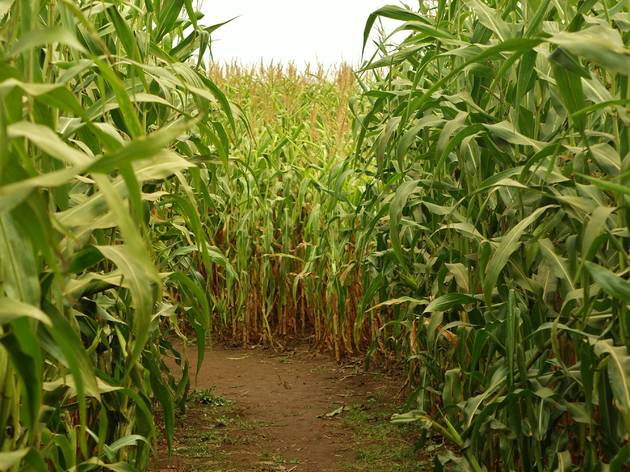 Photograph: Courtesy Shutterstoc
8. Mount Dora, FL: Long & Scott's Farms
Every year, this seven-acre maze in Florida finds a new theme to keep guests guessing and wandering through its lengthy paths. Expect twists and turns, Q+A games and picture rubbings along the way. Good luck!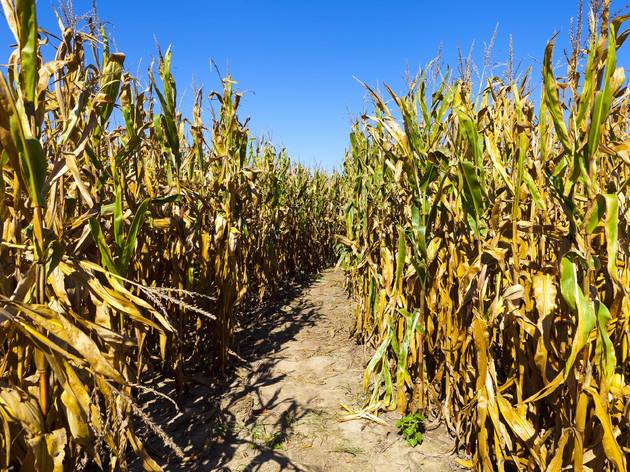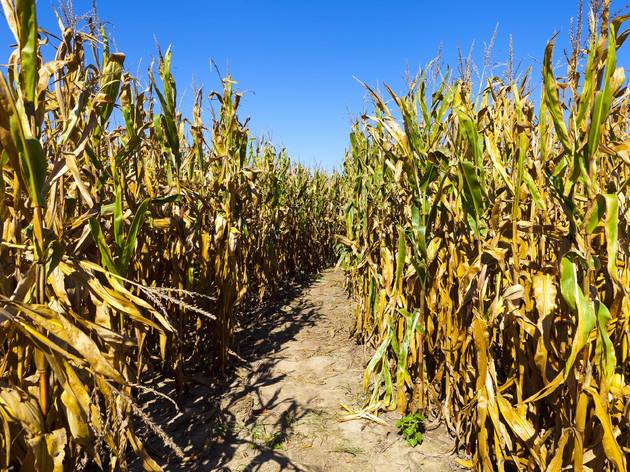 Photograph: Shutterstock
9. Dixon, CA: Cool Patch Pumpkins
Cool Patch Pumpkins is showing its support for our first responders with its annual corn maze setup. While there, don't forget to enjoy pedal cars, hay rides and of course, pumpkin picking.
Photograph: Courtesy Sever's Festival
10. Shakopee, MN: Sever's Fall Festival
The largest corn maze in Minnesota is certainly no joke: This year's theme tasks guests with six pictures of "Adventurer Sever" while out an about. You won't want to skip out because you're eligible to submit your findings to the contest for a chance to win $500! Challenge accepted!
Photograph: Courtesy John Lumkes
11. Lafayette, IN: Exploration Acres
Eighteen acres, nine miles and four mazes: Are you in? Exploration Acres is ringing its 75th year with a tribute to our country and remaining united during difficult times. Plus, the attraction is making the search all the more sweet for those who enter: If you find the 28 posts on your maze map, you are eligible to take advantage of rewards at local venues, including 50 percent off Monster Mini Golf and either a free kids' meal or appetizer at Texas Roadhouse.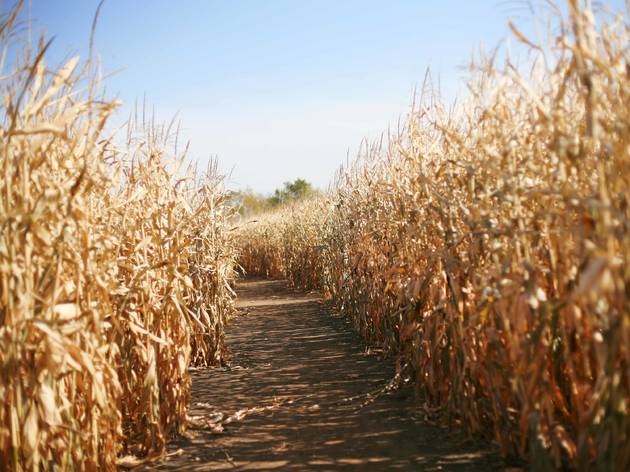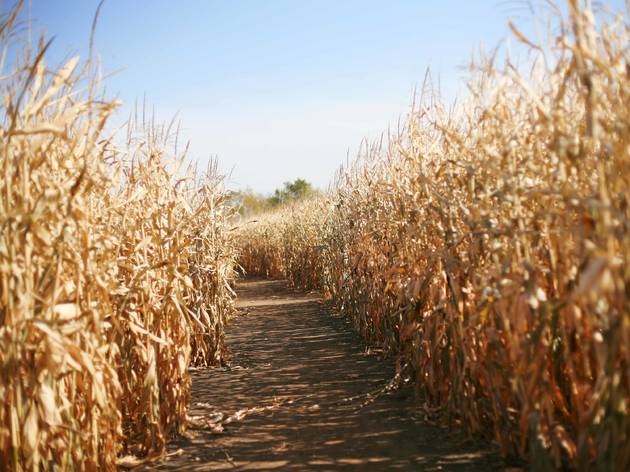 Photograph: Shutterstock
12. Anderson, SC: Denver Downs Farm
Make the most out of the South Carolina's 150th anniversary with a peruse around the 12-acre maze. Farm trivia is available at each check point and a Maze QR code game that will reveal your completion time. Don't delay: Top scores are posted online, and you'll want that claim to fame this Halloween season.
Photograph: Courtesy Shutterstoc
13. Spanish Fork, UT: Cornbelly's
Part of the Maize family, which has launched intricate, record-breaking labyrinths across the globe, Cornbelly's is dedicating its attraction to the beloved Toy Story this year. Plus all of its other seasonal goodies—climbing walls, corn holes, farm mini golf, among so many others—is a great way to spend a fall weekend. "To infinity and beyond!"
Photograph: Courtesy Jason Devine
14. Harrodsburg, KY: Devine's Corn Maze
Come for the corn maze, stay for the adventure. After navigating your way through Devine's, you'll feel inclined to refuel with snacks from the Corn Cafe before embarking on other activities, including a zipline, tube swings, barnyard basketball and more.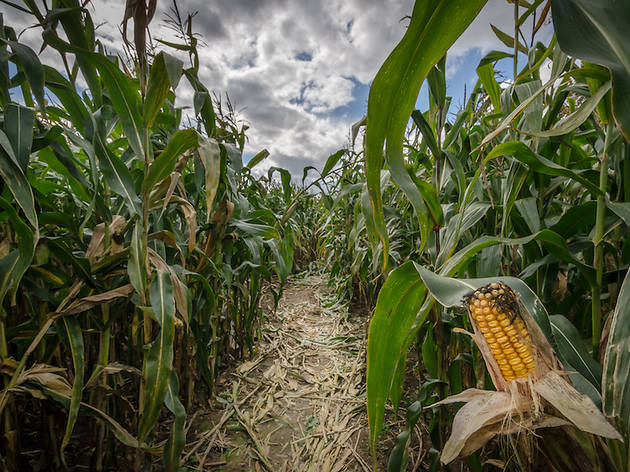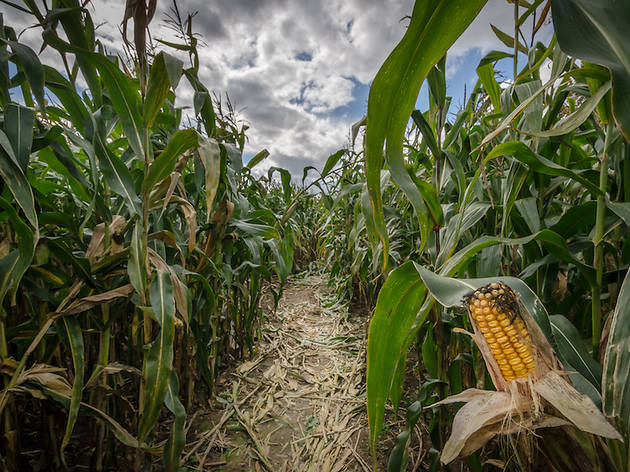 Photograph: Courtesy Shutterstock
15. Kuna, ID: Lowe Family Farmstead
Don't get flustered or "corn-fused" as folks at the Lowe Family Farmstead say. Sure this 18-acre challenge is tricky, but who wouldn't want to venture through a corn field designed with man's best friend in mind? (Fear not: A mini maize is available for the fall merrymakers in your crew with little legs.) Be sure to stick around for the pumpkin patch, flower field and the spooky Field of Screams...if you dare.
More Halloween fun
Encounter ghostly souls left behind in these desolate places.
These haunted homes are guaranteed to give you more than just shivers.