The eight best Gulf Coast beaches
From Key West to to South Padre Island, the best Gulf Coast beaches for vacations, surfing and family fun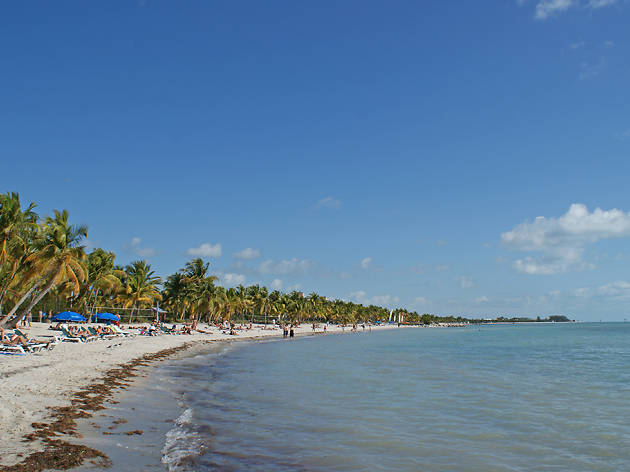 The gorgeous stretches of sand along the Gulf of Mexico may be best known as destinations for rowdy Spring Breaker, but in the summer months, our Gulf Coast beaches—which stretch from the Florida Keys to Texas and include some of the best beaches in the USA—are perfect places for a super-chill vacation (or, of you're up for it, an extreme outdoor adventure). A cold bottle of craft beer in hand, feet dug into the sand of one of the best Gulf Coast beaches in the country…bliss.
Best Gulf Coast beaches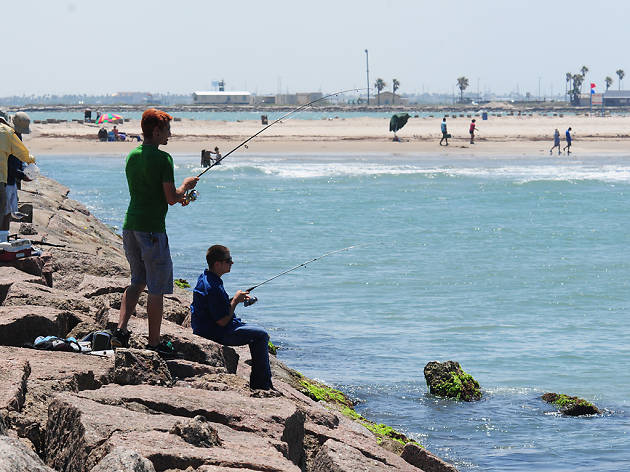 Photograph: Courtesy CC/Flickr/Vince Smith
Isla Blanca Beach, South Padre Island, TX
The party never stops on South Padre Island, which is why it's a favorite destination for spring breakers, bachelors and bachelorettes and other revelers. Bars like the Coral Reef Lounge, Coconuts and Boomerang Billy's keep the crowds sufficiently lubricated well into the night. The world-famous Schlitterbaun Water Park is home to dozens of waterslides, if you're feeling adventurous. If you're in need of a hangover cure, head to Isla Blanca Park, where the sand and saltwater will sooth your head. But be sure to wear your best bathing suit: the beach is definitely a scene.
Good for: Partying, drinking, social scene.
Photograph: Courtesy CC/Flickr/Vince Smith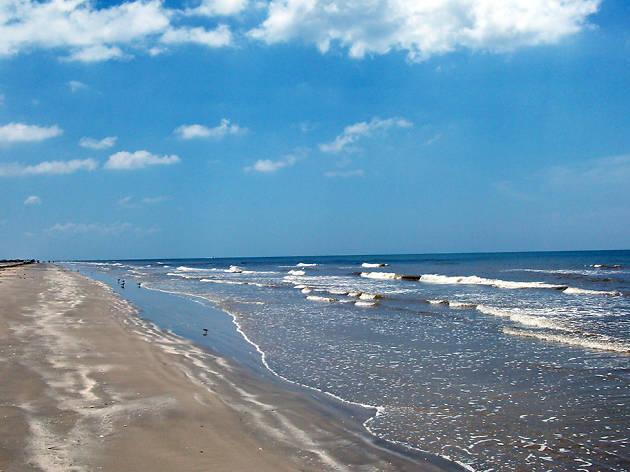 Photograph: Courtesy CC/Flickr/Mike Cole
Surfside Beach, Surfside Beach, TX
Every weekend the crowds from Houston head to Galveston to bake on the beaches and take in the city's party atmosphere. For adventurers looking for a less-treaded option, we recommend heading to Surfside Beach, located just south of Freeport, Texas. The beach is still within driving distance of Houston, but it is noticeably cleaner and quieter than its neighbors to the north. Plus, beachgoers can build bonfires on the sand and park for free.
Good for: Escaping the crowds, fishing, relaxing.
Photograph: Courtesy CC/Flickr/Mike Cole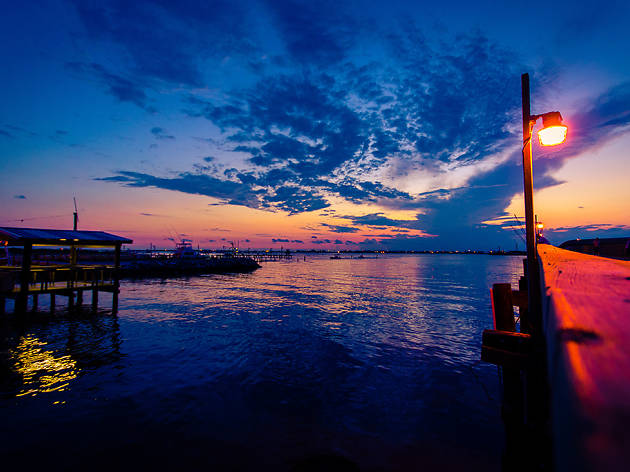 Photograph: Courtesy CC/Flickr/Billy Metcalf Photography
Grand Isle Park, Grand Isle, LA
A two-hour drive from New Orleans, Louisiana's only state-operated beach is also perhaps its best. Internationally known within the bird-watching community for its annual Migratory Bird Festival, the beach is teeming with wildlife. Deep-sea fishermen can head out for a daylong expedition to hook tuna, redfish or tarpon. Foodies can enjoy the Cajun cuisine served in town. And everyone can enjoy the 10-mile stretch of sand that provides ample room for relaxing by the Gulf of Mexico.
Good for: Fishing, bird watching, relaxing.
Photograph: Courtesy CC/Flickr/Billy Metcalf Photography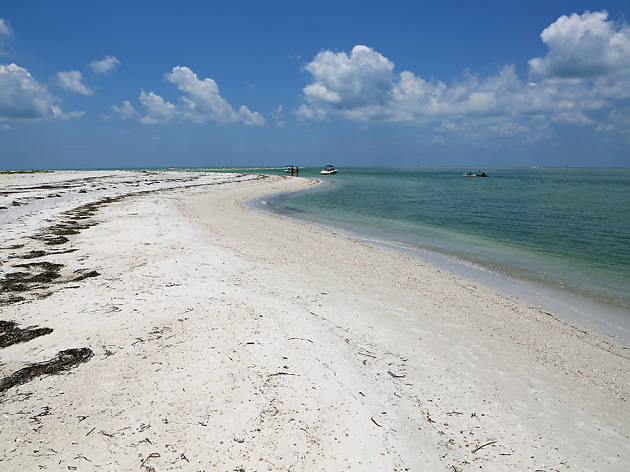 Photograph: Shutterstock
Caladesi Island State Park, Clearwater, FL
Clearwater Beach is regularly voted near the top of America's best beaches by various travel agencies, and it's easy to see why. The three-mile stretch of white sand features an aquarium and kids park, as well as countless volleyball pits and activity areas. For beachgoers looking for a quieter vacation, we recommend heading to Caladesi Island State Park, on Clearwater's northern edge. The natural island is only accessible via ferry, so the crowds are usually small. White sand, shallow water, snorkeling and even fishing await vacationers willing to make the journey.
Good for: Escaping the crowd, fishing, snorkeling.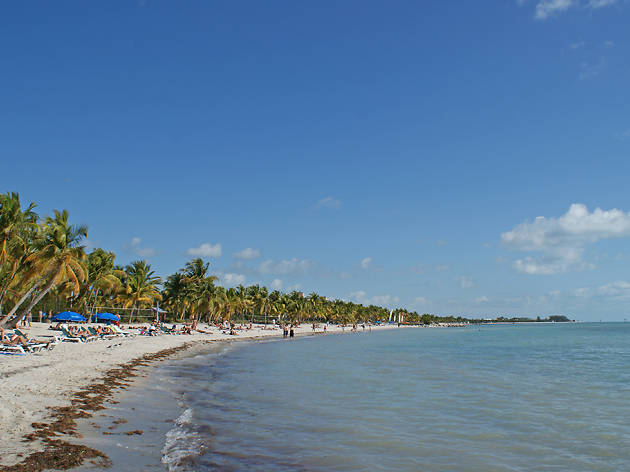 Photograph: Shutterstock
Smather's Beach, Key West, FL
Smather's Beach is where Key West's locals and visitors alike go to see and be seen. The largest public beach on the island, Smather's is located just a short walk or bike ride from downtown. It's the type of beach where rollerbladers zip past food trucks and beach vendors rent everything from chairs and blankets. Ringed by coconut trees, the soft white-sand beach is also a go-to destination for swimmers, kite surfers and those looking to relax. We don't recommend this beach for Agoraphobics, but if you're into people-watching or making new friends, then Smather's is your top destination.
Good for: Partying, activities, people-watching.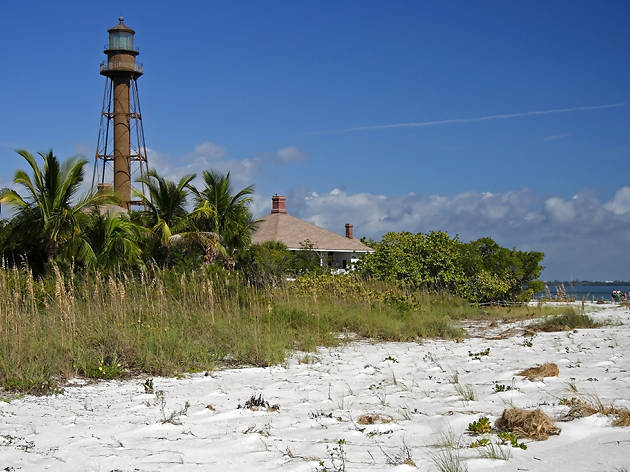 Photograph: Shutterstock
Captiva Island Beach, Captiva Island, FL
Another beach off the beaten path, Captiva Island is a familiar destination for native Floridians looking for an escape from the packed sands of South Beach, Tampa and Fort Lauderdale. There are no hotels on Captiva Island; instead, visitors stay in one of the region's upscale vacation rentals. And since it's fairly remote, Captiva Island features its own funky, out-there charm. Sip a cocktail at the Christmas light-covered Bubble Room, go hunting for a giant Cane toad, or just relax by the water. Even though it's located just a mile or so from the mainland, Captiva Island feels like it's a whole other world.
Good for: Escaping the crowds, beach culture, relaxation.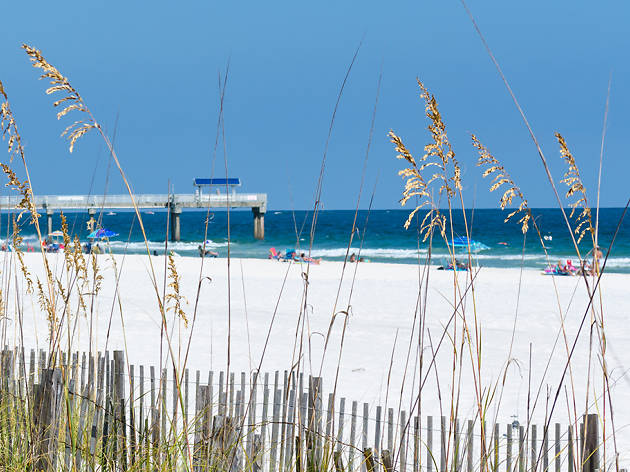 Photograph: Shutterstock
Alabamans love to brag about the white sands of Orange Beach, which, according to lore, are comprised almost entirely of fine quartz crystals washed downstream from the distant Appalachian Mountains. Whether or not you believe these geologic claims, Orange Beach is undeniably a perfect vacation destination for families, due to the area's calm waters and bevvy of kid-friendly activities. Orange Beach features zip lines and a collection of adventure parks, such as Fat Daddy's Arcade, Arena: The Next Level laser tag and Shark Family Adventure Park. But the real attraction is the soft sand, which is perfect for hours of relaxation.
Good for: Kids, relaxation.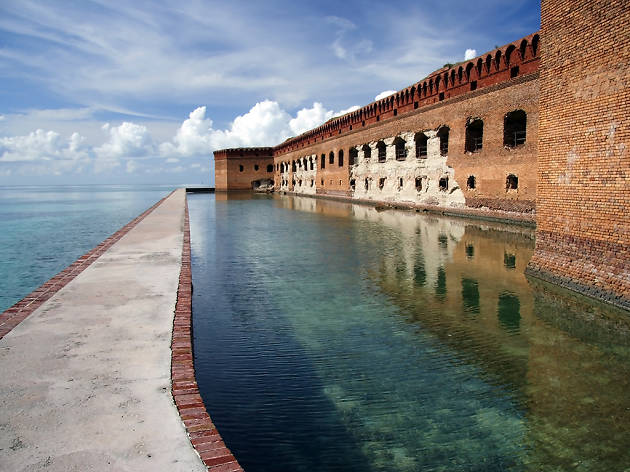 Photograph: Shutterstock
Dry Tortugas National Park/Fort Jefferson, Key West, FL
America's most remote national park, Dry Tortugas sits 70 miles west of Key West, and is accessible only by private plane or boat. The park, however, is the world's No. 1 destination for adventurous beachgoers who love underwater fun. The park is comprised of seven different islands, and each one features a coral reef teeming with sea life. Eco travelers flock here to snorkel and scuba dive right from the beach. The park also includes Fort Jefferson, which was built in the 1840s to guard the Mississippi River from pirates.
Good for: Escaping, snorkeling, scuba diving.