Heads up! We're working hard to be accurate – but these are unusual times, so please always check before heading out.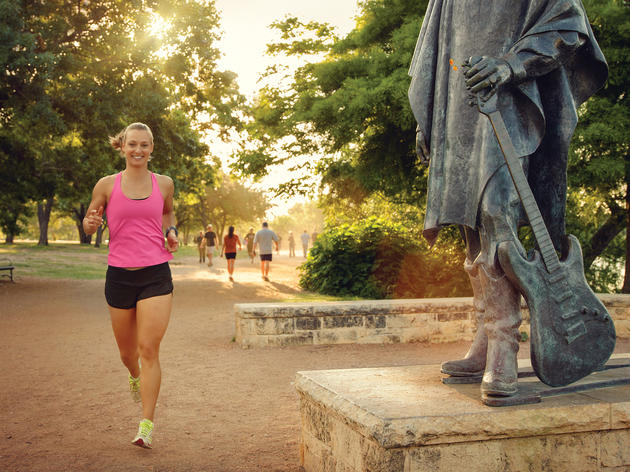 The 15 most stunning running trails in America
Drool with envy at the kinds of views some lucky runners enjoy every morning on the best running trails in America
There are a lot of different ways to get in shape while out in nature: from the most scenic bike trails across America to the best hiking trails in America, the country offers a whole lot of exercise sites that make for just-as-exciting sightseeing destinations. Included on that list? The best running trails in America, offering a workout in the midst of some of the most scenic parks and beautiful skylines in the country. Who knows? You might be able to sign up for the best half marathons in America after running all of these trails.
Best running trails in America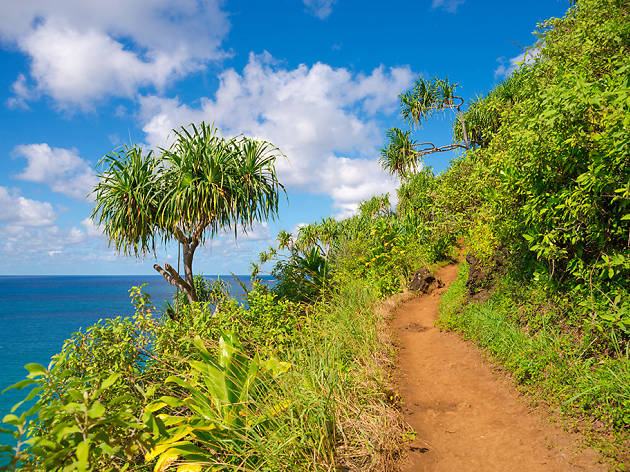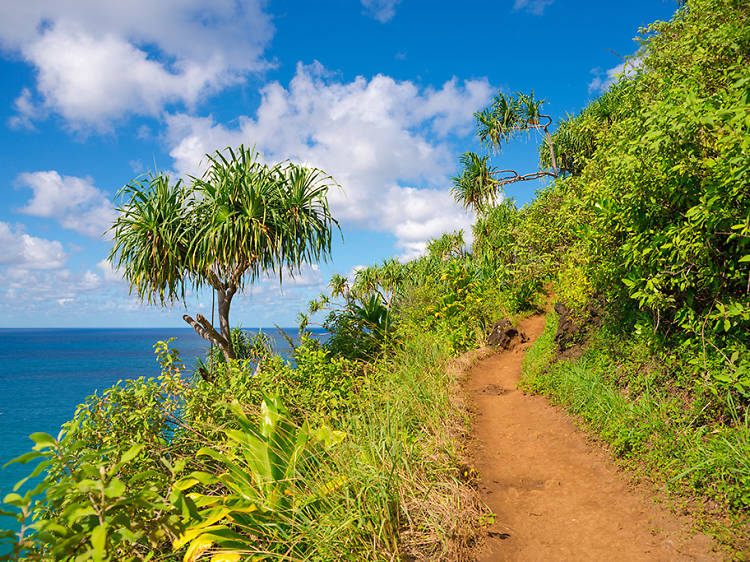 Photograph: Shutterstock
1. Kalalau Trail, Kauai, Hawaii
There's few places on Earth as lush and beautiful as this tropical oasis on the Nā Pali Coast of Kauai. Though the complete 11-mile trail is hardly for novices—the trail is at parts rugged and the frequent rains can make the paths slippery—the experience and views give it a top spot on many runners' bucket lists. The full run offers riches worthy of their own day trips: sea cliffs, babbling waterfalls, white sand beaches and even ancient Hawaiian ruins. For those unprepared for the full experience, there are truncated two-mile and four-mile routes recommended as well.
Hailed as one of Chicago's greatest assets, the 18.5-mile path along the shore of Lake Michigan lets you see the Windy City in all of its greatness. With the Great Lake's blue waters and gentle waves on one side and the city's impeccably manicured green parks and soaring skyline on the other, it's easy to see why many running enthusiasts consider this route one of the best urban runs in the country. Expect to pass by all of the city's iconic landmarks while exercising, including Buckingham Fountain, Navy Pier, Soldier Field and views of the Aon Center, John Hancock Center and the Willis Tower.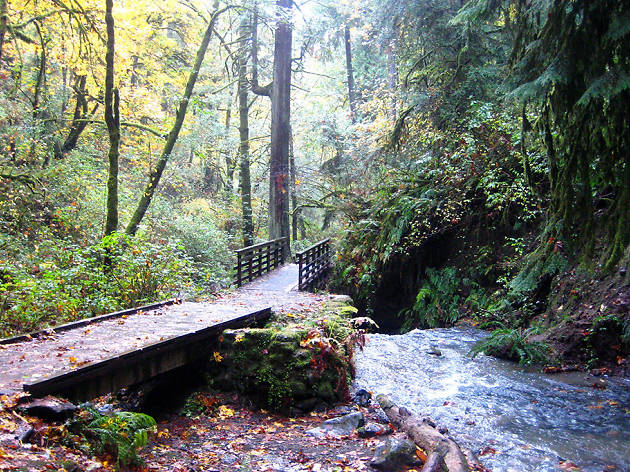 Photograph: Coutesy CC/Flickr/Stacey Kizer
3. Wildwood Trail, Portland, Oregon
Just west of downtown Portland find the beautiful Forest Park. This nearly 30-mile-long trail takes runners from the Vietnam Veterans Memorial in Washington Park, past the zoo and into Forest Park, one of the country's largest urban forest reserves. Here, among the tall trees, over a hundred different bird species and 62 mammal species call the park home—though you probably won't see many of them as you job along the paths.
Photograph: Coutesy CC/Flickr/Stacey Kizer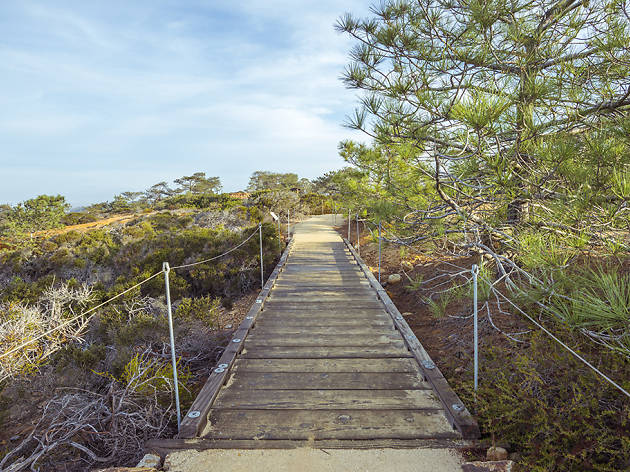 Photograph: Shutterstock
4. Broken Hill Trail, San Diego, California
This non-challenging, short trial in San Diego's Torrey Pines State Natural Reserve would be easy to run at a fast pace, if it weren't for all the distracting natural beauty you'll want to slow down to appreciate. On this 2.5 mile loop, which is comprised of two shorter loops that beginner runners might want to make use of first, joggers get to bask in the glory of the Torrey Pines—a pine tree so rare it can only be found in one other place on earth, a remote island. In addition to the reserves, the trail is lined by beautiful wildflowers and has fantastic views of the Pacific Ocean. Though the run is pleasant any time of day, you'll want to visit in the evenings to revel in one of the most spectacular sunsets around the country.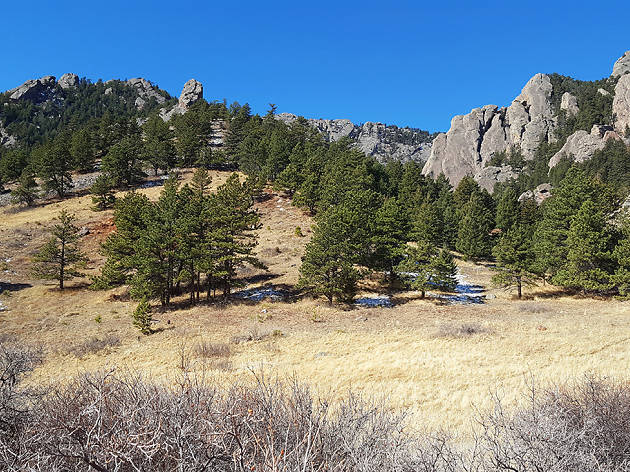 Photograph: Shutterstock
5. Mesa Trail, Boulder, Colorado
Whether runners are inspired to move to Boulder or Boulder inspires its citizens to become runners is unclear, but there's no doubt the city is a mecca for marathoners and triathletes who feel at home training and competing on the 200 miles of routes near the Colorado city. The 6.7-mile Mesa Trail (13.4 miles round trip) through Boulder's Flatirons and foothills is one of the most popular in the area. Athletes looking to further challenge themselves also take the trail to its connection to the rugged runs up Green Mountain and Bear Peak. Beware: the sight of the mountains is truly breathtaking.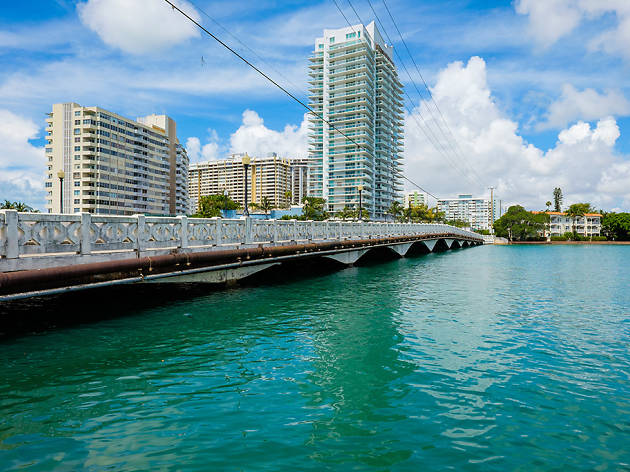 Photograph: Shutterstock
6. Venetian Causeway, Miami, Florida
If you're willing to run in Miami's heat, then you deserve to at least enjoy some great views while doing it. This causeway goes crosses a series of bridges over man-made islands that date back to the earlier part of the 20th century. Though you might have to compete with some—okay, many—bicyclists, rollerbladers and joggers for space, the views of the water and the water-front luxury houses are simply mesmerizing. Early risers ready for a three-mile jaunt will be rewarded on this route: the sunrise is worthy of its own trip.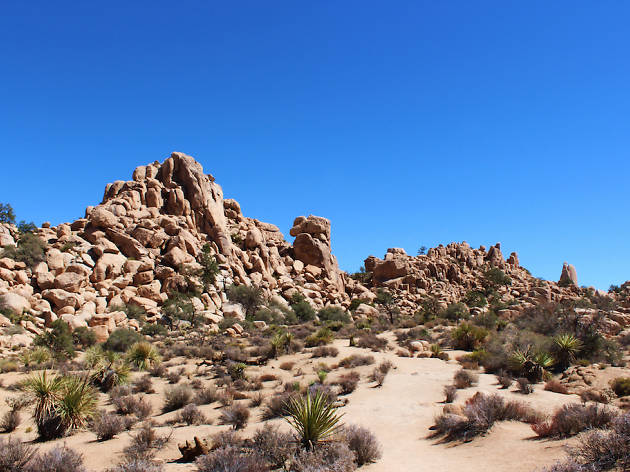 Photograph: Shutterstock
7. Hidden Valley Trail, Moab, Utah
While this run might start steep—climbing about 600 feet in just .6 miles—the reward is big: breathtaking sights of the rust-colored sandstone worthy of a classic Western's cinematography. After about a two-mile run, choose your own adventure. Go one way and you'll see the petroglyph panel left by the Native Americans who once frequented the trail, or opt to descend the three-mile Moab Rim Trail to see the Colorado River. While open year-round, the trail proves more difficult during excruciatingly hot summers and even during the winter—so you'll want to embark on your journey during afternoons, making use of the shade provided by nearby cliffs.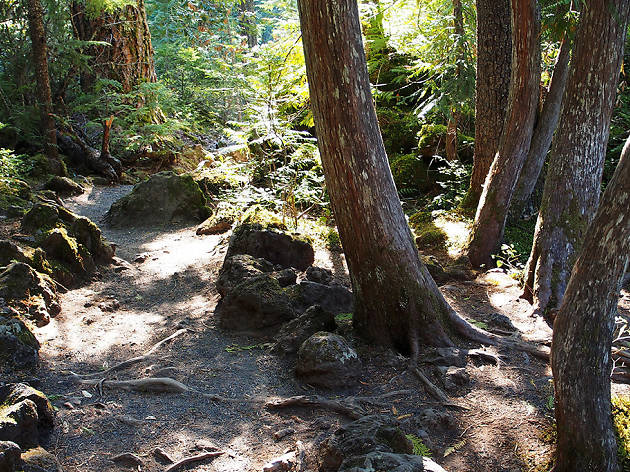 Photograph: Shutterstock
8. McKenzie River Trail, Eugene, Oregon
In the heart of the Cascade Mountains lies one of the most beautiful trails for biking, hiking and running in the United States. This 27-mile path has everything a Pacific Northwest forest trail should have: multiple waterfalls, crystal blue pools, old growth forest, log bridges (walk, don't run over these thrills!) and even hot springs. There are various loops to choose from—each offering a set of scenic views. Make a weekend out of the experience and stay at a nearby resort for rustic relaxation.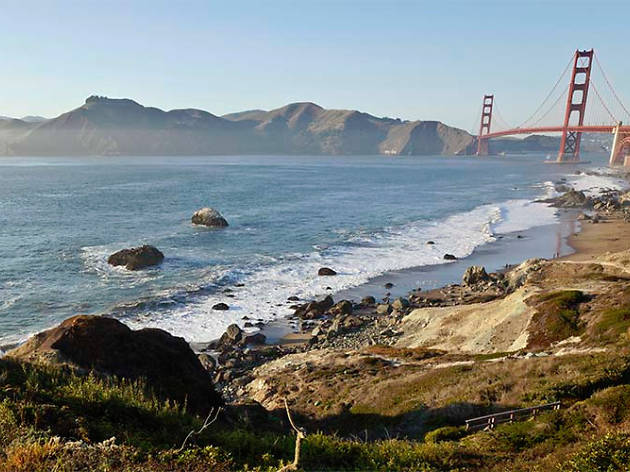 While there's plenty of good running to be had in San Francisco's 80,000-acre Golden Gate National Recreation Area, sticking to the paths around the Presidio, an old military base, tops our list for combining a fair amount of challenge with great sights. Though the terrain here is hilly, the mostly paved paths make it manageable for runners still getting their bearings, and the steep stairs on the Battery to Bluffs trail will get those glutes exercising in no time. Runners race under cypress trees to get amazing, up-close views of the Golden Gate Bridge from the overlook or even run underneath it. Though we wouldn't normally recommend running in the fog, sometimes it's unavoidable in San Francisco—and can actually end up making the cypress forest all the more beautiful and mysterious.
In the decades since this 10-mile water-side trail was first conceived by Austin Mayor Roy Butler, his wife Ann and former first lady Lady Bird Johnson, this downtown outdoor gem has grown into one of the city's most popular recreational areas. Running along the loop you'll pass skyscrapers, ball fields and folks enjoying the lake, a dammed-off portion of the Colorado River for kayaking, canoeing and paddle boarding. If the full 10-mile loop is too daunting, cut across the lake earlier on one of the many bridges or a shorter loop of your choosing.
Show more