Heads up! We're working hard to be accurate – but these are unusual times, so please always check before heading out.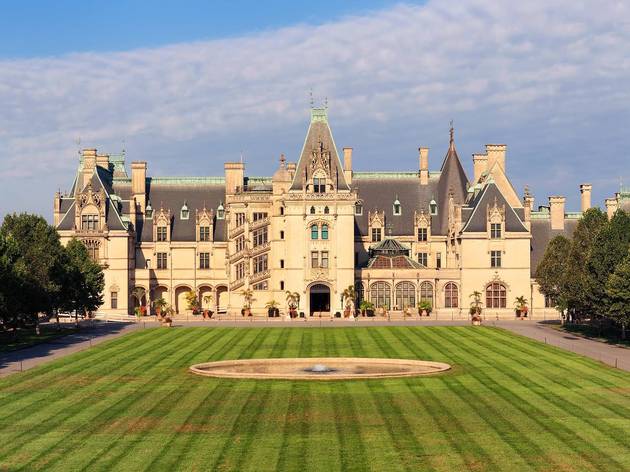 8 castles in the U.S. that will make you feel like you're in Bridgerton
Having Bridgerton withdrawals? These stunning castles in the United States may satiate your need.
If you're among the millions of people who binge-watched Bridgerton this winter, you may suddenly find your life utterly lacking in party dresses, parasols and grand estates. Luckily, we can help with the last one. There are dozens of massive estates and castles in the U.S.—from California to New York—and with their stunning grounds and spacious halls they're a good option when considering socially distanced, domestic day trips that will make you feel like you're headed to a 19th century ball. Don't forget to bring along your own Duke of Hastings.
RECOMMENDED: The 21 TV shows that got us through 2020
Castles in the U.S.
Though this late 19th century Vanderbilt family mansion stands in a part of Rhode Island that is chock full of grand mansions, The Breakers still stands above the rest. Designed by famed architect Richard Morris Hunt, the 125,339 square feet, 70-room Italian Renaissance-style palazzo was inspired by the 16th century palaces of Genoa and Turi. The elegant and extravagant home is situated on the cliffs overlooking the Atlantic Ocean and is one of the most visited house-museums in the U.S.
Built in 1838, Lyndhurst is one of America's greatest Gothic Revival mansions. The architecture and design details (narrow halls, intricate woodwork and peaked, vaulted ceilings) make the home romantic and gloomy, befitting a 19th-century gothic romance like Wuthering Heights or Jane Eyre. The mansion houses a large collection of antiques and furniture and boasts a stunning view of the Hudson River alongside well-manicured grounds.
Built by George Vanderbilt in the late 19th century as a country home in the idyllic Blue Ridge Mountains, the Biltmore Estate is America's biggest private residence. The extravagant home is filled with 16th century tapestries, a banquet hall with 70-foot-tall ceilings and a library boasting over 10,000 books. The lush grounds, designed by Frederick Law Olmstead of Central Park fame, are glorious in the warm months.
Just outside of Philadelphia is this large, 40-room, late-19th century castle that was built using limestone and greystone to resemble the famous Alnwick Castle in England. The structure was the home of sugar magnate William Welsh Harrison and includes an extravagant-looking ballroom and dining hall. Today, it is part of the Arcadia University campus and is used as an administrative office as well as a space to host college events.
On Heart Island, part of New York's famed Thousand Islands, is this extraordinary summer dream home. Construction on this six-story private home began in 1900 by hotel magnate George C. Boldt as a gift to his wife, but was halted abruptly four years later when his beloved died. Boldt never returned to the premise, and the unfinished castle fell into disarray, until the island was bought by the Thousand Island Bridge Authority in 1977 for a single dollar. Boldt Castle and its nearby yacht house have since been completed and can be visited during the warm months.
Note: Heart Castle is temporarily closed to visitors
Easily the country's most famous castle, this National Landmark took decades to be built by newspaper magnate William Randolph Hearst and architect Julia Morga. Hearst had grand ambitions for his retreat, La Cuesta Encantada ("Enchanted Hill"), which was built on his family's expansive ranchland. Situated almost exactly halfway between San Francisco and Los Angeles on the scenic Pacific coast, Hearst Castle is a popular stop for road trippers. Visitors can check out the 165-room estate, 123 acres of gardens full of exotic flowers, the ornate pools and Hearst's legendary art collection.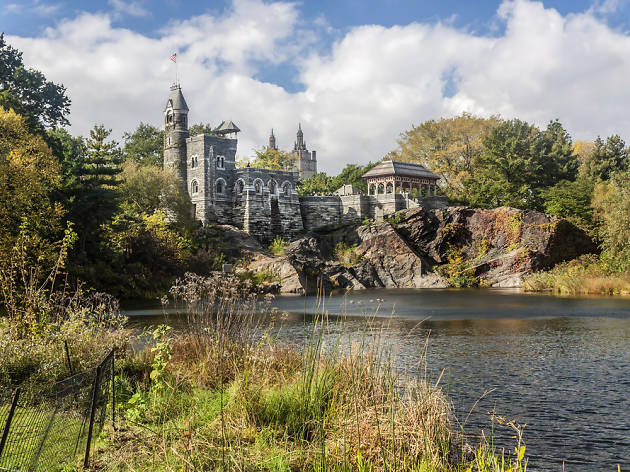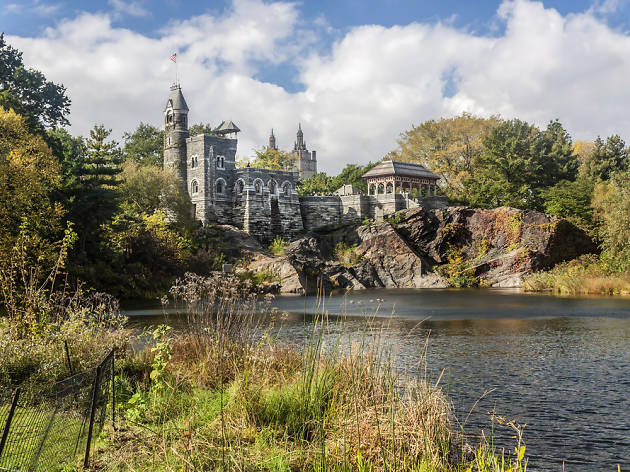 Photograph: Shutterstock
7. New York, NY: Belvedere Castle
Designed by Calvert Vaux and Jacob Wrey Mould, Belvedere Castle in the middle of Central Park was originally meant to be purely ornamental but, over the past century, it has become a weather tower. Visitors from around the world climb the stairs of the castle daily, admiring the view of Central Park, including Turtle Pond and the Delacorte Theater.
A hundred years ago, a 400-year-old English Tudor was shipped all the way from Great Britain to the Pacific Northwest. The original gothic mansion was bought by Chester Thorne as a gift to his bride and rebuilt brick by brick under the supervision of architect Kirtland Kelsey Cutter at a scenic location just a short trip from Tacoma, Washington. The mansion has a beautiful "sunken garden" designed by the Olmstead brothers that be seen through gorgeous stained glass windows. Today the castle operates as a bed and breakfast and event venue.
More unique spots in the U.S.
You don't have to hop on a plane to feel like you're in the old country.
Who's ready for an amazing cross-country trek?