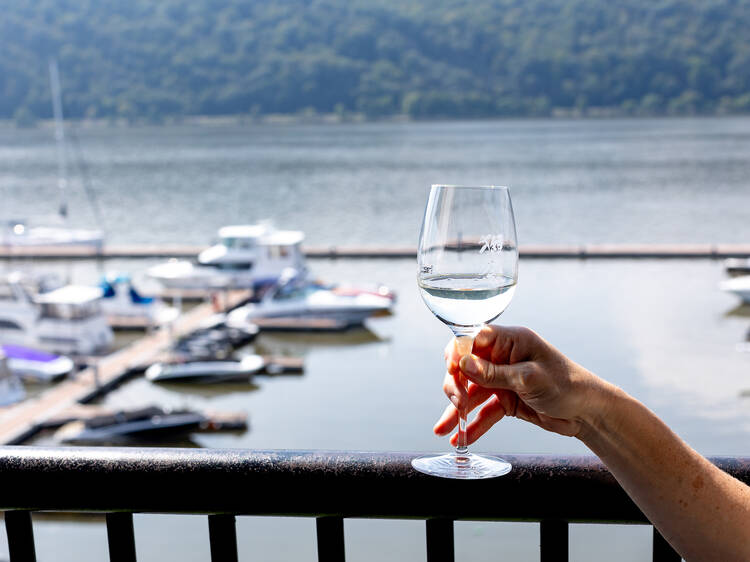 Photograph: Phillip Van Nostrand
1.

Poughkeepsie, New York
A two-hour train ride from Grand Central Station takes you to Poughkeepsie, a sleepy village about halfway between New York City and Albany. Home to the fabled Culinary Institute of America—the Harvard of culinary schools—Poughkeepsie holds a special place in the hearts of countless acclaimed chefs and restaurateurs. Gastronomic verve reverberates well beyond the CIA campus, and the Dutchess County burg punches well above its weight for spectacular dining.
For a white-tablecloth repast at a reasonable price, book a table at Escoffier, a traditional French brasserie run by aspiring young chefs at the CIA. In downtown Poughkeepsie, Brasserie 292 serves Francophilic comfort fare like duck confit and garlic-lashed escargot, prepared with the fresh bounty of the Hudson Valley's waters and farms. For dessert, go with a plate of warm, pillowy beignets paired with a glass of cognac—a perfect tonic for a snowy night. Indulge in glasses of liquid warmth at the recently opened Dassai Blue Sake Brewery. Considered Japan's sake house par excellence, Dassai brews koji-fermented ambrosia crafted with coveted yamada nishiki rice imported from Japan.
Spend an afternoon perusing the famous Hyde Park Farmer's Market, an outdoor fair bustling with greengrocers, cheesemongers, butchers, craftsmakers and live music. The trails along the Hudson River and through Poughkeepsie's hills are meditatively serene in the winter, and the city offers detailed digital maps of the best routes. For a more relaxed stroll, spend an afternoon marveling at regal gardens and a Gilded Age estate at Vanderbilt Mansion ($10 per ticket).