The 20 best things to do in Vancouver
Given the water and mountains surrounding it, it's no surprise the best things to do in Vancouver deal with the outdoors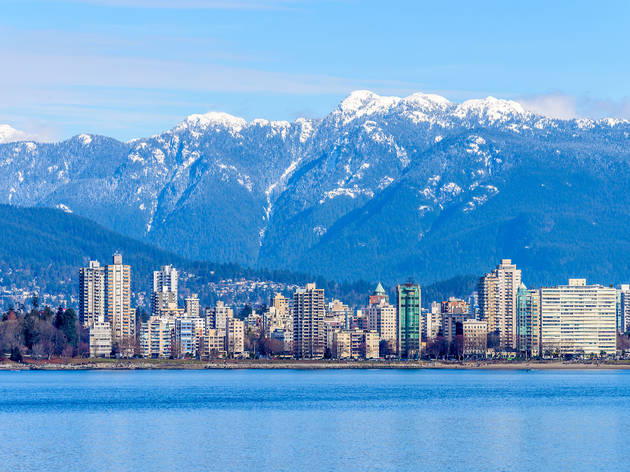 Surrounded by mountains and sea, no visit to Vancouver is ever complete without taking a moment to admire the scenery. The same can be said about the food that originates from these landscape spots – and gets dished up at the best restaurants in town.
Whether it's a strenuous hike up Grouse Grind or a relaxed stroll on cherry tree-lined streets, the city has loads to offer. Fuel up with a proper brunch or a hearty meal and then get ready to tackle our list of the very best things to do in Vancouver.
Best things to do in Vancouver
1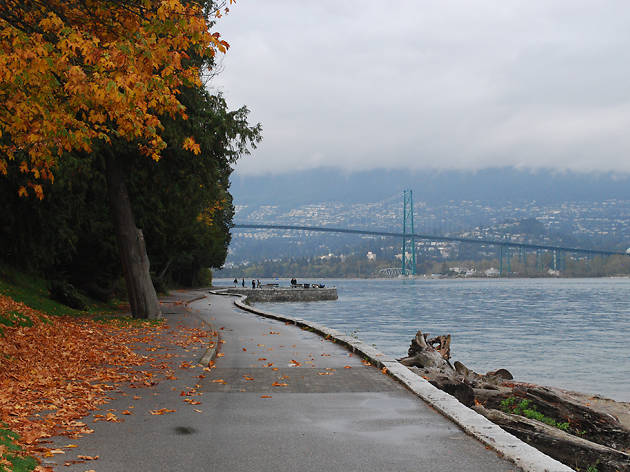 Photograph: Courtesy CC/Flickr/Stephen Downes
What is it: A vast, must-see park with some more-than-impressive features. It measures at a whopping 1,000 acres (yep, that's even larger than Central Park, New York) and is the home of beaches, totem poles, an aquarium, playgrounds, a pool and splash park, botanical gardens, a par-54 golf course, 17 tennis courts, lawn bowling and a rowing club. Phew.
Why go: Not only does Stanley Park look spectacular, but you could easily spend a day within its perimeters. If you prefer two wheels to two legs, try biking the exterior Seawall or venture inside 40 miles of trails to get oh-so-merrily lost amongst glorious ferns and centuries-old cedars and firs. Eager to spot some of Canada's flourishing wildlife? Keep an eye out for beavers, raccoons, great blue herons, bald eagles, coyotes, the occasional harbour seal and, sometimes, even whales.
2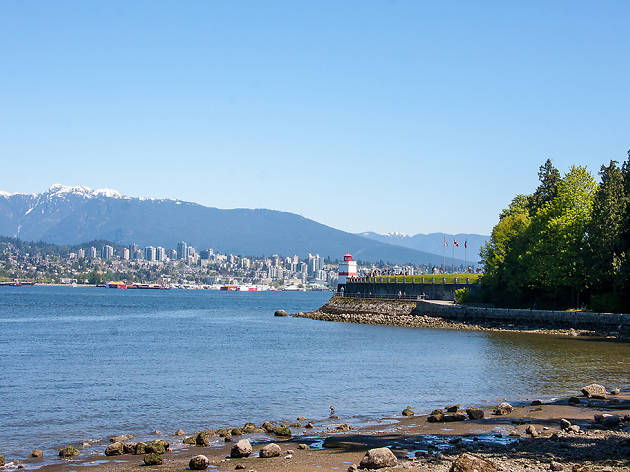 Photograph: Courtesy CC/Flickr/Nico Aguilera
What is it: The 5.5-mile paved pathway starts in downtown Vancouver at the cruise ship terminal, heads west around Stanley Park and then encircles False Creek past Kitsilano beach and pool out toward Spanish Banks on English Bay.
Why go: This is Vancouverites' and visitors' favourite stroll. Cyclists and runners like it too! Be sure to keep to your designated side of the pathway—cyclists tend to lose their Canadian politeness if you get in their way.
3
Photograph: Courtesy Yelp/Rick C.
What is it: Royal Dinette is a downtown farm-to-table restaurant helmed by Kaitlyn Stewart that serves delicious sustainable food and cocktails like the Ru Paulitan and Kumbaya.
Why go: Stewart, mixologist and manager at Royal Dinette, won the title of World's Best Bartender in 2017 at the four-day Diageo World Class competition. She's the first Canadian and only the second woman to ever win.
4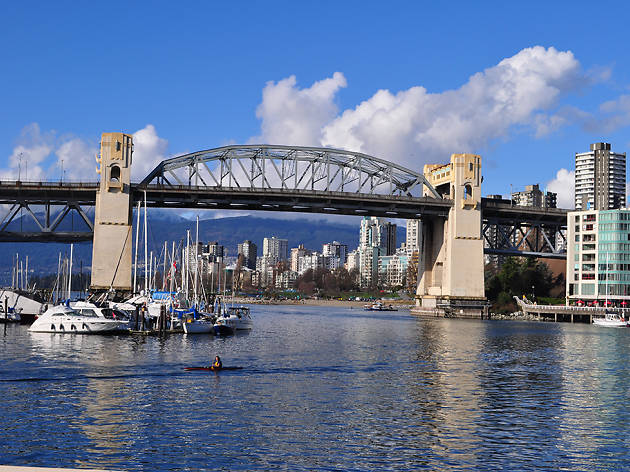 Photograph: Courtesy CC/Flickr/Pongers
What is it: Technically a peninsula, Granville Island is home to a public market, food shops, restaurants, artist studios and galleries, shopping and green space. Vancouverites pick up their groceries here too, though they tend to avoid crowded summer weekends.
Why go: Wander the shops, pick up Canadian products at Edible Canada and have a picnic next to False Creek with a baguette from Terra Breads, local Smits and Co.w chili pepper gouda, and a Quebec Chèvre Noir from Benton Brothers Fine Cheese, plus paté from Oyama Sausage. Guard your goods from thieving birds from above.
5
Photograph: Courtesy Yelp/Kimberly R.
What is it: Get out on the water for a chance to see some of the local marine mammals: orca, grey whales, humpbacks, minkes, harbour porpoise, Dall's porpoise, Pacific white-sided dolphins, harbour seals and Stellar and California sea lions. Choose operators that respect laws and guidelines that protect the animals, and consider a donation to an environmental or wildlife fund so your grandchildren can have the same experience in years to come.

Why go: Getting a glimpse of these intelligent animals is good for the soul. Wild Whales Vancouver, on Granville Island, provides excellent experiences.
6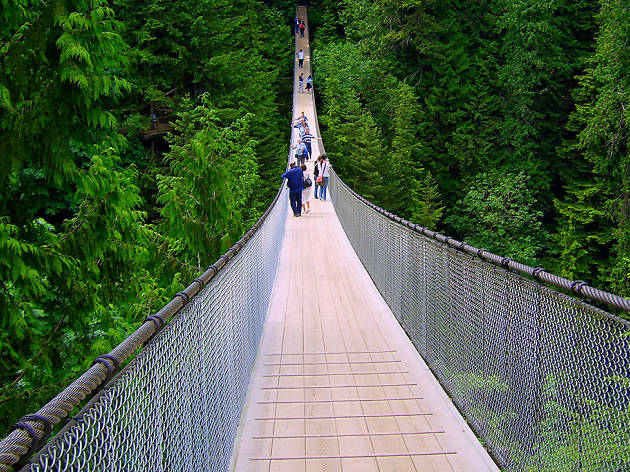 Photograph: Courtesy CC/Flickr/haRee
Capilano Suspension Bridge
What is it: Walk across Capilano Suspension Bridge or Lynn Valley Suspension Bridge for wiggly views of the temperate rainforest on Vancouver's North Shore.

Why go: In addition to the bridge, Capilano is also home to a Cliffwalk and a Treetops Adventure to explore, as well as information about the area's indigenous peoples. Lynn Valley is less commercial, less crowded and free.
7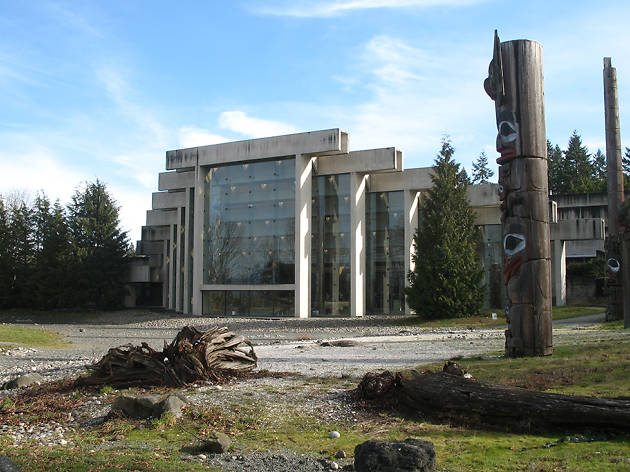 Photograph: Courtesy CC/Flickr/Tim Gillin
Museum of Anthropology at the University of British Columbia
What is it: Enclosed in a building designed by Arthur Erickson and on the traditional territory of the Musqueam people with grounds landscaped by Cornelia Oberlander, the Museum of Anthropology (MOA) features art by Canada's and the world's indigenous peoples.
Why go: One of Canada's largest teaching museums, MOA is home to 50,000 artifacts and works of art including textiles, ceramics, carving and Bill Reid's The Raven and the First Men sculpture, depicted on $20 bills.
8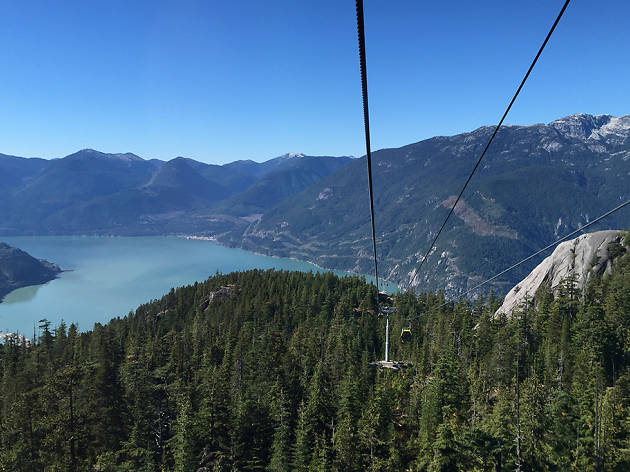 Photograph: Courtesy CC/Flickr/Sandy Kemsley
What is it: Open throughout the year, this ten-minute gondola ride takes you up almost 2,800 feet past Shannon Falls.
Why go: Drive the stunning Sea to Sky Highway to Squamish and gaze out the gondola window for even more spectacular views of Howe Sound and the mountains surrounding Vancouver. Hike the trails, try the Via Ferrata, cross the Sky Pilot Suspension Bridge, dine at the Summit Lodge and, during the winter, ski the backcountry.
9
Photograph: Courtesy Yelp/Edward L.
What is it: This aquarium in Stanley Park focuses on sustainability and conservation. The staff rescues marine animals and aims to educate the public in everything they do. The Vancouver Aquarium originated the Ocean Wise sustainable seafood and ocean protection initiative.
Why go: Giggle at the antics of the otters and penguins, zen out watching the jellyfish and gain greater appreciation of the importance of protecting the world's oceans.
10
Photograph: Courtesy Yelp/Suzan L.
What is it: Vancouver is blessed with many tiny ramen places, several clustered in the West End around Robson and Denman Streets, near Stanley Park. One of the originals is Kintaro.
Why go: Feel the buzz in the lineup (don't worry, they generally move pretty fast) and eat some of the best noodles this side of the Pacific at Kintaro.
What is it: Mr. Bannock is the city's first food truck serving indigenous food.
Why go: British Columbia's first peoples knew all about the richness and nutritiousness of the land and sea, and how to harvest products sustainably. Sample some traditional BC foods and learn more about indigenous cultures. Look for bannock—an unleavened bread—salmon, wild meats, juniper berries and local mushrooms.
12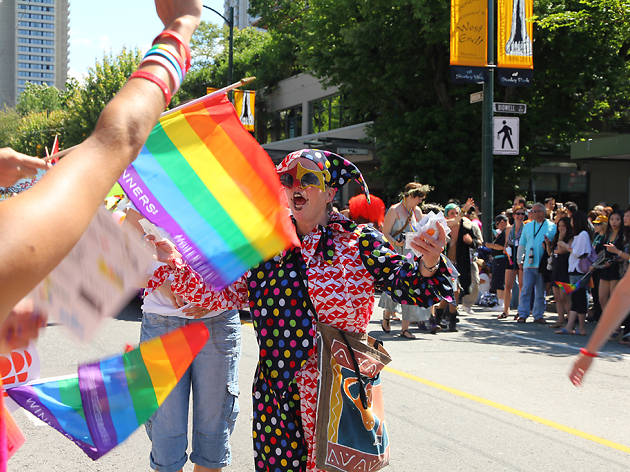 Photograph: Courtesy CC/Flickr/GoToVan
What is it: Davie Street, in Vancouver's West End, is known as the home to the city's Gay Village. The annual Vancouver Pride Parade (end of July/early August) passes nearby to the delight of residents and visitors and ends at the Sunset Beach Festival. Throughout the year, the neighbourhood is bedecked in rainbow flags, rainbow-painted crosswalks and friendliness.
Why go: Don't we all need more rainbows and positivity in our lives?
13
Photograph: Courtesy Yelp/Thom H.
What is it: Vancouver is the birthplace of several international brands and up-and-coming labels. See the latest at Lululemon Athletica, John Fluevog for shoes, Arc'teryx for outdoor wear, Herschel for retro bags and luxury Kit & Ace for Technical Cashmere T-shirts, or discover the next great thing.
Why go: To pass as a Vancouver local, all you need are yoga pants and a fleece.
14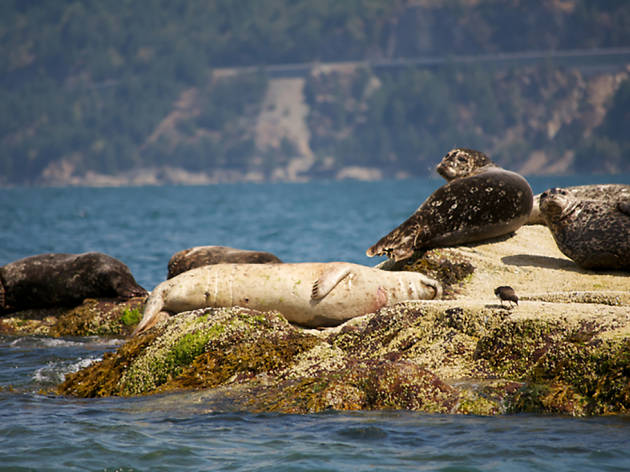 Photograph: Courtesy CC/Flickr/Elaine
What is it: The curious seals in the colony at Pam Rocks in Howe Sound often interrupt their sunny snoozes to dive in and swim over to see what the kayakers and snorkelers are doing.
Why go: Enjoy a day on the water, learn about protecting Vancouver's marine environment, see the cute seals and maybe some bald eagles and other animals too.
15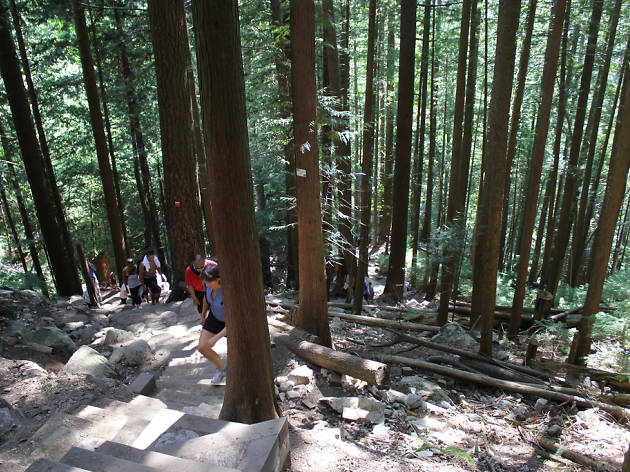 Photograph: Courtesy CC/Flickr/Vitor Pamplona
What is it: Think of it (as it's often referred to) as "Mother Nature's stairmaster."
Why go: This challenging 1.8 mile trail takes you 2,800 feet up Grouse Mountain via a trail and 2,830 stairs (you take the gondola down, for $10). Most people do the Grind in 1.5 hours. Can you beat Prime Minister Justin Trudeau's time of 54 minutes and 55 seconds?
16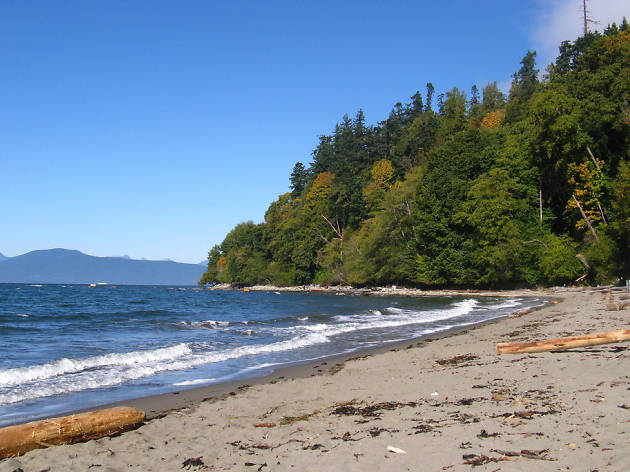 Photograph: Courtesy CC/Flickr/Howard/Harriet Greenwood
What is it: A 4.8-mile long, clothing-optional beach.
Why go: To admire the views—of the ocean, of course—offered by the largest naturist beach on the continent. Nearby beaches like Spanish Banks and Jericho offer similar vistas for more modest dressers.
What is it: This restaurant and takeaway counter is housed in three shipping containers with an outdoor seating area that boasts views of busy False Creek.

Why go: Four of Vancouver's top chefs created this innovative eatery: Angus An (Fat Mao, Maneam, Sen Pad Thai, Freebird Chicken Shack, Longtail Kitchen), Joël Watanabe (Kissa Tanto, Bao Bei), Robert Belcham (Monarch Burger, Campagnolo) and Hamid Salimian (Diva at the Met, Earl's culinary consultant and culinary arts instructor).
18
Photograph: Courtesy Yelp/Jean C
What is it: Open weekends and holiday evenings from May to October, this is the largest night market in North America, giving visitors a taste of Asia's night markets. It's near the airport.
Why go: Sample foods like grilled squid, pho fries, gyozas, roti mac and cheese and nitrogen ice cream at 100 different food stalls; shop for accessories at 200 retail stalls; play games and listen to live music and just have fun.
19
Photograph: Courtesy Yelp/Edward L.
What is it: The oldest police museum on the continent, with 20,000 crime-related artifacts in Vancouver's Gastown plus a special walking tour.
Why go: Sure, Canada is one of the safest countries in the world, but it's not crime-free. Learn about the lawless Wild West of the city's early years, the crime of "incorrigibility" and the "milkshake murders" in the building which formerly housed Vancouver's morgue.
20
Photograph: Courtesy Yelp/Danny K.
What is it: Vancouver's sunsets are often vivid and there is probably no better place to catch one in all of its glory than Sunset Beach. The sun sinks over English Bay—in the summer, well after 9pm—frequently with vibrant red, orange, pink and purple clouds.
Why go: Sunset Beach and English Bay Beach, near the south end of Denman Street and separated by a giant inukshuk statue, offer great views and are easy to get to. Third Beach, within Stanley Park, is another prime spot, especially on Tuesday nights when there's a crowd playing and dancing to bongo drums.