Heads up! We're working hard to be accurate – but these are unusual times, so please always check before heading out.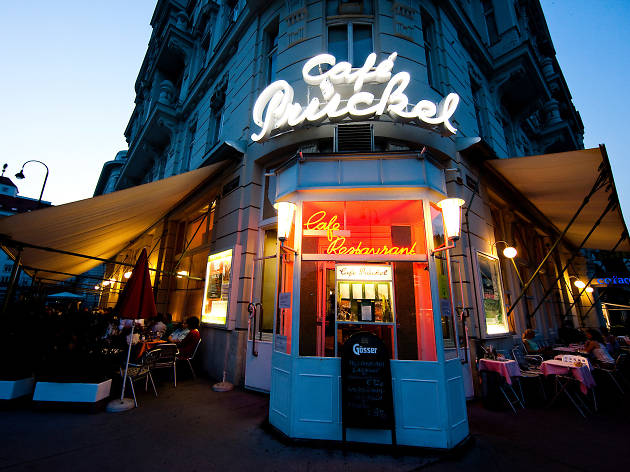 The 11 best cafés in Vienna
When in the Austrian capital, you've got to drop by a Kaffeehaus. Thirsty? Here's our pick of the best cafés in Vienna
The traditional Kaffeehaus is to the Viennese what the pub is to the Brits. It's as much of a social institution as a place to eat and drink – even if the tuxedoed waiters can be notoriously grumpy. Such is their importance, in fact, that Unesco has recognised 'coffee house culture' as an integral part of the city's cultural heritage.
The array of coffees on offer can be baffling to the uninitiated. A Fiaker, for example, is named after the horse and carts you see across the Innere Stadt and consists of a coffee with a shot of rum and whipped cream. But you can guarantee anyone with a vaguely sweet tooth will find something worth ordering among the many cakes and pastries on show in the glass display cases of most traditional Kaffeehäuser.
It's not all Habsburg-era pomp and service, though. Plenty of modern coffee shops are springing up across the city and they often host a range of artistic, cultural and music events later in the evening. There's a reason taking Kaffee und Kuchen will forever be one of our absolute favourite things to do in Vienna, and you'll no doubt be hooked, too. Looking for booze not brews? Check out our guide to the city's best bars.
RECOMMENDED: Full guide to the best restaurants in Vienna
Best cafés in Vienna
The sheer grandeur of Café Central makes it well worth queuing for. Established in 1876, this quintessential Kaffeehaus was a popular hangout among intellectuals in turn-of-the-century Vienna. Sigmund Freud, Leon Trotsky and architect Adolf Loos are all known to have taken coffee here. Order a Melange, a Viennese take on a cappuccino, choose a cake from the stand and while the afternoon away under the pseudo-Gothic vaulted ceilings of the Palais Ferstel.
This Kaffeehaus just off the main pedestrianised shopping drag, the Graben, is a considerably less formal affair than some of its rivals. With slightly threadbare upholstery and well-worn tables and chairs, the Café Hawelka is more akin to a living room than an upmarket Kaffeehaus. During its '60s and '70s heyday, the stars of the Vienna art scene regularly met here and celebs such as Andy Warhol dropped by.
Meaning 'full pension', Vollpension is a rather novel café where all the cakes are baked to tried-and-tested family recipes by the grannies and grandpas in the kitchen. This quirky modern-day café aims to bring people from all generations together and make them feel at home. Breakfast and light bites are also available, alongside whatever cake is freshly baked that day. If you're looking for something a little stronger, try the eggnog from the 'Grandma's drink cabinet classics' section of the menu.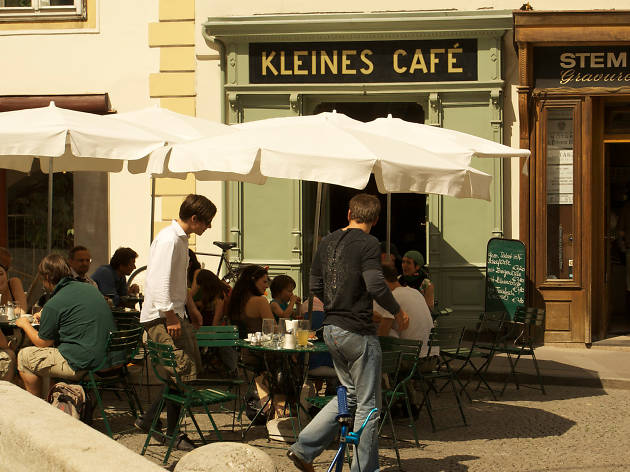 Photograph: Flickr / Julius Cruickshank
The appropriately named Kleines Café – 'small café' – may be tiny inside but the warmer months see its clientele spill out on to tables on the pretty Franziskanerplatz. Featured in the film 'Before Sunrise', this late-opening bar has long attracted a range of arty types and serves simple dishes and decent coffee alongside wine and beer on tap.
This café in the historic Hotel Sacher is THE place to sample a slice of Vienna's most famous cake, the Sachertorte. Legend had it this dark chocolate and apricot confection, usually enjoyed with unsweetened whipped cream, was created here for Prince Metternich. The exact recipe remains a secret (they've even gone to court with Demel over it) but eating a slice of this very rich cake in the imperial surrounds of the Café Sacher will make anyone feel like royalty.
This buzzing address in the MuseumsQuartier cultural complex describes itself as a café, restaurant and bar hybrid. Perhaps surprisingly, the menu has an Asian focus (its dim sum are divine) but there are some Viennese specialities and pasta dishes for the less adventurous. During the summer months it opens a popular terrace in the complex's main courtyard and there are DJs at weekends.
Located on one of Vienna's most prestigious shopping strips, the Kohlmarkt, former imperial supplier Demel is a confectioner's dream. There are so many sweet treats displayed in the Habsburg-esque vitrines that even a quick visit to the shop can make your teeth ache. Every type of Viennese cake and pastry you can imagine is on the menu, alongside savoury specialities such as sausages with mustard or schnitzel. It's even worth just walking past to admire the sugary artworks on display.
The delightfully retro Café Prückel has remained faithful to its '50s restyling by Oswald Haerdtl despite recent renovations. You'll find all the Kaffeehaus classics on the menu, from traditional Viennese coffee to pastries to Wiener schnitzel, which you can scoff while listening to live piano music every Monday, Wednesday and Friday evening. The clientele tends to be pretty mixed, although the Prückel made headlines for all the wrong reasons back in 2015, when a lesbian couple were thrown out for kissing in public.
Said to be the oldest café on the Ringstrasse and with a marble and wood-panelled interior, the Café Schwarzenberg is one of the city's most opulent coffee houses. It was severely damaged by Soviets during the post-war occupation and it was only in 1979 that it was finally renovated. There's a wide range of rather curious (and very boozy) Viennese coffees available, but the real highlight is the hot chocolate 'Alt Wiener Art', served with cinnamon, vanilla and whipped cream.
Another of Freud's favourites, Café Landtmann predated the existence of the Ringstrasse on which it now sits. Dating back to 1873, this traditional Kaffeehaus has long been popular with politicians, academics and theatre-goers alike. It's also one of the city's poshest; the waiters are impeccably attired and upon arrival, you must surrender your jacket to the cloakroom. Spacious inside, Landtmann also boasts a pleasant terrace overlooking the Burgtheater in summer.
Describing itself as a 'culture café', Tachles is in one of Vienna's coolest up-and-coming districts. You can relax with a coffee – or a beer – on the terrace overlooking the Karmeliterkirche during summer, while the film-themed interior offers a cosy respite from the cold in winter. Tachles also hosts events including readings, cabaret and open mic nights in its basement.
Not done exploring the city yet?
Vienna has topped every quality of life survey going in recent years and it doesn't take long to work out why. With clean air, a low crime rate and cheap, reliable public transport, tourists can benefit from a trip here as much as the locals.