Heads up! We're working hard to be accurate – but these are unusual times, so please always check before heading out.
The 15 best restaurants in Vienna
It's not all stodgy Schnitzel here. From Austrian classics to top-notch global imports, these are the best restaurants in Vienna
Vienna's food scene may be synonymous with Schnitzel but there's far more to this place than just stodgy comfort food. Like the city itself, Viennese cuisine is something of a cultural melting pot with influences from across lands once part of the Habsburg Empire, like Hungarian-style goulash, still making their way on to modern-day menus. An ever-expanding array of international restaurants and multicultural food markets means that these days you can get your hands on everything from imperial favourite Tafelspitz to Mediterranean mezze and Asian-style dumplings here.
Eating out is a popular pastime in the Austrian capital and dishes often place a focus on high-quality seasonal and regionally sourced ingredients. The Viennese also have an undeniable sweet tooth and no visit here would be complete without a trip to at least one of the city's ubiquitous Kaffeehaüser (cafés) for Kaffee und Kuchen (that's coffee and cake), surely one of the city's headline attractions. Be it a Beisl-style tavern or a casual urban bistro, there's plenty to satisfy all budgets and palates here. Feeling a little peckish? These, we reckon, are the best restaurant in Vienna right now.
Eaten somewhere on this list and loved it? Share it with the hashtag #TimeOutEatList. You can find out more about how Time Out makes recommendations and reviews restaurants here.
Best restaurants in Vienna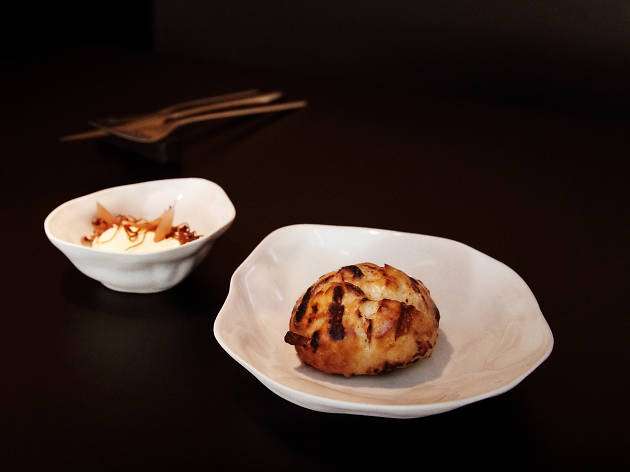 Photograph: Pramerl and the Wolf
What is it? An unpretentious modern take on a traditional Beisl, this Michelin-starred restaurant is well worth splurging out on. There's no à la carte menu; you choose between a small or large taster menu, accompanied by freshly baked bread and other surprises from the kitchen.
Why go? All the cooking, service and wine is handled by chef Wolfgang Zankl himself, alongside his sous and sommelier – making for a very intimate (and social) dining experience. Booking essential.
Price: Blowout
Photograph: Courtesy Yelp/Jaime S.
What is it? Vienna's world-famous botanical hothouse (think Kew with a fancier roof), overlooking the stately Burggarten gardens, is home to an all-day brasserie. The menu is Austrian-meets-Mediterranean, with a strong selection of wines by the glass, expertly mixed cocktails and desserts to die for. Frond memories guaranteed.
Why go? Where else can you tuck into dumplings surrounded by loads of lush tropical foliage? It's especially inviting on a chilly day: follow up one of the hearty lunch specials (mushroom ragout, strozzapreti with veal bolognese) with a slice of warm almond and chocolate cake and stewed plums.
Price? Pricey
Photograph: Courtesy Yelp/Barbi S.
What is it? A super-cool all-day restaurant in Vienna's biggest food market, the Naschmarkt, serving Tel Aviv-style breakfast, lunch and dinner. Grab one of the coveted tables outside, get a plate of the filo cigars filled with spinach and sheep's cheese and soak up the atmosphere.
Why go? As well as being a great spot for refuelling mid-shop, Neni serves the best modern Middle Eastern food in the city. The shakshuka is as good as it gets, but it's worth branching out and ordering the Israeli breakfast: labneh, scrambled eggs, olives, salad and one of Neni's famous fluffy pittas. Come hungry.
Price: Average
Photograph: Courtesy Yelp/Jennifer K.
What is it? A subterranean bar-slash-restaurant in the uber-cool 7th district. Erich is tucked down the side of Sankt-Ulrichsplatz, and it's easy to walk past it – but you'll be glad you didn't. From breakfast tacos to salmon poké bowls to dairy-free sundaes made in collaboration with Veganista, Vienna's first all-vegan ice cream parlour, it ticks all the boxes around the clock.
Why go? For great coffee, modern takes on Austrian classics like Kaiserschmarrn shredded pancakes and an unbeatable after-dark vibe. The gin and tonic menu is one of the best in the city, too.
Price: Average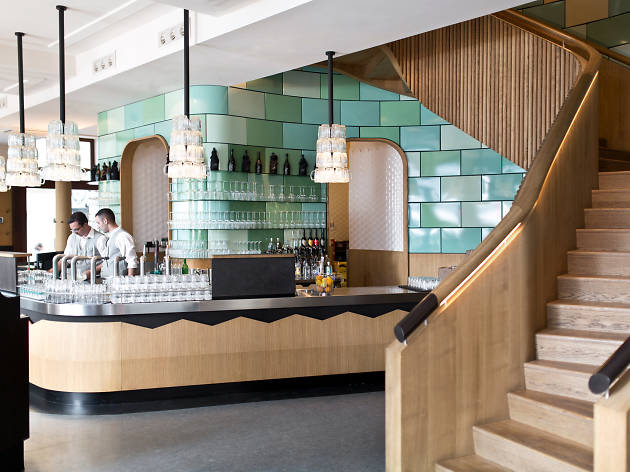 Photograph: Figlmüller
What is it? Set in the impressive Regensburger Hof building, Lugeck is run by the same family behind historic Schnitzel restaurant Figlmüller. This gastro-pub take on an old-school wine tavern offers both Austrian classics and an array of international dishes.
Why go? If you want to try a contemporary spin on traditional Wiener schnitzel or Franz Joseph I's favourite boiled beef dish, Tafelspitz, washed down with a carefully chosen glass of Austrian wine or craft beer, this is the place for you. Lighter dinner options include beetroot couscous and pirozhki (Russian fried buns).
Price: Average
Photograph: Courtesy Yelp/Evamari K.
What is it? Small plates and natural wines right in the heart of the city. Next to Viennese fine dining fixture Konstantin Filippou, O Boufes is an industrial-chic bistro of the kind you'd find in London, Paris or Berlin's edgier districts. With its bare walls and Klimt-gold accents, it's a real looker – and the dishes are works of art, too.
Why go? This is some of the most exciting cooking in Vienna right now: think ox with egg, dashi, hazelnut and cauliflower, prawn saganaki with feta and basil, and mangalitza schnitzel with cucumber, anchovies and sour cream. The low-intervention wines are thoughtfully chosen: ask for some suggested pairings and settle in for a night to remember.
Price: Blowout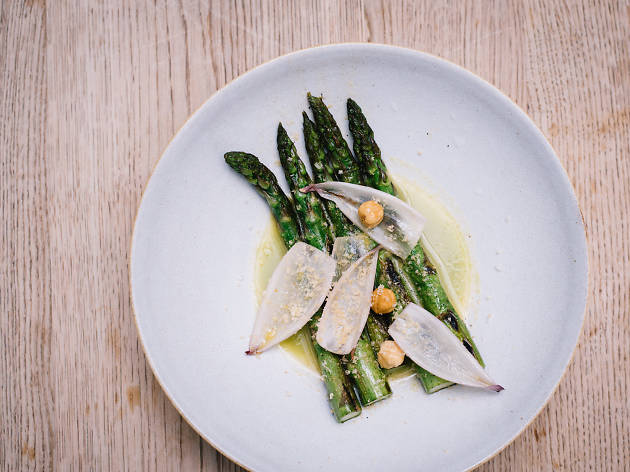 Photograph: Tian Bistro / Ingo Pertramer
7. Tian Bistro am Spittelberg
What is it? The wallet-friendly spin-off of vegetarian fine-dining restaurant Tian offers a brilliant range of meat-free dishes in the trendy Neubau district. With an emphasis on regionally sourced and seasonal ingredients, Tian's dishes are likely to satisfy vegetarians and meat-eaters alike.
Why go? For lip-smacking plant-based food in a casual urban setting, this is the place to head. Go with a friend to try the sharing breakfast at the weekend (you pick a main each and share everything else). Alternatively, choose a risotto or the amusingly named Spittelburger, with seasoned fries and a duo of dips, from the à la carte menu.
Price: Average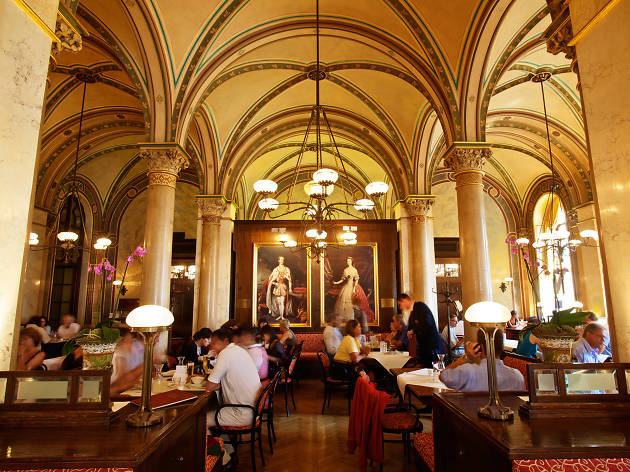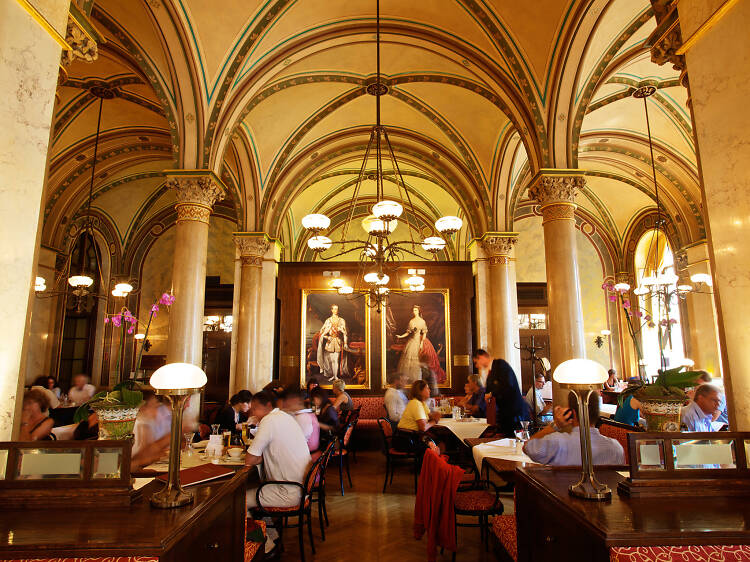 Photograph: Herbert Lehmann / Café Central
What is it? The grandest of Vienna's grand cafés, this storied spot was frequented by everyone from Trotsky to Freud in its heyday. Today it's definitely a tourist attraction (you won't find many locals braving the line outside), but it's worth battling the crowds for its outstanding pastry section alone.
Why go? The queue can be 50-deep at peak times, and once you're inside the service is pretty brusque, but this is a living slice of history. Order a huge chunk of warm, icing sugar-dusted apple strudel with vanilla custard, and wash it down with a Melange, a Viennese version of a cappuccino.
Price: Pricey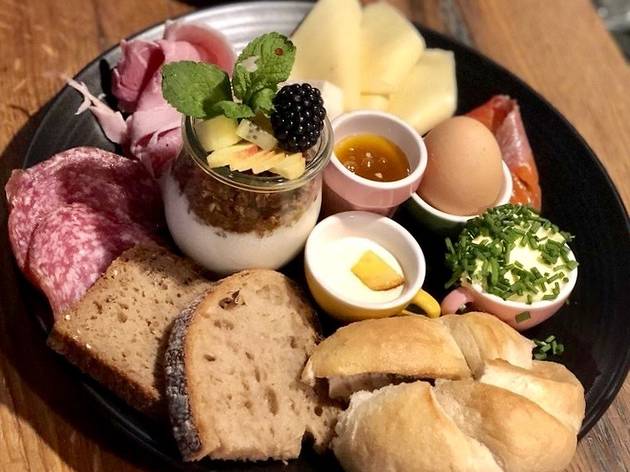 Photograph: Courtesy Yelp/Leandra D.
What is it? Erich's sister restaurant is busy, buzzy and serves reliably excellent pan-European plates from early morning until last orders. It's always packed on the weekends, but it's great for a week-day dinner, too: think sweet potato, quinoa and hummus salad bowls, brioche burgers and wild boar Schnitzel.
Why go? Brunch-wise, this is the place to be. Whether you max it out with a fully loaded breakfast sandwich or keep it light with a detox smoothie and sourdough toast, you're guaranteed to leave with a smile on your face.
Price: Average
Photograph: Courtesy Yelp/Barbi S.
What is it? Great-value dim sum, hot pot and noodles in a loft-style dining room – it's easy on the wallet, but a night at Mama Liu & Sons still feels like a treat.
Why go? The fried and steamed dumplings are a standout, and it's worth saving space for less obvious dishes like smacked cucumber and homemade tofu balls. The huge, hearty hot pots easily feed two – choose between a vegan version, a seafood one and a meat feast. If you're travelling solo you can park yourself at the bar with a cocktail and a 10-piece dim sum set for under €20.
Price? Average
Photograph: Courtesy Yelp/Tom S.
11. Restaurant and Bar Motto
What is it? A decades-old favourite in the 5th district that's kept its edge, thanks to frequent revamps and a seriously sexy menu. It's great for people-watching too: don't be surprised if you spot one or two visiting A-listers among the stylish regulars.
Why go? With its bare walls and plush green velvet seating, Motto looks the part – and the aesthetics are backed up by top-class cooking. Go for their elegant takes on traditional favourites like Tafelspitz (boiled beef) and strawberry nougat dumplings.
Price: Blowout
Photograph: Courtesy Yelp/Bianca K.
What is it? Vienna's best-loved Japanese fusion restaurant specialises in sensational sushi and sashimi. From dragon rolls to thinly sliced Iberico pork with truffle teriyaki glaze and dreamy donburi bowls, this is the kind of place where you'll want to order the entire menu.
Why go? Getting a table here takes some doing, but persevere, because every mouthful is a delight. The staff are brilliant, too – let your server know what you like and your budget, and they'll do the rest. Left it to the last minute? Try the Mochi Ramen Bar in the Stuwerviertel, which is walk-ins only.
Price: Average
Photograph: Courtesy Yelp/Saugaat N.
What is it? A bookshop that's also a bar, and which also does a banging breakfast? It can only be Café Phil. Vienna's quirkiest hangout shouldn't work, but it does – crash on the comfy leather sofas with a plate of falafel and an arty zine, and watch the world go by through the window.
Why go? Set yourself up for a long day of pavement pounding with one of their rib-stickers, served until 4pm: scrambled eggs with spicy tomato relish, porridge and berry compote, or Austrian cured meats and cheeses. Stick around into the evening, and you might catch a party or DJ set.
Price: Average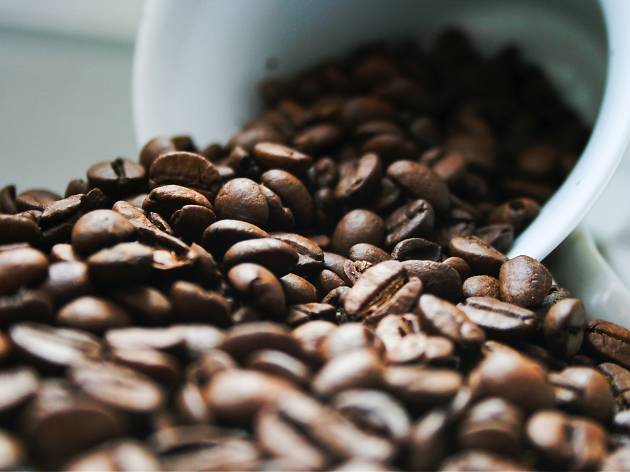 Photograph: Courtesy Unsplash
What is it? Part café, part co-working space, this is how 21st-century Vienna does Kaffee und Kuchen. Owner Charles Fürth used to work in advertising before being bitten by the bean bug, and the whole place is a testament to his passion for crafting the perfect brew.
Why go? The coffee is sourced directly from hand-picked suppliers and roasted on site – you can really taste the difference. Throw in freshly baked pastries, the day's papers and a wood-burning stove, and you have yourself an unbeatable breakfast spot.
Price? Bargain.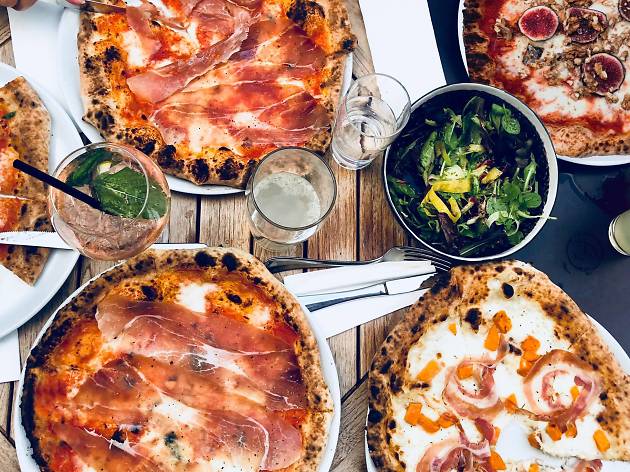 Photograph: Courtesy Pizza Randale/Facebook
What is it? Formerly a grungy bar, Randale has livened up Kettenbrückengasse with its 'gram-friendly décor and creative pizzas: you can pick from the likes of fennel-infused boar sausage, walnuts and truffle oil, or rocket, tagliata and tomatoes. The Wiener Blut pizza comes with black pudding, apple and pepper. Happily, there's now a second branch in Leopoldstadt.
Why go? It's basically impossible to have a bad time here. The vibe is laid-back and the pizzas themselves are perfection, with blistered, chewy crusts and just the right amount of sauce.
Price: Average
Not done exploring the city yet?
Vienna has topped every quality of life survey going in recent years and it doesn't take long to work out why. With clean air, a low crime rate and cheap, reliable public transport, tourists can benefit from a trip here as much as the locals.