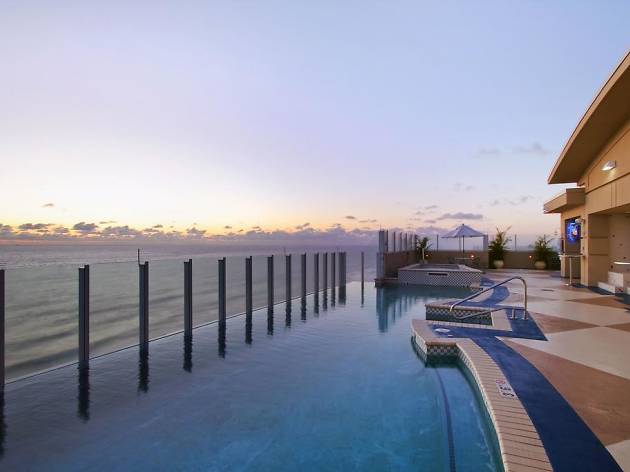 The 12 best hotels in Virginia Beach
From woodland cabins to ocean views, make sure you're in the know with our guide to the best hotels in Virginia Beach
With a tempting oceanfront, beautiful national parks and a lively city center to explore, the right hotel can be your stepping stone to seeing the sights of Virginia Beach, whether you're a beach bum or bar-hopper. And there are plenty of good options…with infinity pools, forest cabins or Frank Sinatra's former beach-side bolt-hole among them, Virginia Beach certainly isn't short of amazing accommodation. If you're a family with kids to keep an eye on the numerous resorts will be welcome – and they don't all cost the earth. Couples can opt for romantic bed and breakfasts, spa resorts or sky bars – or maybe a little of each for a vacation they'll never forget. Whatever it is you're looking for, we've rounded up what we think are the best hotels to choose from in Virginia Beach.
The 12 best hotels in Virginia Beach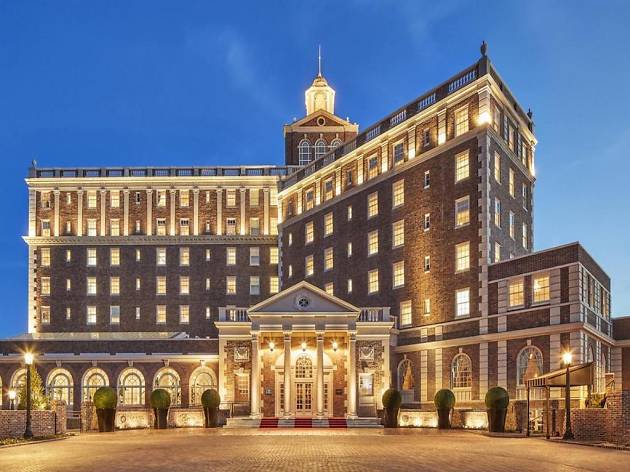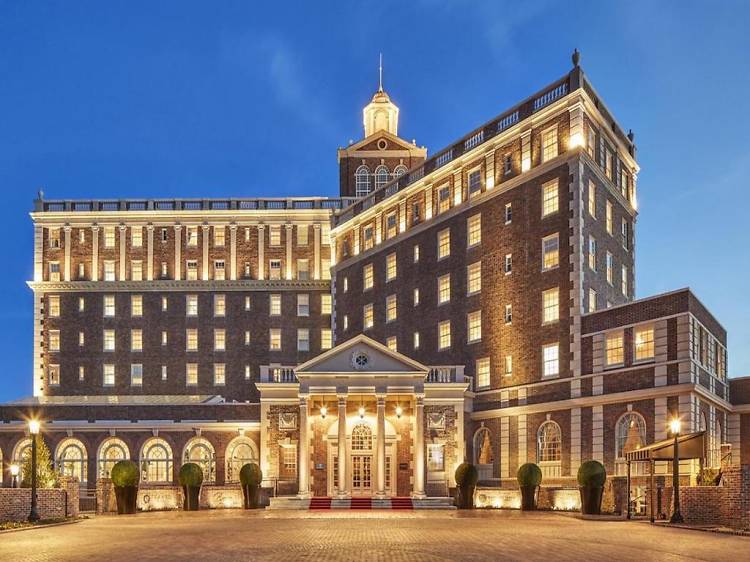 Courtesy of Booking.com
1. The Cavalier Virginia Beach, Autograph Collection
A hotel with history, the Cavalier is as well known as its former guests – from Scott F Fitzgerald to Frank Sinatra. Originally opened in 1927 and fully renovated and restored 90 years later, it has retained original features and offers a day spa, a distillery and high-end restaurants, all surrounded by beautiful gardens. With the reopening of the original Beach Club later this year (2018), the Cavalier will offer the perfect luxury resort complete with infinity pool, live events and cabanas to relax in.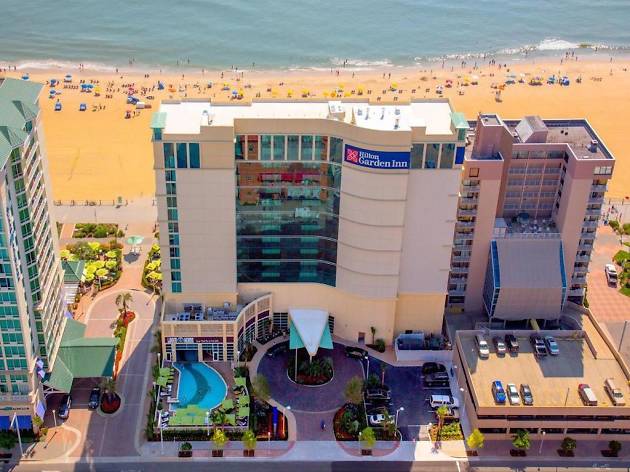 Courtesy of Booking.com
2. Hilton Garden Inn Virginia Beach Oceanfront
A down-to-earth beach-side resort with an added dash of luxe, the Hilton offers the best of both worlds, sometimes literally. With a split indoor-outdoor pool and a separate balcony lounge area overlooking the beach, families and couples can both relax here. The ever-popular Lagerheads offers local craft beers on tap as well as great burgers, so you can try the best local produce on-site before you explore the boardwalk and beyond.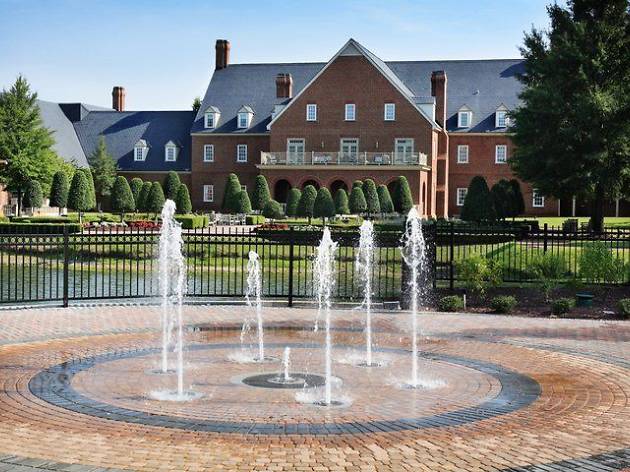 Founders Inn and Spa
3. The Founders Inn and Spa
Stroll through perfectly manicured English gardens at this luxurious four-star hotel, complete with a full spa, two pools and a fitness center. Located in the suburbs of Virginia Beach (handy for local sports and music venues and the airport) and designed in a Grand Georgian style, the hotel boasts impressive architecture and period furnishings that can't help but add a little sophistication to your stay. Treat yourself at the spa and dine on local produce while overlooking the gardens before a sunset-stroll for maximum romance points. It's surprisingly pet-friendly too, so you can even bring your pooch along.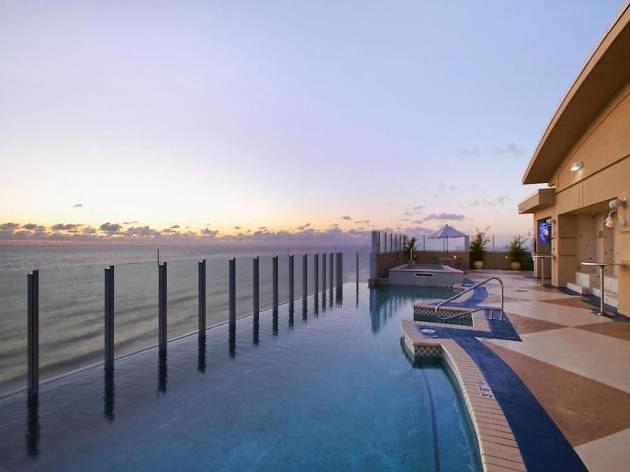 Courtesy of Booking.com
4. Hilton Virginia Beach Oceanfront
Nothing says vacation like an infinity pool overlooking the sea, and Hilton has made it happen at its smart beachfront resort. Within walking distance of the popular/legendary Neptune statue on the Boardwalk, there's no better location, especially with the boardwalk entertainment during summer. The newly renovated rooms are smart and there's a definite couples vibe, with a Sky Bar and locally-focused Catch 31 restaurant boasting fire-pits and a raw bar for your dream evening.
5. First Landing State Park Cabins
For an experience that tones down the luxury and ramps up the rustic, the cabins in the stunning First Landing State Park are the ideal getaway for nature lovers – particularly as the boat launch is free for guests so you can easily while away the hours exploring Chesapeake Bay. And when you come back, the 2-bed cabins all have fireplaces and decks to relax on, perfect after a day of sailing, hiking, or swimming. There's no TV or wi-fi, but that's absolutely part of the charm here – and once you start exploring, you'll soon forget them anyway.
6. Barclay Cottage Bed and Breakfast
Take a step back in time and unwind at Barclay Cottage, right next to the ViBe Creative district and only a short stroll from the beach. Originally a school, the impressive building has been welcoming guests since 1917 and offers luxurious rooms you'll never want to leave, as well as a veranda and home-cooking that make it feel familiar while at the same time offering the kind of tranquillity that's very hard to find in our day to day lives. Breakfast is an indulgent four-course affair with a daily changing menu to set you up nicely for the day – possibly after a snooze on one of the veranda rocking chairs.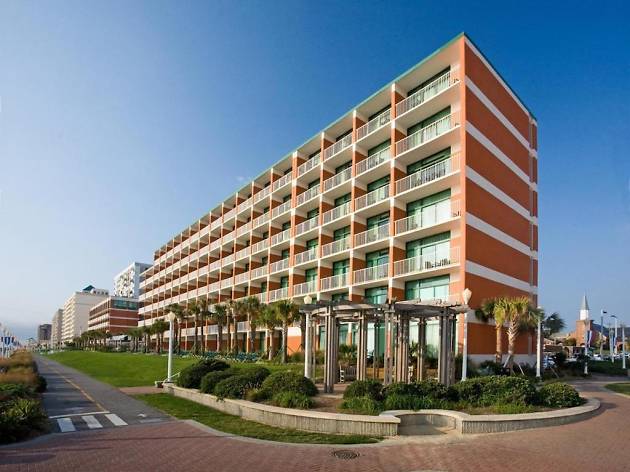 Courtesy of Booking.com
7. Holiday Inn and Suites North Beach
One for the families, this hotel offers three swimming pools with a lazy river and splash lagoon, as well as a movie theater and kid's club. Located in the quieter North Beach area, it's still only a few minutes from the more central boardwalk area and is right across from the beach. Rooms are bright and come with everything you need, including a microwave and coffee maker – if you're lucky you can snag a room with a balcony and enjoy your morning coffee overlooking the ocean. Add in three restaurants to choose from and a hot tub to relax in after a day at the beach…perfection.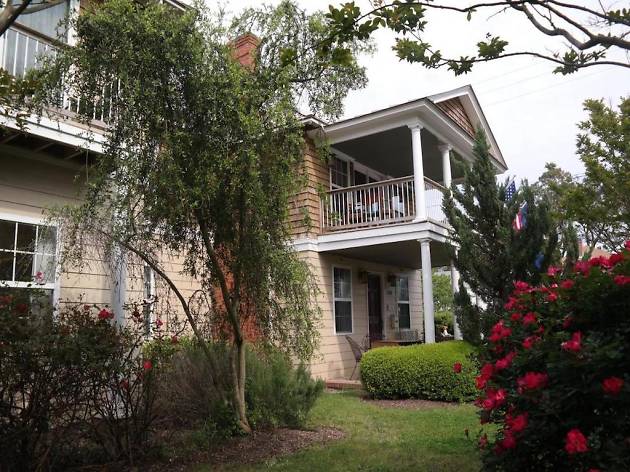 Courtesy of Booking.com
8. Beach Spa Bed and Breakfast
Offering a country feel but still only a short walk from the beach, this homely B&B has all the luxuries of a hotel, just with that added friendly, personal touch that can be hard to find in some hotels. Relax in the terrace hot tub and enjoy views of the garden before strolling to one of the nearby restaurants for dinner. Spa services, including trained masseurs, are for guests only and the staff go above and beyond to make sure your stay is nothing short of perfect.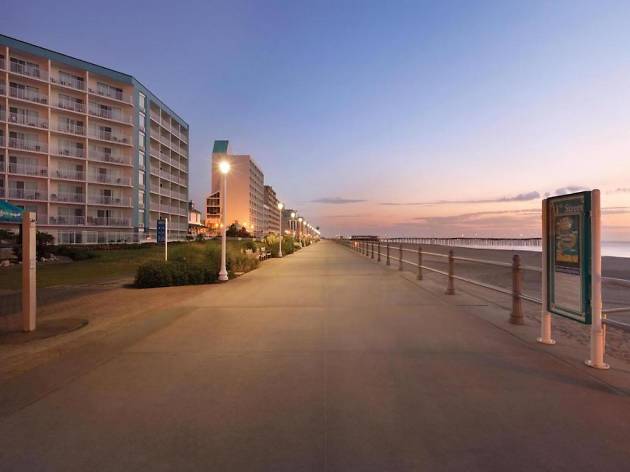 Courtesy of Booking.com
9. Surf Break Oceanfront Hotel
One of the best value hotels in the area, the Surf Break offers the perks of the higher-end options but on a more affordable budget. The outdoor pool and beach views are enough to keep you in that vacation mood, and you're close to the Oceanfront area for entertainment and restaurants too. The decor is smart and feels anything but budget, while the restaurant serves up great food and cocktails to enjoy as the sun sets.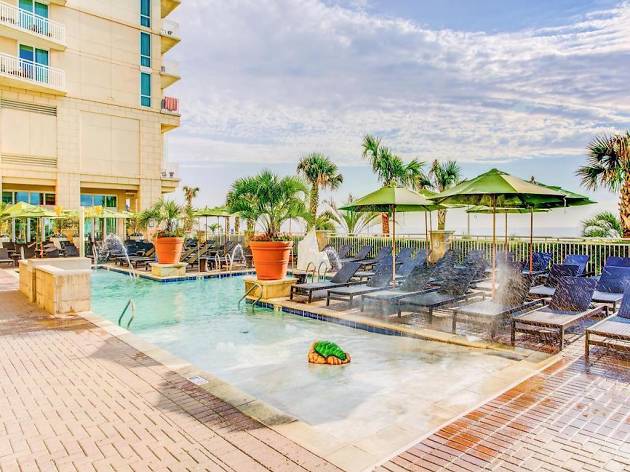 Courtesy of Booking.com
10. Ocean Beach Club Resort
The vacation starts when you step inside the tropical reception, and certainly puts you in the mood to take advantage of the four oceanfront pools… ideally with a cocktail in hand. Sharing facilities with Oceanaire Resort, there are plenty of family-friendly entertainment options as well as adults-only pool areas too. Poolside loungers and a gym with panoramic views will tempt you away from the beach, even if it's not for long. The bright colors and palm trees thankfully don't extend to the rooms, which are standard hotel decor.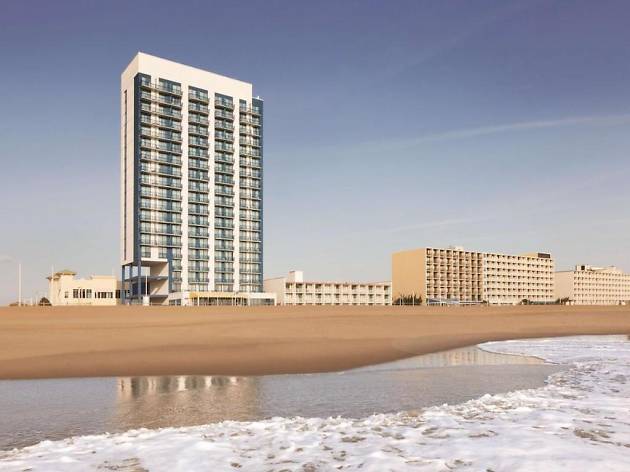 Courtesy of Booking.com
11. Hyatt House Virginia Beach / Ocean Front
A smart beachfront hotel with some wallet-friendly perks, the Hyatt House offers the sea-views of its neighbors and free breakfasts too. Relax on your private balcony and rustle up lunch in your mini-kitchen, which is ideal for longer stays and keeping costs down. There's an oceanfront bar to settle into and an indoor pool, not to mention being right by Neptune Park and all the summer entertainment it has to offer.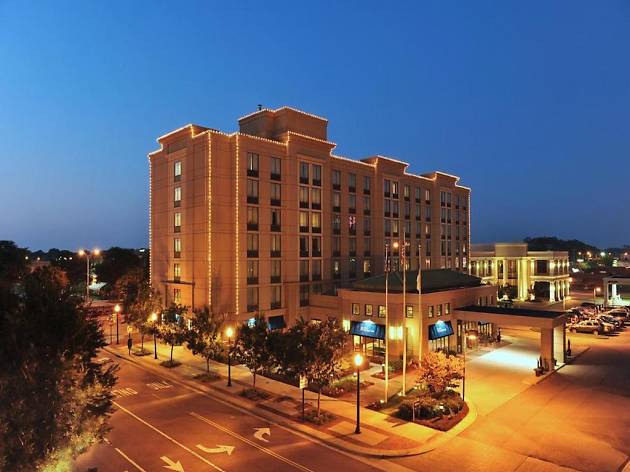 Courtesy of Booking.com
12. Hilton Garden Inn Virginia Beach Town Center
Located in the heart of the city, this hotel is within walking distance of the best entertainment and nightlife VA Beach has to offer. With local and big name restaurants, comedy clubs and trendy bars all close by, you can enjoy the perfect city-break with trips to the beach in easy reach. There's an indoor pool, fitness center and restaurant serving up fresh breakfasts and fine dinners - ideal for a recovery day before heading home.