Secret bars and nights out in London
Find secret bars, hidden nightclubs and more of the capital's best underground nightlife in the Time Out guide to hidden bars and nights out
Enjoy a night out somewhere different this weekend and discover the capital's best hidden bars and nightlife. Sink a drink in one of London's secret drinking dens or spend an evening at an underground event. Check out our guide to hidden bars and nights out in London.
The Experimental Cocktail Club
With speakeasies all the rage in London, the Experimental Cocktail Club is perhaps the closest we have to a genuine hidden drinking den. The bar's two floors are a tasteful blend of fin-de-siecle opulence and antique shop chic. And did we mention the sensational cocktails?
More nightlife in London
---
Write your own review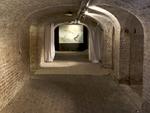 Uncover the hidden things to do in London from hush-hush bars and elusive restaurants to under-the-radar galleries and top secret boutiques with our eye-opening guide.
Read our guide to secret London