London's best craft beer bars and pubs
The watering holes with the best selection of craft beers from breweries both near and far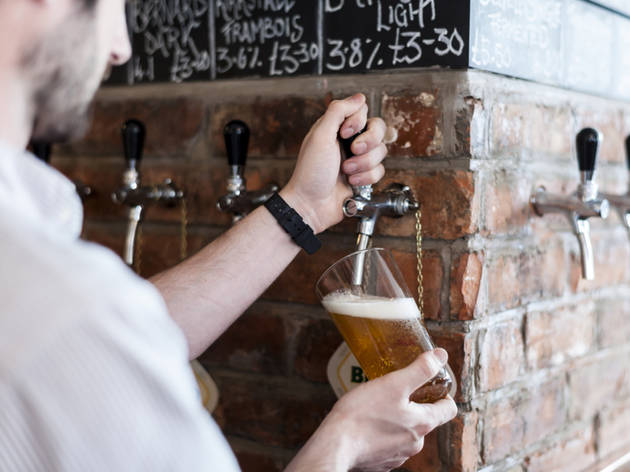 Craft beer – interesting, progressive beers made by small-scale breweries, and distinct from real ale – is often explosively hoppy and quite unlike traditional British beer. An increasing number of London bars and pubs are specialising in them. Here's our pick. Do you have a favourite bar that serves brilliant craft beer? Let us know about it – leave a comment below.
Reviews by David Clack, Euan Ferguson, Eddy Frankel, Ashleigh Arnott, Alex Plim, Andy Hill and Ananda Pellerin.
Find London's best stouts
Put down that pale ale and let go of the lager – summer is over, which means it's time to seek comfort in smooth, roasty, rich brews big on chocolate, coffee and – naturally – booze. That's right, it's time to get stuck into some stout (and porter, which, though the debate rages among beer nerds, is commonly considered to be basically the same thing). Here are eight London-brewed dark beers we rank among the very best.
Sponsored listing
The Ship
This traditional boozer on Hart Street, close to Fenchurch Street, looks like it's fighting a one-pub battle against the City, its characterful sliver of a facade squeezed but resolute between two modern buildings. The decor inside sticks to the outside's traditional look. True to the feel of the place, it's mostly about the booze, with beer a particular focus. Expect a regularly changing list of cask ales, with more by the bottle. A short wine list includes bottles from France, Chile, Italy, Australia, South Africa and Argentina, with most available by the glass. The main food menu draws influence from across the globe too, with dishes ranging from Welsh rarebit and ham, egg and chips to shredded duck wraps, vegetable spring rolls and chilli con carne. A range of burgers do brisk business, with beef alongside lamb, cajun chicken, cod and a veggie option made with chickpeas, mixed beans, aubergine and couscous.
"Banish the January blues with 50% off food! Call or email to get your voucher and make a booking."