London's best hot dogs
Forget leathery sausages on soggy buns - find the best hot dogs in town
From big dogs to tiny wieners, we've tried and tested the capital's sausages-in-buns. Here are the five hottest dogs in London right now.
By Tania Ballantine.
Herman ze German
19 Villiers St, WC2N 6NE
Bockwurst: £4
The darn good-value dog. Served in a small baguette, the smooth-middled bockwurst was made from smoked pork, and had a firm casing giving it plenty of 'snap'. Good pimped with mild sauerkraut or crisp onions.
Big Apple Hot Dogs
Roving – but often at 239 Old St, EC1V 9EY
The Big Dog: £4
The 'cool' dog, from a street food cart – and complete with cult following. Great bun-to-sausage ratio. Our squidgy bun was dwarfed by a whopping NY style sausage: a pork dog with a springy middle and delicately smokey casing.
Hackney Picture House Bar
270 Mare St, E8 1HE
Hot dog: £4
Okay, not a 'destination dog', but still the best cinema sanger in town. Our finger bun had a non-speaking part: the star was the sausage. Dense yet bouncy, it was beautifully seasoned, with just the right level of spice kick.
Draft House Charlotte
43 Goodge St, W1T 1TA
Käsekrainer hot dog: £6.75
An Austrian-style dog with a dash of ooh la la. Our soft bun had a light dusting of flour; the mustard, unusually, was Dijon. The thick-set sausage had a coarse centre and came with delicate, tangy sauerkraut. Eat-in only.
Hawksmoor Spitalfields Bar
157 Commercial St, E1 6BJ
Hot dog: £8.50
The top dog, without doubt. Deliciously juicy, our top-notch sausage was distinctly smokey and had a huge, ahem, girth. Served in a buttery brioche bun, the standard dog would provide satisfaction aplenty, but the chilli cheese upgrade (add £1.50) rocked our world.
London's best...
Share your thoughts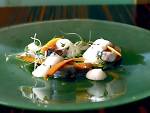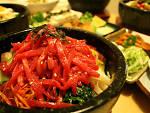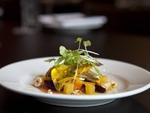 Find more popular food features