London's best restaurants for vegetarian food
A new generation of vegetarian and vegan restaurants featuring meat-free menus has left London's veggies spoilt for choice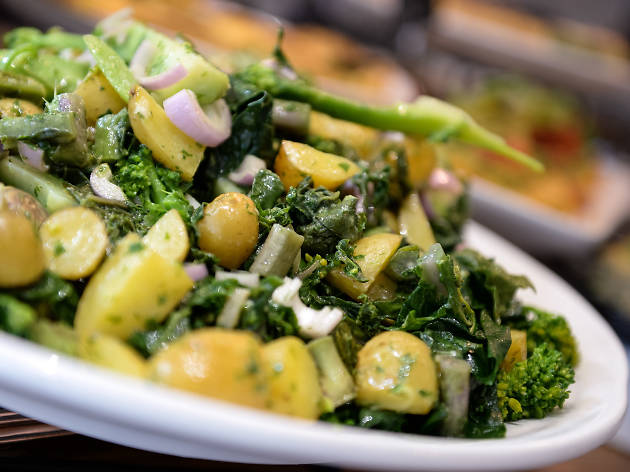 Limp lettuce and tasteless tofu are a distant memory for London's vegetarians. From the very best restaurants in London to London's best cheap eats, check out the creme-de-la-creme of London's veggie scene. Do you agree with the choices? Use the comments box below or tweet your suggestions.
Find great vegan restaurants in London
When it comes to vegan-only restaurants, London has got herbivores covered (see the second tab below if you don't believe us).But what about when you're eating as a group, and only some of you are vegan? Do you all go to a vegan café, or do you all go somewhere mainstream but boring, where your vegan chum has to eat yet another 'veggie-side-as-main-course'? The answer of course is neither. For our first list, we've hand-picked mainstream restaurants, covering cuisines from Japanese and Thai, right through to Peruvian, which 'cater for all'. Because the only thing better than eating out, is eating out with all your friends.
Read more
Sponsored listing
Flavour Garden
An all-day café and bar in Tower Hill, set across two floors and serving freshly prepared, mostly-organic, dishes in a cosy setting. Plants and herbs fill the shelves, while the use of natural wood and comfy-looking leather seating gives it a homely feel. A garden should come in handy during the warmer months. Soups, salads, wraps and pastries are served alongside hot dishes at lunchtime. Evening dishes include cheese sharing platters and items such as seared beef skewers with mango and curry sauce. Drinks are served from a rustic wood-panelled bar, where cold press juices are prepared daily.   
"Escape to the City's newly-opened all day eatery and bar offering a healthy range of fresh, local and organic food and drink selections."