London's best bike shops
Need to buy bike accessories or get a puncture fixed? Check out London's best cycle shops
London's bike shops are getting better and better, with more and more small businesses opening all the time. Whether you're looking for a brand new bike or just need to get a puncture fixed, the capital's bicycle specialists have it covered.
Lamb's Conduit Street, London, WC1N 3LJ


If you're looking for a machine that'll make fellow cyclists stop and stare, or need a three-wheeler to take your ice-cream business into the parks, head for Bikefix. The fantastically quirky and original selection of bikes includes utility models, recumbents and folding bikes – the recumbent style is significantly more aerodynamic as well as eye catching.
Read more
Arlington Way, London, EC1R 1UY


If your preference is for the more elegant days of cycle touring, rather than the modern penchant for squeezing into lycra, then Bobbin is the shop for you. Husband-and-wife team Tom Morris and Sian Emmison sell traditional city cycles, many of them vintage, from premises that steer a different route to the traditional bike shop, with accessories to match the striking colour range of their machines.
Read more
Bethnal Green Road, London, E2 6DG


Fixed-wheel and single-speed bikes have become essential urban-hipster accessories in recent years, and you'll find a wide selection at Brick Lane Bikes. The stock includes their own BLB range of pre-built ready-to-go setups, but the kit that gets die-hards drooling will be hanging above your head: new frames from esteemed Leeds firm Bob Jackson, plus a variety of vintage track and road frames (Cinelli, Leader) in most shapes and sizes, all of which can be built to order.
Read more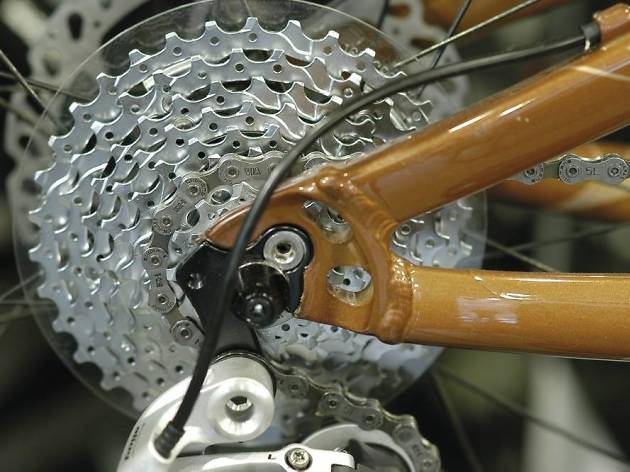 Brixton Cycles
Stockwell Road, London, SW9 9TN


A Brixton fixture since the 1980s, this co-operative offers a fine range of bicycles and a well-regarded workshop. Bikes from Trek and Specialized keep commuters happy, as do the Bromptons. The workshop can also undertake custom-builds, including fixed-wheel and single-speed machines. It provides a daily on-the-spot repair service in the first hour of opening, otherwise you'll need to book, up to a month in advance.
49-53 Gray's Inn Road, London, WC1X 8PP


The USP of this family-run London legend, in business since 1948 and still in excellent health, is its own range of road bikes, built to order on a bespoke basis. Having chosen a model, prospective purchasers are propped on a fitting jig and measured for the correct frame and components, with clued-up staff adding appropriate parts according to the buyer's budget.
Read more
129 Pritchard's Road, London, E2 9AP


Secondhand bikes can often come with a raft of expensive problems, but if you're going to get one then Lock 7 is a fairly safe bet, as it buys frames at police auctions, then restores them in its own repair workshop before resale. A location in Broadway Market's cycling heartland means that good bikes go quickly, so come early.
Read more
47 Barnsbury Street, London, N1 1TP


This bike store and workshop caters for the Bobbin type (vintage-loving, slow-rolling) and the Bianchi type (speedy riders), and accordingly stocks just these two brands. Micycle pitches itself as a cycling hub, encouraging customers to become members, who get discounted repairs and free access to the downstairs workshop for fixing their own punctures.
Read more
123 Essex Road , London, N1 2SN


Stockist of high-end road and mountain bikes from manufacturers such as Surly, Kinesis and Kuota, Mosquito Bikes is a dream shop for the serious cyclist. It's not cheap, however, with frame-building masters like Pegoretti, Cinelli and Independent Fabrication generally charging well into four figures for their products.
Read more
Push Cycles
35C Newington Green, London, N16 9PR


One of our favourite new bike stores, Newington Green's Push delivers a small but nicely chosen range of bikes – including Mercians, the classic English brand, as well as models from Italians Bianchi and Cinelli. The accessories stocked are of the quality, niche-brand ilk – so, saddles by Brooks, skate-style helmets by Bern and Nutcase, locks from Kryptonite, bags from Belk, and lights from CatEye as well as the cool, detachable rubber lights from Knog.
74 Mountgrove Road, London, N5 2LT


Owner Rob Sargent has an off-kilter sense of humour – 'No mountain bikes, high breads (sic), or modern carp (sic)' – but his message is clear: to promote, revive and facilitate the pastime of cycling. Sargent's love of all things cyclical means that his lovely Finsbury Park shop, guarded by Cassius the cat, is bedecked with frames (photo- as well as bike-) and accessories from the glory days of cycling.
Read more
4 Peter Street, London, W1F 0AH


The fixed-wheel cycling scene – or cycling on a bike that has no freewheel so cannot coast – has seen an explosion in popularity and, in response, bike nuts Tokyo Fixed have moved from exporting keirin frames from Tokyo (back in 2007), to opening their two-storey Soho store in 2009. The shop stocks all things fixed-wheel, including frames, wheels, high-end exclusive brands such as Cherubim, Nagasawa, Nari Furi, Milani and CCP, books, jewellery, mags and bags.
Read more