London's best cycle cafés
From serious roadies to trendy posers and leisurely day riders, here are the best cafés where you can get your bike fixed while enjoying some coffee and cake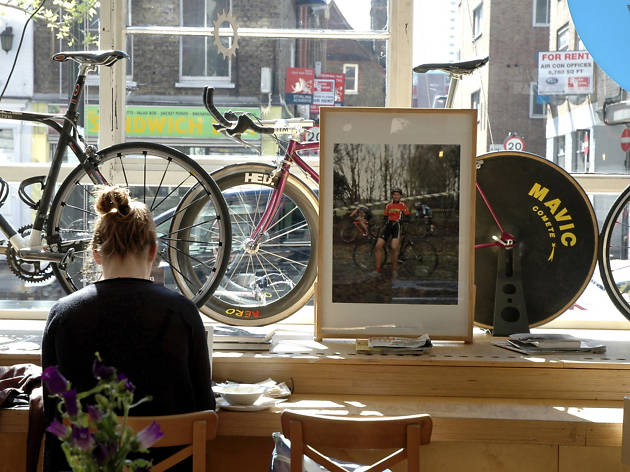 The best cycle cafés in London
A high-quality bike café on Deptford High Street, serving simple but good food and drink.
Read more
Rapha is now the coffee shop and store of choice for the discerning (read: moneyed) cyclist. Besides stacks of beautiful cycle clothing at eye-popping prices, there's a gorgeous café with chummy service. It's the venue of choice for cycle teams to celebrate – notably Team Sky.
Read more
Opened in April 2010, this café, repair shop and events space caters for the cool new breed of London cyclist, and is still the cycle café par excellence in London for ambience. The café serves Square Mile coffee, pies, soups, stews, cakes and pastries, and you can get get a beer or a glass of wine.
Read more
The owners of this Brushfield Market cycle café are as passionate about their brews as they are about their bikes, serving a house blend of Butterworth & Son Espresso with farm-sourced milk. They also up the ante in the snack department with pastries, toasties, salads, soups and stews cooked on-site by a Jamie Oliver alumnus.
Read more
Near enough to the City to draw in cycle couriers, this friendly little shop combines knowledgeable service (for all types of riders), a few bikes and accessories and a very healthy little cafe. Freshly squeezed fruit juices and smoothies are the speciality, but there's also Square Mile coffee, tea and a few cakes for a little indulgence. Seating is limited to a few stools in the window or a bench outside next to the cycle path.
Read more
A cycle café in Tooting serving simple cakes (such as Guinness and chocolate) and a small selection of espresso-based coffees. There is also a bike repair area where you can book your bike in for standard repairs. It is inside Tooting's covered market.
Read more
The original LMNH in Old Street is a genuine hub for cyclists; the Hackney branch doesn't have a workshop, but it's definitely cycle friendly. There's safe parking for bikes, and two-wheeled sporting events are shown on big screens. The menu goes from well-priced breakfast dishes to afternoon specials and local beers.
Read more
The View Tube building has fine views of the Olympic Stadium at Stratford and Anish Kapoor's ArcelorMittal Orbit sculpture is directly opposite. The café within is run by the people behind Counter Café in Hackney Wick. Community cycling centre Bikeworks is just outside if you feel like working off your breakfast.
Read more
This cycle shop in Hoxton repairs and sells old bikes, and also sells coffee and cake.
Read more
Cycle café in Crystal Palace whose shop offers bonuses such as yoga classes and sports massages.
Read more
Cycle cafe offering stone-baked pizzas, cakes and coffee, plus a pool table and games console.
Read more
Find London's best bike shops
London's bike shops are getting better and better, with more and more small businesses opening all the time. Whether you're looking for a brand new bike or just need to get a puncture fixed, the capital's bicycle specialists have it covered.
Read more
Sponsored listing
Umami
Situated a stone's throw from Gloucester Road station, Umami (a pleasant savoury taste in Japanese) offers pan-Asian dishes to the west London masses.  Sat amongst calming, earthy tones, diners can enjoy tastes of Thailand, Malaysia, Indonesia and a few specials from the chef that change monthly. If you can't decide between options such as lychee tempura and pandan chicken, Umami offer sharing sized portions, so that your group can have a little of everything. Palate cleansing teas are available to complement the range of spices, as well as cocktails, wine, beer and soft drinks.
Venue says: "Specials - wasabi prawns with mango jelly and rice flakes, £15.50. Hainanese chicken with ginger-flavoured rice and chicken broth, £13.95."