Theatre & The Arts
Your complete guide to plays, musicals, art exhibitions and more in London, plus reviews and tickets
The 100 best paintings in London

Christmas shows in London

'They are intended to be sexy objects'

Top photography exhibitions

The best dance shows this month
---
Rated as: 4/5

'Urine good company' runs one of the scatological gag...

Rated as: 4/5

Following the partial collapse of the Apollo's ceiling on...

Rated as: 4/5

From June 16 current cast will include Peter Lockyer as J...
Rated as: 4/5

Gold standard comedy from only £14.50

Rated as: 5/5

Technically and visually singular

Rated as: 4/5

Brace yourself for a shock
More critic's choice events
More tickets and offers
---
---
Find more wonderful London culture
Get in the picture with our guide to London's best galleries to visit and buy photography
The top prices in the West End can be daunting, but bargain ticket prices abound in London… if you know how to get them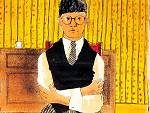 Our handy calendar of the must-see art shows coming to town this year
The best shows, the worst shows and the weirdest and most wonderful alternative choices
---
London's best arts venues
---
More theatre tickets and offers
@TimeOutLondon
Spotify
Subscribe to Time Out London on Spotify for daily playlists and recommendations from our Music team.
Pinterest
We feature London's most spectacular sights and coolest locations.
Your daily guide to city life, news and culture - updated seven days a week. Read more