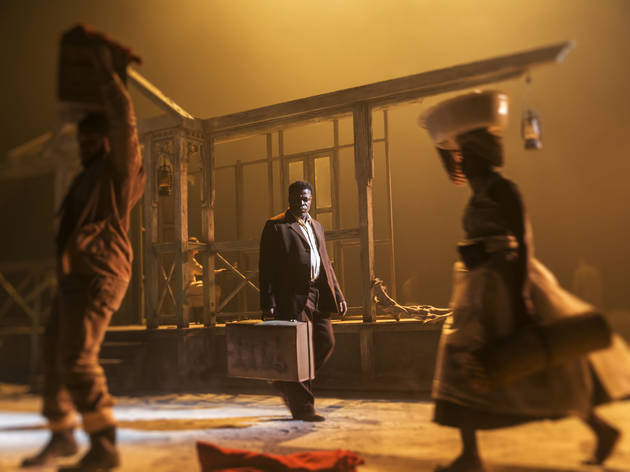 The best theatre shows to stream online right now
The stages are shut and we're all stuck indoors, but there are plenty of options to bring the stage to your living room
While we're all housebound, theatres and theatre companies the world over are opening up their digital archives: right now you can probably see more theatre shows – plus dance and opera – from your living room than you could watch in a year by going out and about in London. From paid-for streaming platforms to YouTube streams to one-offs on other platforms, there's a huge amount of stuff to see. Here's what's available now and soon. First individual shows, then a guide to the streaming platforms.
Plays to stream
Lorraine Hansberry was an African-American playwright who died tragically young, aged just 34, in 1965. In her short career, she became the first African-American female writer to be performed on Broadway. Her last play, 'Les Blancs', which she didn't live to see produced, is the latest in the National Theatre's At Home season, streaming from Thursday July 2 for a week for free. 'Les Blancs' ('The Whites') is a rumination on Black identity… and so much more. Hansberry's only work to be set in Africa, it's sprawling, sometimes abstract, sometimes deeply personal. Find out more here.
We all love the NHS, but the last few months have crystalised just how invaluable the institution is. To show its appreciation for everything those in the service have done at this time of national crisis, the Old Vic is broadcasting a series of specially commissioned monologues celebrating the NHS called 'The Greatest Wealth', plus a new play written by Booker Prize-winning author Bernadine Evaristo. Find out more here.
'Fleabag' has returned, but this time, it's to raise funds for three UK charities on the front line of the coronavirus pandemic. Phoebe Waller-Bridge's West End theatre show is available to stream on Soho Theatre's on-demand site and Amazon Prime Video (US, UK). It costs £4 (or more if you can afford it), and the proceeds will be split between National Emergencies Trust (NET), NHS Charities Together and Acting for Others. Remember, people are all we've got.
London's most famous dance theatre is laying on a free programme of work, including full productions and dance workshops.
The world's coolest theatre is streaming a play every night, at 6.30pm German time, for free. Many of the shows have English subtitles.
Digital players
What is it? Shakespeare's Globe's digital platform.
What's on it? More than 130 professionally filmed plays from the Globe's vaults, mostly Shakespeare (duh) but also a couple of other tragedies including 'The Duchess of Malfi' starring Gemma Arterton (pictured).
What does it cost? From £3.99 to rent a play and from £5.99 to own one, plus some compilation bundles.
What is it? A Netflix-style streaming service for Digital Theatre's purpose-made recordings of various plays, operas and dance.
What's on it? It's a tiny bit random, veering from West End to fringe, but lots of juicy stuff, with heavy hitters including Richard Armitage in 'The Crucible' (pictured) and Sheridan Smith in 'Funny Girl'.
What does it cost? It's £9.99 a month for full access, or you can rent an individual show for £7.99.
What is it? A streaming player which has a chunk of RSC Shakespeare shows plus a lot of miscellaneous opera and dance from across the globe.
What's on it? David Tennant in 'Richard II' is the pick of the RSC stuff; or if you want to get into opera there's a complete Ring Cycle on there.
What does it cost? £8.99 a month or £69.99 a year, but it's offering a 30-day free trial during the pandemic, which is cool.