We all love a good rooftop bar, what with the breeze, the booze and that picture-perfect sunset glow that renders Instagram filters functionless. But nothing ruins a night out or a nice bit of rooftop day drinking like an obnoxious crowd. You know the kind—the Beckys and Chads of the world. Lucky for us, non-douchey rooftop bars actually do exist. Here are 10 of the best ones for you to check out, asshole-free™.

1. Northern Territory in Greenpoint
Photograph: Evelyn Derico
Aussie-born co-owner Jamie Toll couldn't take all those kangaroo attacks (we kid) so he brought a little bit of Down Under to Brooklyn. There's Australian cuisine (meat pies, skewered shrimp on the barbie), plus authentic Oz-bred beers at this pub created by the same folks that brought you Berry Park.

2. Roof at Park South in Flatiron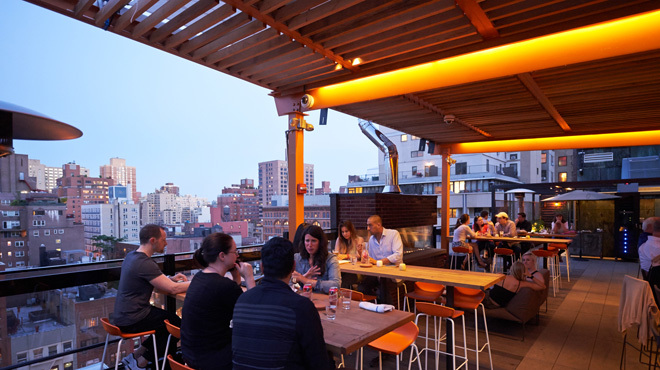 Photograph: Filip Wolak
A cocktail bar without a cocky 'tude. Along with the first-rate quaffs, this rooftop number from Tim and Nancy Cushman (the husband-and-wife team behind Boston critical darling O Ya) offers sublime views—you can see the lower Manhattan skyline from here.
3. Empire Hotel Rooftop in Columbus Circle

You can pretend you're a successful business tycoon as you stare from the top of the Empire Hotel at all the little people below before marveling at the amazing sunset. Then you can buy me a drink because you can afford it.

4. The Heights Bar & Grill in Upper West Side
Expect over-stuffed burritos and frozen margaritas at this friendly uptown bar. If you're not at least happily tipsy when you leave here, you're not doing it right.

5. The Rock Shop in Gowanus
Photograph: Jessica Lin
This is the least ostentatious rooftop bar in all of Brooklyn, in that there's a small patio, an even smaller bar and...that's about it. But the lack of amenities means that there'll be room for you to get in the entire skyline, unobstructed, without fear of paying $15 for a mixed drink.

6. Rooftop Lounge at Pod 39 in Midtown East


Don't let the bro-heavy nabe fool you—with terra cotta columns, Mexican-tiled tables and top-notch tacos from Salvation Taco, this is a festive, easygoing space to throw back some tequila.

7. Cantina Rooftop in Hell's Kitchen


Courtesy of Cantina Rooftop


Recently opened atop Stage 48 this year-round Mexican hang puts a premium on margaritas. Hoist a mezcal-spiked cup to the bright, cheerful digs and views that never get old.

8. Tavern 29 in Gramercy
Photograph: Courtesy Tavern 29
Perched at the top floor of this tri-level midtown bar is a laidback rooftop beer garden, rigged with communal picnic tables, 30-plus craft brews and a giant TV for sports-watching.

9. Night of Joy in Williamsburg
Photograph: Jolie Ruben
Oh, joy! Here's a bar that straddles the line between divey and Victorian so well, you'll think you're relaxing in a modern-day version of an Oscar Wilde novel.

10. L'isola in Williamsburg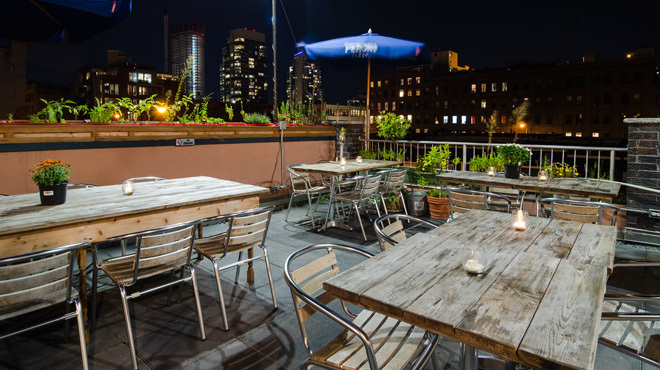 Photograph: Courtesy ACMB Photography
This place does chill the Italian way—food and drinks for days. Plus, there's pizza. On a rooftop. Heaven.
Comments