The best beer gardens and beer halls in NYC
Brewhounds can keep the suds flowing at these drinking destinations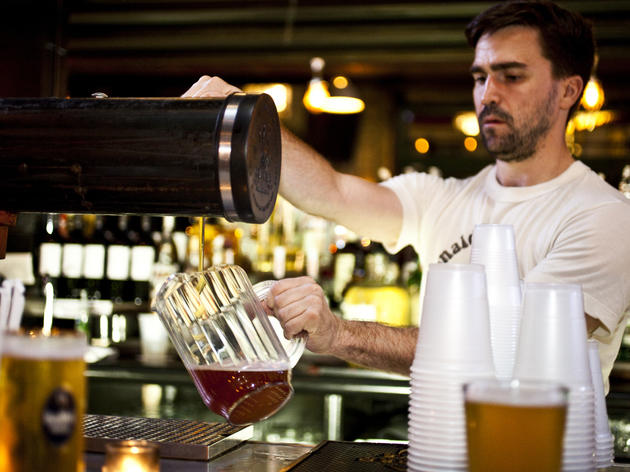 The best beer gardens
In the no-fuss mess hall, coastal lunch fare arrives humbly on paper plates. A classic lobster roll ($17) is deconstructed, broken down as a trio of buttered baguette slices topped with chunky Maine-lobster salad and juicy beefsteak tomato, though the bites could use a brightening spritz of lemon. Substitute the missing citrus with the seafoam-green Spruce Goose Summer ($14), which pins lip-puckering limeade against crisp crème de menthe.
Read more
Chill out beneath the umbrellas and choose from four draft options. German suds are well represented (try the balanced, hoppy Spaten Premium lager, $7), and the menu elevates beer-hall basics, serving both brats and Hudson Valley duck-and-fennel sausages ($5 each).
Read more
This bar's debut upped the midtown drinking game with a serious brew roster comprising 80 international craft drafts and 100 bottles. During the milder months, office escapees relax on the roof-deck bar, covered by a tent or umbrellas, depending on the weather. Sip Southern Tier Pumking ($7) and Cigar City Jai Abi IPA ($9) from the two casks on hand, or try the Boulder Shake chocolate porter ($9) on tap. Round out your session with such classic pub grub as fish and chips ($16) or root-vegetable and chicken pot pie ($15).
Read more
The Crown Heights cousin to Smorgasburg is a hybrid food court-biergarten that's decked out with rows of wooden tables so you can graze on a bounty of bites from Mighty Quinn's (pulled pork, brisket), Pizza Moto Slice Shop (Margherita, carbonara), Asia Dog (bahn mi, Thai basil chili) and Ramen Burger. The 12-tap lineup ranges from hyperlocal brews like Finback and Barrier to international picks like Germany's Ayinger while the 36-bottle list boasts harder-to-find labels like Professor Fritz's Briem 1809 and Peeper from Maine Beer Company.
Read more
Although this bi-level bar is only a few blocks from Brooklyn Brewery, the suds here are decidedly overseas-centric. Opt for a half-liter of the refreshing Radeberger pilsner ($7) or the Spaten lager ($7); both pair well with a sausage platter ($15) and other beer-hall fare.
Read more
This authentic Czech beer garden offers plenty of mingle-friendly picnic tables, where you can sit while you sample cheap platters of sausage and a solid lineup of European and domestic beers (pints $6, pitchers $16). Though the huge, tree-canopied garden is open year-round, summer is the prime time to soak up some rays over a pint. Prost!
Read more
Fort Greene's first German beer garden has the essentials in order. There are 18 brews on tap (crisp Krombacher Pilsner, easygoing Hofbräu Lager) and many more by the bottle. There are plenty of affordable, satisfying small plates to soak it all up, like Berlin's classic currywurst, plus sidewalk seating.
Read more
In a beer scene dominated by hoppy, high-alcohol brews, credit this madcap watering hole for championing session beers (most $7–8), a family of brews whose lower booze content makes them ideal for extended drinking. Unlikely picks such as the three-percent-ABV Pottery Hile Ale (Budweiser, by comparison, is 5 percent) will keep you buzzed but standing through an evening of rubber ring quoits in the back garden.
Read more
Encompassing 30,000 square feet of outdoor space and with a capacity well above 1,200, Studio Square is more of a beer city than a beer garden. Patrons pack the sprawling yard, all guzzling half liters ($7), liters ($13) and pitchers ($18) of mostly German and American brews. Bear Republic Racer 5 IPA (half liter $7, pitcher $18) is a solid all-season refresher. Clouds or not, brats, burgers and other bites ($6–$13) are in order.
Read more
Show more
See the best beer gardens in America
Booze away a sunny afternoon in a Euro-style biergarten or an industrial oasis with our top beer-garden picks across the country
Read more