Every great beer garden NYC has to offer
Beer geeks and novices alike can find a top-rate beer garden in NYC with our list of indoor halls and outdoor bars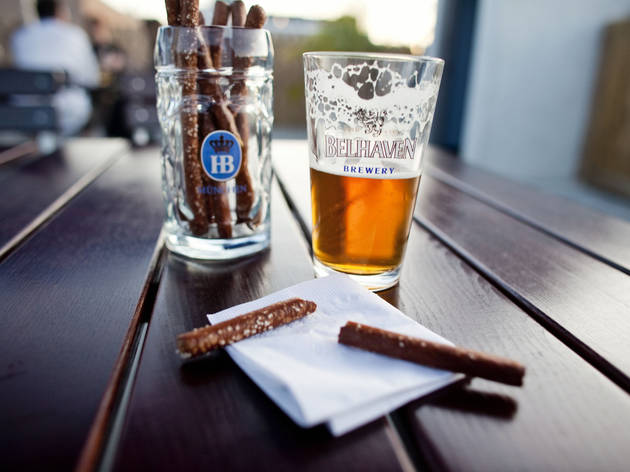 Imbibing alfresco is one of our favorite things to do in NYC, especially at a top-notch beer garden in NYC. Booze away a sunny day with a cold brew of one of these outdoor bars, then cozy up inside spacious craft beer bars when it gets cold.For every type of brew lover out there, here are the best beer gardens and beer halls in New York City.
RECOMMENDED: Full guide to things to do outside in NYC
Every beer garden NYC has to offer
1
Beer lovers and German expats from all over the city flock to this Bavarian party house, where the most hotly contested seats are out on the sidewalk under blue umbrellas. This prime people-watching spot—smack in the middle of Alphabet City—is tough to beat, especially when you've got a liter stein of beer in hand. Choose from a dozen German brews on tap plus more than ten bottles. After knocking back a few, you too will be shaking a tail feather.
Read more
2
This authentic Czech beer garden offers plenty of mingle-friendly picnic tables, where you can sit while you sample cheap platters of sausage and a solid lineup of European and domestic beers (pints $6, pitchers $16). Though the huge, tree-canopied garden is open year-round, summer is the prime time to soak up some rays over a pint. Prost!
Read more
3
Instead of ordering a sit-down meal of schnitzel under the retractable roof, hit up the grill guy for a fat kielbasa loaded with kraut and steer your brood toward one of the wood tables in the rustic hall. Imaginative youngsters just might believe they're in Bavaria rather than Brooklyn. On a weekend afternoon, savor any of the Czech and German draft beers, like the Schneider Weisse. You'll want to leave by early evening, before the bar is infiltrated by revelers chugging mammoth steins.
Read more
4
The rotating list of more than 100 mostly European quaffs here could confound even the nerdiest of microbrew mavens. Flag down a bartender to help you navigate the menu, then take your brew—and a charcuterie snack—to the lush back garden.
Read more
5
Wait, a desolate stretch of Fourth Avenue isn't your ideal location for a gorgeous, alcohol-soaked afternoon? It doesn't matter; after a few pints at this airy converted auto shop, you won't want to leave. Canines and smokers are welcome in the courtyard. And the craft-beer labels—primarily American, with some European cameos such as Würzburger Festbier—are uniformly excellent.
Read more
6
In a beer scene dominated by hoppy, high-alcohol brews, credit this madcap watering hole for championing session beers (most $7–8), a family of brews whose lower booze content makes them ideal for extended drinking. Unlikely picks such as the three-percent-ABV Pottery Hile Ale (Budweiser, by comparison, is 5 percent) will keep you buzzed but standing through an evening of rubber ring quoits in the back garden.
Read more
7
Encompassing 30,000 square feet of outdoor space and with a capacity well above 1,200, Studio Square is more of a beer city than a beer garden. Patrons pack the sprawling yard, all guzzling half liters ($7), liters ($13) and pitchers ($18) of mostly German and American brews. Bear Republic Racer 5 IPA (half liter $7, pitcher $18) is a solid all-season refresher. Clouds or not, brats, burgers and other bites ($6–$13) are in order.
Read more
9
Don't let the Standard Hotel's chic pedigree fool you. Everything on the menu here—from traditional German brews to brats, currywurst and pretzels—clocks in at an affordable $7. Claim a picnic table and get to work.
Read more
10
This 5,000-square-foot bar/brewery powered by Sycamore cofounder Justin Israelson, tech entrepreneur Josh Stylman, and lawyer Andrew Unterberg does double and triple duty, boasting a coffeeshop and an event space to go along with the suds operation. The tap list includes Wandering Bine, a melon-infused saison; Arboretum, a grapefruit-and-apricot pale ale; and Single Tree, a soft and piney IPA dispensed from 30-keg tanks behind a bar that's built atop reclaimed rolling library ladders. The upstairs coffeeshop, serving Ninth Street Espresso and Balthazar pastries, converts to a private party room at night and offers exclusive views of the brewing facility not seen from the main level.
Read more
Show more
See the best beer gardens in America
Booze away a sunny afternoon in a Euro-style biergarten or an industrial oasis with our top beer-garden picks across the country
Read more
Sponsored listing
Beer Shop NYC
Sorry, wine—beer is coming for your spot as the new drink to obsess over. Dedicated shops are popping up all over the five boroughs, all with plenty of suds from all over the world on tap. Beer Shop NYC, located on the Upper West Side, is one of the best, offering a varied selection and knowledgeable, helpful staff. Ten taps run through a series of curated kegs every season, and beers ($8-$12) range from light, sour gose to dark, stormy stout. On a recent stop, the taps featured breweries like Finback, Nine Pin and Kent Falls, but because the beers change so often, there's no telling what you'll find (and what will be your new favorite). If you're having trouble choosing your next pint, taste four different beers in a flight ($15). You can also take some home in a growler—prices for these large jugs vary by beer, and all growlers are $5 off on Mondays. Beer Shop NYC also stocks a varied selection of canned and bottled beers in refrigerators in the back of the shop. Organized by region, you'll find brews produced everywhere from San Francisco to Montauk. Bring home an assortment for your next Netflix binge, or, for an added fee, open up one of those cans or bottles right then and there. Hungry? Mixed nuts, beer corn (popcorn coated with a syrup of reduced beer, like a boozy Cracker Jack), rice crackers, "wicked mix" (a spicy Chex Mix-like blend) and hard pretzels are good nibbles, but they don't make a full meal, so plan accordingly. The long, thin layout of the shop is coz
Venue says: "Purveyors of The Finest Craft Beer on the Upper West Side... Over Three Hundred assortments of Beer to Stay & to Go"