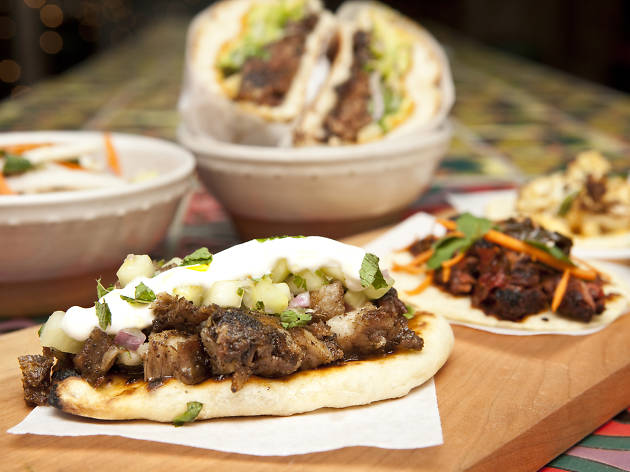 1/3
Photograph: Jessica Lin
Lamb on naan at Salvation Taco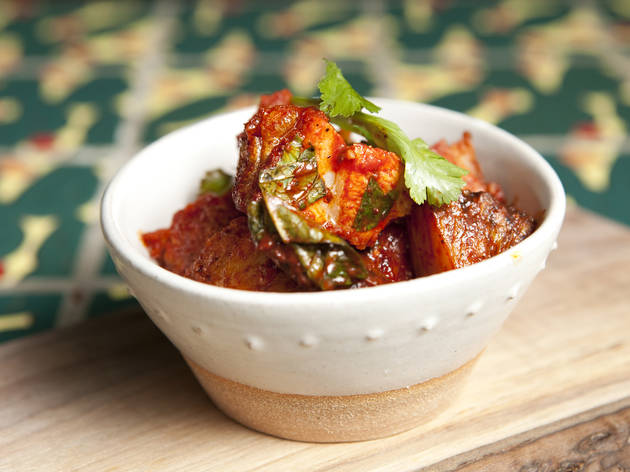 2/3
Photograph: Jessica Lin
Pork-belly-and-pineapple salad at Salvation Taco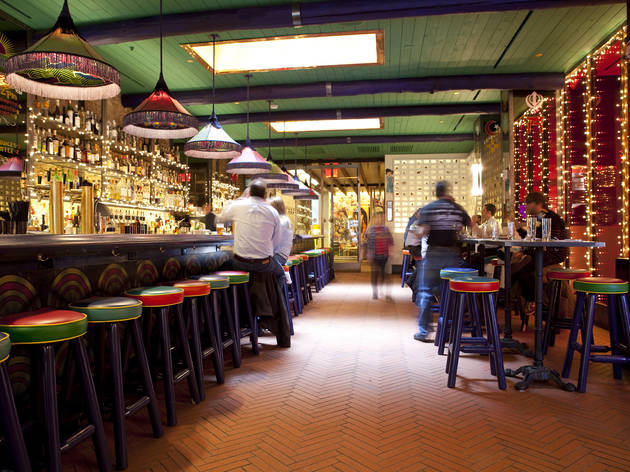 3/3
Photograph: Jessica Lin
Salvation Taco
You couldn't be blamed for low expectations if you wandered into Salvation Taco, the new stylized taqueria located in the budget Pod 39 Hotel. During prime loosen-your-tie-and-slip-off-your-pumps evening hours, the Murray Hill crowd can be as obnoxious as a roving band of SantaCon reindeer. And the place is in-your-face garish, like a party joint imported from Cancun spring break, with bright Christmas lights and a wall covered in fake fruit.
But that first impression tells only half the story. With April Bloomfield running the kitchen and Ken Friedman in charge of everything else, this is far from your typical after-work sloshfest. The powerhouse team behind the Spotted Pig and the Breslin is playing against type—like Danny Meyer reinventing the burger shack or Tom Colicchio launching a sandwich chain—bringing their highbrow skills into a new mass-market arena.
The venue—as colorful as a Mexican blanket, decked out in a rainbow of thrift-store junk—skews younger than any this team has opened previously, designed to fit the Pod's youth-hostel vibe. The sprawling space, a happy-hour rec room, features two long votive-lit bars, plush couches for lounging and Ping-Pong tables in glass-enclosed nooks. It is first and foremost a place to imbibe, its Mexicanish finger food mostly designed for easy consumption while clutching an icy cerveza.
Bloomfield could have phoned it in for this out-of-her-wheelhouse venture. But instead she's raising the bar on dirt-cheap Mexican snacks: Smart enough to know the limits of her expertise, she tapped taco maestro Roberto Santibañez, of Fonda, for help.
The Mexican chef, who owns a piece of the project, brings a solid South of the Border foundation to Bloomfield's polyglot tacos. Tiny tortillas—made fresh to order from Nixtamal masa, in view of the bar —are stuffed with primo ingredients from all over the place. Tender strips of medium-rare skirt steak come swaddled in a Texas-style smoky pecan-and-chipotle salsa. Crispy sweetbreads have Italian and Middle Eastern notes, from fried chickpeas and sweet pomegranate relish. And there's a great Southeast Asian kick to the red-curry cream spooned onto golden roasted cauliflower. While the taco dimensions—three bites max—are traditionaly Mexican, the fillings, for the most part, proudly are not.
Bloomfield and Santibañez, bouncing ideas off each other, are reinventing Mexican classics—al pastor taco filling inspires a bright, spicy salad, heavy on the fruit, with hunks of crisp pork belly tossed with charred pineapple and slivered poblanos. They're also serving a host of multicultural winners, like miniature naan piled with Moroccan-spiced lamb breast—the meat slow-cooked in banana leaves then crisped on the griddle—or the classic hangover soup posole, its citrus tang amped up by excellent hot-sour kimchi.
While most of these dishes are in very small portions, the large-format Jacob's Ladder Feast—a gorgeous peppery, falling-off-the-bone short rib with house-pickled cauliflower and cactus, zingy green and red salsas, and a stack of tortillas—is a generous and shareable meal.
Friedman and gang have hidden a very good restaurant inside an extremely clamorous bar. It's a little unfortunate. By the time your piping-hot churros arrive, the place may be mobbed with revelers too soused to really care what they eat. Bloomfield's food deserves more respect.
Vitals
Eat this: Sweetbread tacos, skirt steak tacos, lamb on naan, kimchi posole, Jacob's Ladder Feast
Drink this: Head barman Sam Anderson has compiled a well-crafted list of playful fiesta drinks. Try the creamy 5 Island Horchata ($13), spiked with dark rum and Fernet Vallet. The excellent tart house margarita ($13) comes with a guajillo chili rim.
Conversation piece: The Pod occupies a former Salvation Army building, which inspired the name of the restaurant (and some of the religion-themed decor).The property is the first in what its owners hope will become a big national chain. Bloomfield and Friedman have signed on to do other budget restaurants—not taquerias, most likely—in future Pod hotels.
Venue name:
Salvation Taco
Contact:
Address:
145 E 39th St
New York
10016

Cross street:
between Lexington and Third Aves
Opening hours:
Daily 7am–5pm, 5:30pm–2am
Transport:
Subway: 42nd St S, 4, 5, 6, 7 to 42nd St–Grand Central
Price:
Average taco: $6. AmEx, Disc, MC, V
Do you own this business?
You may be interested in:
Average User Rating
4.1 / 5
Rating Breakdown
5 star:

5

4 star:

10

3 star:

4

2 star:

0

1 star:

0
I've been here before on a few occasions, and the rooftop bar is definitely worth checking out. I haven't eaten in the downstairs area, but the rooftop area is nice, though the menu is more limited and service can be somewhat spotty, Overall, though if looking for a place to have a casual drink and soak up a great view, would recommend coming here.
Drink, tacos & crazy cool decor prefect sums up your experience at Salvation Taco. Every dish is phenomenal but my fav are the steak tacos & fish tacos. Always say I'll try something new but I always veer back these 2. A great selection of tequila & beer, something for any kind is palette. Always packed during happy hour but totally worth smushed up walk to the bar. Cinco de mayo?? Forget it!!! Get there early to stake you clam in a corner & don't plan on leaving. ALL. NITE. Small dishes make it easy to nosh while you drink & take in the sites & sounds of this NYC must try taco place.
Incredible atmosphere on the rooftop. The food is great and the service was quick when I was there. It can get pretty busy at times, so be prepared to wait in line. You can't go wrong with any of their taco options, but my favorite is carne asada w grilled nopales, pickled peppers & onions.
This is a great place for tacos! They are small but delicious, and the drinks are great too. If you're looking to head to the pod rooftop, make sure to put your name in way early (like 5pm early). They now strictly enforce the amount of people going up there and it can take forever during happy hour (but the views are worth it!)
I thought this was a simple taco place but the food is actually very sophisticated Mexican style food. I went with several people and we shared our food and everything I tried was delicious. The portions are very small, if you are hungry consult your server about what would be best. The entrees reminded me of tapas more than whole meals. We sat in the back and had a very low table and very low seating. One of my companions is over six feet tall and he looked very uncomfortable. We all loved the music and ambiance, it's definitely not your typical Mexican restaurant. I definitely will go back, next time I might prefer sitting in the bar section on a bar stool as that could prove to be more comfortable for dining.
Salvation Taco is a fun, cool spot in terms of atmosphere. You walk in and there's a different set of decor in every corner of restaurant. I recommend coming during a non-busy time like a Sunday afternoon. Get some Salvation Margaritas and a few appetizers like the guacamole or chips/salsa. There are two ping pong tables in the back of the bar which I love - if you're looking for more of an activity. Downside is no food is allowed near the ping pong tables. Also the service isn't so great - our waitress barely came by to us throughout our time there and often had to order drinks at the bar separately.

A really cool environment ! Very lively and colorful! The margaritas are sooo good and refreshing after long day of work;)
I went to Salvation Taco's rooftop for Fourth of July, and it's one of my favorite Manhattan rooftops now. The brick facades, climbing green vines and string lights give it a really romantic feel. There's also a view of surrounding Manhattan on three sides. Downstairs, my friends and I ordered the empanadas (twice), al pastor tacos and churros. The tacos were small and simple, but somehow incredibly flavorful, like the meat had been cooking with spices for hours.
Fantastic place for great drinks and tacos. Might be a wait for the tables (20 min wait on a Tuesday evening for two) but usually room at the bar/lounge if you're in a hurry. Service was great, food was delicious, and atmosphere was fun. I'd suggest the Korean BBQ, Fried Fish and Cauliflower tacos.